| The Current |
Battered Business in Boro Park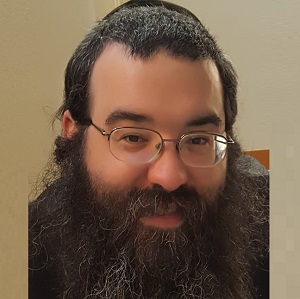 | November 18, 2020
Boro Park's shops struggle to survive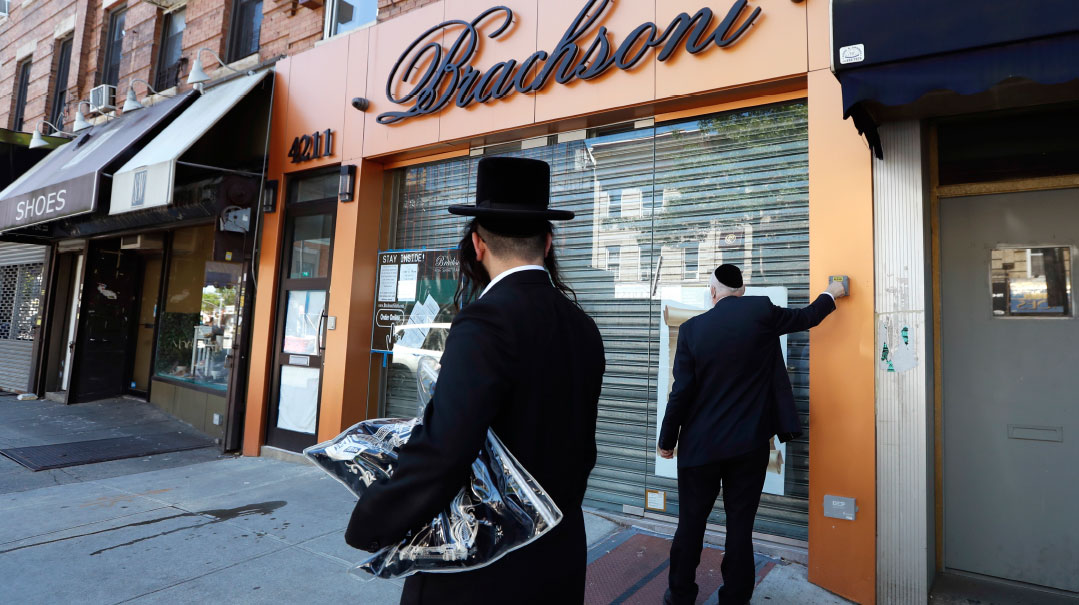 Boro Park's 18th Avenue, a busy thoroughfare bridging Flatbush and Bensonhurst — featuring a cacophony of honking car horns and bus routes, along with hundreds of small shops — is a roadway of fear. Although the artery was removed from the red zone category last Sunday, which should have allowed businesses and shuls to reopen fully, storefronts still remain shuttered, with "No Trespassing" signs plastered to doors and owners buzzing in visitors on surveillance cameras.
The situation in this business corridor offers a good case study for assessing the economic impact of the latest lockdown. Eighteenth Avenue serves as a border between a neighborhood where the severest restrictions apply and one that is in a more lenient category. So a store on the Midwood side of 18th Avenue sits in a crimson-red zone and faces fines running into thousands of dollars if they open. Across the street on the Boro Park side, it's a yellow zone, and stores are allowed to bustle with customers.
Or are they? Nobody seems to know. Because of the uncertainty, business owners are wary of operating openly, instead maintaining a discreet, hush-hush approach.
During the lockdown — which also shut virtually every Jewish neighborhood in the state, including nearby Midwood, parts of Queens, Monsey, and Kiryas Joel — some stores converted their inventories to try to meet the state's definition of an "essential business" so they could continue operating, such as gift stores starting to sell hardware. Others offered only phone or online delivery. They are mostly continuing with those arrangements as they cautiously test the waters of opening regularly. Some admit to having played cat-and-mouse games with the ubiquitous inspectors, opening their businesses as usual but only allowing in trusted customers.
The media is vilified on this avenue, having portrayed Boro Park as ground zero for COVID, and having sought out pedestrians strolling without masks and stores and yeshivos admitting forbidden students or customers.
When an employee in one shop started talking to me, a coworker immediately complained. "Stop, why are you talking to him? We need less media here, not more."
Another woman grumbled that just a week earlier, four local elected officials held a press conference to bring attention to their plight. "They asked us to come, not a single storeowner agreed to go," she said. "Why are they bringing the media down here? All we want is to keep a low profile."
Anger at Cuomo
Shopkeepers lament that Governor Andrew Cuomo's latest monthlong shutdown hit at the worst time. Inventories have been delivered and paid for but remain unsold, just when businesses started emerging from the effects of the 12-week lockdown in the spring. They still don't understand why they couldn't open with masks and a limited number of people. Many who spoke to me preferred to remain anonymous.
"Things are picking up a little, but we missed an entire season," said a woman working in a shoe store. "After the first lockdown, a lot of stores did not recover at all. Some of us, depending on the business, did pick up, but there's tons of merchandise that is still unsold."
The economic impact of the closure that lasted from October 12 to November 8 is hard to quantify, since it encompassed a limited number of neighborhoods. Aides to Assemblyman Simcha Eichenstein and Councilman Chaim Deutsch, who have both visited dozens of stores over the past few weeks, said they did not have data on how many stores closed or how much potential income was lost.
Avi Greenstein, CEO of the Boro Park Jewish Community Council, said he did not have these numbers, but was planning a meeting with storeowners from across Boro Park on Wednesday.
"We can get a better idea at the meeting," he said. He was preparing a detailed questionnaire that could put a price on the monthlong shutdown.
But to judge by data available for the city as a whole, Boro Park's localized lockdown hurt. The impact of the entire city's closure this past spring was pegged at $173 million a day by Fortune magazine. And a survey taken in September by NPR, the Robert Wood Johnson Foundation, and the Harvard T. H. Chan School of Public Health found that half of the city's residents have been negatively impacted — they've either lost a job, been furloughed, or had wages or hours reduced.
Some venerated Boro Park stores that closed over the past few months include two on 13th Avenue, the Children's Place clothing store on 44th Street and Paradise Fruits on 47th Street.
The mention of Cuomo's name here draws a unique level of disgust. Storeowners are angry that his lockdown singled out Jewish neighborhoods, seemingly excluding non-Jewish locales with surgical precision. They point out that when other areas began showing elevated numbers of Covid cases, the governor closed bars after 10 p.m. but didn't designate them as clusters, the way he did to the Jewish neighborhoods.
"He shouldn't have done it to begin with," one shopkeeper declared angrily. "He was targeting everyone who was Jewish. How can he do that?"
A new initiative by local activists and elected officials called RiseUpRedZone has drawn mixed reactions from storeowners. Most were supportive, though some said it was drawing more negative publicity.
Less Foot Traffic
Yossi Masri, the manager of the Shoe Depot at 18th Avenue and 45th Street, was carrying large brown boxes out to the curb. A young man with curly peyos and a vest over his tzitzis, Masri kept the store open for orders, like many others on the avenue. I asked him if his customer flow was anywhere close to normal.
"Nah," he said, drawing out the syllable. "It was very, very hard. The money that we would have made before Pesach is gone. We'll never make that now. That was a time when you could have a whole family with ten children come in and buy shoes for weekday and Shabbos for everyone. Now, all we get is when someone needs something urgent, one or two pairs. They ask, 'Please, let me in, my child doesn't have shoes to wear.' But not much business."
As a worker, Masri said that he got paid less since he works on a commission basis. As to when business will pick up again, he said, "It will take time. People got comfortable buying online."
At another nearby shoe store, the owner said everyone was suffering, but particularly those who must pay rent for their stores.
"It's my building, but if you have to pay rent, you're in trouble," she said. "Nobody lets you get away with the rent, though they might let you push it off. But suppliers — some of them are understanding, some of them are not interested. They have to pay their own suppliers themselves."
Even stores that remained open have seen their business depressed. People shop less, since they're unsure if stores are open. Chasunahs are smaller and bar mitzvahs are less elaborate affairs, meaning that retailers in that industry are getting less foot traffic.
"People are making chasunahs on a much smaller scale," said a worker at one store that caters to the wedding industry. "We are working much harder now. Instead of just going here to Vizhnitz and setting up something simple, we have to go to backyards and figure out how to work there."
Pent-Up Demand
But in some stores — albeit a small minority — business is quickly picking up. The dam of pent-up demand has burst, and they have no time to speak to reporters.
"Are you here about copies?" asked the owner of Smart Copy USA near McDonald Avenue, as he busied himself in the back. "Today I can't talk about anything but copies."
Zefaniah Shumacher of M&Z Shoe Repair, further down the avenue, looked up from pounding shoes with a hammer, a blue face mask covering his chin Customers stroll in, state what they need and walk out. But he has time to talk.
"Shver gevezen," Zefaniah says in his thick, Russian-accented Yiddish. "I was always worrying I would get a ticket. It was so hard."
He has been in the States since the 1970s, having come from Kyrgyzstan, a Muslim-majority former Soviet republic bordering on China.
So how did he survive the past few weeks?
"Everything is from the Eibeshter — I have no complaints," he said, before adding that he got $180 a week in unemployment. "Work is like a car — you're riding, riding, riding before you break down. The carburetor breaks, the engine needs fixing. That means that the Eibeshter is giving you some peace and quiet. Your head needs some relaxing. But He gives to everyone parnassah."
A woman comes in. "Do you make taps on the spot?" she asks.
"If you pay on the spot, why not?" he rejoins.
After reopening, he said, he had a long line of eager customers. "Tzaddik," he drawled, pointing to the entrance, "they are waiting for me," saying it first in Russian before repeating it in Yiddish.
Jan Kogel, who owns Enterprise Wood Products, a kitchen cabinetmaker sandwiched between a sheitelmacher and a dry cleaner, says the nature of his business does not require actual customers to walk in. As a result, he says, he has been insulated from financial effects of the lockdown.
"I don't have the foot traffic of other companies," said Kogel, gesturing at his showroom, lined with a variety of chiseled kitchen cabinets and stainless steel sinks. "Other businesses rely on foot traffic, so it affected them 100 percent. But for me, baruch Hashem, there's word of mouth, so the showroom is secondary. It was difficult that I couldn't have people in the showrooms for weeks, but it's not as important as the guy who sells office supplies."

Fewer Simchahs
Next door, Prime French Cleaners has been badly affected by the lockdown. Storeowner Yitzchok Chaimoff relates sadly that the decrease in simchahs has meant fewer people sending in clothes to be cleaned. Meanwhile, he needs to pay fixed costs out of a plummeting income.
"You know how much money we lost?" he said. "I owe money to the landlord, credit cards, everybody."
Chaimoff said although his landlord is understanding, he also is losing money by not receiving the rent. "He has no choice," he noted. "What is he going to do, throw me out? He can't throw me out because the courts are closed. We gotta wait, we gotta see what happens."
Even with the red zone lifted, Chaimoff said customers have not come back at previous levels, pointing to the half-empty conveyer belt holding clothes waiting to be picked up. After the spring closure, he said it took about three or four months after reopening for customers to come back.
"I opened in the summer, when I thought people were in the country and it was safe," he said. "But literally nobody was coming in. There was no reaction until Rosh Hashanah. Then it was fine until Succos, when the next lockdown began."
Chaimoff, who also sells jewelry in his store, said that opening Boro Park was not a panacea. The politicians must stop talking, he said, since their rhetoric frightens people and depresses the economy.
"The news is constantly scaring people," Chaimoff said. "This morning, de Blasio said they might close schools again in all of New York. When he says that, it scares people from going outside. If they stay inside, they have no reason to dry clean, they have no reason to buy jewelry."
Entering Unique Sterling is a step back in time. A large buggy stands in the center, missing only the horse. Volumes of ancient seforim and books abound. A typewriter sits on the side, squeezed in by an antique telephone receiver and a more modern, active dial phone. A grandfather clock on the side bears a bumper sticker reading, "Grandpas are just antique little boys." A mouthful of laughs are plastered to one wall.
Noach Klein, a native of the Hungarian town of Dezh, opened Unique Sterling 45 years ago, stocking it with the best silver he could find on frequent business trips. He no longer makes those trips, relying on suppliers — as well as on a granddaughter, who now helps him out in the store.
When the lockdown started after Succos, Reb Noach dealt with it by covering his store window with a black bag and hanging up a sign, "Only for customers, not for inspectors."
"They listened," he said. "An inspector came in and asked me if I was open. I showed him the sign and he said, 'Okay,' and walked out. He just wanted to make sure everyone was wearing a mask."
Have customers been coming back?
"I don't look that deeply into those things," he said with a shrug as he weighed some silver jewelry on a decidedly modern scale. "Suppliers are understanding."
A young girl at the Compliments Gift Shop, a daughter of the owner, said that they tried bringing in a new line of merchandise in order to qualify as an essential business, but inspectors were unmoved. They then switched to a delivery-only basis, taking orders by phone, WhatsApp, and Instagram.
"It was a crazy, crazy situation," she said. "But it turned out best for us, because people got used to ordering over the phone. It's just so much easier to order like that. This lockdown has changed the way people buy."
(Originally featured in Mishpacha, Issue 836)
Oops! We could not locate your form.
>