| This Way That Way |
Avocado
| May 16, 2023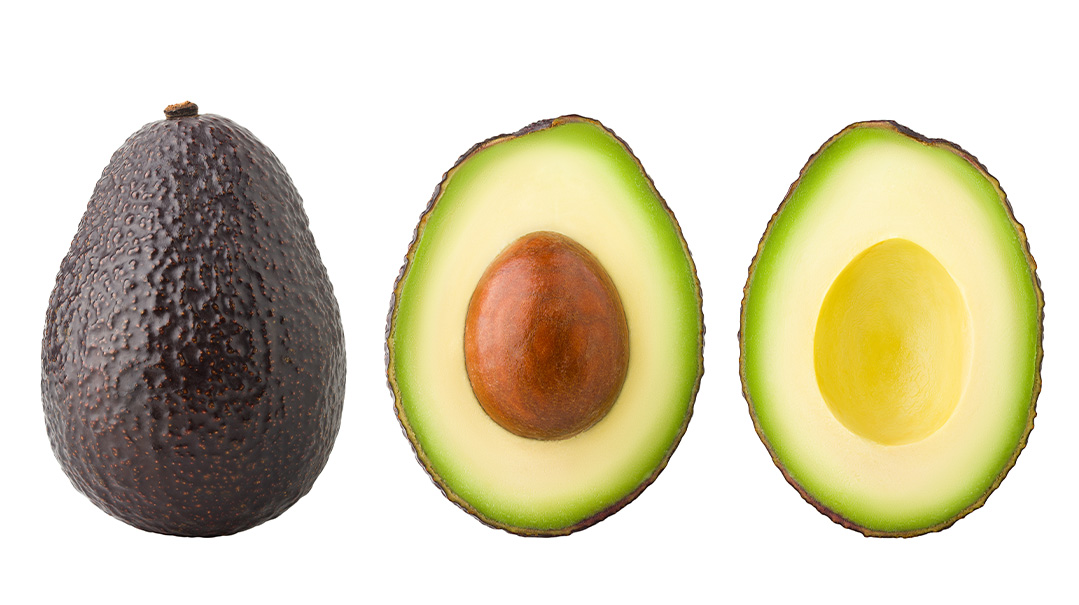 Recently trendy, always delicious, avocado is actually an extremely big berry with a single large seed inside. When at peak ripeness, the avocado peel will be a dark green to black, with a bumpy texture and an exterior that will give slightly to gentle pressure. The fruit has a buttery consistency that lends itself to being mashed, blended, or simply cubed and added to a salad.
Avocados are rich in many fatty acids, which support skin and immune health and help the body properly absorb many types of vitamins and minerals. And if that's not enough of a reason to go crack one open, there's also the fact that they're just so super tasty! Enjoy our staff's favorite recipes for this super food.
Holy Guacamole!
Say Cheese… and Avocado!
In the summer of 2017, roughly three million pictures of avocado toast were uploaded to social media every day.
Later, Gater
Originally, avocados were referred to as "alligator pears."
When You're Toast
Sunburn? Mix a mashed avocado with a teaspoon of honey and half a teaspoon of lime juice, and spread it on like aloe vera.
Grilled Chicken 'n Apricot Salad
Recipe by Chavi Feldman
These amazing summer flavors make your taste buds come alive in this hearty salad, which doubles as a delectable meal-in-one.
SERVES 6
3 ripe apricots, halved and pitted
1 lb (450 g) chicken breasts, pounded to ¼-inch (½-inch) thickness
1 ear fresh corn
10 cups chopped lettuce
1 avocado, peeled and diced
3 scallions, thinly sliced
¼ cup shelled roasted and salted pistachios
Dressing
½ cup apricot jam
3 Tbsp olive oil
3 Tbsp soy sauce
2 Tbsp lemon juice
2 Tbsp Dijon mustard
⅛ tsp ground ginger
½ cup mayonnaise
½ cup water
1 Tbsp brown sugar
Combine jam, olive oil, soy sauce, lemon juice, mustard, and ginger in a bowl for a marinade, whisking well. Set aside 1⁄2 cup of the mixture for use in the dressing.
Place apricot halves into a bowl and drizzle 2 Tbsp of marinade over them. Toss to coat and refrigerate.
Place chicken into a large ziplock bag and pour the rest of the marinade into the bag, turning the chicken to coat well. Place bag into the refrigerator and marinate chicken for 3–4 hours, turning the bag over from time to time.
Prepare the dressing by adding mayonnaise, water, and brown sugar to reserved 1⁄2 cup of marinade and whisk until well combined.
Prepare salad by placing the lettuce, avocado, and scallions into a large bowl.
Using an outdoor gas grill, grill chicken and corn for about 5 minutes per side or until cooked through. Place apricot halves on the grill for about 2–3 minutes per side.
Slice the corn kernels off of the cob with a sharp knife and add to salad. Dice the chicken and apricots into 1-inch (21⁄2-cm) cubes and add to salad. Sprinkle with pistachios and drizzle with dressing. Toss gently to coat and serve immediately.
Note: Extra dressing can be stored in the refrigerator for up to two weeks.
Steak Tacos with Avocado Cream
Recipe by Sima Kazarnovsky
This taco is light, fun, and colorful. Mexican street food at its best!
SERVES 8
8 flour tortillas
1 plum tomato, chopped
fresh cilantro, chopped
1½ lb (680 g) London broil, marinated in your favorite steak seasoning
your favorite red cabbage slaw
Avocado Cream
1 large avocado, cubed
2 Tbsp chopped fresh cilantro
1 cube frozen garlic
2–3 Tbsp water
juice of 1 lime
Preheat grill or set oven to broil. Grill the seasoned steak for 4 minutes on each side or broil in the oven for 4 minutes on each side.
Mix the avocado cream ingredients and blend until mostly smooth with an immersion blender. (Leave some chunks.)
To serve: Grill the tortillas for 2–3 minutes on each side. Add London broil, chopped tomatoes, cilantro, red cabbage slaw, and avocado cream.
Avocado and Salmon Boats
Recipe by Naomi Nachman
My dad used to make these salmon avocado boats as a special treat or for a special occasion.
SERVES 2
1 avocado, halved
4 slices smoked salmon, finely chopped
Dressing
1 Tbsp olive oil
½ cup sugar
½ cup vinegar
juice of 1 lemon
⅓ cup ketchup
2 cloves garlic
½ tsp paprika
salt and pepper, to taste
Place all dressing ingredients in a food processor and process for 30 seconds.
Fill each avocado half with chopped smoked salmon and drizzle with dressing. Enjoy!
(Originally featured in Family Table, Issue 843)
Oops! We could not locate your form.
>