| Recipes |
Asian Salmon Satay
| May 17, 2022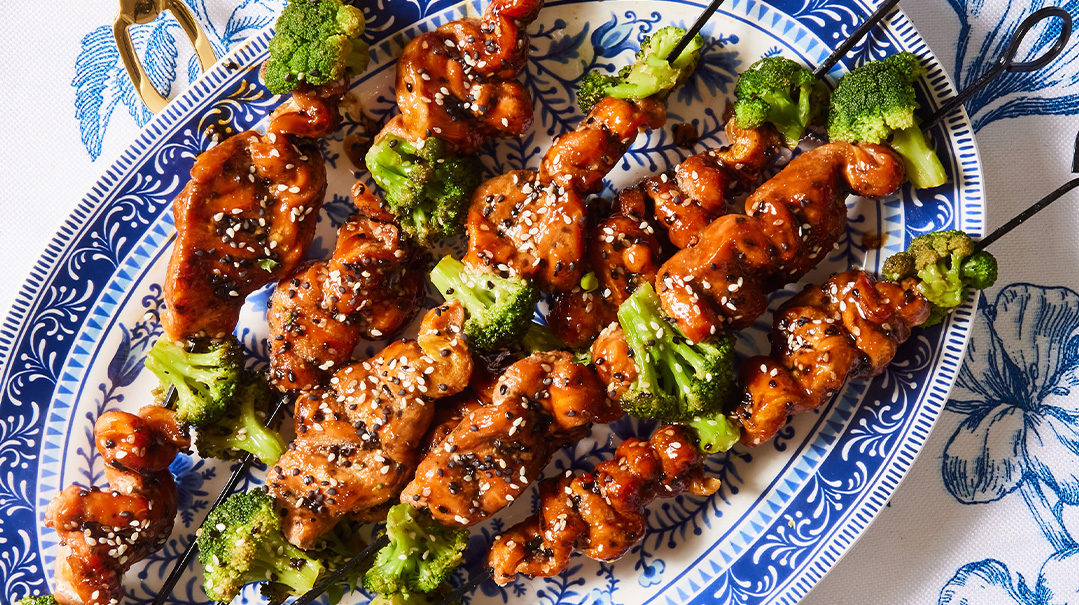 Food and Prop Styling Goldie Stern
Photography Felicia Perretti
Here's a pretty spin on your classic salmon dish. The salmon is sliced into super-thin strips, creating a beautiful ruffled effect that's as pretty as it is delicious. Serve it as a main, or as a starter over rice. It can be eaten warm or at room temperature too. This one's a versatile, quick, and easy recipe you'll keep coming back to!
SERVES 8
4 salmon fillets, about 1½ inches (4 cm) wide each
salt, garlic powder, and ground ginger, for sprinkling
1 cup sushi sweet sauce
1½ Tbsp sesame oil
1 lb (450 g) frozen broccoli florets, defrosted
black and white sesame seeds
Place salmon slices into the freezer for 15–20 minutes until slightly firm but not frozen. Using a sharp, non-serrated knife, slice each fillet lengthwise into 4 even slices, about ¼-inch (0.6-cm) thick each. Alternatively, you can ask your fish store employee to slice it for you.
Place salmon ribbons in a single layer in a nonreactive dish. Sprinkle both sides with salt, garlic powder, and ground ginger. Combine sweet sauce and sesame oil and pour half the marinade over the salmon, reserving the rest. Spread sauce gently over both sides of salmon and refrigerate, marinating for 1–2 hours.
When ready to assemble, remove salmon from refrigerator. Preheat oven to 400°F (200°C). Lightly spray a baking sheet with cooking spray.
Slide a broccoli floret onto a 10-inch (25-cm) skewer, pushing it down about three-quarters of the way. Beginning with the thinner end of a single salmon ribbon, thread onto the skewer, weaving in and out to create a ruffle effect. Slide it all the way down to meet the broccoli floret. Continue assembling the skewer by placing a second floret after the salmon, then another salmon ribbon, beginning at the wider end this time, and finally ending off with a broccoli floret. Be sure to alternate the direction of the broccoli florets.
Place the completed skewer onto the baking sheet. Repeat with remaining skewers until all 8 skewers are assembled and are placed onto the baking sheet, slightly spread apart. Spray lightly with additional cooking spray and sprinkle with black and white sesame seeds. Bake for 10 minutes. Drizzle lightly with reserved marinade right before serving.
(Originally featured in Family Table, Issue 793)
Oops! We could not locate your form.
>