| Gourmet Vs. Everyday |
Asian Patties
| August 30, 2022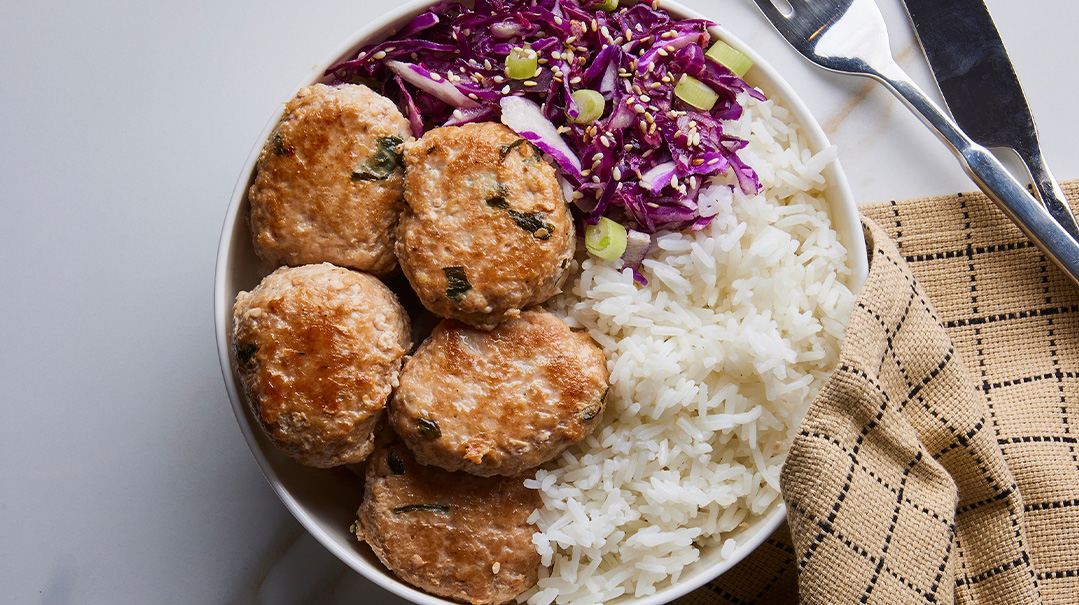 Food and Prop Styling by Mindy Rubin Photography by Felicia Perretti
Chaya Suri Leitner
I like to throw a ground chicken dish into the supper rotation every few weeks to change things up a bit. Since my kids are not huge fans of ground chicken, I know that when I make it, it's gotta be flavored really well. And that's how the Asian Patties were created. Originally, I started with just a little toasted sesame oil to add great, bold flavor and then the rest just flowed. Serve this with plain rice and Asian Cabbage Slaw for the whole experience.
Sara Gold
Hi! I'm a REGULAR home cook. My kids don't venture out of their culinary comfort zone
too much, so I make suppers like meatballs and spaghetti and schnitzel. In honor of 
the upcoming school year, I want to try to change things up before it gets very stale
...very fast. I'm excited to be bringing some of Chaya Suri's cooking style into my 
kitchen and I can't wait to open up some new options for my kids! I'll be tweaking 
things so the new flavors will be introduced to them slowly. 
Follow along to see how it goes over!


Asian Patties
SERVES 6-8
3 lb (1½ kg) ground chicken

OR a mix of ground beef and chicken

¼ cup chopped scallions
½ cup chopped parsley
1 tsp salt
½ tsp minced fresh ginger

OR ¼ tsp ground ginger

¼ tsp black pepper
¼ cup coconut aminos

OR ¼ cup soy sauce

3 Tbsp toasted sesame oil

OR 2 Tbsp sesame oil

1 Tbsp mirin

I skipped this!

oil, for frying
Mix all the ingredients except oil until combined.
Heat oil in a frying pan on medium heat. Form patties and cook about 4–6 minutes on each side until browned. (The mixture is very sticky when raw, so I usually use a spoon to scoop patties into the frying pan and then pat them down with the back of the spoon.)
Patties can also be baked at 425°F (220°C) for 10–12 minutes, then flip and bake another 10–12 minutes.
Asian Cabbage Slaw
1 Tbsp toasted sesame oil

OR ½ Tbsp sesame oil

2 Tbsp olive oil

OR 2 Tbsp sunflower oil (since that's what I had!)

2 Tbsp rice vinegar

OR regular vinegar

salt and pepper, to taste
1 14-oz (400-g) pkg shredded purple cabbage
1 carrot, shredded (optional)
3 Tbsp toasted sesame seeds

I added a little honey at the end to balance out the strong acidity
In a large bowl, whisk sesame oil, olive oil, vinegar, salt and pepper. Add in cabbage, carrots if desired, and sesame seeds. Mix well to combine.
Sara Gold
My family loved these — I was shocked! The burgers were soft, juicy, and full of flavor. (I wet my hands to form the patties and it worked very well.)
I can't remember the last time we had Asian food, so this was fun to prepare!
(Originally featured in Family Table, Issue 808)
Oops! We could not locate your form.
>