| Recipes |
Asian-Inspired Sloppy Joes
| October 25, 2022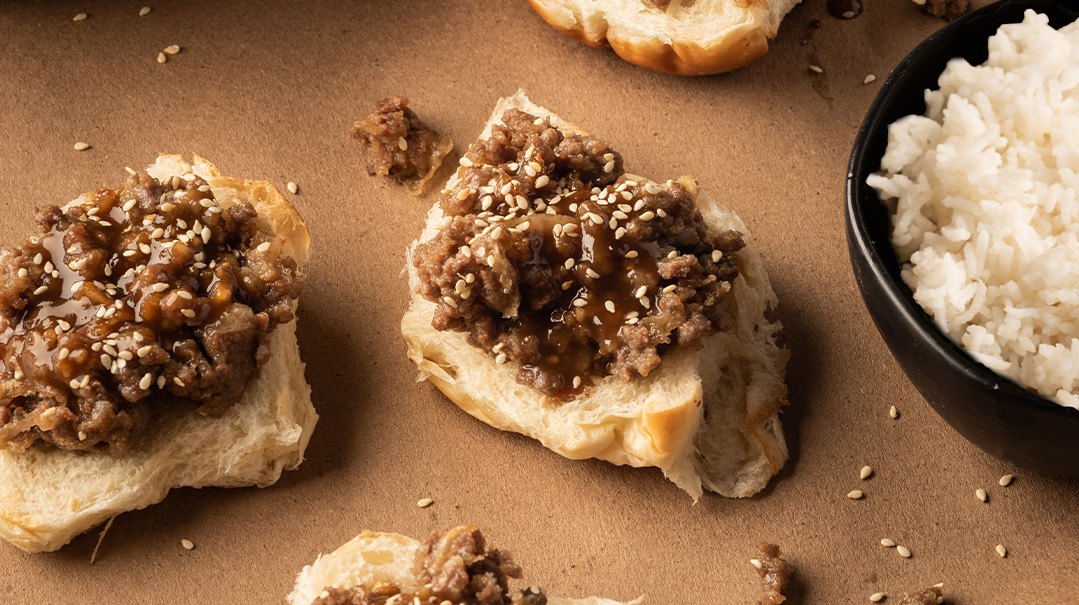 Food and prop styling by Chana Rivky Klein
Photography by Reuven Klein of Ruby Studios
This piquant and sticky honey-garlic sauce takes a simple ground beef dinner to the next level! Truly a "fake-out takeout" kinda dish.
SERVES 4–6
1 large Spanish onion, sliced thinly into
half-circles
2–3 Tbsp avocado or olive oil
pinch of sugar
2 lb (910 g) ground beef, turkey or chicken
2 cups raw rice, cooked according to pkg directions
toasted sesame seeds, for sprinkling
Honey-Garlic Sauce
1 cup brown sugar
½ cup low-sodium soy sauce
⅓ cup fish-free Worcestershire sauce
1 cup honey
3 Tbsp minced garlic
1 tsp toasted sesame oil
⅔ cup cold water
⅔ cup cornstarch
Place sliced onions and oil into a large skillet. Cook onions over very low heat with a pinch of sugar for about 35–40 minutes until very soft and caramelized.
Once the onions have finished cooking, add the ground beef to the pan, breaking it up with a wooden spoon. Raise the heat to medium and keep stirring and breaking up the beef until the meat is cooked through and no longer pink, about 8–10 minutes.
While the beef is cooking, prepare the honey-garlic sauce: Place all sauce ingredients except for the cornstarch and water into a medium saucepan. Heat over a medium-low flame until simmering and mix well to combine.
Create the cornstarch slurry by combining the cornstarch with cold water in a cup, and mix well until thinned. Slowly add the mixture to the saucepan and whisk to combine. Bring to a boil and heat just until thickened, about 3–4 minutes.
Add half the sauce (about 1 cup) to the ground beef mixture and mix well. Allow to simmer on medium-low heat for an additional 3–4 minutes, stirring gently until sauce has fully thickened and is well incorporated into the meat. Reserve the extra sauce for serving.
To serve, place cooked rice on a dinner plate. Place several heaping spoonfuls of the beef mixture next to or over the rice. Sprinkle with toasted sesame seeds. Drizzle rice and meat with the additional sauce and serve immediately.
(Originally featured in Family Table, Issue 815)
Oops! We could not locate your form.
>