| All I Ask |
All I Ask: Chapter 47 | March 10, 2020
If he was looking for a quiet type who would make a good, devoted wife, it seemed he'd found the right one
"I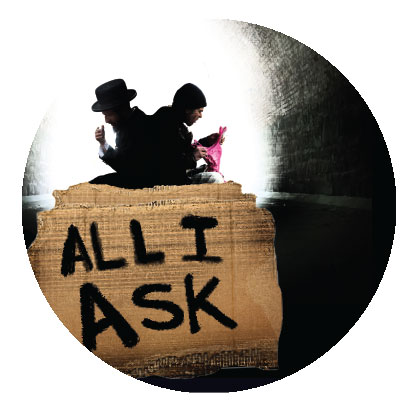 want to talk to this Mordechai from the falafel shop!" Judy was at the top of her game, bold and brave. "Let's see him stand up to me and keep on hiding information from us!"
"He's just as stubborn as you are," Yonatan chuckled. He was feeling good. It had been a great idea to invite Judy to come and help him. He loved his sister so much and wanted to see her, especially now — and she really was better suited to this job than he was.
Dad had sounded hesitant when Yonatan had called to suggest that Judy come and try to make contact with Shalom. "But it's your job, Yonatan," he'd kept saying. "You can do it, and I'm relying on you. What do we need Judy for?"
But after a little more wheedling on Yonatan's part, Dad had given in. And when Yonatan broached the subject with Judy, she'd been quick to agree. After a brief pause, she added confidentially that she'd thought of the same idea herself, and had even started planning how Yaakov and the two girls would manage in her absence.
Yonatan was surprised. "If you thought of it on your own, why didn't you tell me?" he asked.
"Daddy wasn't keen on it," she confided. "He was afraid you'd think we didn't trust you to see this thing through, and you might be hurt."
Dad was so good! It was heartwarming to know how much he cared… to know his father would stand up for him.
"That was nice of Dad. But still, I'd like you to come," Yonatan said. "And not just to help me get hold of Shalom… there's something else as well…."
With a little smile, he cupped his hand to his ear to muffle the joyful shriek he knew was coming.
Judy didn't disappoint him. "Yonatan! What are you saying, I don't believe it, wow! Really?" Her voice rose higher with every word.
"Really. I mean, nothing is certain yet, but so far it looks good. Very good." He half-waited for her to burst out singing "Od Yishama," but instead she volleyed a list of questions at him. What was her name? How old was she, and where did she live? Where was the family from, and what did the girl do?
"Her name is Sarah Bayla Krieger," said Yonatan, "and she's 23. She lives near Tante Hindy in Ramat Beit Shemesh Alef. They made aliyah from New Jersey when she was five, and she has a secretarial job."
"Sounds good," said Judy. "I want to meet her."
"Mmm... of course you should meet her." Yonatan sounded a bit awkward. "But you need to understand, Judy, that she's not the same type as you and Moriah."
"As long as you like her, we're going to like her too," Judy promised.
(Excerpted from Mishpacha, Issue 802)
Oops! We could not locate your form.
>