| All I Ask |
All I Ask: Chapter 48 | March 18, 2020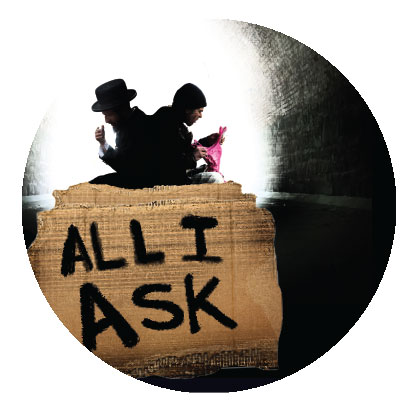 "If anybody did want such a shidduch, then you'd know there was some major problem with the girl"
Friday morning.
Yanky approached his parents' building, his hands full of bulging grocery bags. Along with his own family's shopping, he had picked up a few items for his mother, and he was bringing them to her before heading home.
In a corner of the building's front yard he saw Meir, rather desperately rocking his twins' double carriage. He'd come in for the bar mitzvah and was staying for Shabbos. A ray of winter sunshine played upon the pink blankets.
"Stop rocking them, that one doesn't want to go to sleep," said Yanky, pointing to the twin to his left. He had no idea who was who.
"Her name is Shiffy, not 'that one.' And what am I supposed to do — split the carriage in two? Chani wants to sleep, so Shiffy will have to put up with the rocking."
"I can hold her for a bit, while you rock Chani," Yanky offered, putting down the bags. He opened the safety straps and gently lifted the little baby out. She gurgled at him in response.
"Tell me," said Meir. "Who is this new mechutan of Sandy Eliav's? Do you know him?"
"No. An American family from Beit Shemesh, that's all I know."
"I heard they're sort of chareidi-leumi types."
"You heard right."
"But Yonatan was talking about becoming chassidish. I thought he'd look for a more heimishe family."
Yanky chuckled. "Talk is cheap," he said. "And it costs nothing to try on my shtreimel. But when it comes down to it, and when you find out how much chassidus really demands of you, you can get cold feet. I guess Yonatan would rather be a friend and supporter than a full-fledged chassid."
"But he's a serious bochur!" Meir insisted. "When I spoke with him, he seemed very genuine."
"I don't deny that he's genuine. Nu, what were you expecting — that he'd take Weinberger's daughter, or Shteier's granddaughter? Who's he supposed to marry? None of our people would give their daughter to a university-educated fellow with a clipped beard, who's almost 30. If anybody did want such a shidduch, then you'd know there was some major problem with the girl."
Yanky studied his brother's face. It showed neither agreement nor disagreement. "You don't really care about Yonatan's shidduch," he pronounced. "There's something else you wanted to talk to me about."
"True."
"So open your mouth and scatter your pearls, instead of asking me about the Eliavs," Yanky demanded.
(Excerpted from Mishpacha, Issue 803)
Oops! We could not locate your form.
>