| LifeTakes |
A Little Red Emunah Sweater
| September 9, 2020
Why am I even buying a baby sweater when the prognosis is so grim?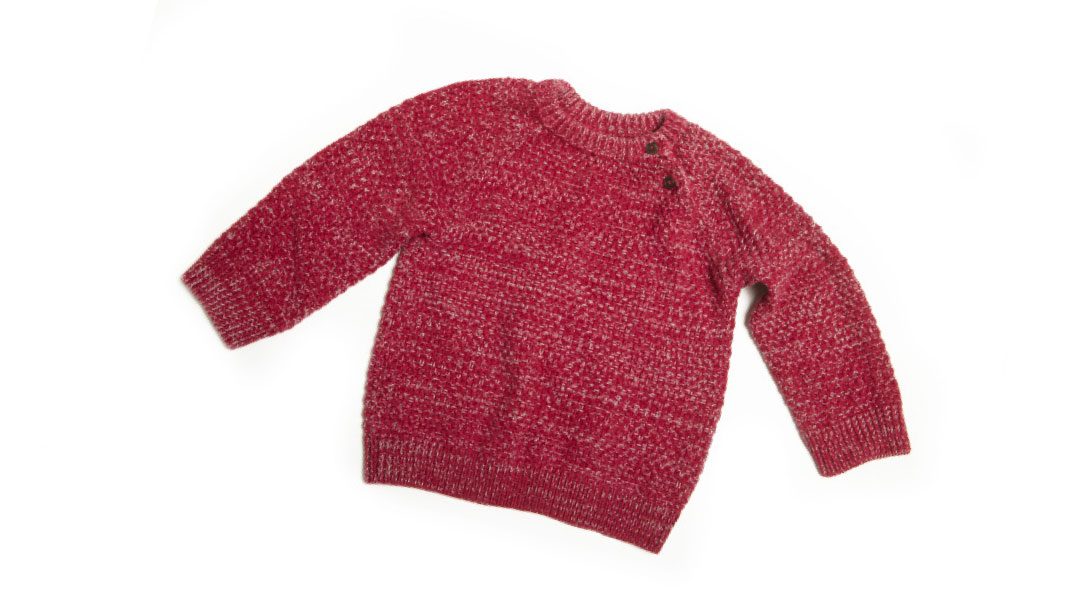 I hold the little sweater up to the light. The sleeves unfold and gently swing across my face. It feels almost like a caress, which is weird because I'm nothing if not a realist. It's only a sweater after all.
And yet, there's no denying it — it smells heavenly. Maybe it is.
Tiny buttons, the softest knit, and a small tassel on the hood, nodding to classic style. This little piece of beauty captured my eye right after a little thump-thump on the screen stole our hearts.
I didn't know much then. There was no telling how our story would end. I knew I was carrying someone special and deeply loved. And I needed to know, needed to feel, that this tiny thing truly existed.
"She'll wear this one day!" I told my husband, pointing to the sweater on my screen.
"You mean he will," he said with a laugh. "But anyway, we don't buy before birth. It's not our minhag." He was right, my husband, minhag and all. Yet that little tab on my browser refused to budge, until one day I finally hit add to cart.
It took a few weeks for the sweater to make its way over from Paris. ("Paris?" my husband had asked, incredulous.) A short while later, our sweater found its home. Officially, it was to be stowed high up in the closet. But more often than not, I found it inexplicably pressed between my hands, in my bed, even at my computer desk. I held the sweater close throughout the pregnancy.
It was far from smooth sailing.
"If this doesn't end well," I told my husband late one night, "at least I'll have the sweater to remember him by." The weeks that followed were chaotic. Three hospitalizations, second opinions, traveling for more opinions, a risky surgery… I clutched the sweater close.
And then suddenly, like a streak of brilliant light, our little boy arrived.
The sweater was perfect. "A boy this beautiful needs a roite bendel this big," my mother said, admiring my gorgeous boy in his handsome red knit.
"Red? For a boy?" asked my mother-in-law. I laughed to both. Yes, yes, yes! I had a baby. This was real. My boy wore his little red sweater everywhere. And everywhere he went, people had what to say. But no one understood my secret. No one knew what our little sweater meant.
Then one day, our baby was no longer a baby, but a perfectly charming, mischievous little boy. And the sweater — it no longer fits. Emotions rage, but pragmatism wins. I wash the sweater one last time, and will myself to tuck it away, even as a little voice begs, But why?
Why am I putting this sweater in storage? Why do I even own a storage box, with a prognosis so uncertain and grim?
I find myself, storage box open and waiting, sweater between my fingers once more. And then, suddenly, I realize the answer is there, right before me. The sweater speaks for itself.
Once it told the story of a butterfly's wings, a tale of hope and potential and prayer wrapped in one. And it will do so again.
I am saving the sweater, pressed and fresh and ready to be worn. Because it will be. I know it will. And if I have any doubt, moments when my hope flickers and I wonder, Will it ever come to be, I'll know exactly where to look — up in the storage box, where a flaming-red-emunah sweater sits waiting.
(Originally featured in Family First, Issue 709)
Oops! We could not locate your form.
>