| Magazine Feature |
A Gallery of Experience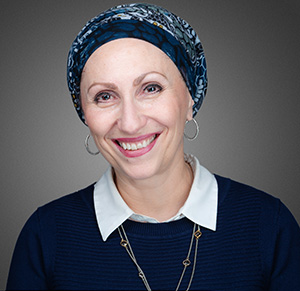 | March 17, 2021
For Antoine Helwaser, as lucrative as art is, it's a two-dimensional adventure, while connecting back to his Jewish heritage has been a multi-layered deep dive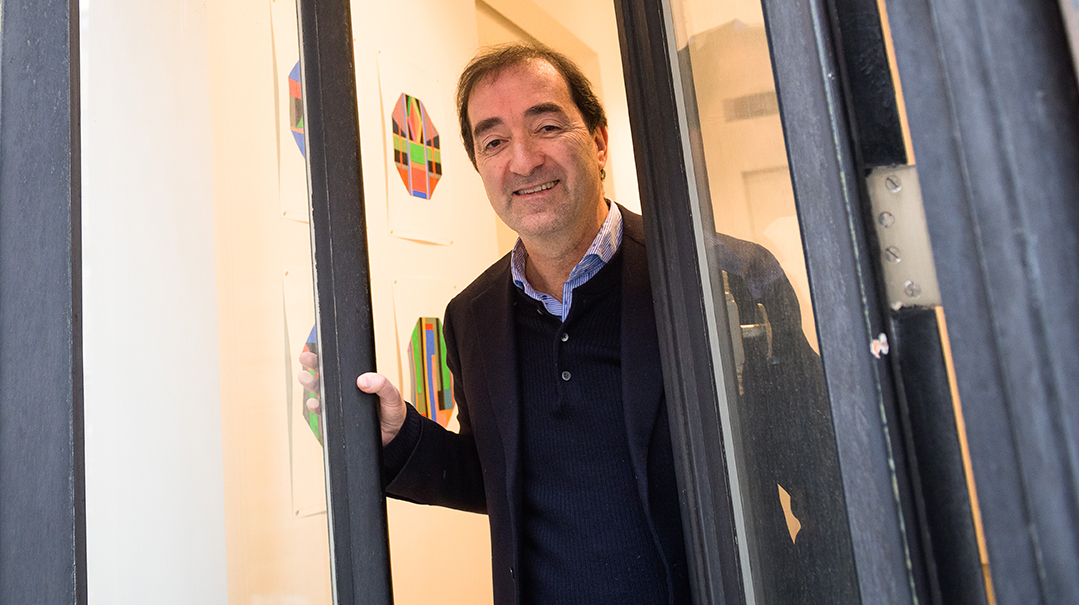 Photos: Naftoli Goldgrab
You could almost miss the door to Antoine Helwaser's gallery on Madison Avenue and 69th Street, wedged between boutiques so exclusive that only a few exquisitely crafted, carefully curated dresses and handbags are displayed in the windows. But behind the black-painted door, up three flights of old staircase, one enters a brightly lit, starkly modern white space that is the Helwaser Gallery.
It's not large, only a reception desk and a couple of large rooms currently hung with the colorful geometric paintings of emerging artist Anton Ginzburg. Only the tall, wrought-iron-framed windows leading to a tiny balcony suggest the prewar origins of the building. (We're led in by Mr. Helwaser's daughter Clara and her husband of ten months, Yaakov Mens, who has been helping his father-in-law with marketing and publicity. Both of them pursued advanced studies at Cambridge, and Yaakov is still associated with the Middle East and North African Forum (MENAF), a foreign policy think tank affiliated with the university.)
Mr. Helwaser now emerges to greet us, dressed with casual Parisian elegance in a dark blazer, sweater, and black yarmulke. About 13 years ago, he and his wife, Anne-Marie, moved their family from Paris to New York. Mr. Helwaser's manner is welcoming yet circumspect, a combination perhaps of European reserve and native modesty.
Like analyzing a complex painting, it will take some time to uncover the layers, and there are many; it will turn out that Mr. Helwaser is very much a Renaissance man, an international art expert who has studied philosophy and psychology; a jazz pianist; a child of Holocaust survivors; and a Jew who elected to embrace his faith after a childhood during which it was vigorously suppressed.
Repairing the Links
Antoine Helwaser grew up in a home with parents who were clearly cultured, intellectual people with talents in music and art. Yet Jewish culture was conspicuously absent.
"My parents weren't simply unreligious," he says. "They did everything they could to suppress their Judaism. They didn't make me a bar mitzvah. We didn't even fast on Yom Kippur."
In fact, he wasn't aware he was Jewish until he was ten years old.
His parents did give him a bris when he was born — 18 years to the day after his father's family was deported to Auschwitz. The significance of the number 18, life, is not lost on him today: The loss of his family in 1942 was transformed into new life 18 years later.
His parents' determination to suppress their Jewish identity was clearly a reaction to the trauma of the war. They were the children of Polish immigrants to Paris, and managed to survive the war in hiding in the French countryside. But the rest of their families were sent away and perished, with the exception of a grandmother who returned from Auschwitz, and an uncle who returned from Buchenwald.
Antoine Jacques, their second child (he has a brother and a sister) was given the Hebrew name Yaakov after a great-uncle Yankel who, according to the reports that came from the camps, had been one of Mengele's victims.
"After the Shoah, the survivors became a sort of vanished generation," Mr. Helwaser says. "My parents never spoke about it. The press never spoke about it. There was a television series called Holocaust in the 1970s that brought more of it to light. It wasn't until Claude Lanzmann made the film Shoah in the 1980s that people even had a word for it. But when I was a teen, there were no words for it."
The silence was deafening. Helwaser found himself like a man without a country.
"We Jews are a people of words," he says. "I needed to put words to something that had no words."
In that silence, he found something of an escape in art, which offered a world of fantasy and dreams.
Even without words, the trauma reverberated through the generations, marking them all in different ways. For Mr. Helwaser's nonobservant siblings, the Shoah remains their main way of connecting to Judaism. His daughter Clara was moved to write her master's thesis, while attending university on a Cambridge European Scholarship, about the media silence in France after the Holocaust.
"I looked at Jewish newspapers in France from the war and on," she says. "There was really no mention of the Holocaust until the 1980s, after the trials of Nazi war criminals. The French didn't want to take responsibility."
Mr. Helwaser's parents began to open up a little more in the 1980s, as the rest of the world also began to speak openly about the Shoah, and Clara's grandmother began telling her stories, as if realizing time was short and they'd be forgotten if she didn't.
The sense of rootlessness and family secrets led Helwaser to explore psychoanalysis as a younger man, and even try psychotherapy himself. In the end, he says, it was Torah and the study of mussar that helped him move on and find the greater personal and Jewish connectivity and fulfillment he'd been searching for.
"I needed to connect to my roots, to Jewish transmission. How can there be a Jewish future without a past? It was as if there was something out there that was mine, but had gotten lost."
He knew his grandparents had been religious, even if he had no idea what that meant. As he searched, he made some friends who were more observant than he was, and began going to a beis medrash in Paris. He met Benny Levy, the prize student of Jean-Paul Sartre who famously left philosophy to study in yeshivah in Strasbourg, and later became a student in Jerusalem of Rav Moshe Shapira and founded the Institut d'Etudes Levinassiennes.
A Happy Accident
Anne-Marie followed Antoine on his journey, evolving along with him. After becoming shomer mitzvos, the Helwasers became close to Rabbi Yosef Haim Sitruk a"h, the chief rabbi of France, whose eloquence and ability to speak to Jews of all levels captivated an entire generation of young Jews. Helwaser and his wife became practically a part of the Sitruk family, spending Pesach with them for several years; he remains close to the Sitruk children and son-in-law Rabbi Ariel Gay, who directs the Centre Alef, a kollel and Torah center in Paris.
In the beginning, Helwaser's parents, especially his father, felt marginalized and betrayed by his newfound enthusiasm for Judaism. But they grew to accept it, and even lit Shabbos candles themselves in later years.
"My father loved life, enjoyed its pleasures," Helwaser says. "I myself always felt more of a separation between myself and the pleasures of this world, but my pleasure now is in learning."
He's currently working on a book about his journey, processing his family relationships, the Holocaust, and his return to Torah.
Their move to Riverdale was a happy accident.
"The Helwasers mostly wanted to move to America for the Jewish experience," his friend Josh Landes relates. "They came to explore, and were looking around at different communities. They got to Riverdale just a few hours before their flight back. There they stumbled on the Riverdale Jewish Center, where Mrs. Miriam Hering a"h was so warm and welcoming, telling them right away where they could send their children to school, even proposing a house that had come up for rent. They ended up making major life decisions right there on the spot."
Once they arrived, he continues, they were considered such an attractive, colorful family that everyone wanted to invite them for Shabbos.
"They didn't eat at home for a year," Josh claims.
Once in Riverdale, the Helwaser children attended SAR (Salanter Akiba Riverdale). Mr. Helwaser affiliated with the Young Israel of Riverdale, learns with chavrusas in kollel, and considers Rabbi Mordechai Willig his rav.
"Antoine is a masmid. He learns every day, a lot," says Dr. Tsvi Bar David, a popular podiatrist who is a member of Helwaser's chaburah. "He's a very spiritual guy — very sincere and devoted to his learning and his family."
When Clara and Yaakov married last April — a home wedding with only 25 people, due to COVID restrictions — Mr. Helwaser's father was already sick. A few days after the wedding, Clara and her parents all contracted COVID at once, and Antoine was sick enough to require a day in hospital. While there, his father was niftar in France, and of course he was deprived of the chance to get to France to participate in a levayah.
Yet perhaps there's a certain poetic justice in the timing, just seven days after the wedding: The war-scarred generation passed on just as the Helwasers' oldest daughter married, ceding its place to a new family that will launch the next generation of Torah Jews.
The Helwasers' son, a talmid in Yeshivas Toras Moshe in Jerusalem, got married in Israel a few months ago (a real, non-COVID wedding at the time).
"My father-in-law was on a cloud," Yaakov says. "He was so happy to have created the beautiful frum family he hadn't had as a child, and see it grow before his eyes."
In the Imagination
So what compels a Torah-observant Jew like Antoine Helwaser to become involved in this world of exclusive galleries? The art we see on the walls in the current exhibit is a good place to start.
"Anton Ginzburg is a Russian artist who lives in Brooklyn," Mr. Helwaser says. "He's a young, promising artist that we deal with directly." When asked to explain the work, he shrugs and says, "This is a typically Russian style of art, deriving from the Constructivist and Primitivist traditions of Russia in the 1920s. It's geometric — it plays with light and colors."
I'm not sure what distinguishes these canvases from other modern art, or how it introduces something new and important.
"To understand, you have to know what came before," Mr. Helwaser says. "That's how you know if something is truly original, or simply copies another style."
Yaakov volunteers that since coming into the Helwaser family, he's spent some time reading up on modern art, hoping to gain understanding. With a grin, he offers, "It takes background to understand why, when you see a tiger shark in a tank of formaldehyde, people consider it a work of art."
According to Mr. Helwaser, modern art is a very Jewish business; many world-famous artists were (or are) Jewish, and many of the dealers are Jewish as well. But an artist's Jewish background is no guarantee that the resulting art will be Jewish in content or perspective, and in fact Helwaser takes a dim view of lowering an artistic vision by trying to infuse it with Jewish content.
"Much of what we call 'Jewish art' is just decorative," he states. "It's not art for art's sake."
Clara suggests that perhaps Chagall could be considered Jewish art. But her father says no: Chagall took shtetl scenes for inspiration, but he was equally likely to use Christian images or landscapes to create art. Anything was fair game for his larger artistic vision.
In contemporary art, he says, art is meant to be appreciated at the surface level, a two-dimensional plane. Art does not possess the depth of Torah, which exists on many levels and teaches us how to live in the world and behave responsibly.
"Art has no depth," he says. "It's not in this world. It's in the imagination."
In fact, when asked if the culture of the secular art world is ever at odds with Jewish hashkafah, he responds that he doesn't believe most artists are terribly interested or influenced by outside trends in politics or culture. They're just interested in their art, in taking their vision and bringing it to the canvas.
A Passion, Not Just a Parnassah
Mr. Helwaser imbibed art from a very early age. His father a"h, who started off after the war in the "shmatteh business," had a passion for art, and began collecting various works. In the 1970s he opened a gallery, and the children grew up being taken to museums and private galleries.
While Mr. Helwaser modestly doesn't say much about his father's success, his friend Joshua Landes, a hedge fund director who has spent time in France, told Mishpacha, "I was told by an acquaintance that Antoine's father was one of France's most well-respected art dealers."
In 1985, after studying philosophy, psychology and art history, philosophy and conservation at the Université Panthéon Nanterre in Paris (Yaakov slips in that his father-in-law earned a national prize in philosophy during that time), Helwaser fils began working with Helwaser pere. Mr. Helwaser's brother and sister are still in Paris, but he's the only one who pursued the art business.
"You have to have a passion for it," he says. "If not, it doesn't work. It's more than just an intellectual mastery."
His wife Anne-Marie wasn't originally much of an art buff, but when they moved to New York, she began taking classes at the New School and reading up. Now she's extremely involved in the primary market, promoting emerging artists who seem promising.
Thirteen years ago, after 20 years of working with his father in Paris, Mr. Helwaser decided to move to New York. The reasons were both professional and personal: the center of the modern art business is in New York, and New York is a more congenial environment to raise a Jewish family.
"My sons couldn't wear a kippah in Paris," he says. "There is tremendous pressure to conform, to hide one's Jewish identity. New York isn't like that at all. New York is a collection of communities, each one of which feels free to retain its identity."
He has a large network of clients here, and says modern art dealers are a small enough circle that everybody knows everybody. As in other luxury markets, such as jewelry, trust is paramount when dealing with clients. Helwaser's clients trust his expertise, honesty, and judgment, and develop longstanding relationships with him.
"Art is so personal," he says. "When you share art that you love, you share something of who you are yourself. A dealer and a client have to share a certain sensibility, or develop one together."
He takes on the role of teacher to many of his clients, accompanying them to galleries and auctions, showing them how to appreciate fine art and opening their eyes to its depths.
When asked if he has personal favorites among the artists he sells, he's hard- pressed to answer.
"I'm so deeply into art that everything is a favorite," he replies. "When you know the whole body of an artist's work, you develop favorites among those works. An artist like Picasso has many different periods, and I might prefer one period, and within each period there are pieces I like more than others."
Despite his intense involvement with art — or perhaps because of it, and the high standards he deals with on a daily basis — Mr. Helwaser himself doesn't paint or sculpt. Instead, his son-in-law tells us, he's a jazz pianist.
"He sings, too," Yaakov says.
Helwaser smiles. "My father was a jazz singer, and he made sure to give the children piano lessons," he says. "I didn't enjoy it when I was a child and was forced to practice. But once I started doing it on my own, I loved it."
In the end, the most precious work of contemporary art Antoine Helwaser has acquired turned out to be his own canvas — brushstrokes of a Torahdig life.
The Deal of the Art
The Helwaser Gallery deals in the whole spectrum of modern art: the well-known names and the promising new entrants.
The market for up-and-coming artists like Anton Ginzburg, whose work can be purchased directly from the artist, is known as the primary market. Helwaser's wife, Anne-Marie, takes care of this end of the business. Antoine, on the other hand, deals with the secondary market: art whose value is already established and has been previously owned. He specializes in postwar modern art, which has been centered in New York since the 1940s and '50s: the Abstract Expressionists of the 1950s and '60s (think Rothko, Motherwell, Pollack), pop art (Andy Warhol, Roy Lichtenstein), and conceptual art at the end of the 1960s (Sol LeWitt, Joseph Kosuth, etc.).
But that art is nowhere to be seen in the Helwasers' gallery.
"I have it warehoused elsewhere in New York," Mr. Helwaser says. "It's extremely valuable."
He has dealt with the work of just about every major artist since World War II, and his clients include private collectors, museums, art lovers, and those who simply buy art as an investment, much the same way other investors buy stocks.
Can art really be a lucrative investment? Very much so, Helwaser says, if you invest with enough knowledge and seichel to avoid making mistakes. Returns of up to 12 percent are common, although it's usually better to hold on to a valuable piece of art. Part of his job involves advising art investors, who pay him a commission.
"It's not just a matter of which artist you buy," he explains. "Each artist has his different periods, and within each period, some works are more valuable than others. That expertise is how you know that one painting is worth a million dollars, while another is valued at two and a half million."
Being chosen for exhibition in a museum or gallery adds value to a painting, and the condition of a painting likewise influences its market value. Is it in mint condition, or did it require repairs — and why? New York, as the center of the modern art world, is home to a cadre of experts trained to restore works of art. They can size up a piece and submit a report on its condition to investors.
As everywhere, Covid has affected the art world, restricting travel and canceling gallery showings and museum exhibitions. The business moved mostly online. Yet the art market has remained as strong as ever, if not stronger.
"People see there's money to be made," Helwaser says.
And Yaakov adds, "The rich are getting richer, and when that happens, it always creates a better market for art."
(Originally featured in Mishpacha, Issue 853)
Oops! We could not locate your form.
>