| On Site |
A Different Drummer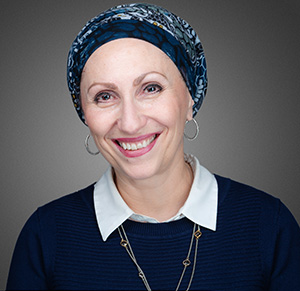 | June 20, 2023
A meandering musical journey gave Moshe Sobol's spirit new rhythm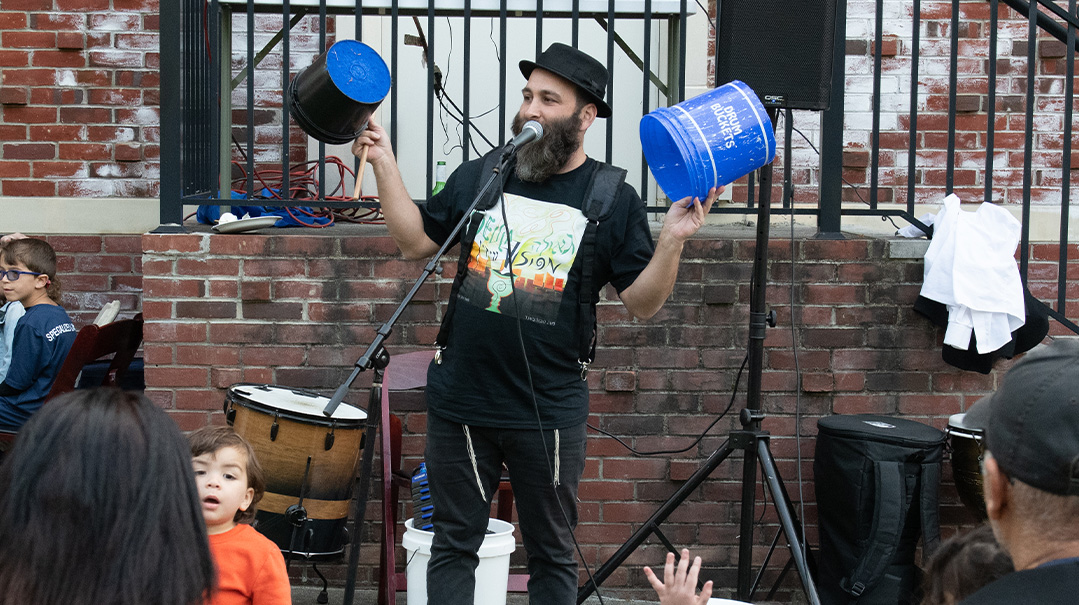 Photos: Jeff Zorabedian
AN
affable-looking man in his forties pulls up to the New Jersey shul's parking lot. The trailer attached to his gray Nissan Quest is filled with 75 padded black cases, each one protecting a small hand drum. After confirming where to set up, he and his 15-year-old daughter proceed to unload the drums. They unsheathe each one, spreading them all out on the ground in a large pile to the side of what will be the performance area on this sunny weekend afternoon.
The atmosphere here is festive as families enjoy the Chabad of Greater Monmouth's Sunday retreat. The lawn is covered with blow-up kiddie slides and tunnels, and in a space nearby, folding chairs are set up in a semicircle. Out in the parking lot, burgers and chicken tenders sizzle over a grill next to long tables heaped with fries, salads, and rice. There's a station for cotton candy and another for make-your-own-s'mores. Kids and parents eat, play, and enjoy the sunshine while a couple of bochurim dressed as clowns circulate among the crowd.
As the adults eat their fill and the kids get their energy out, the driver — here to provide the event's entertainment — takes in the scene. But before he starts what's been billed as, "an interactive drum circle led by percussionist Moshe Sobol," the star of the show has one final preparation: his getup. He had arrived clad in a white shirt, and now, like Superman, he whisks it off for the gig, transforming into his musician avatar with a dark T-shirt. Moshe dons a small black fedora and he is ready to go.
"Everyone welcome world-renowned drummer Moshe Sobol!" shaliach Rabbi Yosef Carlebach calls out to the attendees. They sit, and following his cue, Moshe steps forward to take command of his spot of lawn facing the crowd.
He begins by telling them a little about percussion, doing a brief show-and-tell of instruments including a tambourine, a guiro (a notched gourd played with a stick), a cowbell, agogo bells (metal, cone-shaped), an overturned bucket, and a melodica (a keyboard played by blowing air through a tube). Then he practices rhythm with the crowd.
"I'll clap four times, then you clap," he says. "Now clap after five times… okay!"
Finally it's time to try out rhythm with their own instruments.
"Everybody take a drum!" Moshe says, gesturing to the collection of colorful djembe drums laid out on the grass. Djembe drums, which originated in West Africa, are popular worldwide because — like a darbouka — you can play them with your bare hands and they can achieve a range of pitches. Each drum is goblet-shaped with a leather-top surface, a wooden base, and vertical tuning ropes.
Once his audience is seated again on their folding chairs, Moshe resumes his instruction.
"We're going to have some fun!" he announces, after which he demonstrates how to make a low tone by tapping the middle of the drum, and a high tone by tapping the edge. The crowd practices, then follows his example of tapping.
Boom chick-a chick-a boom chick-a chick.
"Everybody beat your drums, one-two, one-two!" Moshe calls. He takes out the melodica, and once the kids are tapping out a beat, plays a Chabad niggun, showing them how their drumming gives verve to the song.
The kids are really into it — their attention is rapt, their enthusiasm contagious. The eight year old with a bowl haircut next to me looks like he's usually a handful, but he doesn't take his eyes off Moshe as he slaps his drum and zealously follows every cue.
Next is "Am Yisrael Chai," followed by a little Jewish rap Moshe composed. The performance is fast-paced, and before you know it, he is inviting children to come up one at a time and perform with him.
"Jump whenever I hit my drum," he instructs.
He finishes with a bang, singing a high-energy "L'shanah haba'ah" before concluding with a final burst of ten powerful beats.
These performances takes a lot of energy, and Moshe admits he's usually tired afterward. But he's happy to speak the next morning about his music and his journey. After all, Moshe Sobol is much more than a kiddie entertainer. He's a serious musician and music therapist whose goals are to use music to help others, inspire joy, and take Jewish music to the next level.

He's Got Rhythm
Moshe's passion for music is balanced by a laid-back conversational style and infectious laugh, and I'm quickly drawn into the conversation. Music is in his DNA: Both his parents were professionals, his mother on piano (they had a much-beloved Steinway in the home), and his late father as a clarinetist and producer who worked with famous folk singers in the 60s.
His mother taught music for years in the Board of Cooperative Educational Services special ed system in Long Island public schools, eventually becoming the head of music education at New York University in New York City. She still gives classes there and at C.W. Post College in Nassau County. His father was an accomplished musician whose feet were planted firmly on the ground.
"He had a Yiddishe kop," Moshe says. "He always encouraged me to find practical ways to make a living with my music."
Moshe (then Marlon) and his brother Aaron grew up in Huntington, Long Island. While their parents divorced when Moshe was seven, they continued to live a mile apart from each other, participating jointly in milestone events and sharing childcare responsibilities. "I had the best divorce situation of all my friends," Moshe says.
Rhythm has attracted Moshe for almost as long as he can remember; he was playing drums at age three and taking drum lessons by age eight.
While Aaron learned the clarinet, Moshe was drawn to percussion instruments. He focused on the piano (which he explains is technically a percussion instrument), and the vibraphone, the marimba, and the melodica among others — including drums, of course. Today he can play close to 30 different instruments.
"The drums are like the heart of the body. They pump vitality and structure into the music, and give it its energy," Moshe explains. "Some percussion adds texture to the music, embellishing it like sprinkles on an ice cream cone."
As the timekeeper of the band who plays a supportive role to the melody, a percussionist must be able to listen well, stay attuned to the other instruments, support them, and remain flexible and geared toward the greater good of the piece.
While his parents leaned toward classical music, Moshe was drawn to jazz and world music. He enrolled in the Drummers Collective in Manhattan in ninth grade, taking the train into the city for lessons with drumming legends such as Bobby Sanabria, learning complex polyrhythmic techniques and African and Cuban drumming. He was captivated by the history of African drumming, which made its way through the triangle slave trade to the Americas.
Entranced by the hypnotic beats of African drumming, Moshe was determined to learn more about African music and culture. In 1997, his opportunity came via the People to People Student Ambassador Program, which sent students to other countries to absorb their cultures. At age 17, he was off to South Africa to take in its mix of British, Boer, Zulu and Lesotho ethnicities.
"Every day included something musical," he remembers. "I went to concerts, saw street music, drummed, and sang with people. I was always drawn to immersive experiences, and I loved the way music there was a natural, collaborative part of daily life, not something that took place in a formal, competitive setting."
Moshe was a well-rounded, popular kid in high school who participated in wrestling and baseball (he still plays paddleball a few times a week), but music was always a primary interest, and when high school finished, he opted to study music at the New School's Mannes School of Jazz and Contemporary Music in NYC. There he played in the school's Afro-Cuban Jazz Band and learned from many of the top names in modern music.
The atmosphere in the New School was highly competitive and pressured, but it opened doors professionally. Moshe played gigs in places like the Windows on the World restaurant atop the World Trade Center, and many other popular clubs. He also played at performance venues including Madison Square Garden, Lincoln Center, and Webster Hall.
Ultimately though, the jazz conservatory life was so pressured that Moshe began suffering from performance anxiety. He sought help from a creative arts therapy program, where he learned to calm himself with breathing exercises and other techniques, and also worked on resolving residual feelings from his parents' divorce, plus another rough patch the family had gone through: When he was 12, his mother was diagnosed with cancer. While she eventually recovered, it was a difficult, frightening time that left its mark.
As Moshe tuned in to his emotions, he was gratified to discover that his college offered a music therapy track, teaching students to use music to address clients' emotional, cognitive, and physical needs. After 1,000 hours of supervised internship, students could sit for the Certification Board of Music Therapists exam and become certified music therapists. This appealed to Moshe's psychological and humanistic side, as well as his practical bent.
"The field began in the 1950s in VA hospitals," Moshe explains. "Volunteer musicians began to come in to play for the patients, and the effects were so positive that the first university program was opened in 1955."
Moshe decided to go for it. "Music therapy got me out of my own head and focused on servicing the needs of other people," he says. "It was a way to use music for health, and it took me away from the intense competition and spiritually depraved world of music performance." Today, he uses music "to heal, inspire and reawaken."
Finding His Way
As a child, Moshe's mother always lit Shabbos candles and bought challah for Friday night dinner, but their Jewish observance didn't extend much further than that. "I had my bar mitzvah at age thirteen, and that was it for the next ten years," he says.
But he had always believed in a Higher Power, albeit in an undefined way, and by the time he was finishing college, Moshe was feeling a spiritual void. Many of the musicians he knew were spiritually inclined and liked to discuss philosophy and ideology, but it wasn't a practical, grounded sort of spirituality that led to real-life results. Most of the people he knew weren't married, nor were they working on morally bettering themselves.
His first significant encounter with faith came while he was doing his clinical hours toward his music therapy degree in the Beth Abraham rehab facility in the Bronx, best known as the place where Dr. Oliver Sacks was briefly able to rouse catatonic patients from paralysis.
"It's a very inspiring place with a magical aura," Moshe says. "Their spirit there is: 'The world says your diagnosis will lead to such-and-such constraints, but we'll prove otherwise.'"
In Beth Abraham, he encountered a devout 32-year-old Baptist patient whose arms had to be amputated after a brutal assault. The patient hadn't yet received his prosthetics yet, and he suffered immense frustration from his dependence on caregivers to help him with every imaginable need, from scratching his itchy neck to personal care. He felt diminished and persecuted, and often lashed out at the staff. At times he'd question, "Why did G-d make me survive?"
This story had a relatively happy ending: The patient received his prosthetic arms, went back to college, and became a recording engineer as well as a motivational speaker who was interviewed by Oprah Winfrey. But the man's unshakeable belief that G-d exists and was present in his life left a deep impact on Moshe. The two formed a bond, engaging in lyric analysis discussions, and recording songs together. Together they also wrote an original song about overcoming obstacles called, "Gotta Keep On Movin'."
Many of the caregivers Moshe met while doing clinical hours and working in nursing homes came from similar faith backgrounds, and Moshe observed the way their musicality was grounded in the faith traditions, with lots of singing, movement, and heartfelt expression. That spoke to him, even if the theology didn't appeal.
The fall following his time at Beth Abraham found him working at the Schnurmacher Center for Nursing and Rehabilitation in White Plains, New York, where the patient population included many elderly Jews, some of them Holocaust survivors. Every Friday there would be an Erev Shabbat service, and he'd help wheel people to it. At the service, run by a volunteer from a Conservative synagogue in White Plains, Moshe heard Hebrew spoken for the first time since his bar mitzvah. "I began thinking maybe I shouldn't write off Judaism, at least not without learning more about it," he remembers.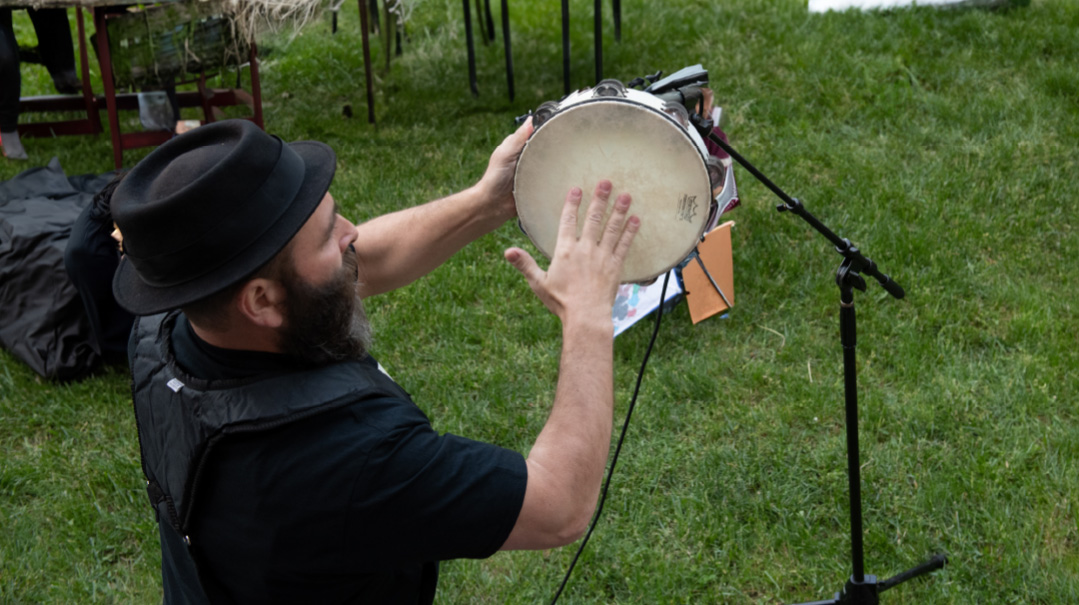 Old Friends, New Trends
At the New School, Moshe's college buddies had been Daniel Zamir, an Israeli saxophone player, and Matt Miller, whom he'd met as a child when their families vacationed together.
Matt had found religion while they were still students and took on the name Matisyahu, although at that point he hadn't yet gained renown as a frum reggae singer. He'd urge Moshe to come with him to the Carlebach Shul, but at the time Moshe was playing with a band on Friday nights atop the World Trade Center and wasn't interested.
Moshe remembered that Matisyahu's mother lived in White Plains. He found her number in the phonebook and gave her a call.
"Is Matt still into Judaism?" he asked.
"Oh yes, he's in Crown Heights," Matt's mother said.
"Do you think he'd be up for having me spend a Shabbat with him?"
The two pals reconnected, and Matisyahu was thrilled to have his old friend join him, especially when Moshe told him, "I want the authentic experience. Don't water it down for me."
"It'll be great," Matisyahu told him. "You'll love Crown Heights. It's all Jews and Jamaicans!"
The first place Matisyahu took Moshe to on Friday afternoon was the Union Street mikveh, the free mikveh for bochurim. Moshe had no idea what it was or what he was getting himself into. "It wasn't exactly the Taj Mahal of mikvehs," he remembers. But when he noticed other guys with tattoos — something his parents had told him Jews didn't do — he realized the folks in Crown Heights were welcoming to those who hadn't been raised with religion.
Matisyahu took him to the Hadar HaTorah yeshivah for the tefillah, where the congregants danced around the bimah for 20 minutes singing Lecha Dodi. Finally dancing with his own people in worship, Moshe suddenly knew, This is for me.
The next week, however, he failed to make Shabbos plans. Instead, on Friday night he went to Queens to hang out with guys from his band. But now that he had tasted Shabbos, Moshe felt himself out of place, like he was missing something essential. He drove to his mother's house at one a.m.
"Are you okay?" she asked, concerned.
He didn't answer her question. "Mom, do you still have the prayer book from my bar mitzvah?" he asked.
She did, and mother and son sat on the couch reading through it into the wee hours, connecting to Shabbos as best they could.
For the following Shabbos, Moshe was more prepared. An acquaintance of his mother introduced him to Rabbi Tuvia Teldon, the Chabad shaliach in Suffolk County.
"The Teldons were so welcoming, so joyous, that I felt at home right away," Moshe recounts.
Back in Westchester, he connected with shluchim Rabbi Benjy and Hinda Silverman of Dobbs Ferry, who led Chabad of the Rivertowns (Westchester County). He was deeply impressed by their inspired, wholesome family life and their willingness to help him learn about his religion literally from alef to tav. For the next two years, he spent every Shabbos with them, acquiring a basic foundation in Yiddishkeit.
He had finished his BFA in 2002 and passed his music therapy exams in 2004. The following year, seeking to grow more deeply, Moshe went off to Eretz Yisrael to learn in the Maayanot yeshivah for newcomers to Judaism. He was still a green baal teshuvah, considering quitting music and devoting himself to learning, maybe getting semichah. "That was a dumb rookie BT move," he now admits freely. "I'm not the studious sort — I barely read books in English — and it was super challenging for me to sit for two hours at a stretch with a Hebrew text. After a month, I knew full-time learning wasn't for me."
Moshe sometimes took his melodica to Hadassah Hospital, where he'd play for mothers in the maternity ward. It always brought smiles, and helped crystallize his realization that there was a lot of good he could do with his music.
When Moshe returned to New York after half a year, he moved in with his father and went back to work at Schnurmacher.
"I had to take a step back from the pressure I was feeling to become a rabbi," he says. "It had given me real anxiety, and I had to find my own path."
By this time, his old friend Matisyahu (who in those years had embraced halachic Judaism) had become a hot name in Jewish music as well as the music business in general. They reconnected and he began doing gigs with Matisyahu, appearing with him at Madison Square Garden and doing the percussion and melodica for the Grammy-nominated album Youth as well as the album entitled Shake off the Dust…Arise.
In 2007, Moshe became the leader of a band called Shem's Disciples, composing and arranging hip-hop and reggae-style music. The band put out albums entitled Sow Melodic in 2007 and Keep on Moving in 2010, which put American standards to Afro-Caribbean and New Orleans rhythms.
Moshe struck up friendships with other musicians in the baal teshuvah community, and often spent Shabbos with Meir and Mirele Rosenberg, fellow musicians with a large family.  One of the Rosenberg daughters suggested a friend, Sima Grove, as a shidduch for Moshe.
Her instincts were spot on, and Moshe and Sima, a nutritionist from West Hartford, Connecticut, married in 2007. They lived in Dobbs Ferry for seven years before moving to Spring Valley, New York, where there was a larger community with yeshivos for their children.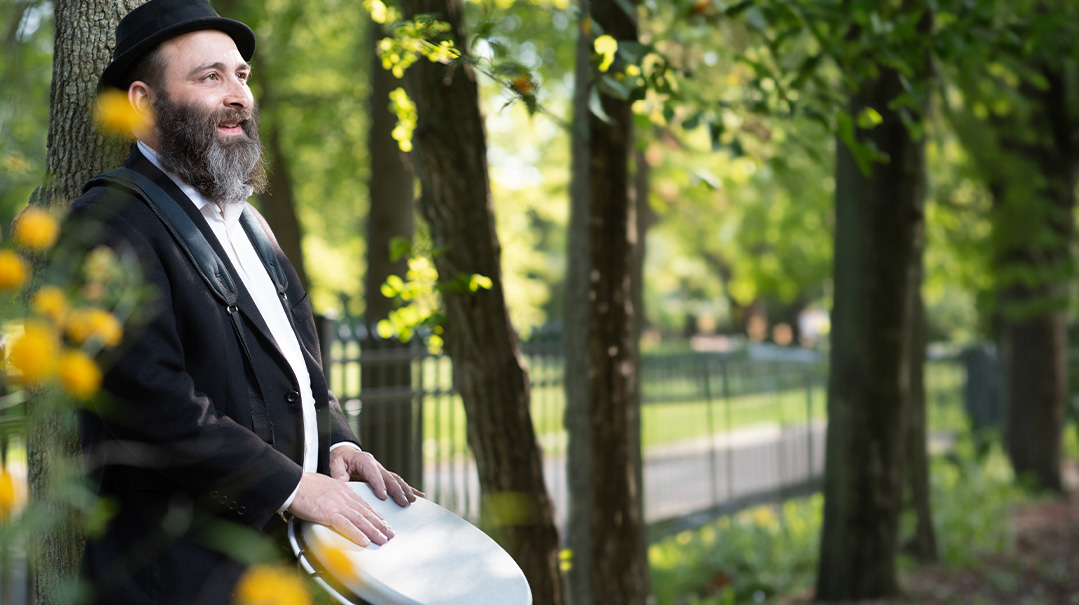 Healing Beats
While music therapy may seem like an ambiguous field, a music therapist's role, Moshe explains, is to help patients with defined therapeutic goals. For example, Parkinson's patients have problems with frozen gait, speech, and general movement. A trained therapist can encourage movement through music, and exercise muscles in the mouth that strengthen enunciation and swallowing through singing.
Dementia patients may not remember what they had for breakfast ten minutes ago, but they can often recite the words to songs popular 60 years ago. Once the brain is activated through song, this often allows new ideas and information to enter. "It's the principle of neuroplasticity," Moshe explains. "You try to bypass the damaged part of the brain and make new connections."
In 2007, while working for the Institute for Music and Neurologic Function, Moshe received a grant from the New York State Department of Health to create an interactive drumming program for people suffering from dementia. This program was implemented in 700 nursing homes.
Music can be helpful to kids with ADHD, Moshe adds. When he drums with them, they have to listen and follow instructions, take turns, and engage in call-and-response patterns that promote listening skills and attention span skills, which can be transferred to other areas of learning.
"When I drum one-two, you drum one-two after me," I remember Moshe telling the kids at that weekend event, before he transitioned to different combinations and more complex patterns. Drumbeat-response, drumbeat-response; the give and take is simple enough that even the youngest participants can follow.
For a while, Moshe was doing four music therapy sessions a day at a White Plains nursing home — chair exercises, drum-alongs, and singing with the residents — but when he'd leave, he'd see the staff running to turn on the television for the residents.
Reflecting that there must be a better alternative, he came up with the idea of making a Vimeo channel with music therapy videos for nursing home residents. It took about a year, but by 2014 the videos were set up, and they were well received by the facility's staff.
At this point, Moshe, urged by his father, pivoted toward the not-for-profit sector. "I followed my dad's advice and was able to get grants from the Alzheimer's Foundation, some universities, and other places, and set up an organization called KOMITOMS (Keep on Moving through Therapeutically Oriented Music Services). We provide in-person music therapy sessions and developed interactive video programs for nursing home residents and caregivers."
Today Moshe does music therapy, education, and drum sessions in nursing homes, schools, and yeshivos. He also gives private drumming sessions for groups. Miriam Liebermann, a music lover and pianist from Lawrence, hired Moshe to drum with her children and grandchildren as a Chol Hamoed activity this Pesach. "It generated such a feeling of vitality and bonding," she says. "People break out of their status quo and become the bongo man! It's very liberating."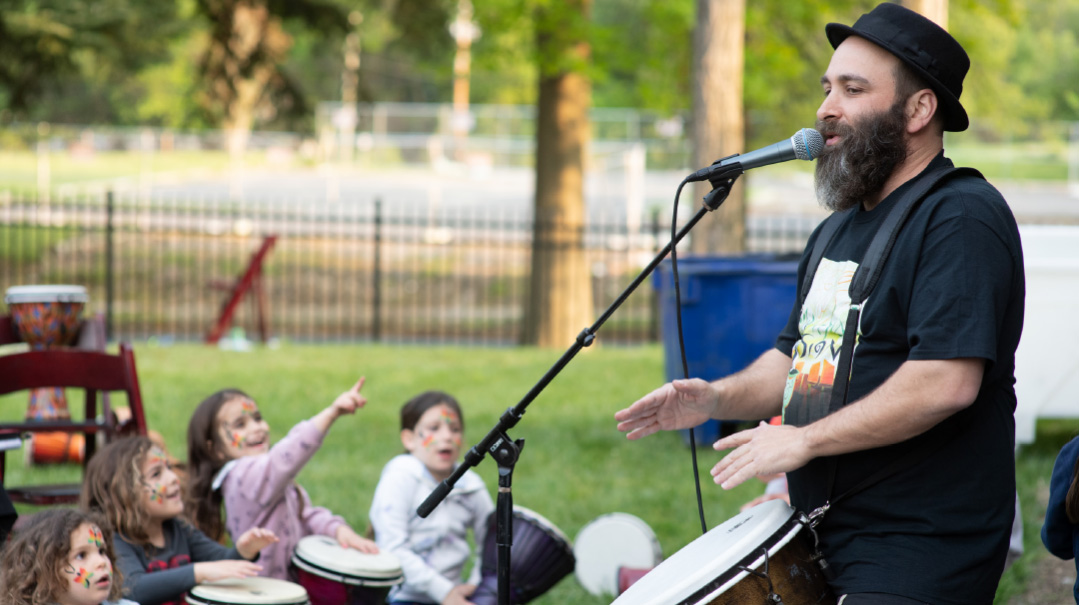 We Hung Our Harps
Like many baalei teshuvah, Moshe has become something of a man without a country where music is concerned. "Secular music doesn't do it for my neshamah," he avows. "But a lot of frum music doesn't do it for me musically."
When he came into the frum world, the conservatory-trained percussionist winced at one-man-band type music with a canned electronic beat. "It sounded so synthetic. For me, it was like eating processed cheese spread in place of fresh mozzarella."
As time went by, Moshe did find frum music he could relate to. He likes Zusha, for example, and brothers Shlomo and Eitan Katz.
He maintains that Jews have long had a distinguished history of vocal music, but since the loss of the Beis Hamikdash, our instrumental traditions have lagged.
"We hung up our harps," Moshe says. "We continued chazzanus for our tefillah, but we were in mourning for the Beis Hamikdash, and the instrumental tradition suffered. The Leviim had to undergo five years of schooling before they could serve in the Beis Hamikdash. That's like getting a master's degree in music. Their music was of very high caliber. Since then, however, most Jewish music virtuosos didn't come from religious backgrounds. I'm not going to tell yeshivah bochurim to immerse themselves in secular music, but people like me who have professional training can serve as the orienteers, helping with orientation, bringing music meant to serve Hashem to a higher level."
Moshe is trying to forge his own synthesis, music that unaffiliated Jews and non-Jews will recognize as high-quality but that will also appeal to religious Jews. Moshe Sobol Band put out an album entitled Geula Vision, featuring Jewish-themed songs with influences from jazz and hip hop as well as chanting, chazzanut, and Middle Eastern music.
The eclecticism that characterizes Moshe's music has spread over the years to his Yiddishkeit. He launched into frum life with Chabad, and he still keeps those minhagim and sends his boys to a Chabad school. He learns Tanya with a chavrusa every morning, but his regular shul is a Litvish one (KZY, or Kehillas Zichron Yitzchok, in New Hempstead). He participates in Oraysa, a Gemara-learning program led by Rabbi Shimon Abrams that covers one amud a day, and he made his first siyum at age 40, on Maseches Berachos. He has since made siyumim on Shabbos and Eiruvin, and he expects to soon make one on Pesachim — far from the plans of his youth.
"Playing in Madison Square Garden to 20,000 people would have been a realistic possibility for me back in the day, but I'm more grounded when I'm among grounded people," Moshe says. "When something is keeping my feet on the ground, I can float to the heavens."
(Originally featured in Mishpacha, Issue 966)
Oops! We could not locate your form.
>