| Day in the Life |
A Day in the Life of Usher Parnes | June 15, 2021
Usher Parnes is the moderator of Let's Get Real with Coach Menachem, an online shiur with Menachem Bernfeld based in Lakewood, New Jersey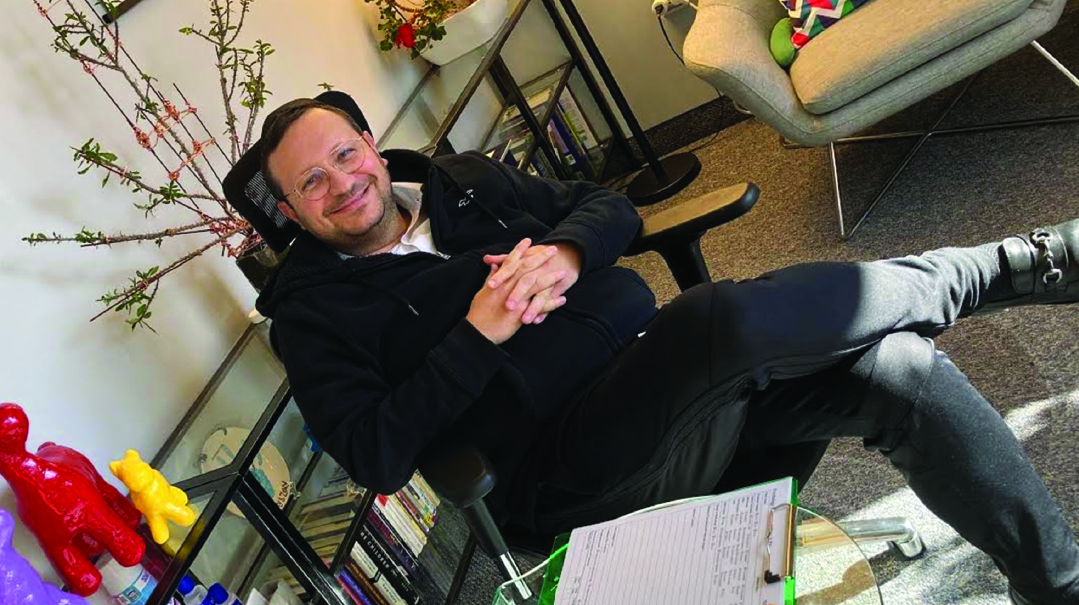 What I do
I moderate a weekly Zoom shiur that covers all topics related to Yidden and self-help.
What that means
Every Sunday night at 10, we host a prominent speaker, rabbi, influencer, or therapist. The guests discuss "their" topic — whatever that is, it's something people appreciate, something they want to understand or gain perspective. Topics range from different areas in Yiddishkeit to life in general — things like "Elevating Our Marriages to a Higher Level" with Rabbi Sholom Kamenetsky;  "How to Set Boundaries in a World with No Boundaries" with Rabbi Yosef Elefant, a maggid shiur in the Mir in Israel;  "We're Doing It All But We're Missing the Point" with Rabbi Benzion Twerski; and anxiety, depression, personality disorders, and more.
How we got the idea
Menachem is my neighbor and best friend. At the onset of Covid, when we were all quarantining, I was talking with the men in our Presidential Estates neighborhood about how much we missed the social interaction we used to get in shul. We were Zooming daf yomi at night, 20 to 25 of us, and then we asked Menachem, who's a life coach, to give a short presentation on Zoom about things we could do or think about in these uncertain times — we all really enjoyed it. One night, we decided to invite our friend Mordechai Weinberger, a social worker, to join us. We asked The Lakewood Scoop to spread the word; that night, 400 people logged on to watch. That's when we realized the world needs this.
How We Got Started
Next, we asked social worker Rabbi Shlomie Schwartzberg to join us — this was at the end of April last year — and he spoke about "Going Back to Normal When Things Are Not Normal." He was followed by social worker Rabbi Yaakov Salomon, who spoke about "Deeper Meaning in These Unprecedented Times," a powerful shiur that included his reflections on his personal near-death Covid experience.
Then and now
When this first started, the average size shiur was 200 people watching at one time — 400 to 500 logged on at some points throughout any given night — but it was consistently 200 sitting and listening. I was doing it in my sweatshirt, I wasn't as prepared with speakers and questions, and was texting and unmuting all by myself. It was very hard! Now, we usually hit between 450 and 650 watching live. Zoom maxes out at 1,000, and there have been weeks where the overflow has to listen to the recording later. In one night, we usually have 1,200 to 2,000 logins at some point. Oh, and I'm not in my sweatshirt anymore, and I have a lot of help behind the scenes.
On staff
My friend Aaron Noach Fried makes the initial call to the speakers. Once they agree, I, Menachem, and my wife Adena schedule a call. We ask what they want to speak about ("What's your passion?") and once we know the topic, we prepare the speaker — run him through the makeup of the show, what he'll do when. Then we send our email list information about the upcoming topic, so people can send questions, and we sort and clarify them. Menachem opens each show with a five-minute overview, and he closes with a summary of the discussion at the end. My wife deals with all the technical stuff while we're live. As the shiur is happening, people text me, and she's sitting next to me, responding to them, filtering questions to make sure they're on topic, asking if they're willing to go live, putting them in the queue, unmuting them when we're ready. My friend Pinky Friedman is the branding genius and designer. Sponsors help cover costs — we're always looking for more.
Show prep
It does take a lot of time, before the show and after. We're actually on our way to a shabbaton — a lot of past speakers will be there and we plan to scout out new ones. If it feels like this show is taking over our lives — which it is — we just remind ourselves we're doing this l'illui nishmas my father-in-law, Tuvia ben Baruch Yosef. But yes, it does take over, to the point that when my wife was due recently, I told her, "You know you can't have the baby Sunday night," and she said, "Right, I'll be having the baby, you'll have the shiur — I know which one you'll choose!"
Our audience
We have listeners from around the world: the US, Israel, Spain, Japan, Switzerland, Europe, Australia (where they log on Monday noon), and more. Not everyone can listen live, so we post the recording online once it's over to Coach Menachem's website and a bunch of others —Kol Halashon, TorahAnytime — and more.
Record Breakers
Longest session: Rabbi Sholom Rubashkin, who was on a year ago. It ran for two hours and 45 minutes, we ended before 1 a.m., and I was so caught up in it, I started singing "We Want Mashiach Now" at the end.
Most fans
Rabbi Daniel Kalish, a 12th-grade rebbi in Waterbury Yeshivah, was on in April. The conversation was about chinuch, and it was so real, so full of heart. His talmidim were watching and even asking questions. Someone sent us a video of Rabbi Kalish walking into yeshivah the next day when all the boys were literally jumping to greet someone who "gets" them!
The show I'll never forget
I'm always so impressed with our listeners. Once a woman called in and said she wants to work on her marriage but can't afford therapy or a cleaning lady or extra help to make her life easier. Within a few minutes, three people texted me they want to cover the costs for her.
Timeliest
We scheduled social worker Glen Holman to discuss dealing with grief and loss months in advance. It fell out the week following the Meron tragedy.
Most popular shows
A three-part series about dating — one for parents, one for boys, and one for girls — totaled around 80,000 views. The Life after Divorce series is also pretty popular. Rabbi Shimon Russell's "Love and Harmony at Home during Turbulent Times" put us on the map, and Rabbi Yossi Bensoussan's "Enough Talk, It's Time for Action: How to do More for Yourself and Others in Need" really struck a chord.
Biggest technical difficulty
Internet issues, mics off, speakers getting bumped off — the usual things you'd expect on a Zoom shiur. But the hardest is last-minute cancellations. A speaker once called the day of that he had an emergency. We have a list of speakers for at least three months out, so I called all the people pending to ask if I can put them on that night instead. Rabbi Moshe Rotberg, a rabbi and therapist in Toms River who's also a good friend of mine, said it would be perfect. He prefers just jumping into it — he has no time to be nervous with only a few hours' notice. Baruch Hashem we had an amazing session about tapping into inner happiness.
Most memorable call-in
A woman who's married for 15 years whose husband hasn't been frum the last eight called in and described her deep spiritual loneliness. Rabbi Y.Y. Jacobson quoted the words of David Hamelech, "My mother and father abandoned me, and Hashem took me in" — in some situations, the regular safety net and support system isn't there, and the only intimate relationship is with Hashem. She then asked about davening for her husband — it left her disappointed, so she stopped, is that okay? Rabbi Jacobson explained she should pray Hashem be there with him and help his trapped neshamah — she should evoke that compassion. I'll never forget how he said, "Sometime we feel davening is a vending machine: you put in a dollar, and potato chips or a tuna sandwich comes out. But that's not what davening is. It's a relationship with the Source of life." She visibly relaxed, and I thought, This is why we do this — our speakers help people help themselves.
By the Numbers
59 shows we've had so far
14,540 people who are signed up for our email list
26,678 views on YouTube for our most-viewed shiur called "Why are So Many Marriages Failing?" But that's not all: our call-in number got 7,000 calls to hear this one, and on TorahAnytime it got about 25,000, not to mention the podcasts.
Facial Recognition
Because my face is on the screen, people do recognize me. It happens all the time: we'll be out in random places and my wife will say, "Just say hi, you're getting that look — they know you."
Date Night
We hear from a lot of people that they watch as a couple, this is their Sunday date night — and when they have a wedding, they're anxious about missing this.
My Dream Guest
Dr. David Pelcovitz, because we've had such great feedback when the best-of-the-best therapists come on and help people in pain
Post-Show High
Some speakers call three times the next day to say how amazing it was. One speaker, a well-known and respected name, and his wife were calling me for a week after to find out how many hits his shiur was up to.
(Originally featured in Mishpacha, Issue 865)
Oops! We could not locate your form.
>