| Day in the Life |
A Foot in Both Camps | July 10, 2019
Rabbi Yosef Bendrihem is the director of Camp Yedidim in Brooklyn, New York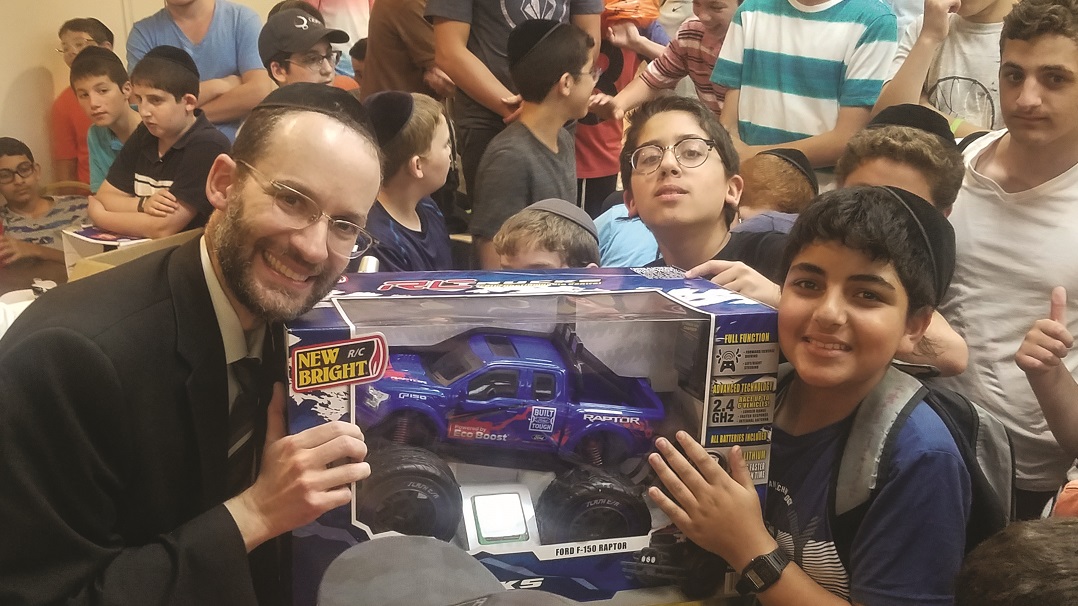 How I got started
Almost 16 years ago, I was a rebbi in Rav Shmuel Miller's yeshivah on Avenue J and Ocean Avenue. I rewarded my 11th grade class with a skiing trip, and I had such an amazing time with them it inspired me to continue the fun into the summer. We started Camp Yedidim in Rabbi Miller's building for the first three years before moving to Yeshiva Toras Emes on Avenue N, and we're still here.
The best advice I ever got
Rabbi Alexander Dembitzer, who was the menahel of Rabbi Miller's yeshivah when we were there, advised me that Yedidim for older boys should run for longer hours. When I thought about it, I realized there wasn't any camp in Brooklyn that had supper and a night seder for older boys. I made a camp for boys finishing sixth grade and up, it runs until 7:45 p.m. so we can have a day and evening filled with learning, sports, swimming, and trips. It gives the boys of Brooklyn the opportunity to be in a summer program that stimulates them and doesn't leave them with a lot of downtime at home, not knowing what to do. The longer schedule's a big draw for local boys, and it's a lot of fun for us to arrange, so it works out all around.
It's not a competition
We're not looking to compete with sleepaway camps. We're attracting different kids — boys who want to stay local, whose parents want them to stay local. Of course, there are kids who really want to be at sleepaway camp, so I tell them between our longer days and variety of overnights we're similar to sleepaway camp, so enjoy it while you're here, and im yirtzeh Hashem soon you'll get a chance to go to sleepaway camp. We keep the boys busy in a protected environment, so Yedidim is competitive in the sense that we offer the same amazing experiences as overnight camps. For example, we take four overnight trips — three of them are two-day trips and one is a three-day trip, and the rest of the weeks we go on local trips. We go to places like Niagara Falls, Boston, Connecticut, Philadelphia, Lake George, and more, and we use coach buses, visit attractions, and rent out water parks and amusement parks.
What makes a camp special
The staff, for sure. A dedicated staff that give a lot of personal attention to the boys, not just during the summer but through the year, help the boys grow in so many wonderful ways. I'll never forget when we had an uncle and nephew go through camp together. They were two of the finest boys we ever had as campers, they had such incredible middos and so much energy, and they eventually became two of our best staff members.
Using the same building for school and camp
It has its advantages, because the boys know their way around and feel comfortable right away, but the disadvantage is that they can feel too comfortable and think they can do whatever they want, and sometimes it's good to have a change of scenery. But we keep them busy enough that it's not too big a deal.
Most memorable Color War breakout
Last summer, for sure, after a fun-filled overnight trip to Six Flags New England, where the security gate broke and the Superman ride was closed down — true story! The following day, after we came back to camp, the children received a letter on Six Flags stationery accompanied by pictures of Yedidim campers, identified by their camp T-shirts, from the "security cameras" stating that they were responsible for breaking the gate. Six Flags wrote they're suing the camp for millions of dollars and they're banning all campers from all Six Flags parks indefinitely, and the letter was signed by the CEO of Six Flags. The boys were scared and really defensive — "It wasn't us, no way the gate cost so much, the pictures Six Flags sent doesn't prove it's us, only that we were in the area but not that we broke it!" The local fire chief came to teach them the importance of parks safety, and he told them it was Color War breakout. This was our best breakout ever — it made its way around the frum camps and was also featured in several Jewish publications.
My favorite trip
When we rent the JCC of Medford in New Jersey. They have zip lines, sports fields, all different kinds of activities. The boys love the lake the most, it's got all sorts of boats and it's filled with these big inflated obstacles — they love climbing high on them and then jumping into the water. The real highlight is the next morning, when we go to Philly and meet Rav Shmuel Kaminetzky shlita. He speaks to the boys, shakes all of their hands. Some years, we then go to Combat Sports Outdoor Laser Tag and Sahara Sam's water park to finish off these trips.
My favorite camp song
A song about emunah that I wrote four years ago for our Emunah Kulah program. Every day, the boys learn one quote about emunah, and they're tested on them at the end of the week — the song helps them remember. Another one I like is from a program called Mishnathon. Our boys have learned more than 140,000 Mishnayos over the years.
In Brief:
Our clientele We have a preschool and junior program for boys finishing nursery and up, and the longer day program is for erliche middle school boys from mainstream Brooklyn yeshivos who are looking for something more than a standard day camp.
Day job I'm a sixth grade rebbi in Ashar in Monsey.
Equipment I always have on me A pen and paper, to keep track of everything: things that need to be ordered — food, equipment, paper goods; parents who need to be called; things I need to book for trips; schedules and timing of trips — some of our trips have many stops; and more.
Toughest part of the job I stay in Brooklyn during the week and go home to Monsey for Shabbos — the commute isn't easy, and neither is being away from my family.
My best camp memory — as a camper Winning the sportsmanship trophy my last year in Camp Naarim. I was 13 years old and I had the time of my life there! One of the greatest highlights of Naarim was the ruach of the camp. The zemiros on Shabbos were electrifying. I'll never forget it.
(Originally featured in Mishpacha, Issue 768)
Oops! We could not locate your form.
>