| Family Living |
A Customized Chanukah
| November 9, 2021
Some suggestions for how to gear up for a magical eight days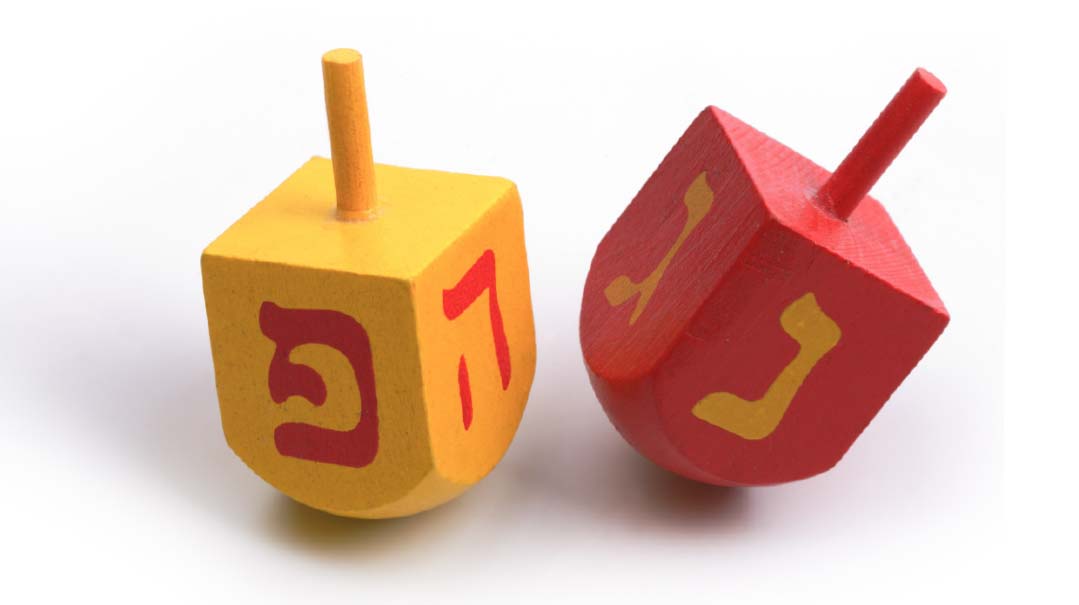 Get the Menorah Ready
Polishing the silver is exciting in my family; it's not a job we give to cleaning help! There are a few ways to get that silver gleaming:
This is what I find to be the easiest method. Line your sink with aluminum foil (including the edges). Then pour boiling water into the sink. Use enough water so that your pieces will be fully submerged. Add 1 cup baking soda and 1 cup salt to the water. Mix everything until bubbles start to form. Place your Menorah in the sink. Let it soak for one-half hour. Remove it and dry with a soft cloth. If you'd like, you can add vinegar for a more intense polish.
To remove water stains: Lemon juice can help remove water stains on silver. Dip a cloth into lemon juice and polish away.
Cleaning silver with toothpaste can also produce sparkling results. Dissolve toothpaste with a little water, polish the silver with a soft cloth, and rinse.
Gleaming Glasses
After Chanukah is over, clean the glass cups right away. Soak in warm water (don't make the water too hot or the glass will crack) and dish soap overnight. The next day, place the glasses in the dishwasher on a normal load cycle. Every year we have one or two that are so black even this process doesn't help, but for the most part this will get them shiny as new.
Be My Guest
Every year, in honor of Shabbos Chanukah, my mother-in-law makes hostess bags for the family Chanukah weekend.
For the adults, the bags will include: a big chocolate coin, a water bottle, a Shabbos schedule complete with a nice label with the family name.
For the kids, she prepares drawstring polyester bags in different colors. The bags come with chocolate coins, a drink, and a coloring book and pack of crayons for them to work on before Shabbos, while everyone else is doing all the last-minute Shabbos preparations.
Monogram Your Gift
Receiving a gift is nice; getting a personalized gift is so much more touching. Here are some easy and relatively inexpensive ways to personalize a gift for someone you care about.
-Purchase a Lucite napkin holder (they can usually be found in Amazing Savings) and buy a letter sticker decal and apply. Get monogrammed napkins to go along with it.
-A gift that's always a hit is a velvet travel jewelry roll. Not a lot of people own one, so you don't have to worry about the I-already-have-three syndrome. There are so many options on Amazon. The one I like best is Teamoy Velvet Travel Jewelry Roll, Jewelry Storage Bag Organizer for Necklaces, Earrings, Bracelets, Rings, Brooches and More (Large,Velvet, Black for $19.99). Using any iron-on letters made for cloth fabric, and apply the letters. It will look like you embroidered the gift when all you did was iron for a few seconds! Iron on letters from Amazon are $14.99 in gold and silver.
-Lucite cutlery caddies can be purchased on Amazon ($14.99).  Adding Gem alphabet stickers with the family name or initial will glitz things up! For $7.99 on Amazon, you can purchase a few sheets of glitter rhinestone alphabet stickers.
Perfect for the Grandparents
It's always hard to find a gift for those who seem to have everything. This personalized present is as practical as it is meaningful. Create a sign for parents/grandparents who have a lot of birthdays and anniversaries to remember.
On a wooden board, attach the word 'Birthdays' using wooden letters and wood glue. Then, apply stickers for each of the months. You can buy month stickers, or spell it out with gold letter stickers.
Using a hammer, press in a hook for each of the months on the bottom of the board. To the hook, attach disks with names of family members, and the day of their birthday. As the family grows, you can keep adding disks to the appropriate month.
All items available in craft stores and on Amazon. (Favide Wooden Circles Heart Tags with Holes and 12 mm Rings for Birthday Boards.)
Party Fun
Here are some cute activities to do at Chanukah parties with a smaller crowd (and that crowd can just be your own kids).
Colorful Dreidel Spin
This is super fun for little ones, even if it might be a bit of a mess. Cover your table with a disposable table cloth. Give each child a cardstock paper and plastic dreidel. Place a few squirts of washable paint on each paper. Turn on music and have the children spin the dreidel all over and see what modern art can be created!
Taboo with a Twist
This game can be played all year round, but we love how well it can be customized for Chanukah.
Divide participants into two teams. One team will play traditional taboo while the other team will do a short task. The task will be used as a human timer. The faster the task is completed the less time the opposing team will have to complete more taboo cards.
Tasks can include: Peel a potato. Wrap a present. Spin a dreidel till you get a gimmel. Fill a Menorah with eight candles.
The teams keep switching roles between playing taboo and doing tasks. The first team to reach the designated number of taboo cards wins.

Decorated Donuts
Not your typical donut decoration station, this one is also part craft. The kids will love the ability to create their own colors, and apply the frosting to their donuts.
Place white icing in multiple bowls, along with food coloring. Allow the kids to have fun creating their own colors for the frostings. They can continue to make interesting designs using toothpicks and marbling the colors all over the surface of the donut.
If they'd like to gift their creation, cake pop lollipop bags are available on Amazon (200 bags for $6.00) and at crafts stores.
Dreidel for Days
This was created by my husband and has become a set tradition in our house. Nun, gimmel, hey, and shin each represent different cards.
The gimmel cards have a stash of privileges such as: lunch date with a parent, extra story time, choosing dinner one night.
For nun, you do nothing.
For shin, you get a consequence card, for example: doing the dishes, making the whole family's beds, making mom breakfast in bed.
For hey, if you have any gimmel cards, you have to choose someone to give one to. This adds a whole new twist to the game!
(Originally featured in Family First, Issue 767)
Oops! We could not locate your form.
>