| Recipes |
Breaded Jalapeño Dip Drumsticks | August 21, 2019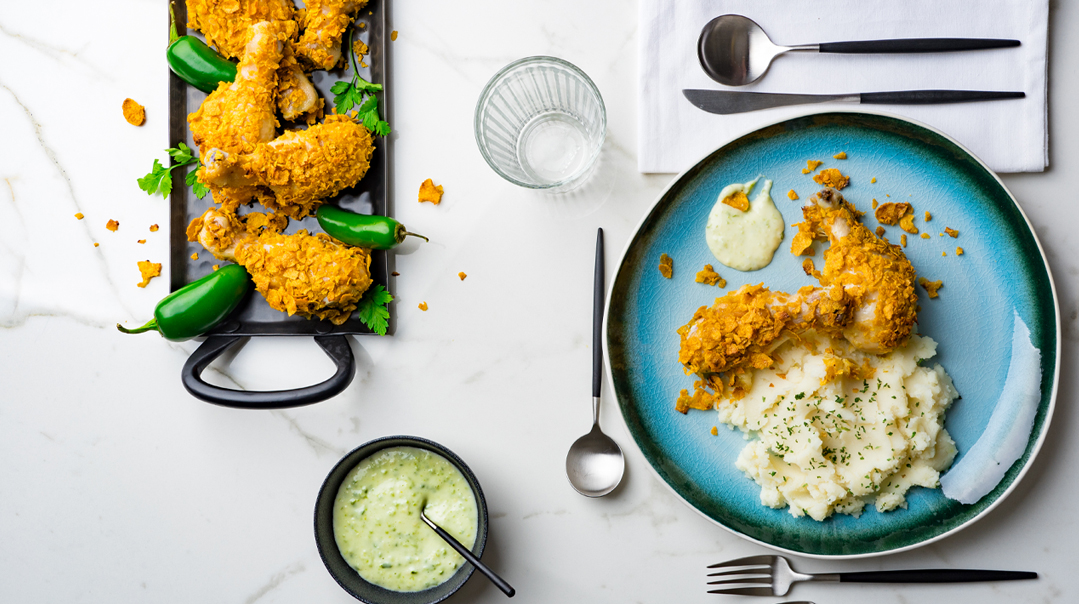 Breaded Jalapeño Dip Drumsticks 
This fabulous chicken is a result of an inspiration that just came to me. There's nothing as rewarding as an inspiration not only working out — but working out to perfection! 
YIELDS 12 DRUMSTICKS 
12 drumsticks
salt and pepper, to taste
1 cup seasoned panko or corn flake crumbs
JALAPEׁNO DIP
1 cup mayonnaise
1–2 jalapenos, seeded and halved(depending on your desired heat level)
1 clove garlic, crushed
2 Tbsp sugar
2 Tbsp lime juice (or sub with white vinegar)
pinch kosher salt
Preheat oven to 450°F (230°C). Line a baking sheet with parchment paper and spray with cooking spray.
Sprinkle drumsticks with salt and pepper to taste, and set aside. Place all jalapeno dip ingredients into the cup of a blender and puree until smooth (or place in a large cup, and blend with an immersion blender). Prepare two small bowls, and place half the jalapeno dip in one bowl and panko or cornflake crumbs into the second. Smear a drumstick with the dip, then coat with crumbs. Lay coated drumsticks onto the greased parchment paper. Repeat until all drumsticks are coated.

Bake for 45 minutes. Serve warm with (reserved) remaining jalapeסo dip as a dipping sauce.
Tip: This jalapeno dip is perfect as a Shabbos dip and lasts two weeks in the refrigerator.
(Originally featured in FamilyTable, Issue 656)
>