| Recipes |
PARMESAN-CRUSTED MOZZARELLA-FILLED GARLIC KNOTS | August 7, 2019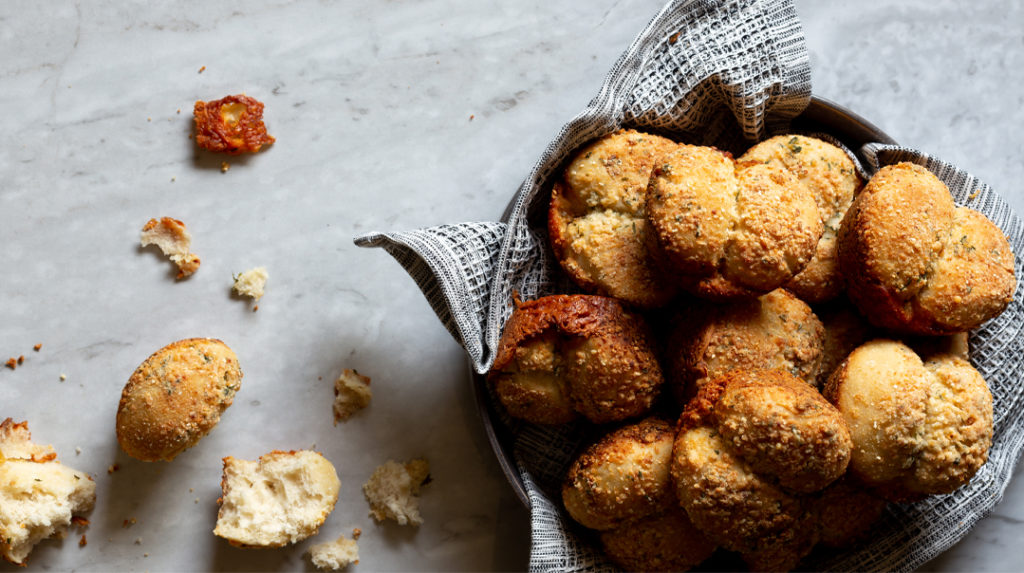 Food And Prop Styling By Renee Muller Photography By Moshe Wulliger
PARMESAN-CRUSTED MOZZARELLA-FILLED GARLIC KNOTS 
These extraordinary rolls are great for any time, place, or reason. You can use them to accompany a soup, for Shalosh Seudos, or for breaking your fast. 
Yields 12 rolls 
1 1-lb (. kg) pkg frozen pizza dough, defrosted
 ½ cup butter (1 stick)
2 Tbsp dried minced onion
1 Tbsp garlic powder
2 Tbsp dried parsley flakes
⅔ cup grated Parmesan cheese
 ¼ cup shredded mozzarella cheese
Preheat oven to 350°F (175°C). Spray 12 muffin cups with cooking spray. In a small pot, melt butter over medium heat. Stir in dried onion, garlic powder, and parsley flakes. Turn off heat. Place Parmesan cheese in a small bowl. Divide dough into 12 equal pieces. Take one piece, and slice it in half. Roll both small pieces of dough into balls. Place balls in the butter mixture, and coat well. Then place both balls into the Parmesan and roll to coat well. Place one coated piece of dough on the left side of a muffin cup. Place 1 teaspoon of mozzarella next to the dough, then put the second coated dough ball on the right side (so you have a ball on the left, shredded mozzarella in the center, and a ball on the right).
Repeat these steps with the remaining 11 pieces of pizza dough. Place the muffin tins on the center rack of the oven. Bake 20–25 minutes, until golden. Serve warm.
(Originally featured in FamilyTable, Issue 653)

Oops! We could not locate your form.
>