| Recipes |
VERY-BERRY SUMMER SALAD WITH GRILLED CHICKEN AND SPICED MAPLE WALNUTS
| June 19, 2019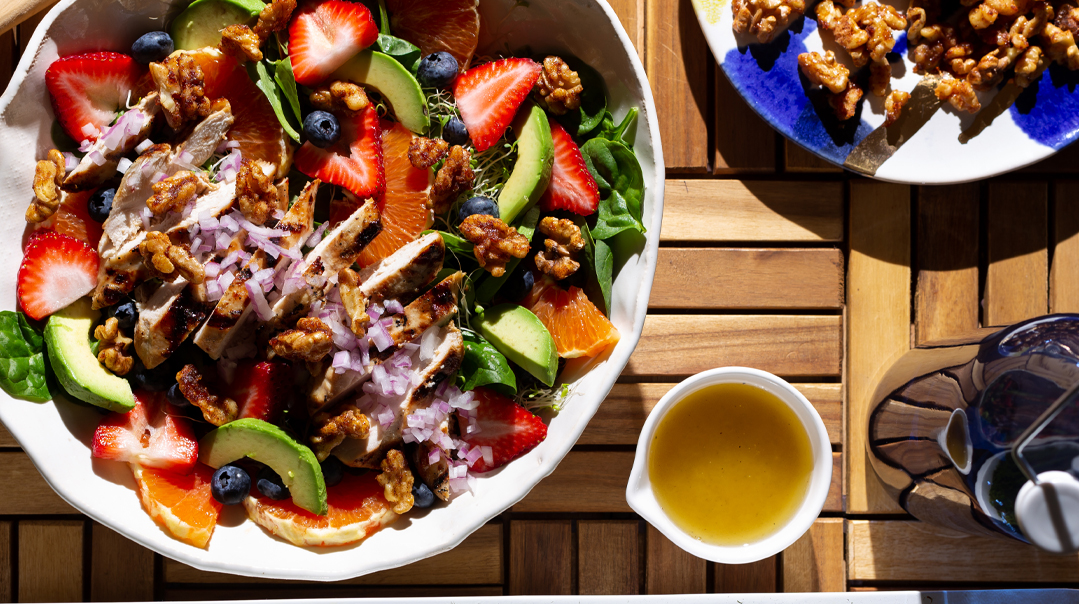 Props And Styling by Rene Muller  Photography by Moshe Wulliger
VERY-BERRY SUMMER SALAD WITH GRILLED CHICKEN AND SPICED MAPLE WALNUTS
This amazing combo of spinach, berries, and tasty grilled chicken really takes summer seriously! And let's not forget to mention the dangerously addictive sweet and spicy walnut topping. When testing this recipe, I enjoyed this as a delicious light dinner, but it was so good, I even got past my fleishig-phobia and had the leftovers for lunch the next day. 
Serves 6–8
1½ lb (¾ kg) chicken cutlets, cleaned and trimmed
SPICED WALNUTS
1 egg white
1½ Tbsp olive oil
3 Tbsp sugar
1 tsp vanilla extract
1 tsp ground cinnamon, plus additional for sprinkling
⅛ tsp cayenne pepper, plus additional for sprinkling
⅛ tsp ground nutmeg, plus additional for sprinkling
¼ tsp salt
2 Tbsp maple syrup, divided
2 cups raw walnuts
MARINADE AND DRESSING
1 cup olive oil
¼ cup apple cider vinegar
3 Tbsp orange juice
3 Tbsp maple syrup
¼ tsp salt
½ tsp black pepper
3 Tbsp mustard
1 Tbsp honey
SALAD
6 cups baby spinach leaves, loosely packed
2 cups alfalfa sprouts, loosely packed
1 cup blueberries
2 cups sliced strawberries, cleaned and checked for insects
1 orange, peel and pith removed and sliced into half circles
1 avocado, diced
½ small purple onion, finely diced
To make the walnuts: Preheat oven to 350°F (175°C). In a medium mixing bowl, place the egg white, oil, sugar, vanilla, spices, salt, and 1 tablespoon maple syrup. Whisk to combine. Add in the nuts, and toss until evenly coated. Spread the walnuts in an even layer on a rimmed, parchment-lined baking sheet, taking care not to overlap the nuts or crowd them. Bake for 15 minutes on center oven rack, tossing halfway through. Remove from the oven and drizzle with remaining tablespoon of maple syrup and a light sprinkle of additional spices. Toss to coat. Allow to cool completely, at least 30 minutes. Nuts will dry and crisp up as they cool.
To make the marinade: In a medium bowl, whisk together all marinade ingredients until well combined. Reserve half the marinade to use as the salad dressing. Pour remaining marinade over raw chicken and marinate in refrigerator for at least 3 hours (and no longer than 24 hours).
Preheat grill to medium-high. Grill chicken until cooked through. Alternatively, you can also use a grill pan to grill the chicken. (Discard the marinade.) Set grilled chicken aside to cool slightly, then cut into thin slices. Place salad ingredients in a large bowl, and toss gently to combine. Add chicken, walnuts, and enough dressing to lightly coat the ingredients. (You will probably have extra nuts and dressing — save them for another time!) Serve immediately and enjoy.
NOTE: Nuts will keep in an airtight container for 2–3 weeks, or can be frozen for up to 6 months.
(Originally featured in FamilyTable, Issue 647)
Oops! We could not locate your form.
>