| I'll Sing to Hashem |
Yisroel Lamm: We Just Had to Collaborate
| July 20, 2021
"I had recently joined Neginah Orchestra. When I realized how good Yigal and his choir were, I decided that we just had to collaborate"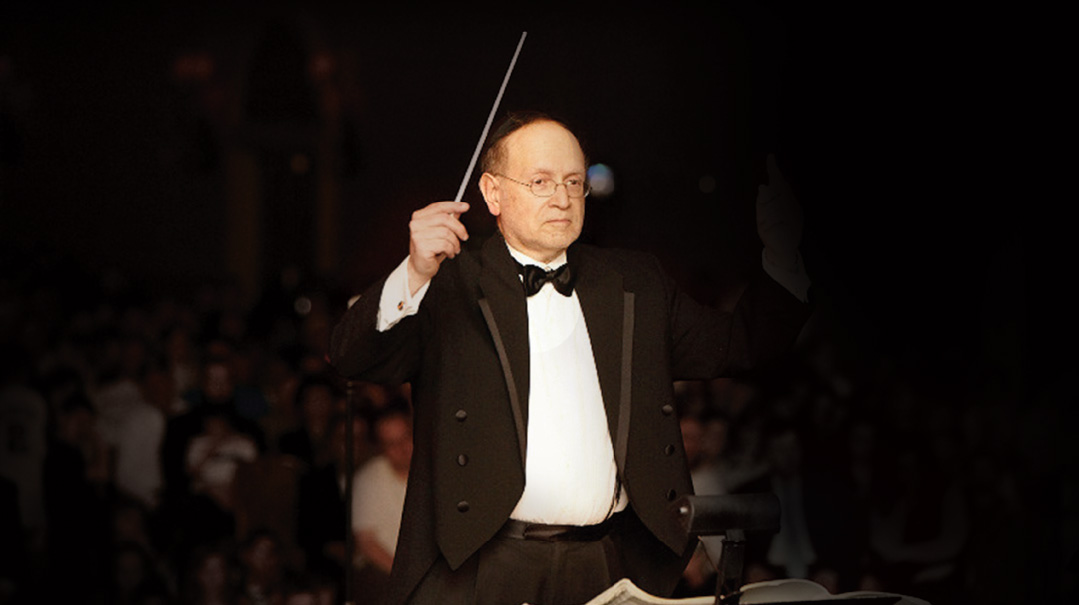 It was the early 1970s, and I was in Camp Sdei Chemed. Rabbi Eli Teitelbaum, the camp's director, had us producing concerts, which were some of the very early real Jewish music events there in Eretz Yisrael. We would do two concerts in Tel Aviv and two in Yerushalayim, and the audiences were simply amazed.
One year, Reb Eli invited Yigal Calek to come along with his choir. The London Pirchei boys joined the camp, and they were an amazing hit at the concerts. Yigal had already produced two records, but he came with a treasure trove of new material: His "Ashirah" and "Ko Amar" made their debut at Sdei Chemed concerts.
I had recently joined Neginah Orchestra. When I realized how good Yigal and his choir were, I decided that we just had to collaborate with them. I called our producer, Yitzchok Gross, in New York, and told him that we had to work something out. In that way, I was the shadchan of the London School of Jewish Song and Neginah. Soon, we got to work on our first collaboration, which is widely known as the Ashirah album, or the "London-New York" album.
I wrote the arrangements for Yigal's songs and recorded the music with our orchestra in New York, and Yitzchok and I flew to London, bringing those tapes along. There, the choir sang in the studio as our music played. The music was on four tracks, and the choir was recorded on the other four, which was the way things were done back then. I can still recall the moment I knew that this would be big. It was when we were recording the vocals for "Chamol." A boy was singing, and Yitzchok and I were blown away by his vocals. We looked at each other, and we both knew we were hearing something exceptional.
And in fact, the album was huge. It put the London School very firmly on to the map and led to concerts all over the Unites States.
Yigal Calek and his choir had a few qualities that we weren't used to on this side of the ocean. One was the "varmeh" European flavor, another was the originality of the words he chose. Yigal loved the music of different countries — Greek and Italian music, for example — while here, Jewish music usually had a Chabad or Carlebach flavor. He would tell me that he wanted the song to transport listeners to Har Habayis, or, l'havdil, to Portugal, and he would make that happen.
On stage, he was a very dramatic presence. He commanded the stage, and he offered the audience a world of music. Those were very exciting times. I went on tours of Europe and a ten-day tour of the US with him. I learned that travel is far from glamorous.
In the late 1970s, Yigal was invited to Amsterdam to perform on Dutch TV. The show was a tribute to the gentiles of Holland who risked their lives to offer safe harbor to Jews during World War II. Yigal and the choir sung five songs, and the rest of the program was built on stories from the hidden Jews and their hosts. It was very emotional. It was as if they represented the past, the Holocaust, while we represented the new generation and the future.
We were once backstage after a big show at Wembley in London, and a distinguished looking gentleman came over to Yigal and said, "I'm getting married in Paris next month, and I want you and the choir there." Yigal didn't want to do this kind of event, so he told him to call back the next day at his home, and when he did, Yigal said, "What I charge, you can't afford to pay." He then threw out a ridiculous-sounding figure. I was there with him, and a moment later, he covered the receiver and was mouthing to me, shocked, "He said okay!" I pointed to myself, and Yigal told the caller that he needed his conductor too. Well, he was okay with paying a very high price. We ended up at that wedding. Besides for a kosher chuppah, we were the sole religious presence. He wanted the choir at sheva brachos too, so we were his guests in Paris for a week — I think we brought some Yiddishkeit there.
The music didn't only win over hearts at that time. Years later, when Yigal came to HASC, the young people who were not familiar with his music appreciated it tremendously.
(Originally featured in Mishpacha, Issue 870)
Oops! We could not locate your form.
>