| LifeTakes |
Upside Down
| March 25, 2020
We can't plan. Not what tomorrow may look like, not what next month may look like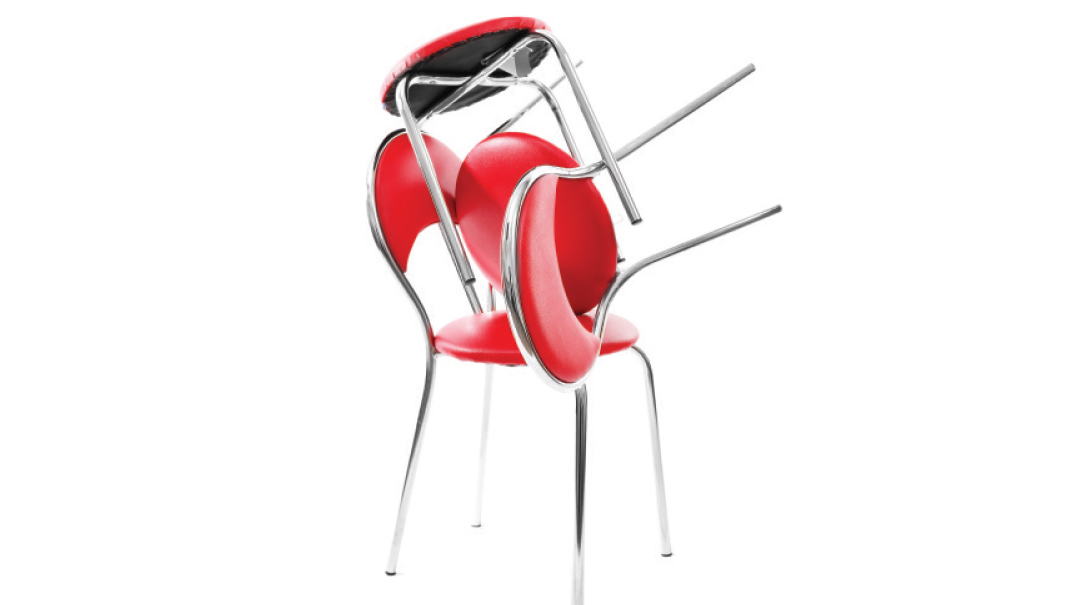 "I saw an upside down world."
I walk through town in an effort to do some shopping. And I'm flooded with feelings and thoughts that have only recently entered my life. Three weeks ago I delivered a baby whose cries were not heard, rather mine were. Whose eyes were gently closed, not because he was asleep, but because he was lifeless.
Many stores are closed. Cafés and fast-food stores are opened, but tables are turned upside down, for you can only order to go. No sitting leisurely as we once took for granted.
The world as we know it has seemed to go crazy. Who would have guessed that in 2020 you would be unable to fly from one country to another? Who would have thought we may have to make Pesach alone, isolated from family and friends? Who would have imagined that America, queen of Western culture, has closed all entertainment venues?
"I saw an upside down world."
As I see those overturned tables, reality hits me. The world is upside down. What we perceive as true may not be. What we think is right may be wrong.
I thought a pregnancy is a means to an end — bringing a child into this world. Building a family, raising, loving, teaching, giving.
I thought a café has tables so you can sit down and eat.
The certainty and clarity we thought we had is gone. We know this is part of a greater picture, a master plan. We're all uttering the words "Hashem is clearly in control".
Of course Hashem is in control. We lived our life close to Him, doing His Will. Yet now, as the future unravels, it becomes more and more clear that we have no idea what real life is. We have no clue what will happen in a week, a month, a year.
What will be the outcomes of this virus? Will I be fired? How long will it take for the world economy to recover? When will things go back to normal? Will they go back to normal?
***
It was Leil Shabbos, and I hadn't felt my baby move for too long. We'd just called Hatzalah and awaited the arrival of the ambulance on the darkest night I'd ever seen.
My husband took me to our room, and said, "Whatever is going to happen, we are in this together." Tears rolled down my cheeks, and my heart raced as I understood the immensity of the possible reality.
Dark, painful, hard, sad. No words can ever describe loss of what I thought would be. Nothing in the world can describe returning a child I still wish to hold once more. As I held him close, tears rolled down my cheeks, and I begged Hashem, please, I should be the last person to ever, ever go through this. The pain is unbearable.
Yet, along with that pain lives the knowledge that I know nothing. I understand nothing. We are in this together, and that's the only way we can make it through.
Does it make sense? No.
Is it what we expected? No.
Yet somehow, the loss of control is empowering. Together with everything I have lost, I have gained clarity like never before. I am a puppet in the hands of a Master.
There is so much I can do, that I can accomplish. The only things that matter are avodas Hashem, the chinuch of my children, Torah, and mitzvos. We cannot do anything else. We can't plan. Not what tomorrow may look like, not what next month may look like.
There's fear and pain for the hard days we're in the midst of, tired tears of a mother who has juggled too many balls in one day. Disappointment, real and tangible, for the dashed dreams, the hopes and plans that dissipate like smoke.
These feelings are real. They are hard. And together with that, we have the power to say, "No matter what happens, we are in this together."
As a community, we're responsible for one another. Now more than ever.
As a family, we need to support each other, even from afar.
As parents, we must nurture our children. They need our love, attention, patience.
As a couple, we need to be there for each other. We need to accept that our days are not going as we like. We need to accept the new chaos, stress, and tangled emotions.
As an individual, you need to be in it together. Together with your feelings, your emotions, and your logic. You need to let all parts of you work together, so you can make it through — and grow from it.
The world is upside down. The only thing we can do is try to remain right side up.
(Excerpted from Family First, Issue 686)
Oops! We could not locate your form.
>