| Magazine Feature |
Up a Family Tree | November 23, 2021
Genealogist Eric Feinstein's meticulous sleuthing and a never-give-up attitude has uncovered family connections his clients didn't even know existed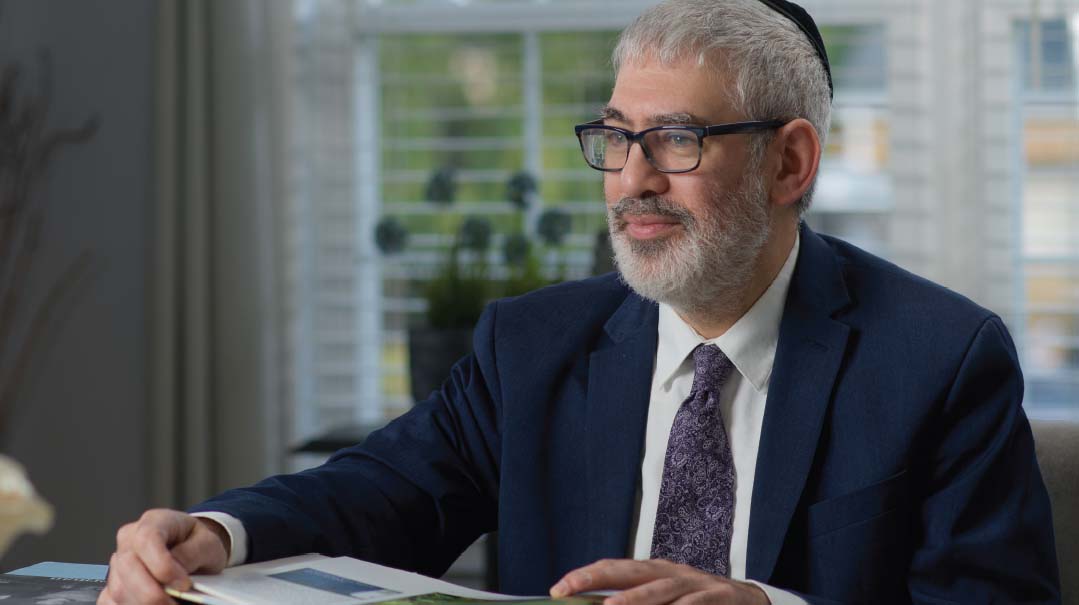 Photos: Naftoli Goldgrab
What does the past mean to you?
Many of us know or remember our grandparents, but what of their parents? And what of the brothers, sisters, aunts, and uncles that were a part of their lives — and by extension — a part of ours too? To some, discovering their family roots can satisfy a deep need, provide closure, or may even open new avenues for their future. Genealogist Eric Feinstein is in the business of discovering family histories and unveiling the journeys, joys, and mysteries of those who came before us.
"Not everyone has progeny, but everyone has ancestors," he says, explaining the upsurge in interest in genealogical services. "Everyone comes from someone."
Specializing in European archival research, Eric is able to research and document his clients' family histories by recovering original source documents from the past, including birth, death, and marriage records, community registers, and city and town archives. His fluency in Russian, French, and German, with a working reading proficiency in Polish, Hungarian, Czech, and other Slavic languages, gives him first-hand access to the most obscure pieces of information. He also utilizes a network of researchers around the world who can track down records, physically search and document graveyards and archives, and uncover information that is unavailable online. His research, coupled with meticulous sleuthing and a never-give-up attitude, has united family members lost to one another by the Holocaust, found birth families of adopted children, and discovered relatives that his clients didn't even know existed.
Hot on the Trail
To begin the process of tracing a client's roots, Eric will have the client write down any details — names, dates, and relationships — that they know of, even if they don't think of them as important. These details are anecdotal, but he'll follow up on them and try to substantiate them with actual documentation. Often when he begins a project, he will only be able to draw one line on a family tree. As his research progresses, he'll be able to add more branches, moving upward through the generations, with all the names and dates supported by the documents he has discovered. The second step is to reach out to all relatives the client is aware of, even if they're complete strangers. Many times, the client is reluctant and will ask Eric to do that piece instead.
"It's a lot of trial and error in the beginning," he admits, especially since today it's harder to approach people by phone. Eric will make a courtesy phone call and follow up with a letter where he will explain his goal, cite his credentials, and include a copy of any family tree he has already accessed. Most of the time, people are interested in their roots and will respond, offering any additional information they may have.
One client, Shmuel Gniwisch, who runs a hedge fund in Montreal, Canada, started looking into his family background on his own and tried to create a family tree. He wanted to research his family as a gift for his Holocaust survivor father, but he didn't get too far. He knew his family came from Sanz ("Nowy Sacz") in Galicia and were owners of flour and sugar mills in that region. He approached Eric to research his family tree as a gift for his Holocaust-survivor father. Originally, the family wanted to research only their direct line, but Eric advised them to expand their search. Every record that he recovers reveals different information about the family, and his goal is to deliver not only names and dates, but to show the details of the extended family and the history they built together.
One challenge in following a historical trail is that people's knowledge is often incomplete or erroneous. The Gniwisch family thought they stemmed from the town of Sanz (Nowy Sacz), but Eric's research found that, in fact, they lived in the nearby, smaller village of Stary Sacz (Old Sanz). He also discovered that their paternal grandmother's birth name was not Miller, as the client had reported, but Friedman. These details redirected the search toward different source records.
Eric connected with contacts in Poland who dug deep into the archives and uncovered some fascinating documents with detailed information related to various branches of the family.
"He found birth records for my paternal grandfather and all of his siblings, including who the mohelim, sandeks, and witnesses were to their brissim," says Mr. Gniwisch. "We found my grandparents' marriage certificate and my father's birth certificate from Krakow. It was a surprise to find out that my father's sandek was Reb Shaya Tshechoiver, who was the youngest son of the Divrei Chaim of Sanz. An assortment of old letters led us to connect with new relatives that we never knew we had."
Eric's clients generally come to him through recommendations by others, but he's careful to qualify that the results of his searches aren't guaranteed. Sometimes records are inaccessible or may no longer exist; other times, he can uncover a treasure trove. Eric says he's willing to have a short introductory consultation with anyone but admits that it doesn't always work: There are times when the resources are so limited that he'll have to inform the clients in advance that they shouldn't get their hopes up.
"It's the luck of the draw," Eric says. "And you never know what you'll find until you start looking."
He describes the world stage post-World War I. After four years of war, the Russians, Germans, and Austrians had executed wholesale destruction on the Eastern front. By the end of World War II, Galicia had changed hands between Poland and Ukraine several times. In the interim, huge civilian populations had moved inland, and whole towns had been flattened. Records were scattered, destroyed, or unrecoverable.
But even in regions where there are no existing birth, marriage, or death records, a committed genealogist can find some documents. In a recent project, Eric researched a family originating from the southern Polish town of Debica (Dembitz), where no birth or death records from the 1800s survived. Instead, he found a wealth of information by uncovering extensive notary records. Back then, if you were a local wagon driver, you didn't need a driver's license to get by, but if you wanted to do business, sell a property, or have your marriage registered, you needed to go to the government-appointed notary in your town. Those documents were stored in dedicated volumes for different time periods.
The client's ancestor had come to America, and his wife and children were to follow him. This required an application to the local notary to secure passports. Even then, the system was entrenched in bureaucracy, and the woman had to send numerous letters to the notary pleading her cause. While documents from some countries, like Austria, recorded the facts in a grid-like format with no embellishing detail, Russian and Polish notary documents were long, wordy narratives. In all seven of the ancestor's applications that Eric recovered, the wife wrote a lengthy description of her family. She included her family members' names, ages, where and how they worked, who had been born and who had passed away. Each letter was a little different from the other and each added more detail. The accumulated patchwork of data told an entire family story.
Sometimes it's a question of both tenacity and patience. Research for a client led him to a Warsaw cemetery, where 80,000 of the original 300,000 tombstones still stood. He had attained a picture of the tombstone of his client's direct ancestor, but when his Polish contact (part of a network of contacts around the world who visit government offices, search for original records, and photograph and document findings for him) managed to locate the grave, he saw that the stone had sunk deep into the earth, with only the deceased's name visible. To move up to the next level in the family tree, Eric needed the text of the entire inscription. Usually, a tombstone will reveal the names of the deceased parents, possibly grandparents, and the date of death. Having a date of death is often a key to more information, as it enables a researcher to search government, community, and religious records — and that serves to both corroborate information he may already possess and reveal new details about the previous generation. But it was February, right in the middle of a brutal Polish winter, and cemetery earth was frozen solid. By spring though, the ground had softened, and the team was able to dig up the tombstone and reveal its Hebrew names and dates.
"This case really represents what guides me — if you want results, always dig a little deeper."
Always Something Left
Like many businesses, Eric professional foray into genealogy started out as a hobby. He grew up in Newton, Massachusetts in an academic yet Jewishly-unaffiliated household where his father was a university professor and his mother owned a bookstore. Prompted by his family's love of history, and interested in his family's Russian heritage, Eric attended the University of Massachusetts Amherst and majored in Soviet and East European Studies. He delved into Russian literature and was surprised to encounter Jewish characters speaking the "Jewish language." Eventually, the Russian heritage he actually discovered was the world of the Yiddish-speaking Jews of Eastern Europe, which introduced him to Shabbos, Yamim Tovim, and mitzvos.
He became observant while living in Madison, Wisconsin, where he attended the student-run Orthodox minyan at the Hillel House and going to the off-campus Chabad House. He says that getting to know Orthodox college students and graduate students, people who were all-stars in academia and who lived Yiddishkeit at the same time, was life-changing. Soon he found himself in Israel, studying Torah.
When he returned from Israel, Eric settled in the most economical location he could find — his grandparents' home in New York. His grandmother, whose mother was the oldest of a family of nine, kept a handwritten directory near her phone with the phone numbers of her entire extended family, whom she called on a biweekly basis. A diagram of her family tree sat under her directory. Looking through the book one day, Eric noticed the names of a couple without a phone number. His grandmother told him these were her uncle and aunt who had lived in the town of Sambor, near Lvov, and had perished in the war. She included them in her phone book to "remember Sambor." That resonated with Eric, and later, when he began to pursue his passion to help others find their families, he named his business "Remember Sambor Genealogy."
"I chose this name for my business because it's really the core of what I do as a genealogist," Eric says. "It's about remembering and preserving the past so that it won't be forgotten."
While living with his grandparents, Eric decided to spend his free Sundays visiting and introducing himself to the relatives listed in his grandmother's phone book. Through these visits, and the data they provided, he was eventually able to trace his own family tree back several generations. After he married his wife Ami (who eventually joined him the business), his father-in-law told him that their family was from Poland and there was "nothing left" of the family's past. But Eric had already flexed his genealogical muscles for his own family and knew there was always some retrievable information if you knew where to dig. It turned out that there was so much material available about the family that he was able to go back four generations and recover records and pictures from generations past.
Eric started that search by looking for and finding vital statistics — birth, marriage, and death records related to the family — in the Polish State Archives. He then dug deeper to find notary records that documented property owned by the family. He also searched scholarly works written by Polish academics on Jewish cemeteries in Poland, which led him to find the extant matzeivah of his wife's great-grandfather who died in 1933.
Following that success, he was hired to research the ancestry of another family, producing an entire 200-page book illustrating many generations of the family' history, supported by family documents, pictures, and records. The resulting referrals and word-of-mouth endorsements launched his new career.
Even if you're not yet ready to hire a genealogist to delve into your family's past, you can always find out more about your family history, Eric says. "Speak to everyone in your family. This process alone will help you document a nice family tree and will be a great foundation for future research."
Adding Links
Besides for well-known sources for genealogical research, Eric often discovers unknown resources that help him along. "Every week," Eric confides, "I'm buying some kind of weird book." For example, in historical records of the Azores Islands of Portugal, there is a listing of people who paid the "New Christian Tax" for hundreds of years after the Inquisition. Only a Converso Jew would be subject to such a tax and those listings are demonstrable proof of family lineage. For a project on a family from Przemysl, Eric referred to a Polish gazetteer from the nineteenth century that recorded town census data from 1884 to 1900. The book clearly cites details like, "Seven Jewish families lived in this village," or "One Jewish family owned the mill." For clients whose families inhabited these remote locations, this kind of information is a starting point for unearthing family facts they never dreamed of uncovering.
Sometimes, source material is useful because of what is includes, and what's telling are the omissions. For example, in a Jewish legal document, a first-degree relative many not act as a witness to a transaction, yet in European civil records, witnesses are almost always relatives of the subject. That's why finding the names of witnesses can often provide additional links to a descendant and help identify new connections that enlarge a family tree. In pre-1918 Hungary, committed Jews staunchly opposed including any non-Jewish information on their matzeivos. This included Christian dates and surnames. While Christian surnames might make it easier to track a family's history, their omission does not always roadblock a search. Jewish cemeteries and synagogues kept communal records, as did government offices, so there is a lot of duplicate verification available.
Was there one particular project whose results astounded him? "Every one!" says the enthusiastic genealogist who obviously loves his work. He tells about research he'd done for a traditional Israeli couple from Kfar Saba who hired him to trace the husband's roots. After completing the project, the wife was so intrigued she asked him to do the same for her family. "But," she warned him, "you probably won't find anything…" It turned out to be a seven-month mega-project. Her father and grandfather had died young, and she knew that after her great-grandfather had passed away, her great-grandmother Chaya had returned to Poland and had died there in 1942. Yet no one knew why she left Israel to return to Poland.
This woman knew she had second-cousins in France, but she had never had any interaction with them. In the end, contacting them scored an important find: They told her that her great-grandmother Chaya had a sister named Rivka Leah who was married to Shimon Hersh. Their children had emigrated to Brazil in 1926, where other cousins had met them at the port. Ultimately, the family assimilated and didn't leave any Jewish descendants.
But the trail didn't get cold there. The Brazilian descendants that responded to Eric's query revealed an unknown and unusual fact. In 1936, when their great-grandmother Rivka Leah died, the client's great-grandmother Chaya returned to Europe and married Shimon Hersh, her brother-in law. Further research documented the couple's death in Europe, Shimon Hersh of natural causes during World War II and Chaya with the rest of her town, likely in Treblinka. In an additional surprise, the Brazilian relatives shared an impressive document. When their grandmother landed in Brazil in 1926, she brought along a passport belonging to her grandmother Fajga, born in 1839: the mother of both Rivka Leah and Chaya, and their common great-great grandmother.
The passport had a picture, and the client was thrilled to have received this special gift. But that wasn't all. Who were the relatives who met her distant cousins in the port back in 1926? Their common surname was hard to trace, and no one knew their ages at that time. Eric had to do some tough investigating before finding a descendent to fill in the information. It turned out that this family had left Brazil and made aliyah. Through them, they were able to find many descendants living in Eretz Yisrael — many of whom were shomrei Torah u'mitzvos and some living just a stone's throw away from Kfar Saba, in the neighboring town of Ra'anana. The client, who was pessimistic about finding any relatives or even minimal information about her ancestry, who had grown up with only a small nuclear family, was ecstatic to have discovered cousins living almost next door all these years.
Eric can't always meet his clients' expectations, but sometimes, he's learned, that's because those expectations are founded on false information. He once had a client from Tennessee who believed she was from the Jewish Sephardic Cardozo family from Amsterdam.
"I had to temper her enthusiasm, though," he explains. "Just because you have the same last name doesn't necessarily mean you have the same history."
Eric verified that their name was Cardozo, but he couldn't establish any link to the Jewish Cardozos. "Almost all Sephardic surnames, especially of the Jews from Spain and Portugal, are shared with many non-Jews," he explains. "So no not everyone with the same surname is directly related. We did more research on the family and did find a Jewish link to the de Medeiros family who had paid a 'New Christian Tax' in the Azores in the 17th century."
Often Eric will have clients who are looking for "yichus" and will quote family lore claiming kinship with great sages of the past. His job is to document and verify those family legends.
"A client told me that her grandmother had insisted that in their home in Poland, there was a sefer yuchsin describing how they were related to the Abarbanel," he relates. "I searched and searched but was not able to document the relationship. Another client told me that his family was related to Martin Buber, which was interesting because the famed genealogist Dr. Neil Rosenstein, author of The Unbroken Chain series, claimed that Buber was a descendant of Rashi. I did my own investigation into the lineage and found that Buber's grandfather was the product of his father's first marriage, which was the relation to my client. The second wife (Dr. Rosenstein had not been aware there were two marriages until I showed him the source documents from the Lviv archives I had uncovered) was the descendant of Rashi. Thus Buber was not a Rashi descendant, and neither was my client."
People have also approached Eric to help them recoup citizenship in other countries based on their ancestors' birthrights. In Italy, Spain, Poland, Germany, Hungary, and Greece, among other countries, one way to claim citizenship is on the basis of blood ancestry. People seeking citizenship for business reasons or for purposes of education will contact Eric to research and prove their ancestral history. Eric will search for documentation verifying that the client had ancestors in that specific country, and if he's successful, he'll write an expert witness report to support their claim.
Although Eric is not a private investigator, his sleuthing once helped a frum man from the Tristate area who had been adopted from Canada to track down and locate his birth family. It was a challenging project because, though he knew his birth name and his mother's maiden name, it turned out that his mother had remarried several times and had children from various marriages. Ultimately, Eric found her obituary and from there connected with one of her daughters. "You know, I always wondered what happened to my brother," the sister replied when she was contacted. A family reunion was held in Sydney, Nova Scotia, where, for the first time in his life, the client met many of his birth siblings and their families.
With so many people wanting to connect to their pasts, there are hundreds of genealogical societies today with thousands of members. But there's nothing that takes the place of experience. Over the past two decades, Eric Feinstein has helped hundreds of clients uncover their personal histories. Yet, is there still some special project or passion he hasn't yet gotten to?
"For the past ten years on again, off again, I've been working on a book about finding the burial places of the 12,000 German Jewish soldiers who fell in World War I," he shares. "Most of all the German War Graves Commission records were destroyed in World War II, but through period Jewish newspapers and other sources, I've actually managed to document some 5,900 of those burial places. If I had the time, I would love to do more research on this project."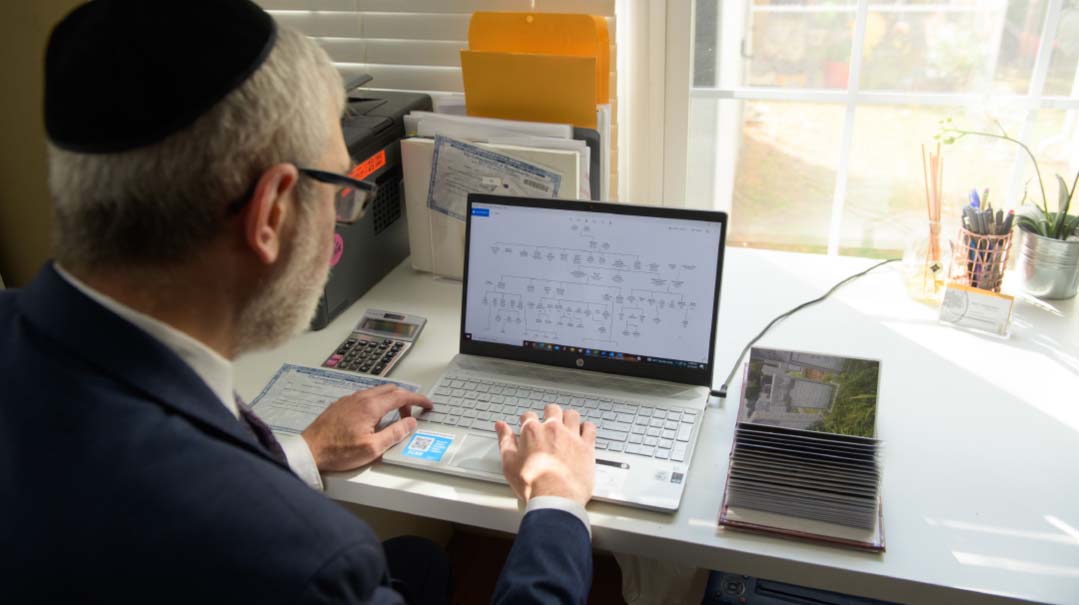 Who We Are
Eric and his wife Ami give me a tour of their Clifton, New Jersey home (he davens at Kehillas Beis Sholom) where vintage family pictures are prominently displayed. We stop at the picture of Eric's grandfather, born in New York in 1911, and Eric explains how he was able to go back in time and discover the details of his ancestry. His grandfather remembered his own grandmother, who had lived to the age of 97. But no one knew his grandfather's grandfather, Pesach Nosson, and the family assumed that he had died in Europe before the family emigrated to America. But Eric was in possession of an old family photograph given to him by three cousins, sisters from Connecticut, whom he met back in those single Sundays visiting relatives. It was a wedding picture of his grandfather's grandparents, taken in New York, circa 1895. Seated in the center was his great-great-grandmother and her husband, Pesach Nosson. Knowing that Pesach Nosson did not die in Europe put Eric on the prowl.
A picture Eric had from his mother accelerated his detective work. It featured his great-grandfather's family, including his spouse and their four children. One daughter pictured was named Pearl Nanette. Eric notes that in previous generations, even in families that were no longer religious, children were named for deceased relatives, and Eric speculated that the name "Pearl Nanette" would be a grandchild named for Pesach Nosson. He knew that Pearl Nanette was born in 1906, so he made a trip to the New York City archives and started trawling the death records for the year before Pearl Nanette's birth, going on the assumption that she was the first grandchild born after his great-great-grandfather's death. Finding a death record opens many doors in genealogical research, and Eric soon found the death records that led him to Pesach Nosson's grave at the Mount Zion cemetery in Queens. Pulling out a photo album, Eric shows me a picture of Pesach Nosson's tombstone.
"On my great-great-grandfather's matzeivah it says 'Chochmas haTorah haysa lo l'manah — Torah wisdom was his lot.' For me, as a baal teshuvah," says Eric, "this was especially meaningful."
The six Feinstein children all bear the names of ancestors. It's a tradition and also a way to share the love through the generations. "Our family's own personal journey to Sinai is an important part of our individual story," he shares. "We have such a connection our parents, grandparents,  and the generations that came before us, and that makes us who we are today."
Eric Feinstein specializes in a world that is simultaneously devoted to the past and the present, and his love for geography, history, and family is both his passion and profession. By helping to uncover his clients' histories, he ensures that legacies for the next generation are born.  —
LOOKING FOR A LEVI
Ironically, the hardest names to research are the ones which can most define a person: Cohen or Levy.  "If someone comes to me and says, 'We were Kohn from Germany,' or 'Cohen from Hungary,' with no other qualifying information, it's going to be challenging to make any progress," Eric says. On the other hand, it happens quite often that he discovers someone is a Kohein or a Levi and they themselves had no idea. "I have this all the time, especially with people who are assimilated Jews or the descendants of Jews."
He remembers one client named Levy who was a baal teshuvah and wanted proof that his family were Leviim. His family came from a small town in the German Rhineland but the cemetery there had been destroyed by anti-Semitic vandals.
"So we shifted gears," Eric relates. "We looked for relatives of the town who were buried elsewhere in Germany. We did find one potential matzeivah but could not find the corresponding civil record to prove this niftar was from the town we were looking for. Then we went outside the box and looked for immigrants to the United States from that town. The client's family had been in America a long time and none of them had any Hebrew on their tombstones, not to mention the words 'HaLevi.' But we found another son from the town with naturalization papers to prove where he came from, and a tombstone in Hebrew in Omaha, Nebraska: Eliezer ben Yosef HaLevi.
(Originally featured in Mishpacha, Issue 887)
Oops! We could not locate your form.
>