| True Account |
Unearthing the Past
| August 2, 2022
It was only after my parents died that I learned more about their horrifying past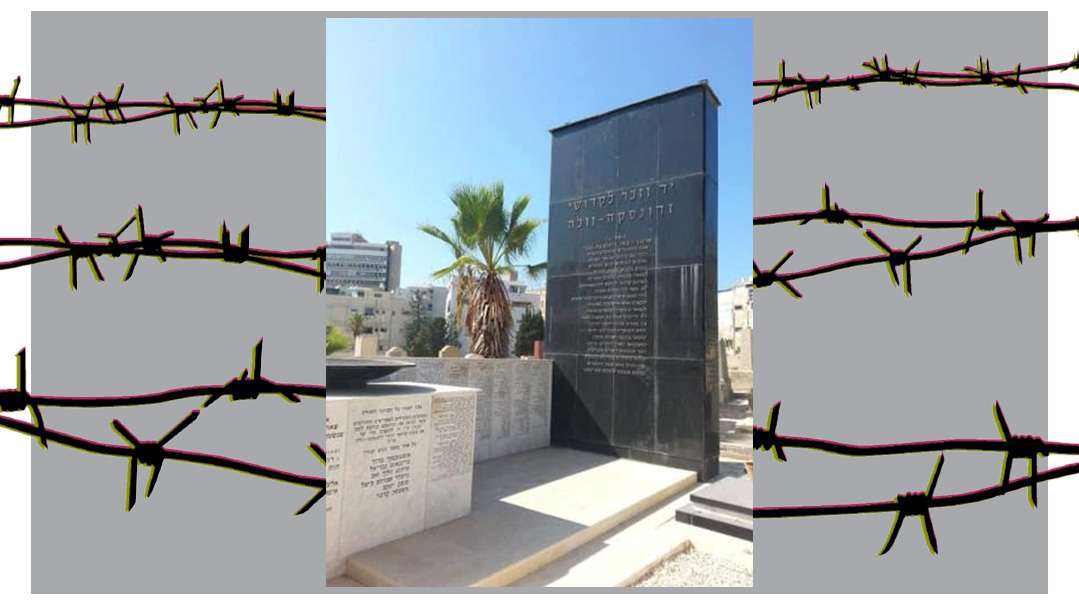 As told by Shmuel (Sam) Zomber to his daughter Mindel Kassorla
My story begins 65 years ago, when I was a child growing up in Brooklyn. But truthfully, it began long before that, in the horrors of World War II in Poland.
When my parents married, they lived in Zduńska Wola, a Polish town not far from Lodz. In September 1939, German troops invaded the town, and over the next few months, the Jewish residents were herded into a ghetto. Somehow, my parents survived the war, but virtually none of their relatives did. I was born upon my parents' arrival in the United States, a first-generation American — and a child of survivors.
I was raised in Brooklyn along with my younger sister, Malkie. Our home was small and quiet. Daddy and Mommy never spoke to us about the war or about the lives they led before it.
As a child, I was able to piece together a few small details about my roots. I knew my birthday, and I knew my parents had been in the States for two months by the time I was born, so I figured out when they had emigrated from Poland. But my parents were determined to leave their past behind, and it remained a mystery.
Throughout the war, my father managed to hold on to three precious items, which I still have today. One was his tefillin, which he made sure to put on every day of the war. The second was the sefer Midrash Tanchuma, which he had obtained in the ghetto in exchange for a piece of bread. Inside he inscribed the names of his murdered siblings.
The third item was a photo of a four-year-old girl holding a toy wheelbarrow .
"Who is this?" I once innocently asked my father.
"That picture was taken in the ghetto," he answered. "She was one of your sisters."
And that was it.
In time, I learned that she was one of four children, ranging in ages from two to eight at the time they were killed.
Any bits of information I gleaned about my parents' past came from discussions with fellow survivors who came to our apartment to talk. I would hide just outside the room and listen as the adults spoke about the things they never discussed with me.
I craved to know more about my brothers and sisters, but there was no way I could ask my parents directly; how my siblings had died and my parents' lives in Poland before the war were subjects that were completely taboo. It seemed I would grow up never knowing what had really happened.
It was only after my parents died that I learned more about their horrifying past. My sister Malkie met a survivor who shared that Mommy had been present when at least one of the children was killed.
"She was holding your baby sister, the youngest one," the survivor told Malkie. "The Nazis grabbed the baby from her arms and threw her into a pit. Your mother lunged forward, but someone pulled her back — and saved her life."
Malkie was stunned to find out from another survivor that when the ghetto originally formed, Daddy had been given an opportunity to hide the children in a non-Jewish home, but he refused. He wasn't willing to sacrifice their Judaism for what seemed to be just a precaution — none of them could fathom how dangerous the situation would become.
My sister told me in a recent conversation that she'd met a survivor at a chasunah, a woman who had been in the DP camps with my parents.
"I'll never forget what your father told me," she said to Malkie cryptically.
"What did he tell you?" Malkie asked. We were so anxious to find out more.
"That he buried his own children," the woman said.
Malkie froze.
"When the children were shoved into the pit," the woman slowly continued, "not everyone was dead. Your father was forced to bury his own children — alive."
The story was too painful for my sister to believe, and at first she assumed it was a misunderstanding, that the woman was old and must have confused the details, but later research, including discussions with other survivors from the DP camp, confirmed the account.
Ultimately, I did find out more about what had happened to my siblings. There's an old, plain-looking hardcover book on the shelf in my living room that can be opened from either side and has a collection of English articles on the left and many more Yiddish articles on the right. We call it "The Yizkor Book ."
It was put together about 15 years or so after the Holocaust by a group of survivors from Zduńska Wola who wished to preserve memories of their experiences before and during the war and to memorialize those who had perished. The committee reached out to other town members to write articles and submit photographs and dedications, and they compiled it all into this book. The Yizkor Book tells the story of my parents' hometown, from its early days until the liquidation of the ghetto. It also documents some of the survivors' lives in the camps.
I first read portions of the Yizkor Book some time in the '80s, after my parents died. In the beginning, there is a photo of men standing next to a gravestone in Poland, inscribed with a dedication to the Jews of the ghetto of Zduńska Wola, which had been liquidated in August 1942, on the 15th of Elul.
From time to time, I would peruse the book. The smaller English section had some pictures and descriptions, but not much more than that. The other section seemed to contain much more information, but I was too intimidated by the Yiddish to go through it all.
In 2004, I decided to take the plunge, to try to decipher the Yiddish content. I remember carefully removing the book from its place on the shelf, and, with a deep breath, I began reading.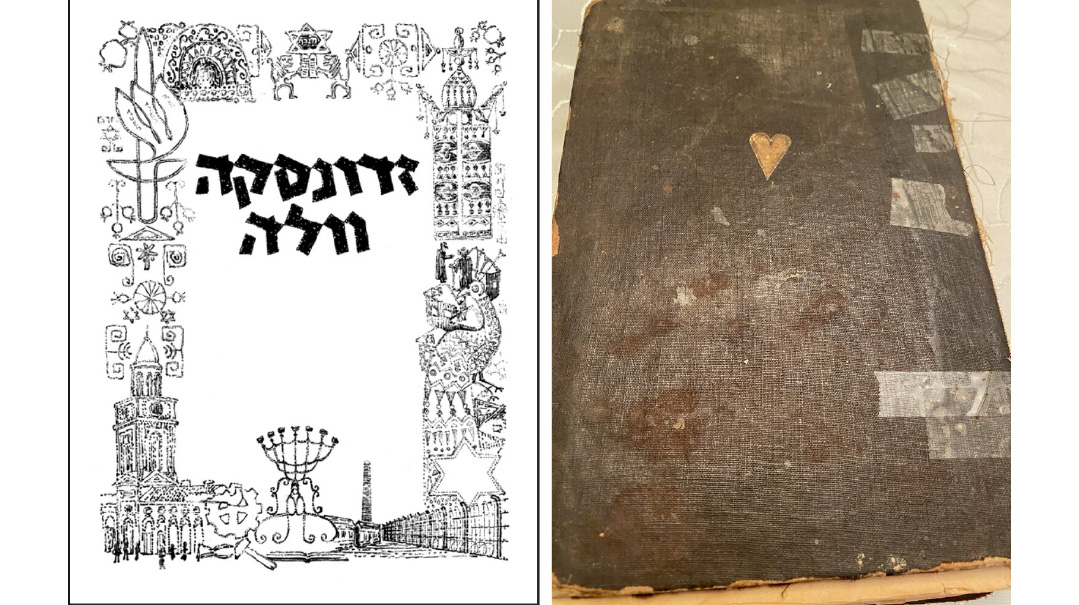 (Left) Title page of the Yizkor book; (Right) the Sefer Medrash Tanchuma which my father obtained in the ghetto 
I skimmed through the articles about the town many years before the war, which were followed by articles about the start of the war and the establishment of the ghetto. I stopped skimming and started reading when I got to something that sounded like it meant "liquidation."
The article told of how the children were killed a few days before the ghetto was closed down. Early one morning, all of the Jews of Zduńska Wola were herded into a field outside of town. The elderly and the children were forced down into a valley and shot to death.
As I read, I was overcome with emotion. The information was no surprise — these stories had been hinted at before. But to actually read about it in detail, to imagine such a horrific end, my parents' whole lives destroyed before their eyes… Still I read on.
The next article caught me by surprise. It described how a survivor returned to the site of the massacre after the war and filled his bags with the remnants of those who had been shot there. He then smuggled the dirt out of Poland and brought it to Israel, where he buried them in what was described as "the old cemetery in Tel Aviv."
I couldn't believe my eyes. There was a memorial to my brothers and sisters — I had to find it! But the details were vague. Where would I begin?
While Eretz Yisrael was the obvious place to start my search, the trip would be challenging; in 2000, I'd been in a major car accident that severely limited my mobility. Now, feeling a powerful sense of mission, I decided I wanted to try. I flew to Eretz Yisrael with my son Menachem, who was returning to yeshivah, determined to locate the cemetery.
One day, we got lost on our way to Kiryat Sefer, and our unexpected detour brought us to the outskirts of Tel Aviv. I figured I would give it a shot.
We pulled into a gas station, and I turned to the young attendant standing outside.
"Do you know where the oldest cemetery in Tel Aviv is located?" I asked in broken Hebrew.
He gave us a puzzled look. "Let me see…"
He went inside and returned with a list of four possibilities.
That day, we drove around the city, visiting each cemetery on the list. We walked through bushes and weeds and brushed off headstone after headstone. There was a huge number of memorials in each one. But none mentioned Zduńska Wola.
That was just the first of several trips we made to Tel Aviv, but the daylong exhaustive searches through huge cemeteries were all to no avail.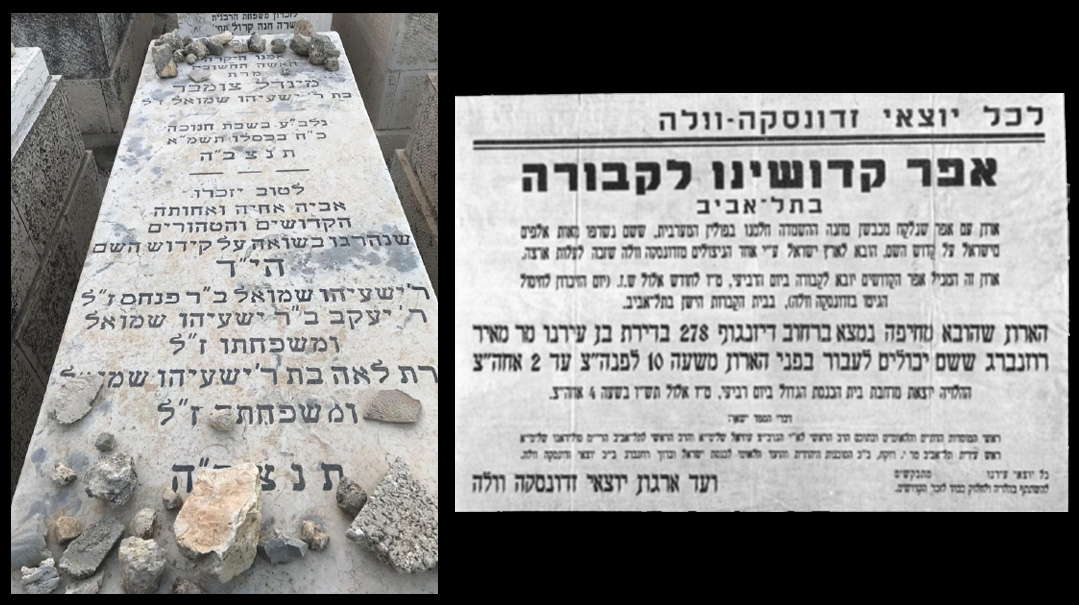 (Left) My father a"h's kever on Har Menuchos (Jerusalem) with an inscription for the memory of my siblings;(Right) An excerpt from the Yizkor Book advertising the original burial of the remains from Zdunska Wola in the old cemetary in Tel Aviv. 
I needed a new lead. Maybe I can reach out to the person who compiled the Yizkor Book? I wondered.
He lived in Eretz Yisrael, and about a year earlier, I'd actually tracked him down to ask if he had any recollections of my family. He'd vaguely remembered my father, but couldn't offer any significant information then. Now I wondered if he could help me locate the memorial — but I couldn't remember his name.
For some reason, the name Ehrlich popped into my head, and it sounded right. I played around with various first names, and again, for no apparent reason, decided to try Elchonon (which happens to be the name of my eldest son). But I didn't know if that was actually his name, or where he lived.
Going out on a limb, I decided that since Tel Aviv is the most populous city in Israel, I would start there. I asked the concierge of my hotel in Jerusalem for the telephone number of Elchonon Ehrlich in Tel Aviv. She came back with five numbers.
The third Elchonon Ehrlich spoke only Hebrew but understood what I was seeking. It turned out that the man I had spoken to a year earlier was his father, Avraham.
"My father is the one who survived and organized the book, not me," he said. "I'm not sure I can help."
"Anything… any information you can give me," I pleaded.
"Of course," he reassured me.
Twenty minutes later he called back.
"The cemetery is located on Rechov Trumpeldor," he said. "It's the oldest organized cemetery in Israel."
On Thursday, I set off to Tel Aviv again. The cemetery — a wall of stones enclosing what looked like a long park — was relatively small, so I started peering at headstones to locate the memorial. Then I glanced up, and noticed a stone that towered above the others on the far side of the cemetery.
I was able to make out the inscription on the gray stone: the memorial was dedicated to the destroyed Jewish community of Zduńska Wola.
This was it — my search was over.
Extending  out of the memorial were two rows of marble stones with names on them. Some were names of those killed during the liquidation of the ghetto. Then there were the names of the ten Jews the Nazis hanged on both Purim and Shavuos, a brutal revenge for the hanging of Haman's sons. I had read about this in the Yizkor Book.
Right before my eyes, the book's pages were coming to life. I now finally had a way to connect to my older murdered siblings. At last, I'd found tangible remnants of my brothers' and sisters' existence on earth, here in a little corner of Tel Aviv. —
A Date from Heaven
My father, Dovid Eliezer, passed away in 1976, and my son, born in 1979, was named after him.
In the late '80s, I had the urge to say Kaddish for my siblings, and I tried to figure out which date to observe as their yahrtzeit. I knew that the Zduńska Wola ghetto had been liquidated on the 15th of Elul, and I assumed the process would have begun two or three days prior, making the yahrtzeit the 12th of Elul. That is my Dovid's birthday, a day on which I was unwilling to say Kaddish, so I began reciting Kaddish every year on the 11th of Elul. When I finally learned more about my siblings' deaths from the Yizkor Book, it turned out they had in fact been murdered… on the 11th of Elul.
(Originally featured in Mishpacha, Issue 922)
Oops! We could not locate your form.
>