| A Few Minutes With |
Ukrainian Ambassador to Israel Yevgen Korniychuk | March 7, 2023
A year into Russia's war, Ukrainian ambassador Yevgen Korniychuk calls for Israeli weapons and moral support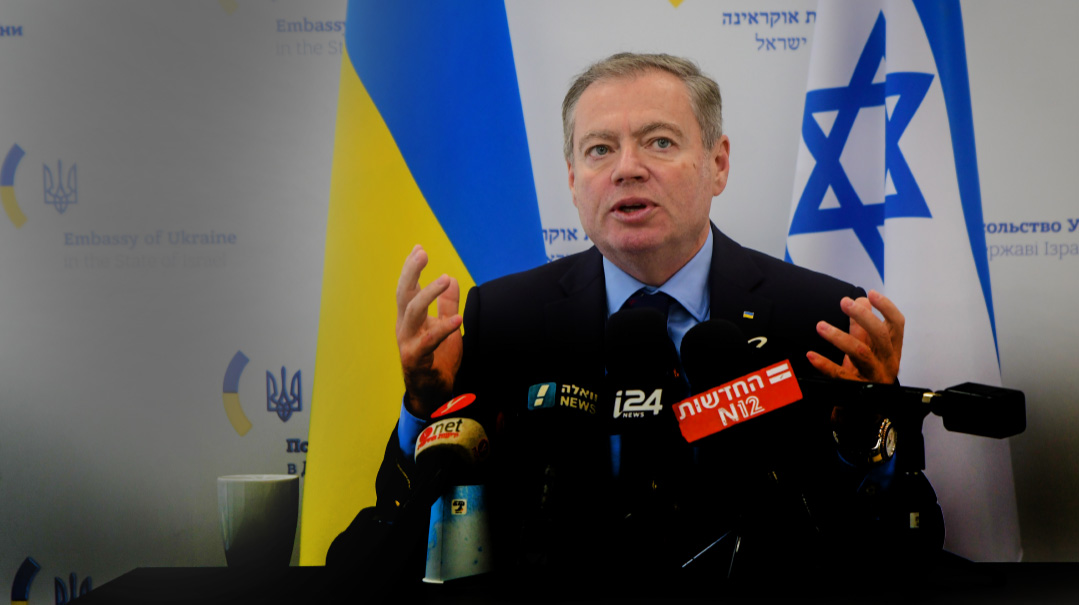 Photo: Flash 90
Ukrainian Ambassador to Israel Yevgen Korniychuk tells us: "We could finish the war in a few months, but we'll need your air defense systems."
In a conversation with Mishpacha, the Ukrainian ambassador to Israel talks about his personal surprise at the Russian invasion and about his country's determination to persevere even in the face of nuclear Armageddon. He promises that worshippers in Uman will be welcome this Rosh Hashanah as well, and suggests that the end of the war doesn't mean the fall of the Putin regime.
On the first anniversary of the invasion, Ambassador Korniychuk expresses optimism about the progress of the war, alongside disappointment at Israel's relatively neutral stance, due to its fears for the Israeli Air Force's freedom of action in Syria and Iran.
"We still see Israel as a friend," said Korniychuk. "The visits by Foreign Minister Eli Cohen, Yuli Edelstein, and Ze'ev Elkin were highly appreciated, but Ukraine expects more. The president made it clear to the delegations that we need the Israeli government to change its policy and start sending us defensive aid, at the very least."
Ukraine hasn't been shy about its hopes that Israel will supply it with Iron Dome and David's Sling defense systems for short- and medium-range missile defense, a move that would take the sting out of the Russian missile and UAV attacks terrorizing Ukrainian cities. Israel fears that providing defense systems will destroy its ties with the Kremlin, and create a problem for its pilots operating in Russian-controlled airspaces — as well as for Jews living in Russia. In addition, Israel needs its limited supply of interceptor missiles for the event of war with Hamas or Hezbollah.
"We understand that at the moment, Israel's stockpiles are limited," said the ambassador. "But unfortunately, this war isn't going to end tomorrow. We're thinking about the long term, and if we can come to an agreement that will see us receiving Israeli air defense equipment in three, six, or nine months — that's also fine with us."
Korniychuk echoes the mantra used by Ukrainian diplomats across the world in recent months. "Israel needs to be on the right side of history."
What are your insights after a year of war in Ukraine?
First, it can be stated emphatically that Western intelligence failed to correctly assess the resilience of the Ukrainian public. In addition, the Ukrainian army has significantly improved its capabilities since 2014, when Russia occupied the Donbas and the Crimean Peninsula.
I myself was surprised in two ways. First, I didn't think there would be an invasion, because I didn't see how the Russians could think that 160,000 soldiers would be enough to conquer a nation of 40 million people. But when the invasion materialized, and it became clear that the Russians wanted war, I was pleasantly surprised by the Ukrainian army's performance, not folding as widely predicted but very quickly finding its footing and rebuffing the invader.
In retrospect, we know that the [Russian] "Kiev offensive" was not a military operation so much as a parade. The Russians made the mistake of believing their own propaganda about how the Ukrainians would greet the Russian army with flowers. This was a point that many failed to appreciate at the time. The Kremlin was planning for a parade, not a war.
There have been reports recently that Israeli prime minister Naftali Bennett's intervention in the early stages of the war may have saved Zelensky's life.
It's important to remember that the early stages of the war were extremely chaotic. No one knew what exactly was happening, what Putin was planning, and how Ukraine would react. Western intelligence expected Ukraine to collapse within a week. Under those circumstances, people intervened in ways they thought might be helpful.
I'm sure Naftali Bennett didn't mean any harm. He tried to secure what he considered crucial commitments from the Russians. I think that the reports that he secured a commitment from Putin not to assassinate Zelensky are inaccurate. Look it up: Zelensky was walking openly in the streets of Kyiv just three days after the outbreak of the war, before Bennett's trip to Moscow. It's quite possible that Bennett didn't understand what exactly was happening.
What we didn't appreciate so much was his attempt to coordinate humanitarian aid with the Russians. For example, he asked for Putin's permission to set up a field hospital in western Ukraine. In our opinion, that amounted to a recognition that Putin is the one in charge, and we thought that was a mistake. But again, Bennett was acting based on the conventional view at the time, according to which Ukraine was on the verge of total collapse.
Experts believe that Russia is planning a new offensive in the summer. How are you preparing?
We're receiving a lot of assistance from our friends in America and Europe, and we look forward to some help from Israel, as well. Our forces are training nonstop, and I believe that they will succeed not only in repelling the Russian offensive but also in liberating the 20 percent of the country still under Russian occupation. We have a pretty good intelligence system, and we know that because of the heavy material losses they've suffered and their shortage of equipment, the Russians have started cooperating with Iran vis-à-vis UAVs and missiles. They're trying everything they can to break us, but they're becoming increasingly desperate.
Their main advantage over us is in personnel. They have an inexhaustible pool of manpower, and they're simply throwing wave after wave of men at us in the hope that their sheer numerical advantage will finally overwhelm us. But it won't work. We're stronger and more determined than ever before. The more atrocities the Russians commit, the less willing our people are to give up territory in exchange for peace. Mr. Putin's propaganda machine is threatening us with another huge offensive, but experience shows that his bark is worse than his bite. He can talk as much as he wants — we'll meet on the battlefield.
Last week you received a surprise visit from US president Biden and later from his treasury secretary as well. At the same time, the Americans are refusing to sell you warplanes. It's no secret that America has been Ukraine's anchor throughout the war. How do you see the future of your partnership with Washington?
America is supplying us with a ton of equipment, and no less crucially, a ton of intelligence. There's significant cooperation between us. Our commanders even plan operations on the battlefield in consultation with American military experts.
As for the fighter planes, I don't know when exactly we'll need them, but I can tell you that our pilots have been training with F-16s for a long time. Even when the Americans say no, experience teaches that it's only a matter of time before they change their minds. You can hear it in Biden's statement that he believes Putin will never achieve his goals in Ukraine.
What's your prediction for one year from now?
It must be remembered that through just six months of stubborn fighting, we've managed to liberate a massive area, larger than the entire State of Israel. But it's not just up to us. Unfortunately, there's only so much we can do without the support of our allies. That said, I'm confident that with the necessary assistance, we can finish this war in a few months. A year from now, we would be very happy to be celebrating our victory with you.
I can't deny that our people are tired of the war. That's perfectly understandable. We pay a terrible price with each passing day. Despite that, all the citizens of Ukraine, including Jews and other minorities, want us to soldier on until victory. They understand that we don't really have a choice. According to polls, even if Putin acts on his threats of using nuclear weapons, 85 percent of the citizens of Ukraine believe that we can't afford to give in and surrender to his dictates. We would be happy to end the war as quickly as possible, but first we have to liberate all the territories belonging to us according to international law and the 1991 border.
Do you see a chance for dialogue with Russia?
At the moment, unfortunately, no. They want to kill us all. In this situation, there's obviously no room for negotiation. As far as we're concerned, the war will be over when we've expelled the Russian invader and secured a nuclear umbrella from NATO to deter future aggression. As for the Putin regime, it doesn't have to fall for the war to end. You'll recall that Saddam Hussein continued to rule Iraq even after his defeat in the First Gulf War, and despite failing in the Korean War, the ruling family in North Korea remains in power to this today, so I don't see that as an inevitable consequence.
Are you satisfied with Israel's position?
We're very grateful for the humanitarian aid we've received from Israel since the start of the war. This is important, because it tells us that we're not in this alone, but at the same time, wars are not won through humanitarian aid alone. We're fighting a brutal war, and we've already been talking for six months about our need for air defense systems. This is absolutely crucial for us. Promises were made, but we're not there yet. During Foreign Minister Cohen's visit, he promised that Israel would provide $200 million in loan guarantees for clinics and other civilian infrastructure. We would be happy to use that money for Israeli defensive equipment.
What we have been promised at this stage is a pilot program for developing a smart early warning system based on Israeli tech, which will help our civilian population shelter in time. The Israeli delegation also offered to lend us their expertise in clearing the minefields left behind by the Russians in the occupied territories.
We understand that there's a limit to the aid the Israeli government can offer us. But it's especially important for us to have air defense systems. They can save a great many lives and significantly affect the course of the war.
You're talking about how Israel can help Ukraine, but Ukraine has continued voting against Israel in international forums, such as the UN resolution asking the Hague to investigate Israel. Is that how friends behave?
That's inexact. The vote you mentioned about was just a preliminary vote with no practical significance. We left the door open. After discussing the matter with Netanyahu, President Zelensky gave the word for our representative to vote in favor of Israel in the final and decisive vote, and that's exactly what happened.
How are the Jewish communities in Ukraine holding up?
Our Jewish communities are functioning at an excellent level and holding up well in places such as Dnieper, Kharkov, and of course Kyiv. When Israel's Foreign Minister Cohen visited Kyiv, he met with the Jewish community leaders, who asked him to step up Israeli support for Ukraine. We don't think of the Jewish community as a separate group. Jews are an integral part of our citizen body, part of Ukraine's cultural diversity — which makes us stronger. However, I won't deny that we have higher expectations from Israel. Our President Zelensky, who as you know is himself of Jewish origin, doesn't understand how Israel can stand by at the sight of what is happening in Ukraine.
In half a year or so, thousands of Jews will hope to spend Rosh Hashanah in Uman. What can you say to them?
Last year, we pulled off a pretty extreme operation with the help of Ukraine's security forces that enabled us to host 30,000 worshippers, despite the war raging in the country. I don't see why we wouldn't be able to do it again next year. I hope that by next Rosh Hashanah, the war will already be behind us, so the issue will no longer be relevant. But I would like to use this platform to call on the leaders of Orthodox Judaism to support us in every way possible. You see that we're happy to accommodate you despite the circumstances, and we're asking you to keep our needs in mind as well.
(Originally featured in Mishpacha, Issue 952)
Oops! We could not locate your form.
>