| The Beat |
Trump's Benchmark | November 18, 2020
However the MAGA story ends, Trump has taught the GOP one thing: Given the right leader, conservatism isn't destined to be swept away by a sea of millennial liberals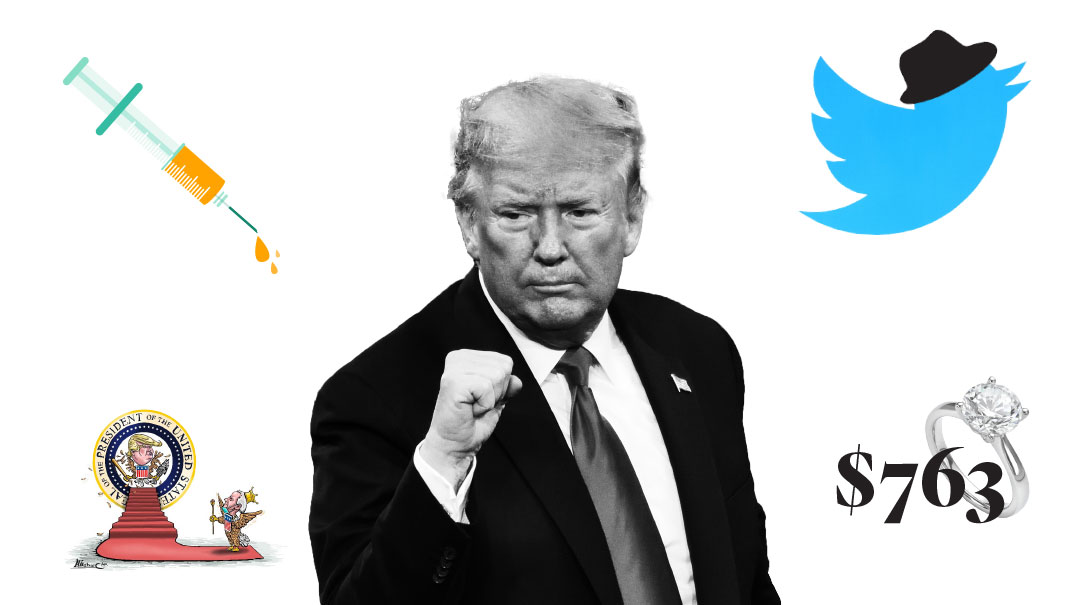 The Soapbox // Gedalia Guttentag
It's two weeks after the elections, and barring a judicial miracle or a 2024 comeback bid, there won't be "four more years." So it's time to ask: What is President Trump's legacy?
Start with foreign policy. Like it or not, Trump will go down as a revolutionary, having radically reshaped three of the US's global relationships. He almost single-handedly created a bipartisan consensus that China must be challenged, and it's hard to see Biden reverting to the status quo ante. Likewise, his cold shoulder of Europe has shaken up the Old World's elites, who are now aware that Uncle Sam won't foot the bill for their defense. And if Biden rejoins the Iran Deal, the new Gulf-Israel alignment might well grow stronger.
But however he's remembered on foreign shores, perhaps Trump's biggest legacy is at home, in the GOP. That's because he's redefined what an unapologetically conservative Republican administration means. Ironically, the man whom a majority of voters saw as a non-conservative, according to a 2016 Gallup poll, has set a new benchmark in conservative ambition for the Republican Party.
For decades, even as conservatives took power, they talked more of free trade and muscular foreign policy than about reversing liberal cultural inroads. But in the course of four years, Trump smashed the glass ceiling of previous religious legislation. At a pre-election rally last month, Vice President Mike Pence called Trump "the most pro-life president in history" — and with good reason.
His administration passed what amounted to a conservative wish list, including the Protect Life Rule prohibiting federal funding from going to abortion clinics; defending religious liberty in a host of cases, such as this year's Little Sisters of the Poor ruling; and moved the US embassy to Jerusalem, keeping a campaign promise that all previous Republican presidents had broken.
Then there are judicial appointments. Whereas Reagan and Bush 41 appointed swing-voting justices, Trump nominated full-blooded "constitutional originalists" in Justices Gorsuch, Kavanaugh, and Barrett, giving the Supreme Court a 6-3 conservative majority. Further down the system, Trump appointed a quarter of federal judges, potentially transforming the legal environment for a generation.

The irony is that the New York real-estate tycoon was an unlikely front man — compared to George W. — for this brand of religion-tinged conservatism. But Trump's fearlessness underlying his electoral pact with social conservatives has set a precedent in US politics.
So, however the MAGA story ends, Trump has taught the GOP one thing: Given the right leader, conservatism isn't destined to be swept away by a sea of millennial liberals.
-94°F
is the temperature at which Pfizer's new coronavirus vaccine, which the drug company said was over 90% effective, must be stored. News of the vaccine's success, released last week, sent the pharmaceutical giant's share price soaring, but since then, it's emerged that bringing it to a clinic near you might not be so simple.
"We're a major medical center, and we don't have storage capacity like this," Reuters quoted a virologist from the prestigious Mayo Clinic as saying. "That will be true for everybody. This is a logistical obstacle."
With two shots of the vaccine spaced three weeks apart needed to build up resistance to the virus, and a mix of planes, super-cold dry ice, and instant rollout needed to deploy it, Pfizer's candidate is living up to the "Operation Warp Speed" designation of its development program.
The Backstory // Yochonon Donn
In a term full of gestures to the Orthodox community, was this Trump's only bar mitzvah card?
Yonah Feiner waited 13 years for his big day — the new suit, the hat, the hall, the dancing, the music. But exactly two weeks before the Monsey boy's bar mitzvah, an uptick in Covid cases led to Governor Andrew Cuomo shutting down chunks of Orthodox areas in the state — including Monsey. All indoor dining, including Yonah's bar mitzvah, would have to be called off.
Yonah's mother, Rivkie, is known in the world of askanus as a powerhouse, a one-woman dynamo who does the tedious work of nurturing relationships in the flashpoint town of Ramapo, where everything about the frum community is misunderstood by other residents.
Trying to make lemonade out of lemons, on October 13 she wrote to the president's Twitter account: "@realDonaldTrump, We live in #RedZone #RocklandCounty #NYS & had to cancel our son's #BarMitzvah next Thursday night. It would be HUGE if you could send Yonah a Mazel Tov message. He would feel SO special!"
The post created a mini-stir on Jewish Twitter, with some big accounts retweeting it with the message, "Make this go viral."
Elliot Fuchs, who describes himself as a "writer, political commentator & consultant, and J.D. candidate at Georgetown Law," chimed in that a friend of his who works at the White House, Christian Rehder, "can probably help out with this." Rehder, the White House associate director of correspondence analysis, said he would get on it.
In the meantime, a virtual bar mitzvah took place, with a mazel tov videos from Rav Yaakov Bender, the rosh yeshivah of Darchei Torah, and an appearance by Joey Newcomb, the composer of the hit song "Thank You, Hashem."
Nearly three weeks afterward — on Election Day no less —a letter on White House stationery arrived in the mail, embossed with the presidential seal.
"Dear Yonah," the letter stated, signed by both the president and first lady, "Mazel Tov on becoming a Bar Mitzvah. We join your family and friends in celebrating this joyous occasion and send our best wishes as you mark this significant milestone. May your faith continue to guide, strengthen, and comfort you throughout your life."
$763
Want to get married in London? You might have to cough up the price of a flight to New York. That at least, is what one frum couple did after England entered its second national lockdown on November 5. and wedding ceremonies were banned. In Gateshead, Rosh Hayeshivah Rav Avrohom Gurwicz instructed the kehillah to push off all chasunos to comply with the law, although elsewhere in frum England that hasn't always been the case.
But while authorities are certainly right that "by their very nature, weddings are particularly vulnerable to the spread of COVID-19," as the government's guidelines state, the wedding ban is telling.
Drawing the lines of what are deemed "essential" activities is not a question of science, but of values. Thus, in Israel's recent second lockdown, small weddings were allowed because weddings are central to Israeli values, both secular and religious. Perhaps for the same reason, New York governor Andrew Cuomo's recent red zone lockdown permitted small-scale weddings.
So why is it that, in the long list of lockdown exemptions, including pet care, a Conservative government could find no room for traditional marriage?
Covid has shone a bright light on many things — including just how secular modern Britain is.
(Originally featured in Mishpacha, Issue 836)
Oops! We could not locate your form.
>