| Standing Ovation |
True or False? | November 23, 2021
Take Ding's Chanukah Musical Trivia Quiz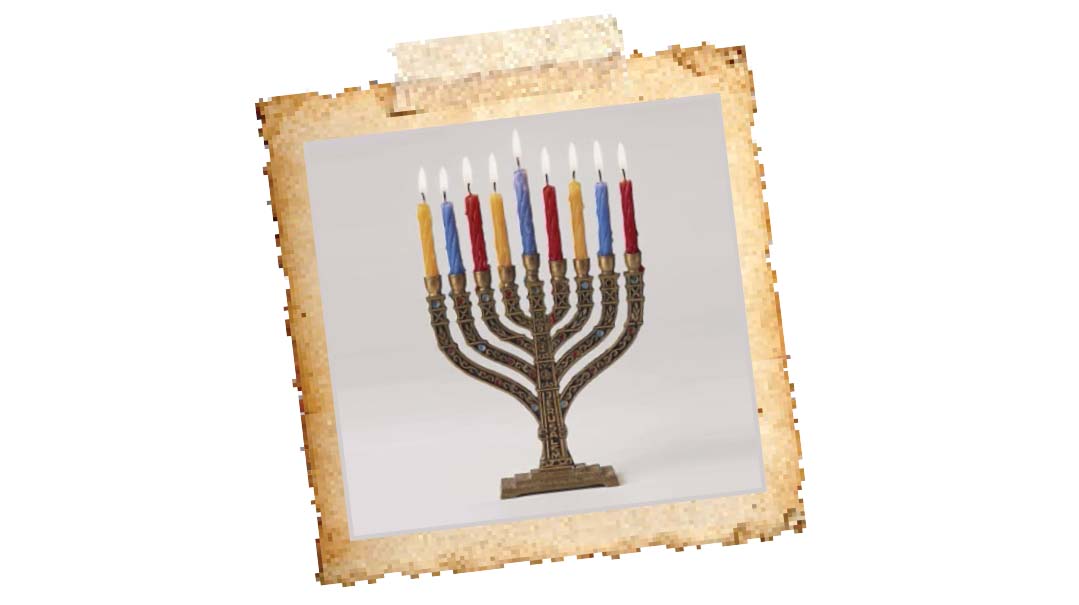 Some people have a knack for remembering the smallest details of a record or album they listened to years ago. Those are the same people who remember the license plate number of their parents' first car, or the name of the school janitor. And they definitely remember their first concert: I remember mine — it was on Motzaei Shabbos Chanukah at Brooklyn College, starring the Toronto Boys Choir (which morphed into MBC) and Ruach Revival. I won't tell you how many years ago that was, but if you remember those long-ago celebs, you'll know. 
Last year there were no Chanukah concerts or carnivals, and this year we're grateful that life has again returned to a certain level of normalcy. But that doesn't mean we can't have a little fun on paper with our annual Chanukah-themed trivia quiz. The rules are simple: Grab a donut, preferably custard, and start. If you get 13 or more questions correct, you can endorse yourself as a true music aficionado and treat yourself to another donut. 
Questions 
Mordechai Ben David opened the very first HASC Concert with the song, "Yevanim," 

composed by Shmuel Brazil from his first album, Shmelkie's Niggunim.

Miami Boys Choir's "Light up the Nights," composed by Yerachmiel Begun, was originally 

written as a Havdalah song.

Yaakov Shwekey's "Chasoif" was actually composed by Dov Levine.

Benny Friedman's "Light One Candle" was composed by Abie Rotenberg for a 1982 concert, in response to the 1982 Lebanon War.

The song "Fire is Hot!" on Rebbi Alter's Chanukah CD was written to the tune of Baruch Chait's "Kol Haolam Kulo."

On the Yom Tov medley from Avraham Fried's Around the Year 3, the song "U'minosar  

Kankanim" was composed by Miami Boys Choir. 

Yigal Calek's "Maoz Tzur" composition was never released on an album, even though it won  

an award in England.

The fellows in the group Maccabeats that sang "Candlelight," a parody of the acapella version 

of Dynamite (with over 16 million views), all went to Yeshiva Chaim Berlin.

Shmuel Eliezer Goldfarb, who composed "I Have a Little Dreidel," was lost at sea in 1956 

aboard the SS Andrea Doria on a return trip from Israel.

The famous song "Colored Candles," on the first Destiny album, was composed by Yocheved Nathan and arranged by Bunny Friedman.

The words to Maoz Tzur were written by Mordechai Ben Yitzchak Halevi in the 13th century.

The tune to Maoz Tzur was composed approximately 400 years later, by a German folksinger.

"Al Hanisim," composed by Dov Firmer, was originally introduced to the world at the 1974 Israeli Chasidic Song Festival.

On the Yeshiva Boys Choir's "Daddy Come Home," the father comes home on the eighth night of Chanukah.

The famous Yiddish song "Chanukah Oy Chanukah" was composed by a Lubavitcher chassid 

named Avraham Friedman.
Answers:
1) True. 2) False. 3) Close (trick question) — it was Baruch Levine 4) False. Not Abie, but this Chanukah ode was actually written by Peter Yarrow, of the '60s folk group Peter, Paul and Mary. 5) False. The tune is "Sevivon Sov Sov Sov." 6) Not MBC but MBD, although, granted, most people probably wouldn't know that. It doesn't appear on any of his albums, but he did sing it in several venues before Fried used it on the album. 7) False. "Maoz Tzur" was on the London Live album recorded in Brooklyn College. 8) False. The group came together in Yeshiva University, but you all knew that already. 9) False. Shmuel Goldfarb and his wife were among the hundreds that were rescued that night. 10) False. "Colored Candles" was written by Eli Nathan and arranged by Moshe Laufer. 11) True (this is generally accepted). 12) False. The tune came about 100 years after the song was written. 13) True. 14) True. [BTW, Eli Gerstner is credited as the composer of the song, but another little-known fact is that the heart-stopping lyrics — is his father still alive? — were written by Yossi Toiv.] 15) False. It was written in the early 1900s by Mordche Rivesman. 
(Originally featured in Mishpacha, Issue 887)
Oops! We could not locate your form.
>