| The Beat |
The Trump Drama Continues
| March 28, 2023
Can DeSantis cut through the Trump noise machine?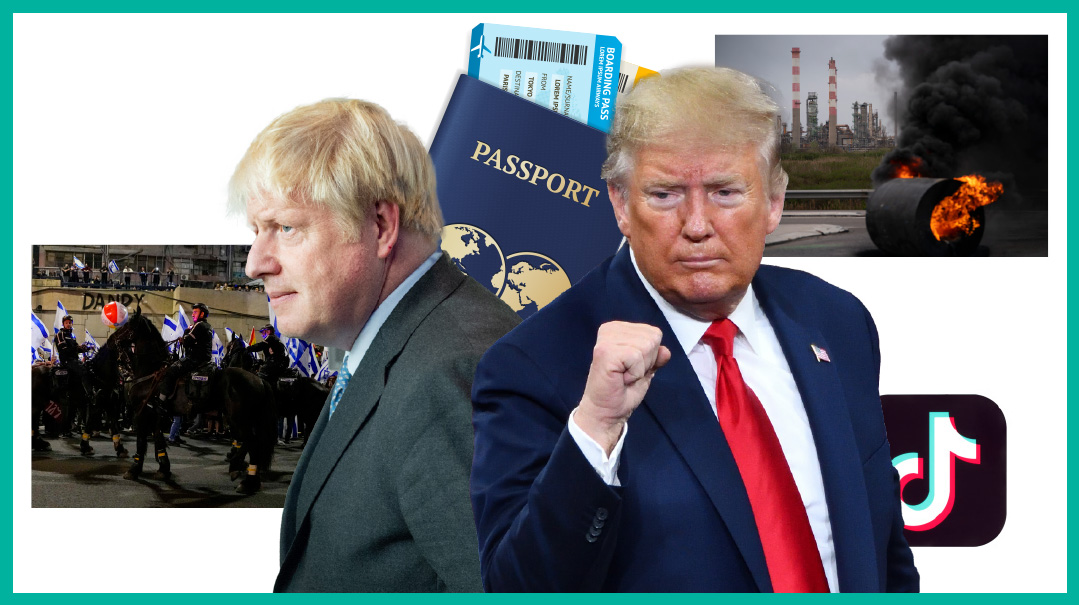 Photos: AP Images
The Trump Drama Continues
Once again, it's Trump's voice that drowns out all else. Congressional Republicans gathered in Orlando to discuss the party's legislative achievements, but that agenda was eclipsed by the former president's potential indictment.
Last weekend, Donald Trump posted a message claiming he would be arrested in the coming days over his false classification of hush money as a business expense and calling on his supporters to protest.
Some Republicans have defended Trump, calling the investigation politically motivated and an abuse of power. Florida governor Ron DeSantis, who has been losing ground to Trump in recent polls and is loath to further alienate his base, was forced to tread a delicate line, accusing DA Alvin Bragg of links to left-wing financier George Soros, but pointedly expressing his disapproval of the actions of which Trump is accused.
As in 2016, the former president's rivals are having a hard time cutting through the noise he creates.
Goodbye, Boris?
Twenty-one. That's the number of Conservative MPs, out of a total of 356, who followed Boris Johnson into the "no" lobby after he declared his opposition to a deal negotiated by Prime Minister Rishi Sunak. The deal with the European Union would resolve some of the outstanding issues in Northern Ireland thrown up by Johnson's own previously negotiated Brexit deal.
Johnson's allies hoped his opposition would trigger a wider rebellion, but the feeble response indicates that the Tory Party, far from clamoring for his return, is uniting behind Sunak, who has had several victories in recent weeks, and is beginning to narrow the Conservatives' double-digit polling gap.
"You can't write Boris off, ever, until he's in his grave," one senior Conservative councilor cautioned.
But this week's events have made his resurrection more unlikely.
Victory at the Embassy
As reported in these pages last week, the US Embassy in Jerusalem briefly stopped emergency passport appointments. After intensive efforts by Chaim V'Chessed, Agudah, and other organizations, these appointments have been reinstated.
It's believed that a scathing letter from Connecticut senior Democratic senator Richard Blumenthal made the State Department sit up and take notice. Within an hour of its publication, the letter was on Secretary of State Anthony Blinken's desk. Less than 24 hours later, the appointments were reinstated.
Rabbi Paysach Freedman of Chaim V'Chessed notes that appointments are still limited and difficult to obtain, and the US citizens in Israel still encounter considerable difficulty obtaining the documents that they need to be able to travel back to the US. Sources close to Blumenthal, who got personally involved in resolving this crisis, say he remains committed to ensuring the overall situation improves for Americans using consular services in Israel.
Constitutional Climb-Down
After weeks of protest against the efforts of Israel's right-wing governing coalition to curb the power of the judiciary, the embattled government's stance has softened. Instead of rushing through the ratification of reforms before the Knesset's Pesach recess, they've been shelved until it reconvenes on April 30.
The coalition statement, issued on Monday, was cautious, but reiterated their intention to implement judicial reform by handing the government greater power over nominations to the Supreme Court. Previous proposals of the selection committee's composition would have significantly advantaged the government, but the statement suggested an amendment to this that would equalize the committee's balance of power.
The country has been gripped by unrest over the issue, and the pressure has piled in from the military, businesses, and Western allies. On Shabbos, Defense Minister Yoav Gallant became the first coalition member to publicly call for a halt to the reform legislation and dialogue with its opponents; Netanyahu then fired him. Some coalition colleagues rowed in behind Gallant, while others accused him of betrayal. With the coalition's unity fracturing, substantial dilution of the controversial reforms looks increasingly likely.
France on Fire
The spiraling chaos in France has spilled over the Channel; a long-awaited visit by King Charles III has been canceled by the French government over concerns that increasingly violent protests would disrupt the new monarch's first foreign visit.
Protests have rocked France since January over an increase in the state pension age from 62 to 64. They've recently escalated into riots led by trade unions furious at the change, which would prevent people accessing their pension for another two years, and obligate them to continue paying pension contributions during the same period.
Fearful that the change would not command a parliamentary majority, Macron pushed it through without a vote from MPs, which has further enraged the reform's opponents. An IFOP poll found 60 percent of the public in favor of stronger protests to force the government to cave.
Protesters have not taken kindly to a reminder by Transport Minister Clément Beaune that France has one of the lowest retirement ages in Europe. Unions argue the two-year retirement delay hits the poorest hardest, as they're the ones in physically demanding jobs and for whom another two years of pension contributions would be most difficult.
The riots are reminiscent of the Yellow Vest protests of 2018, which were sparked by a rise in fuel taxes. Appearing on CNews on Friday, Interior Minister Gérald Darmanin detailed the alarming consequences of particularly fierce riots on Thursday: There were 903 fires of "street furniture or garbage" in Paris, where close to 9,600 tons of trash lie on the street because garbage workers are on strike; 457 individuals were arrested overnight across France; and 441 policemen were injured in the protests.
A beleaguered Macron narrowly survived a confidence vote in the French Parliament last week, so he fights on. He is not alone in his conundrum, shared by developed countries with aging populations and shrinking workforces, but the French propensity for protest has really turned up the heat.
Tête-à-Tête over TikTok
"Welcome to the most bipartisan committee in Congress," Georgia Republican Buddy Carter told TikTok CEO Shou Zi Chew, who appeared before a Congressional committee last week to address their concerns that the app was a security threat.
Committee members alleged that Chinese engineers have access to the vast swath of personal data collected on the app's 150 million US users, a charge Chew was unable to deny. The CEO was also forced to admit he has shares in TikTok's Chinese parent company ByteDance, undermining his attempts to downplay the connection between the two companies.
Concern over Chinese influence remains a rare point of bipartisan concern, and Texas Republican Dan Crenshaw sardonically thanked Chew for bringing his party and Democrats together.
(Originally featured in Mishpacha, Issue 955)
Oops! We could not locate your form.
>