| The Current |
The Tiktok Intifada   
| April 27, 2021
       

TikTok isn't the only digital media platform to have attracted the attention of Arab youth across the world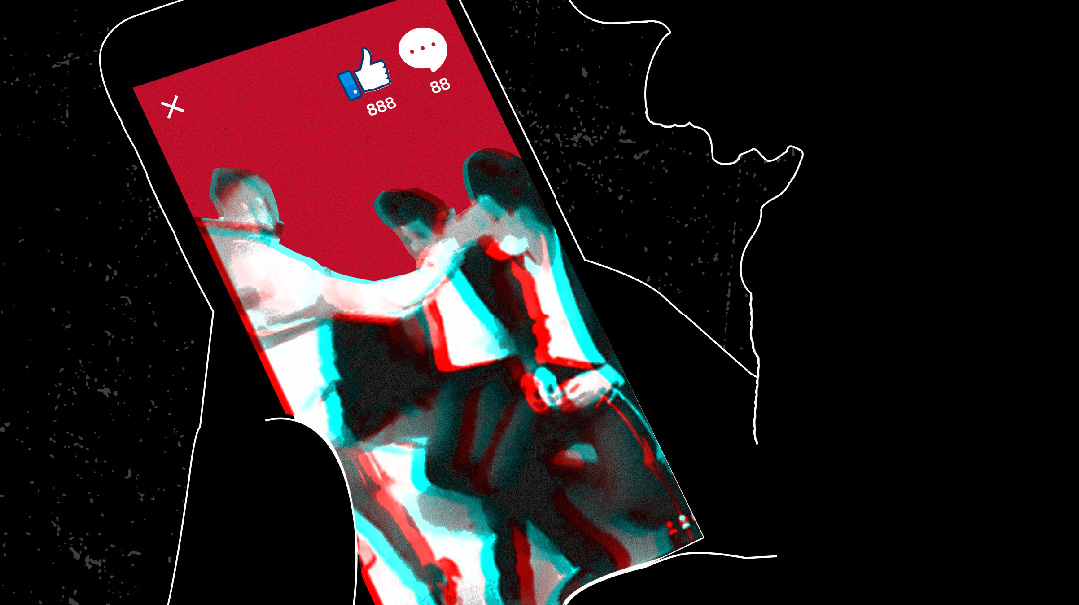 Lieutenant Colonel (Res.) Yaakov Sabag served as an advisor on Arab affairs in the Israeli civil administration for 21 years, first in Gaza and later in Judea and Samaria, tasked with building up the Palestinian leadership. With his nom de guerre Abu Yusuf, he made the acquaintance of a young Palestinian politician by the name of Ismail Haniyeh, as well as a series of other figures, whom we know today as the leadership of Hamas.
In his book, The Memories of Abu Yusuf, Sabag argues that Israel has abandoned the Palestinian masses to the rule of their worst and most corrupt elements.
With tension levels once again on the rise in the form of incited bands of Arab youth taking videos of themselves terrorizing Jewish passersby and uploading them to social media for entertainment, Sabag explains the origin of this wave of violence. What looks like a copycat social-media phenomenon, he says, may emanate from a Palestinian leadership increasingly worried about an upcoming Hamas election victory
"I scared the Jews." That was the caption Muhammad Issa attached to the short clip he posted on October 11, 2020.
The clip showed an elderly Jew, apparently a Chabad chassid, walking by a crane Issa was operating on a street in Petach Tikvah. As the Jew passed by, Issa pretended to dodge to avoid an object falling off the crane — this startled the Jew, who covered his head in his hands and jumped back in alarm. The clip ended with the Arab bursting into laughter and flashing the V sign. He thought it would be a good idea to post this on social media, specifically the video-sharing platform TikTok. Issa didn't neglect to add a "face with tears of joy" emoji…
Issa's "impish" practical joke, which drew an impressive number of views, gave rise to a disturbing phenomenon: young Arabs filming themselves as they harass and terrorize random Jewish passersby and proudly posting the results on social media.
The peak came last week: Almost everyone on the Israeli street was exposed to and horrified by the video of a young Arab slapping a chareidi yeshivah student on the light rail in Jerusalem, before walking away free. The clip of the incident was uploaded to TikTok, receiving millions of views — something with potentially significant monetary value for the uploader.
Among the youth in the Arab sector — as across the world — digital media is all the rage. Almost every young Arab finds himself spending hours on it every day. The idea is to entertain; the more entertaining a video is, the more views and likes it will get. And as there are tens of millions of Arab users across the world, many have been able to monetize this to stable six-figure incomes.
TikTok isn't the only digital media platform to have attracted the attention of Arab youth across the world, and one can find platforms with millions of followers, many of which serve as trumpets for terror groups. One example of this is the Shehab News Agency's Facebook page, which was eventually deleted after garnering 2.7 million likes because of the blatant incitement and hate speech it contained. Shehab was undeterred; it started from scratch and is rebuilding its social media presence.
Masters of the Medium
The main arena where the Palestinians conduct their campaign of brainwashing over the past few years is social media. The terror groups — especially Hamas — have become masters of the medium.
It's very easy to find harsh criticism and even mockery of Mahmoud Abbas (also known as Abu Mazen) in Arab social media circles, but to find criticism of senior Hamas officials like Ismail Haniyeh is a different matter. The pattern is clear: Hamas is very popular among Palestinian youth. Abu Mazen is a figure of fun, a target of biting scorn.
In response to an image of a recent meeting of the leadership of Fatah, hundreds of mocking responses were posted. Here's one, written by a certain Bassam Fars: "None of you can stand each other. What do you even pray for? You're all over 80, give the younger people a chance. Maybe they won't turn out to be thieves like you."
Another wrote: "All the liars and opportunists in a group photo."
Another user responded: "Six of them aren't raising their hands, apparently they don't know the Al Fatiha [a basic prayer from the Quran that every Muslim is required to know —Ed.]. Allah is fed up with you."
In this pro-Hamas environment, the overwhelming majority of Arab youth in general and Palestinians in particular spend countless hours online, most searching for light and entertaining content.
The presence of tens of millions of young Arabs on these platforms is seen by terror groups as a recruitment opportunity that can't be passed up. But while declared terror groups are barred from activating official accounts, the platform is privately available to anyone. Blocking terror groups doesn't prevent individuals from those groups from posting content containing blatant incitement, and this often goes viral, especially if accompanied by something passing for humor.
And what could be funnier to a young Arab of a certain mindset than the sight of a frightened or injured chareidi?
That's how the clip of the chareidi bochur being slapped on the light rail was born. Another video — of a chareidi man being assaulted by an Arab mob near Shaar Shechem, last Friday night — was not long in following.
A thorough investigation reveals that clips by Arabs mocking chareidim are nothing new. Similar videos earned popularity in the past, as well. But the clip of an Arab slapping a chareidi bochur on the light rail — and walking away free — gained record exposure, migrating to other digital platforms and receiving millions of views in total, most of which were amused and supportive.
In no time, a bevy of similar incidents followed, all of them captured on video and uploaded to social media — whether it was an attack on a chareidi at Shaar Shechem, a chareidi bochur having his hat knocked off in Mamilla, or the attack on Rav Eliyahu Mali in Jaffa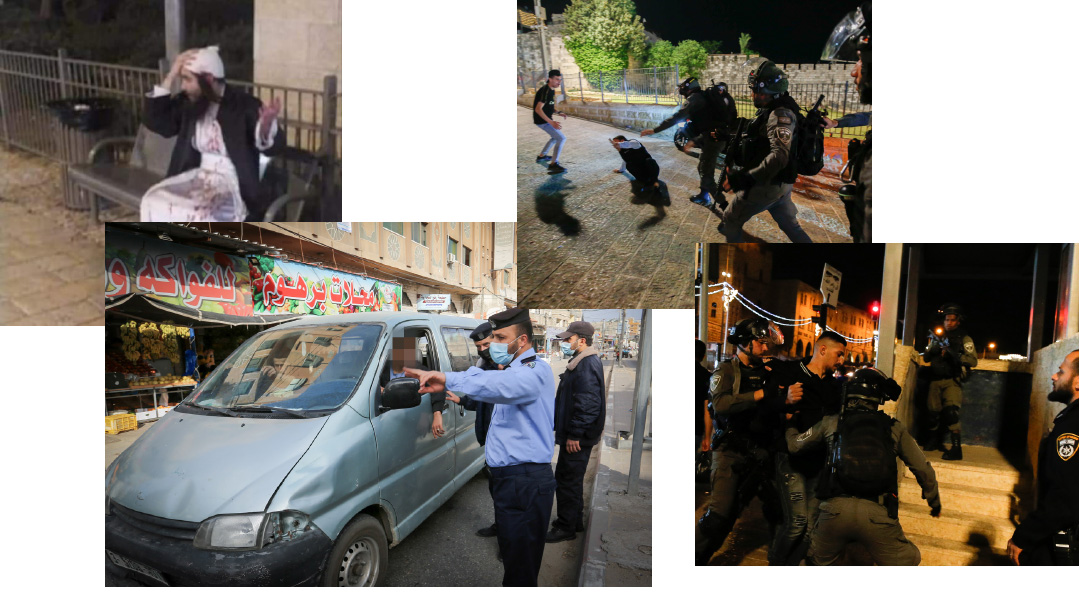 A Hidden Hand?
As of yet, no definitive connection has been established between the different perpetrators, but it's clear there's a copycat element in this. The first perpetrator wins instant fame, leading others to try to capitalize on it. The knife terror of a few years back was fueled by a similar cycle.
But does this mean that the only motivation was an "innocent" attempt to get a few laughs, with a dash of good old-fashioned anti-Semitism thrown in? That's not at all evident.
A senior official in the Palestinian Authority told us there is a clear connection between this new trend and current political developments in the PA. According to the source, PA president Mahmoud Abbas has come to realize that his decision to hold new elections after Ramadan was a fatal mistake that will almost certainly result in a Hamas victory, as well as significant advancements by his chief Fatah rivals — Mohammed Dahlan in Gaza, and Marwan Barghouti in an Israeli prison.
The senior official says Abbas is casting around desperately for a pretext to cancel or delay the elections. The best excuse he can think of is the tense situation in East Jerusalem. It's therefore critical for him to find a way to escalate the tension. When the entire sector flares up and Israel decides to respond, Abbas will have his excuse to delay the elections, "in light of the security situation."
The clips are meant to lead to a flare-up — as any child can see. But what's obvious to a child isn't clear to deputy state prosecutor Nurit Litman, who ordered that the young Arab who slapped the yeshivah bochur be released on the grounds that he made the clip for entertainment purposes, and therefore the slap carried no undertones of racism and incitement.
Abu Mazen Miscalculates
The Palestinian Authority's internal politics first gave rise to the current escalating tension several months ago. After a round of talks overseen by Fatah secretary general Jibril Rajoub, Hamas and Fatah reached an agreement to hold elections for the Palestinian Legislative Council (the PA's parliament) on May 22, with elections for Palestinian president to be held on July 31.
Abu Mazen's rationale, apparently, was that the suffering of Gaza residents would lead to a reaction against Hamas and hand Fatah decisive victory. But he miscalculated in one important area: He ignored the internal rivalries within his own party. When his enemy Mohammed Dahlan requested a slot on the Fatah list, Abbas turned him down and then sought the support of Marwan Barghouti, who's currently serving time in an Israeli prison for the murder of Jews. Barghouti hinged his endorsement of Fatah on the condition that he would be Fatah's candidate for president at the next elections — a condition that Abbas rejected.
Abbas also turned down Barghouti's compromise offer to hold elections on the American model of a ticket with candidates for president and vice president. According to the offer, Barghouti would serve as Abu Mazen's vice president and automatically succeed him when he dies or steps down. (Abu Mazen will turn 87 on November 15 this year, if he lives that long.)
This all led to a three-way split among Fatah. There's one list of Abu Mazen loyalists under Mahmoud Aloul, Fatah's vice chairman; another list of Dahlan loyalists under Samir Masharawi; and a list under Nasser al-Qudwa and Fadwa Barghouti, Marwan Barghouti's nephew and wife. To this must be added a number of other independent, tribal lists, most of whose supporters are drawn from Fatah.
Hamas, on the other hand, presented a strong, united list, without any infighting. Under these circumstances, you don't need polls to guess who will win if the elections proceed as planned. Abu Mazen is therefore desperately in need of some pretext to cancel the vote. This will not be an easy task, though. Hamas there is warning of a return to hostilities if that happens.
Will Israeli citizens end up paying the price of the canceled elections with their own security? And will it be PA officials who escalate tensions by spurring on the reckless youth to create more clips? Or Hamas, which will use "rogue organizations" to fire rockets into Israel? And will someone in Israel finally grasp that a video clip can serve as a weapon no less dangerous than a knife or a gun?
The Regional Ripple Effect
What began last week with teens looking for social media glory by attacking Jews has escalated into a wave of Arab violence in East Jerusalem that threatens to drag Israel into a prolonged clash with Gaza.
The end of last week and the beginning of this week were marked by continued Arab violence in East Jerusalem, mostly directed against chareidi Jews. Dozens of chareidim were attacked by Arab youths near Shaar Shechem and Kever Shimon HaTzaddik, which are frequented by thousands of Jewish mispallelim every day, as well as at Rockefeller Junction, Herod's Gate, and other areas.
There were also riots in the area of Kever Rochel, another much-frequented prayer site. Hundreds of rioters hurled rocks and police and passersby were wounded. Dozens of Arabs fired fireworks from close range at police, who seemed to have lost their deterrence. Some 1,500 officers who attempted to disperse the rioters encountered difficulties. A bus filled with chareidim en route from Bnei Brak to Jerusalem was stoned by Arabs on Highway 443, near Atarot. The tensions were further stoked by reports of Jews attacking Arabs, as well.
The disturbances were harshly condemned by ministers and MKs from Shas. Religious Affairs Minister Rabbi Yaakov Avitan said with regard to the violence against Jews in Jerusalem: "We have to allow security forces to root out these acts of violence. Calm must be restored, and I count on the security forces to do so. We didn't come here to live in fear. And it's time to stop the incitement, because verbal violence leads to physical violence."
The latest cycle of violence was sparked by the trend of Arabs filming themselves assaulting and harassing random Jews and uploading the videos to social media without the slightest fear. Dozens of videos have come out of Jews being assaulted on public transportation or in the streets, mostly in East Jerusalem. There were also incidents of violence in Lod, Tel Aviv, Ramleh, Nazareth, and the Upper Galilee. Attacks on random Jewish passersby in the streets have become a daily occurrence.
In response to the incidents, the police told Mishpacha in the name of Police Commissioner Kobi Shabtai: "We won't allow the violence to continue. I've ordered a reinforcement of units in Jerusalem and the surrounding area. We'll get anyone who breaks the law, and we'll act with determination and a heavy hand. Hundreds of officers from across the country are on the beat in Jerusalem to prevent similar incidents."
Senior officials in the Defense Ministry expressed their belief in a conversation with Mishpacha that the violence in Jerusalem was what led to the firing of 40 missiles into Israel from Gaza on Shabbos. Hamas was responsible for some of the missiles, as were other terror organizations.
According to information that reached Mishpacha and which was confirmed by sources in the defense establishment, Prime Minister Benjamin Netanyahu and Defense Minister Benny Gantz tried to get approval for a military action against Hamas in a limited gathering of the cabinet. The ministers were meeting very close to the time set for the strike, with almost zero options for cancellation. At the meeting, several defense establishment officials expressed skepticism as to the need for the strike, mostly out of fear of retaliation. Despite their concerns, the ministers initially approved the mission —which was intended to send a clear message to Hamas. But Israel ultimately decided to avoid a military confrontation, and the only response was a fierce warning to stop the firing.
This is apparently what stood behind IDF chief of staff Aviv Kochavi's announcement that he was canceling his planned trip to Washington on Sunday this week. The visit to the United States was to be his first since President Joe Biden took office, and its purpose was to discuss Israel's concerns with regard to the Iran deal. Instead of flying to Washington, the chief of staff carried out a tour in the south and received reports about the Gaza division's preparedness for an escalation along the border, which could potentially involve long days of action.
As part of his tour, the chief of staff spoke with mayors of cities in the south and expressed his hope for a return to normal. Kochavi stated his belief that what happened last Shabbos in the south is not due to the internal situation in the Strip but to events in the Jerusalem area over the previous week, and was thus not in the IDF's control. He gave orders for continued alertness for a variety of scenarios on the southern front, including a potential escalation stemming from the violence in Jerusalem.
(Originally featured in Mishpacha, Issue 858)
Oops! We could not locate your form.
>