| True Account |
The Secret I Can Never Wipe Away
| January 8, 2020
Don't stop reading. This is important — for you as a teen, for you as a parent, for you as a person with a soul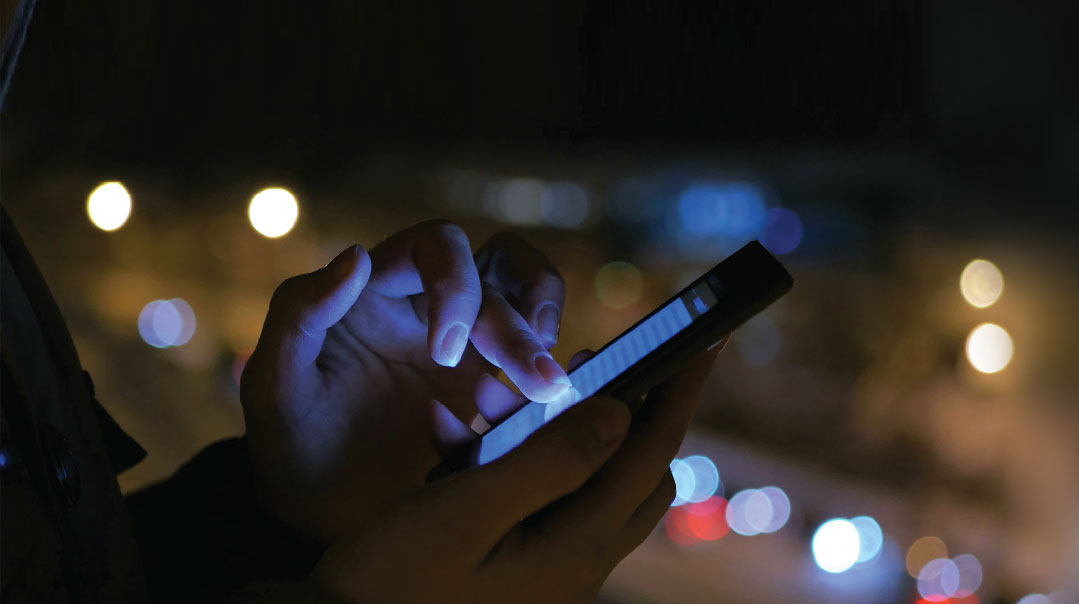 There's a lot of talk these days about the dangers of technology. Parents talk about it to their kids, teachers to their students, rabbis to their communities. But these people don't necessarily know the dangers personally. They weren't there, they don't really know.
But I do. I was there. I know.
I'm a regular Bais Yaakov girl. I've worn the uniform and sat through a million classes (and may or may not have gotten sent out a few times). I was chesed head in high school, had a lot of friends, and my teachers liked me. When I graduated, I looked like another cookie-cutter success story.
No one saw my failure.
No one saw what I had seen. Things that no one should ever see.
Things that a good Bais Yaakov girl should never even have been able to see. That's the danger of technology we're always talking about.
Don't stop reading. This is important — for you as a teen, for you as a parent, for you as a person with a soul.
So, the first thing everyone does is blame other people.
Well, you can't blame my parents; they had nothing to do with it. They're amazing parents, I'm so lucky to have them. They didn't know about my "problem." Our home computer was filtered, and their other devices had no Internet access.
At least that's what they thought.
You can't blame my teachers. My teachers are the holiest people you could find. They definitely had nothing to do with it.
You can't blame my friends; thank G-d I have amazing friends, who as far as I know, would never do what I did.
You can't blame my siblings. They're either too young to know, or they're older and out of the house.
But you can blame me.
It started in ninth grade. I wanted to surprise my mother with something, and to do that, I needed to send an e-mail. My parents didn't let me have my own account, and if I used theirs, it wouldn't be a surprise. But my friend had an old e-mail account she wasn't using anymore, and she let me use it so I could order this gift for my mother. Being an amazing friend, she even let me keep the account temporarily. You know, until my mom would let me have my own account.
My friend didn't only have an e-mail account. She also had a Pinterest account.
That was the very beginning of my "experience."
But come on, what's on Pinterest, anyway? Just some pictures, videos, all topics. Funny memes, gorgeous cakes you wish you could make, clothing, makeup ideas, costumes, really cute things you tell yourself you'll make but never end up doing. Stuff like that. What could be wrong?
I started with the funny memes, which are basically pictures with funny captions. Because who doesn't need a good laugh?
Then I started exploring secular music. Yeah, I know, it's a touchy topic: Is it allowed, is it not allowed? Well, in my family it wasn't.
But I rationalized that I wasn't listening to anything overtly objectionable. It was mostly "inspirational" songs. Songs that make you feel good, boost your confidence, tell you you're okay and everything will be okay. That kind of stuff. Not so bad… I promised myself I would be super strict about what kind of music I searched for, and I would not look for the bad stuff. And for a while my playlists really were just inspirational music.
But then I did start looking for the bad stuff.
I'm pretty good with words, and tech savvy too. I knew there were ways to search without a search engine, and I also knew how to delete my browsing history.
But my parents were also pretty clever. They had foreseen this possibility and had installed a filter on the computer. The filter successfully blocked the really bad stuff, but I still found a lot of stuff I absolutely did not need to know, ever.
No matter how much I tried to access the really bad stuff, and as good as I am with computers and tech, I could not get past the filter. So my attempts at looking at the really bad stuff failed. On the computer. For now.
Unfortunately, the computer was not my only access to the Internet. My mom had gotten a new iPhone, and so the old one became the family's. For about six months, my mom was the only one who knew the password, so she knew whenever I or one of my siblings was using the old iPhone and for how long. Of course I tried guessing the password, but I couldn't, and when you try too many times, you get locked out of the device.
So far, I was good. But that summer, it happened.
The summer after ninth grade, I went to sleepaway camp. This camp started and ended a little earlier than the local day camps. I came home from camp on a Wednesday, and the plan was for me to go up to the country with my father on Thursday night. One day, that's all it was.
I woke up really late on Wednesday. On Thursday, I found the old iPhone, and knowing that it wasn't filtered, I tried my luck. And I had luck — if you could call it that — on my side. I spent seven hours on that phone that day. It was bad. The stuff I saw can never be erased from my mind. But I was frustrated that I still couldn't access the really bad stuff. And I spent the rest of the summer on the computer and iPhone trying to get it.
Looking back, I feel like Hashem was testing me to see if I would keep trying to do the wrong thing or give up. I failed that test, because I kept on trying.
But He was still holding my hand.
During tenth grade, my mom decided to cancel Internet service on the family computer. That was really annoying, because I was keeping in touch with my counselor from camp via e-mail. No Internet, no e-mail. No Pinterest or Google or anything else, either.
But because she hadn't disabled the Wi-Fi, toward the end of the year I figured out how to get online using the old iPhone. Now I was able to watch anything on YouTube. Baruch Hashem, I somehow had the strength to not watch the really bad stuff, but I was very close to crossing that line.
I watched the videos late at night, like from midnight to 3 a.m. It was the end of the year, finals time. And finals are really hard. And they do matter on your report card. To make everything worse, my parents didn't know about any of this.
That summer (I guess all these things happen in the summer), my parents took me and my younger siblings to Florida. Just before we left, my mom got a new phone, giving us kids a second phone to play with.
Before we left, I bought an iPod with my own money. It had no Internet access, but it had music, fitness, and pictures preloaded, and radio. I stuck with my promise, if you can call it that, and listened only to inspirational songs. For a while. Because eventually I heard a different type of song. And I was hooked…
Halfway through the Florida vacation, I took my mom's old phone, and using my (friend's) e-mail account, I created an Instagram account. I did this at midnight. It seems all the bad, rebellious stuff happens past midnight.
That was the beginning of the end, as they say.
You're probably thinking, Here she goes about Instagram, bashing it and everything. But not exactly. Instagram, like the Internet itself, is an inanimate object. It's not good or evil, it's just a thing. It all depends on what you do with it. You're the one who decides if it will be good or evil for you.
It was evil for me. As soon as I created my Instagram account, I binge-watched for over three hours. I watched things that I can never, ever, ever erase from my mind, no matter how much I try. Please, for your own sake, do not go and see if I'm telling the truth. Take my word for it.
From that night on, I snuck the phone into my room every night (I had my own room) and watched the worst of the worst. It was all there at my fingertips, just there for the taking. I was at the mercy of Instagram.
Instagram is not merciful.
It was that summer that I ruined my mind. It won't affect me, you might think. Yeah, that's what we all said. And we all succumbed. Not only that; I betrayed my parents' trust, and that knowledge was a burden that haunted me every day.
I knew I had a severe problem, and I prayed that year like my life depended on it. Which it kinda did. I had never really davened, and when I did, it was just a mindless jumble of words. Nothing real. But during this whole situation, when I prayed, I prayed like it was my last time. I finally connected to G-d. I spoke to Him like He was standing next to me, like He was my best friend.
I also remembered something. A while ago, during a marathon DMC, a friend (not the one who had given me her e-mail account) had mentioned something about a website called Guard Your Eyes, which helps with the kind of problem I had. I didn't need it then, but thankfully my mind stored this tiny but lifesaving piece of information in the back of my head. So when I did need it, I remembered the website and decided to check it out. I figured it couldn't hurt.
I have to state here that this website is incredible. If you struggle with this, then please save your own life and check out the website. It's anonymous and free, so there's nothing to lose. There are so many options of help — inspirational videos, people to talk to, filters, speeches, tzedakah, and more. I would have never survived without it.
I have to say one more thing. If you do have this problem, or any other problem, please, do yourself a favor and get therapy. Therapy is not a weird lady or man telling you stupid stuff. It's not crazy to go to therapy. It really helps. I have gone to therapy, and so have hundreds of other people, and it is so, so worth it. Don't be embarrassed; you don't have to tell anyone, it's confidential. The therapist does not have to tell your parents if you don't want them to. It's worth it.
Anyway, I signed up for the website and logged in.
Suddenly I realized I wasn't alone; there were hundreds, maybe even thousands of other people on the site who were in the same boat as me, or had it even worse. I also started therapy, and my therapist really helped me — with this problem and with other stuff. It was a slow process, slower than a snail in traffic, but things were improving.
Then, around Chanukah time, my mom decided to take away both of the old iPhones.
I was really upset, for two contradictory reasons. First of all, I still wanted to watch the bad stuff, and secondly, I was finally getting the help I needed — but now I wouldn't have access to the Guard Your Eyes site.
At this point my parents still did not, to my knowledge, know about my situation. I was too embarrassed, ashamed, and honestly scared to tell my parents that I had a) betrayed their trust; b) found several ways to get online; c) ruined my life; and d) gone against their rules about not having an e-mail or Instagram account.
Gosh. What a mess I was.
But although she didn't even know it, my mom basically saved me by taking away the iPhone.
Every so often, when I had access to the Internet, I checked the Guard Your Eyes site and updated my count on how many days I'd gone without seeing bad stuff. (As of Sunday, December 29, 2019, I was on day 842.)
Eventually, I acknowledged to myself that my parents had to know. I did not want to actually say it to their faces, so I decided to write it. G-d gave me a talent for writing, specifically poetry. Using this gift, I wrote a poem that basically said I broke their trust, went on the computer, and did bad stuff. No details, but just so they should know what was going on.
My mother was amazing about it. She was so loving and understanding; she even apologized. I was so happy once I told her, I felt like I could stand straight again.
Last year I had almost full-time access to a device with unfiltered Internet. It was a massive challenge. Thank G-d I had the strength to hold myself back. It wasn't easy. I felt Hashem holding my hand the whole time while testing my self-control. And, if I'm going to be honest, I nearly succumbed to temptation many times. But I kept up my sober streak. Day by day, I added a check on the calendar.
This past summer, I wrote another poem about my struggle. I sent it to my teacher. She read it and then told me that she would like to share my poem anonymously with the school. When she called me to tell me this, I was in the car with my mom. My mom heard my "freaking-out-but-trying-to-be-calm" voice. (Of course I was freaking out! Who has their work shown to the whole school? It was crazy!) So after I hung up, she asked what I was totally not freaking out about, and I told her I wrote a poem. She said if I was comfortable sharing it, she'd love to read it.
So I showed it to her. And she was blown away. Not sure why. It was a pretty good poem, but I'd written better ones (if I do say so myself). I told her most of what I had just written — about my struggles. I basically confessed the whole thing to her.
It felt so good to tell her. I should have told her earlier.
The thing is you can't escape from technology. Recently, I got my own laptop — I need it for college. Before I even bought it, I told my parents that I would get a filter, but I didn't end up installing one for a while. And it was scary, because no one would know, besides myself, what I did. No one knows my password, and no one has access to my computer. No one could see the web history or my search records.
Finally, nearly a month after I got the laptop, I installed a filter. I picked a person who would have access to my browsing history and gave my mom the capability to allow or deny access to certain websites, set time limits, and also see my online activity.
So now what? I told you everything; now you know my whole story.
What should you do with it?
This is what I wish someone had done for me, what I wish I could tell everyone to do: When you get a new device, be careful. The best thing to do is get a filter. It's not stupid, embarrassing, or nerdy to have a filter. It's not a waste of money. It does not have to block all your online activity; you can have different levels of filtering. It can save you from the 21st century's version of hell.
Second, be honest. Communication is key, my teacher says. If you're struggling, tell someone. A parent, teacher, therapist, someone! It might be uncomfortable, but it is so worth it.
Third, if you do struggle, know that you're not alone. Hundreds of us have the same issue. We might be in your class, your camp, even in your circle of friends. Just like you might be pretending to be okay, they are also. And just like you might be breaking inside, or burning with shame, so are they. You are not alone.
Fourth, pray. G-d is there for you. It could be actual words from the siddur or words that just come out of your mouth. Talk to G-d in whatever way you can. He's your Father and best friend. He knows what your struggle is all about, and He'll help you out.
Lastly, know that you can overcome it. No matter how far you've fallen, no matter what you've seen, no matter how low you think you are, you can overcome it. Keep trying. It could take a week or it could take a few years, but you will win this fight.
I did, others did, and so can you.
(Originally featured in Mishpacha, Issue 793)
Oops! We could not locate your form.
>