| Magazine Feature |
The Oxygen Underground
| October 21, 2020
From a Meah Shearim basement, a quiet campaign to treat COVID patients sans hospitals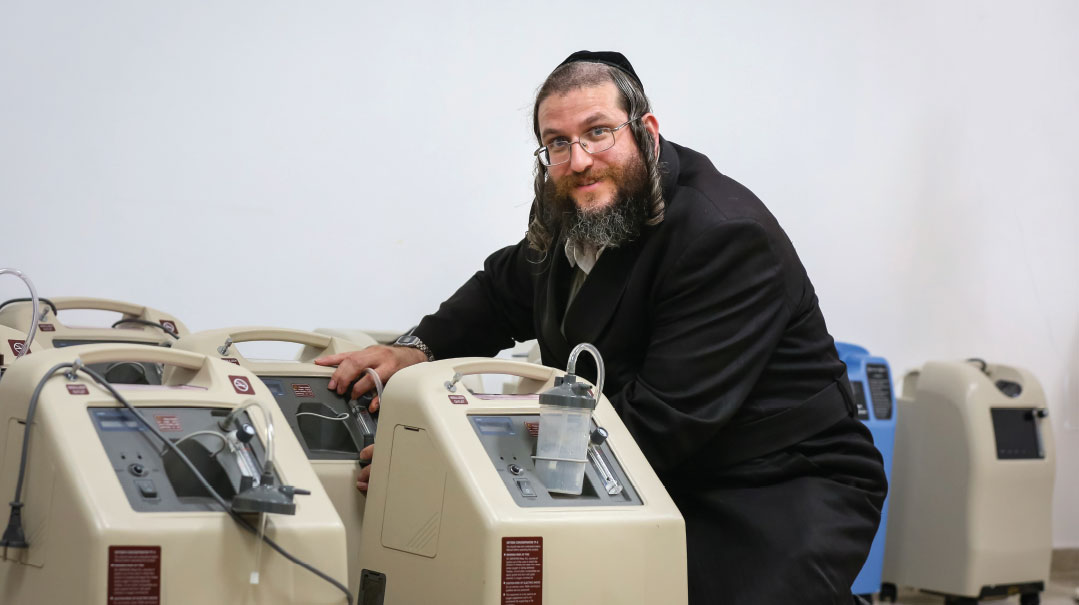 Photos: Itzik Belinsky
The scene disclosed by an Israeli television report last week inside a Meah Shearim basement — the nerve center of a medical chesed network that has been providing home care for thousands of COVID patients over the last six months — stunned both health care professionals and the public. But the initial outrage over this medical "fifth column" notwithstanding, the public discovery has subsequently sparked a serious discussion about benefits of the home-care alternative to overcrowded, understaffed hospitals.
The subterranean storage room, home of the Chasdei Amram medical-supplies gemach, holds up to 220 oxygen machines that are loaned out to coronavirus patients for free, as well as dozens of oxygen saturation monitors and other medical equipment for the COVID-19 battle. Volunteers visit coronavirus patients in their homes several times a day, closely monitor their vitals, oxygen saturation levels, and other symptoms, and medical professionals who work with the organization decide when and if the patient should be transferred to a hospital.
Yitzchok Markowitz, founder and director of Chasdei Amram, is adamant that his program provides more hands-on treatment than the current medical establishment and lifts some of the burden off the health care system.
At least 170 people currently being treated by the volunteer network are in serious condition, and over 2,000 patients have received Chasdei Amram's assistance over the past six months. Markowitz claims that only 10 to 15 of his patients have ended up in the hospitals, and only three out of several thousand have died.
The home-care phenomenon quickly spread beyond the insulated Meah Shearim community to other frum communities in Jerusalem and other cities, but volunteers are not discriminating — anyone who calls gets helped.
"We generally provide initial consultation, and we immediately send out the oxygen-saturation monitor and blood-pressure gauge," Yitzchak Markowitz tells Mishpacha. "A doctor and a nurse come to their homes to take blood samples, and we transfer the samples to one of two recognized labs we work with."
According to the strict definitions of Israeli health protocol, a patient with a saturation level of 93 or lower is considered to be in "serious" condition, so it's safe to assume that this organization and others, such as Yad Sarah, working outside the established health system are caring for about one-fifth of the patients classified as seriously ill in Israel.
The lack of official virus figures in large swathes of the chareidi community make it difficult to draw statistical conclusions with regard to the clandestine chareidi home care network. But this trend, which Chasdei Amram was happy to finally make public, may actually upend existing systems and provide original thinking with regard to how this disease is being treated. Perhaps, as some officials have allowed themselves to wonder out loud, this model, with the proper oversight and direction, is a solution.
Keep Me Home
After watching or reading Channel 10 reporter Yair Sherki's account, the public found the initiative so intriguing that Chasdei Amram's phone lines crashed. People from all over wanted to hear about the home-care alternative for their own family members, primarily elderly relatives who considered hospitalization a frightening, end-game option.
"We got about 30 calls a minute starting the following morning," says Markowitz. "At a certain point, I had to switch off my cell phone."
The home-care initiative began like many good things — almost by chance. Markowitz runs the Shabbos hachnassas orchim center at Hadassah Ein Kerem medical center, and over the years, he's acquired some thorough basic medical knowledge. He also heads a gemach for home-medical supplies.
"When corona began to spread," he says, "I got phone calls from close friends, asking me what to do in specific situations, and if I knew any way to help that wouldn't involve hospitalization. My first case was before Pesach — there was a Yid who didn't want to be hospitalized, and the family asked if they could get an oxygen concentrator for him. I ordered three such machines, using my own money, and sent him one of them."
This man didn't have COVID-19; he suffered from a certain genetic disease and had a home-care nurse caring for him, who knew how to use the oxygen concentrators. But during the next few weeks, the news began to spread in the chareidi neighborhoods, and the organization's phones began to ring incessantly.
"During this second wave, the demand has skyrocketed," Markowitz says. "I find myself looking for every possible way to bring more concentrators from abroad, and still, it's not enough."
For Markowitz, the demand is a dry statistic that illustrates the need to solicit more concentrators. But he also points to a mounting sense of distrust in the established health system.
"The patients who ask us for help will do anything to stay out of the hospital, and these days it's not about anti-Zionist ideologies," he says. "No one in Israel wants to go to the hospital, to be dumped in a COVID ward. No one. Secular, religious, chareidim, more extreme sectors, none of them. I get phone calls now from secular people, asking me what to do to avoid hospitalization. People are frightened of being thrown into an overworked, understaffed ward, isolated from their families, alone and helpless."
As demand ramped up, so did the tempo of their work. Every request is recorded, and then transferred to volunteers who suit up in their personal protective equipment and pay a visit to check the patient's saturation and blood pressure. If there is a low saturation level, usually less than 93, then the patient immediately receives an oxygen concentrator delivered by volunteers, some of whom are themselves recovered corona patients.
"We lend out four things: oxygen concentrators, oximeters that read saturation levels, blood pressure gauges, and inhalation machines," says Markowitz. Private doctors are then summoned to the house to make their recommendations about further treatment protocols.
The difficult question that Markowitz and his staff have to face is where the border lies between home care and urgent hospitalization at a facility: Does refraining from going to the hospital raise a chance of risk to life? When the report was publicized, some doctors said the initiative is deplorable, creating a situation of a "state within a state," and pointing out the risks of seriously ill patients remaining at home rather than being hospitalized. Some of these patients, they said, suddenly took a turn for the worse and arrived at the hospital too late for their lives to be saved, emphasizing that COVID-19 is a disease whose ramifications cannot yet be predicted or foreseen, and neither can a rapid deterioration in a patient's condition. Therefore, they insist, the strict criteria requires hospitalization under full supervision.
"First of all," Markowitz explains, "We work as per the wishes of the patient. He's the one who refuses to go to hospital. Sometimes it's due to ideological reasons, but for the majority it's because they're scared and suspicious. We will always try to encourage the doctor to give a chance at home, but when there is danger to the patient's life, he is taken to the hospital. We're very firm about that. And remember, we've only lost three patients out of several thousand. That's a 99.9 percent success rate."
One of those patients, an elderly man, was filmed in the clip being convinced to transfer to the hospital after his numbers plummeted. He passed away the next day.
That said, Markowitz believes that patients are psychologically better equipped to fight when they're home with family than when they're isolated in a hospital coronavirus ward. In addition, many elderly COVID-19 patients suffer cognitive decline when out of their familiar surroundings, and especially if they find themselves surrounded by alien-looking workers in their PPEs, with no family close by.
"I would say that 70 percent of recovery depends on the patient's mood," he says. "When the patient is in good spirits, we see his saturation go up, along with his other indices. These are facts you can't deny."
But the definition of "seriously ill" regarding coronavirus is comprised of a number of parameters, only one of them being low saturation. Which other figures does he take into account before recommending that a patient be taken to the hospital?
"I don't recommend," Markowitz avers. "There is a doctor responsible for the patient's clinical condition. He visits once or twice a day, and the family pays the costs. I provide the equipment. When there is any doubt, I ask the doctor to recommend evacuation. I can't take that kind of responsibility on my shoulders."
Save Your Breath
The idea of home hospitalization didn't start with an underground Meah Shearim gemach. Twenty-five years ago, Yad Sarah founder Rabbi Uri Lupolianski was awarded a special honor by the Health Ministry for creating a prototype for home hospitalization, a model that would greatly alleviate the burden on hospital wards, save thousands of dollars daily for insurance companies and state coffers, and increase the rate of healing and patients' wellbeing; people have more fight and devotion to get healthy when they're surrounded by the love and care of their families, as opposed to the confusion of an isolated, frightening ward, even with the best care.
But according to Yad Sarah's director-general Moshe Cohen, all that remains of that forward-thinking program is a plaque on the wall. He says that 18,000 people have received home medical devices since the virus began, and very few of them were subsequently hospitalized. Without Yad Sarah's home care, says Cohen, the health care system would be overwhelmed.
In fact, one VIP who received treatment at home early this summer and made a full recovery was none other than the Belzer Rebbe, who received medical treatment at home, bypassing the need for hospitalization. And before Rosh Hashanah, the Sanzer Rebbe was treated for COVID in his Netanya home as well.
Across the ocean, Hatzolah in the New York area has been providing home oxygen devices for months, doing their best to keep COVID sufferers at home and out of hospitals. And Lakewood Bikur Cholim realized early on that with all their hospital advocacy, the best strategy of all was to keep coronavirus victims out of the hospitals in the first place. The 40 percent survival rate for Lakewood-based patients on ventilators was far better than the national rate of 10 to 15 percent, but with hospital staff and resources stretched way beyond capacity and personnel simply incapable of providing the care and attention they normally would, the automatic assumption that the best place for an ill patient is in the hospital no longer held true.
And so, Bikur Cholim, under the leadership of Rabbi Yehudah Kaszirer, began buying concentrators, which provide oxygen without a tank, thus enabling patients to keep their oxygen levels elevated while staying out of the hospital. A successful fundraising campaign in Lakewood enabled Bikur Cholim's stock of concentrators to go from 14 to 200 within just two weeks.
A State within a State?
While government health agencies naturally want to hold the reins of control, especially in a pandemic, some medical professionals see the phenomenon of home hospitalization as positive, and even as the ideal future model of health care.
Professor Gabi Barbash, director of Tel Aviv's Ichilov Hospital and a former Health Ministry director-general — who has vilified Israel's chareidi community, insisting that the way to deal with them is to "cut them off, lock them inside the cities… and only let ambulances out to take them to the hospital" — told Israel Radio after the Meah Shearim story broke that it was a good idea. "I think the exposure of the phenomenon should provide food for thought for those responsible for community health treatment in Israel," he said. "I'm not sure the way we hospitalize patients with a cutoff line of 93 percent oxygen saturation is the best way. I think we may be hospitalizing more people than necessary, and it would be preferable to treat them at home, if the health system was set up in a way to make that possible. If the public health system could set up a similar home-hospitalization system, with patients only hospitalized if their condition deteriorates, it's possible that patients would receive better treatment, and at the same time the burden on the hospitals would be lessened. We really should be providing funds for doctors and nurses to make home visits."
Still, in response to Markowitz's activities, Professor Galia Rahav, director of the infectious diseases department at Tel Hashomer Medical Center, said, "It is inconceivable that there should be a state within a state. It is critical for us to be able to track the patients, to know if they are responding to certain medications."
Not all medical experts are so adamantly against the new wave, but there are some basic questions they say have to be addressed regarding the risks of home care.
"The fact that the patient gets oxygen for low saturation is excellent, but that doesn't say everything," Dr. Eli Rosenberg, head of clinical immunology at Soroka Medical Center and one of the hospital's corona ward specialists, told Mishpacha. "Is he getting a drug like Remdesivir? I have a hard time believing that it is available beyond the hospital setting. Is the patient getting broad-based care, beyond his oxygen levels? What about nutrition security and treatment for secondary infections? Treatment protocol does not begin and end with oxygen."
That said, Dr. Rosenberg admits that being cut off from family is always hard, and sometimes catastrophic. "I wish we could make it possible for families to visit patients like they can in regular wards," he says. "But then there's a question: What kind of protective measures are in place for families who are caring for a relative at home? And if there aren't, what kind of danger are they putting themselves into? Looking at the broader picture, including the drawbacks, I'm a bit concerned by what could be happening in home care.
"In truth," he qualifies, "the future of the health system lies in increasing the ability of home care. There is no doubt that many health situations can be managed in a home setting, and I hope this aspect will be expanded. But in this specific case of corona, when you don't know if the peak of the disease is still ahead, it is very complicated and there are many more risks involved."
And the near-zero death rate touted, he explains, is basically irrelevant. "The question is whether these doctors are capable of locating and marking the patients whose chances of deterioration are higher, and if yes, then the most serious patients with a potential for deterioration are taken to hospitals and their chances of survival are lower to begin with. At home, no one dies, because they're brought to the hospital beforehand."
Professor Nadav Davidowitz, an epidemiologist and head of the Public Health School at Ben-Gurion University who was involved in developing coronavirus treatment protocols in Israel, is in favor of transferring the burden of treatment to the home sphere in general, as long as there is proper oversight.
"Let's take a patient whose condition has completely stabilized after he went through the rough stage," Professor Davidowitz explains. "Can we release him with an oxygen concentrator? Yes. But to treat only with an oxygen concentrator and basic drugs in the first place, without the oversight of a doctor at all times, is dangerous. What will happen if there is a deterioration? Who will answer for it? Not every coronavirus patient needs to be hospitalized — most don't. But a patient who needs a hospital and suffices with a home doctor visit — I feel that there is a certain lack here that borders on risk to lives."
In contrast, Professor Motty Ravid, director of Maayanei Hayeshuah Hospital (pending his resignation after criticizing the chareidi management of the virus), sees the numbers differently. "There are nearly a thousand patients within the chareidi sectors who have not reported to the health authorities. I've seen people who came to the hospital after being treated at home in various ways. True, they usually have lung issues and shortness of breath and require oxygen, but they manage without ventilation. It's classified as moderate to serious condition. A small number of them, however, are taken to the hospital because the deterioration is rapid and they pass away. And that's where the danger is, because there is no way to foresee the deterioration."
Fresh Air
During our conversation in the Chasdei Amram cellar, a man comes in carrying an oxygen concentrator. He takes it into the room where it's thoroughly sanitized.
"This organization saved my mother," he says. "When she got sick with corona, we saw her struggling to breathe. We tried to do everything to keep her out of the hospital, looking for a way to get the right assistance and to make her more comfortable. Then someone told us about this place, that they have everything we'd need to help my mother. Within an hour, she was connected to the machine and we saw a significant improvement in her numbers. She came back to life."
His mother, he says, was petrified of the idea of being hospitalized. "She feared the isolation, and we felt that would play a role in her body's resilience and ability to fight off the virus. I hear stories, Hashem yishmor, about people who were put on ventilators and never came back. We believe that being together with the family helps the patient. Plus, I went through corona already, so I could be with her freely."
It sounds as if the hospital would have classified her as serious and checked her in. But that's exactly what the family didn't want. "We consulted with doctors. We didn't do anything ourselves. We asked the doctors what to do and they told us: nothing. She needs an oxygen concentrator. Give her oxygen at a level of three and a half or four liters. At one point we saw that it wasn't enough, so we gave her more, and baruch Hashem the situation improved.
"So here I am returning the big machine, which we used for just a day and a half. The smaller machine is still at home, and today, a week later, she can go off the oxygen for a few hours a day, and we hope that within a few days, she can wean herself off the machine completely."
(Originally featured in Mishpacha, Issue 832)
Oops! We could not locate your form.
>