| Family First Feature |
The Great Job Hunt  
| January 27, 2021
When I was fired, job-hunting became my new job. Here's what I learned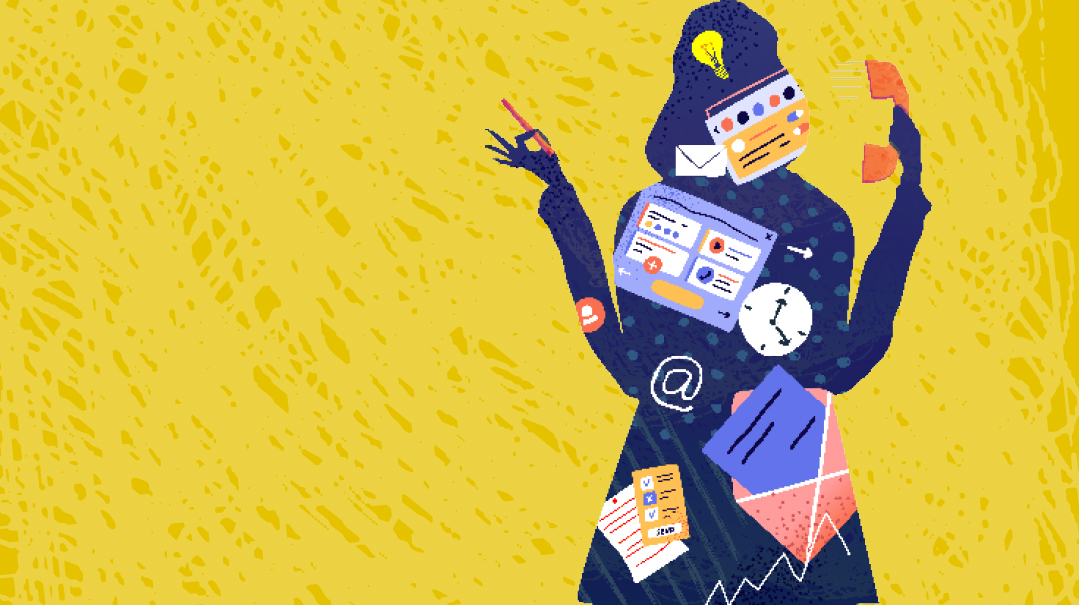 The first thing I did when I lost my job in May 2019 was order a cheesecake. I called my mother and a good friend; I didn't disturb my husband during seder.
He found out only when he came home to a fancy dessert, and he was confused. We're still in kollel. We don't do takeout. And I'd just lost my job.
I'd been looking for a new job for a while — work had become a toxic environment, and it could be felt even remotely. I worked from home and though I liked what I did, I dreaded turning on my computer in the morning. Plus, with the new direction the company was taking, I knew it was a matter of time before I'd need to quit because of halachic issues.
So when my department was laid off, it felt like a clear message from Hashem that I was taking the right direction in moving on, and being laid off meant that there was severance and unemployment insurance, so I had an (okay, fraction of an) income while I was looking for a new job.
I took a day to celebrate. And to buy a computer; mine belonged to work, and I had to return it.
The next morning, I began to job search in earnest. First thing, I called two cousins who work in recruiting. (They're not related to each other.) David Epstein is the founder and president of Intelligent Staffing, a staffing company in Philadelphia specializing in workforce solutions and employment services. Dovid Flam has been an executive search consultant for 15 years, focusing on healthcare and social services. He's a recruiter for the Merraine Group, a division of the global Shepherd Search Group, serving 14 industries in staffing and workforce development.
Neither works in my industry so they couldn't help me directly, but I contacted them to help me learn how to best leverage myself for a job search. David sat with me multiple times to give me tips. Dovid gave me his take on David's guidelines, and more.
Both graciously allowed me to share their advice with you.
Mindset Matters
David's Tip:
Treat your job search like a job. You spent eight hours a day doing your job, now you're going to spend eight hours a day searching for a job, customizing your resume, networking, responding to email inquiries, and more. Your goal is to apply to at least ten jobs per day.
Dovid's Take:
Absolutely.
How I did:
Eight hours a day was a bit too much for me. I had a brand-new baby, a bunch of other kids, summer vacation was coming, and other stuff was going on. But I spent upwards of five hours on the computer each day. I searched every job site, researched every company, sent my resume out a gazillion times, and also did whatever freelancing work I could get.
I used a spreadsheet to keep track of each job I applied to, with headers such as Company, Job Title, Job Board, Date Applied, Recruiter's Name, Follow-up Date (and method), and Notes.
I always wanted to give up work so my house could be spotless, and I could sit on the couch with a book, but here I was without a job and I could hardly make supper; forget cleaning the walls and scrubbing the heaters. For me, looking for work was harder than working, because there was always another job to apply to, another resume to send, whereas when I was working, I did my work, and then I was done for the day.
Remarkable Resumes
David's Tip:
Make sure you have a resume that will stand out. Keep your resume limited to one page, unless you've been working for longer than 20 years and have so many accomplishments one page won't do you justice. In the 21st century, no one has patience. Also, nowadays, companies use artificial intelligence (AI) to sort resumes, so you want a resume that will pass the keyword test. You also want the layout to stand out so that when it does make it pass the AI stage, it catches the recruiter's eye.
Dovid's Take:
A good-looking resume (and LinkedIn profile) are absolutely key when you're in the job market. Those are aleph-beis. As a recruiter, when I see a resume that doesn't look professional, or a profile that hasn't been completed (see more below), I'm hesitant to contact that individual.
It doesn't have to be an enormous outlay, but if you're not careful with this first step, it appears that you don't take pride in your presentation. The candidates who present professionally will be moved to the front of the line, at your expense.
A word about cover letters: they're not as important as the resume. As a recruiter, I'm not looking at a cover letter, and I find that in most jobs, unless it's a requirement, companies don't pay attention to them.
How I did:
I had a head start, because I'd already begun looking for a job a while before I was laid off, so I had a beautiful resume. But my search then was nothing compared to now. Then I was picky, applying only to jobs that exactly matched my interest and skills. Now I was sending my resume to any job related to my industry in hopes of maintaining a ten-percent hit rate, which David had told me is considered the high end of average.
Hit the Boards
David's Tip:
Hit every job board. Vet them for legitimacy, but many are kosher. There's LinkedIn of course (more later), and Indeed, ZipRecruiter, Glassdoor, but also FlexJobs, VirtualVocations, and others. Also, in most industries, you can bid for freelance jobs on sites like Upwork and Fiverr, so make sure you have a profile there as well.
Often you'll find the same job posted on more than one site, and that's okay; companies post everywhere because some sites are staffed at the backend with people, whether direct from each company or a recruiter, and some by robots. There's no problem applying for the same job through different platforms.
Dovid's Take:
Depending on your employment level (entry vs. senior), you'll want to think carefully about applying to the same job more than once (through different sites). For an entry level position, applying multiple times can show your interest and assertiveness in wanting to be hired, which can be a good thing. But if you're looking for a senior-level position, be judicious about applying multiple times. You don't want to come across as desperate or haphazard.
How I did:
I hit every board. I created a profile complete with an "About Me" section and posted my resume on LinkedIn, Indeed, Glassdoor, and others. I also searched industry-specific boards. Some boards make you pay; I skipped those, there are enough that are free, and as David said would happen, I saw the same jobs multiple times. I constantly refined my searches and keywords (and finally unsubscribed from boards that kept offering me forklift-operator jobs in Oklahoma).
For the most part, I went directlu to the company's talent manager on LinkedIn, even for jobs I found via other sites, and messaged them privately to apply for the job. (Sometimes, those sites kept the name of the company private — they wanted to get credit for the recruit. But with a bit of research, I found them out.)
I logged onto each board, each day, and sifted through new jobs that had been posted. I set searches and alerts so I'd be aware of anything I may have missed. I also looked at and set alerts, and applied to jobs via job boards of specific companies I (thought I) wanted to work for. Day in, day out. Never ending. No supper. No laundry. What's a book?
Crucial Link
David's Tips:
LinkedIn is a business networking site. Use it. Some companies won't post jobs there because the advertising cost is too high, but everyone has — or should have — a profile. Search for the Recruiter or Talent Acquisition Officer at the company of the job you've just applied to and start a conversation with them.
Also, you need a picture on your profile. When your resume piques the recruiter's interest, the first thing they do is check you out online. There are so many people applying for the same job, and it's 2021; if your profile looks half-complete, they'll move on.
Posting on LinkedIn is great for exposure, and imperative if you're breaking into the freelance market. If you're looking for a 9-5, just being on the site daily, looking for jobs and searching for people and companies will trick the algorithm into placing you higher on the list when recruiters search for talent.
Dovid's Take:
LinkedIn is another one of the absolutely key things in getting your job search off the ground. And activity — posting and liking posts is an important part of that. The more active you are, the more active LinkedIn makes you; in my experience, just clicking will not bring you higher up during a recruiter's search. It's an algorithm thing, so there's no way to bypass this.
Regarding pictures: many in the frum community are uncomfortable posting a head shot online. But don't leave that space empty. Put in a caricature or an avatar, but make sure the field is populated. As I said earlier, if you can't complete these first steps, you don't come across as a serious candidate.
How I did:
I followed all the rules. I even uploaded a pic (from my brother's wedding six years ago). It's not a great photo, more of a profile than a headshot, but I was at my thinnest then and wearing pearls I was aiming for something to place in the box.
I kept LinkedIn running in the background every time I turned on the computer, and clicked around even when I wasn't actively focused on sifting through the site, figuring it couldn't hurt. I also searched for Recruiters and Talent Managers and pitched directly to them when I found something I was interested in. I paid for a month of Premium, which may have been a waste, but it felt like hishtadlus — it allowed me to InMail people, and I did make some connections that way.
Cast Your Net
David's Tip:
Network. Network. Network. And network. It's not what you know, it's who you know and other platitudes. But this is the most important part of your job search. Knowing someone who knows someone is important to 1) hear about jobs that may not have been posted yet, and 2) get recruiters interested enough to bypass the AI resume scan.
Dovid's Take:
There's no way to overstate the importance of networking. Tell everyone you know about your search. If you're on social media (WhatsApp, Facebook, Instagram), network there as well, as I'm told people have been very successful in obtaining jobs through networks on those platforms.
There's another aspect that I call soft networking. That's researching other companies and learning more about how they do business — what departments they staff and what are the job responsibilities of their employees. Maybe you've been fixing dishwashers for the past twenty years. Now that you're in the market again, look around at how other appliance service companies are bringing in business. Can you take your knowledge and skill set and apply it laterally?
That's how I got my job, actually. I was in the market and didn't know what I wanted to do. At that point, I'd never even heard of recruiting, or headhunting, as it was called then. But as I researched options, I discovered the field and found the idea of being a job shadchan fascinating. I spoke to people in the field to learn more about it, and here I am, 15 years and many hundreds of happy clients later.
Remember what they say: 50 percent of the jobs that will be held in 20 years from now are in fields that have not been invented yet. Open your mind to new possibilities.
How I did:
I networked all right. Losing a job isn't fun, and it's a humbling experience. David was optimistic throughout my unemployment, supporting me and letting me know there was no better time to be looking for a job. He was so encouraging about my prospects, I truly believed I'd find another job while still under my measly severance.
I connected with hundreds of people on LinkedIn and in real life, emailing former coworkers — recent and ten years old — and friends of friends, letting them know I was between jobs. I pursued every lead, no matter how farfetched, and met some really nice people (some who have since referred me freelance work).
What Follows
David's Tip:
Follow up. Email or message the recruiter or hiring manager within 36 hours after you've sent your resume. Then follow up again 36 hours later. Don't worry about being a nudge. Recruiters are seeing a ton of resumes and your job is stay at the forefront of their mind. Either they'll say no and you'll move on, or they'll admire your assertiveness and start a conversation.
Dovid's Take:
Again, this depends on the seniority of the position. If you're at the director level, then yes, you should still be following up, but you may not want to be that aggressive. For an entry position, go for it.
How I did:
This one was a bit tough for me. In theory, I agree with David, and it is advice I'd give you if you asked me. But 36 hours and 36 hours later felt like the equivalent of my kids asking if we're there yet every 3.6 minutes. I was good about following up with a personal email or message within three days of initially sending my resume, but generally waited a week to send the second message. And a week after that for the third… But I didn't give up until I heard a solid no.
Time to Learn
David's Tip:
Use this time to learn new skills and obtain certifications that increase your hire-ability. When you're cruising along in a job, you tend to focus on what you need to get the work done. Now is your opportunity to learn a new skill to round out your resume. Take advantage.
Dovid's Take:
Yup. Even if you're not ready to pursue an entirely new skill, learn about parallels in your field and open up to other possibilities. It's a big world. Don't limit yourself.
One inspiring job seeker I'm working with now left her job following a tragedy in her family. She's been in the same field for 25 years, and is looking to change direction entirely. She's set up her resume based on her skills, not previous experience, and is successfully interviewing in a variety of industries. She's received two competitive offers to date.
I strongly advocate this tactic (in addition to going the traditional job-experience route). Skills are equally important across many industries. Don't pigeonhole yourself.
How I did:
Did you forget the first tip — to treat the search like a job? Also, did I mention I have a family? When exactly should I be taking courses?
But I did. There were three I had my eye on: two were indirectly related to my field, and one I thought would be really interesting and allow me to have a side hustle. They could be divided like this: The first would teach me how to run a business that would make me millions; the second I thought would be a cool skill to have, but everyone around me thought was boring; and the third was non-profit related.
I nixed the first, to my parents' horror, but I learned a lot about myself during this time, and realized I wasn't interested in entrepreneurship. The second was recorded, so I could start it at any time if I found myself still in the market. I took the third course (which I'd seen advertised in Mishpacha), and I'm benefitting from it to this day.
Live a Little
Tip:
Don't forget to live. (Okay, that one's mine.) Looking for a job when your mortgage is dependent on your income is challenging. But living is important so you don't burn out and become depressed.
How I did:
David was so optimistic that I was sure I was "between jobs." And my search was fruitful in that I was maintaining a ten-percent hit rate. Recruiters reached out to me after I sent my resume. I was invited to go through the testing stage at tens of companies, and interviewed with a number of them.
My main hurdle was that due to my location, I was limited to working remotely. I applied to many companies that didn't specify a telecommuting option, counting on the strength of my resume and ten years of remote experience. Contacts at various companies, whom I had met through networking, encouraged me to do this, as telecommuting was becoming more mainstream. (And now, with COVID, a given, but what did we know then?)
After six weeks of sitting at my desk sifting through posts, researching companies, tweaking my resume and cover letter to fit various positions, applying to jobs, and following up on repeat, I started getting worn down.
It was summer, the weather was beautiful, and I needed out. So I did what I could never do in the past, and took my kids to my parents for a week. There, we basked in the glory of grandparents and no routine. I slept late and the kids ate Shabbos cereal for breakfast. We participated in sheva brachos, and we went on (free) trips every day.
While there, I followed up with companies I'd applied to, but didn't actively search for jobs. It was glorious.
And then back to the grind.
The Frum & Local Route
Racheli Eisent started IZN Recruiting in 2015, after the birth of her baby at 29 weeks. (Baruch Hashem, he's doing beautifully now!)
"I had a job I loved selling baby gear, but my baby needed my full-time care, and I couldn't go back to work.
"When he was a few months old, my sheitelmacher mentioned that her husband was looking for a job, and I paired him up with a couple of places I'd heard were hiring.
"I had such a great feeling when he landed the interviews, and I decided to pursue this full time. It felt like a no-brainer. I couldn't work out of the house, but this way I could take care of my baby, help people, and earn a living at the same time."
In those days, recruitment firms almost didn't exist in Lakewood — there were a few, but mostly companies placed ads in the myriad weeklies that are delivered to residents' doors. Persuading companies to use her was work, but it helped that she'd conducted interviews at her previous job — she knew the process and how to find good workers.
"I cold-called and convinced companies about this novel concept. I told them I'd vet candidates so they could focus on their jobs."
Five years and three additional case managers later, IZN Recruiting has placed hundreds of job seekers in their dream positions, and Racheli still gets a rush with each hire. "I love helping people."
Racheli says David's and Dovid's tips are great if you're looking for a job in the corporate world, but if you're a local (Lakewood, Monsey, Brooklyn) and you want a job in a nice, frum office, your search can be simpler. Here are her top tips:
Network. I call this self-marketing. Mention your search to everyone you meet. Talk about what you're looking for and why you'd make a great employee. There's nothing shameful about looking for a job (especially in these days of COVID). Don't be private about it.
Use social networks to increase your footprint. Send your resume out on WhatsApp (or have a friend do it for you). Job chats and neighborhood chats and email groups are other great resources. LinkedIn, Facebook, and Instagram are networks where you can access solid referrals.
Your resume is the first thing a company sees about you, so make sure it's professional and relevant. Keep it to one page and list your skills and the most relevant information first, so the hiring manager doesn't have to look far to find you. Also, you'll want to keep a Word version of your resume handy so you can refine and customize per position you're applying for. (But send your resume as a pdf so formatting doesn't get messed up as it passes through cyberspace.)
Use a recruiter when you can. At IZN Recruiting, we vet every job that comes our way. When a new company calls me to fill a position, I spend time on the phone interviewing them not only about the job, but also about the work environment. I'll often spend a day on a company site visit so I can get a feel for what goes on there.
On the job seeker side, we personally interview every candidate, and we get to know you on a personal level. So we'll ask about your work experience and what you're looking for in a job, and also about what's important to you vis-a-vis your work/life balance: we'll find out if salary is your highest priority, or if flexibility is more important. What type of environment are you looking for and how important is it to you?
Once we know that, we'll match you up with companies that check off all the boxes. In this way, you're not embarking on a wild goose chase in your search, and our companies are confident that the people they're interviewing will meet their needs.
We also stay involved throughout the entire hiring process, from preparing job seekers for their interview to negotiating on behalf of both sides (salary, hours, vacation time, etc.) as needed. We're your job shadchan, and we're there for you until you break the plate — uh, sign a contract.
You've landed an interview — mazal tov! Make sure you come on time, sit straight, make eye contact; I'm assuming you know all this already. What may come as a surprise is my advice not to make this a one-sided interview. Instead, talk to the interviewer: ask questions that show you've done your research and that express your interest and excitement in working at this company.
His Plan
Tip:
Let Hashem take care of you. Do your hishtadlus, but take comfort in that He has a plan.
How I did:
At the start of the summer, I'd say that if I knew I'd have a job by September, all would be good. I could spend the summer enjoying my freedom, my family, my baby, not worrying and working. Money would be tight, but we'd manage because we'd know it was temporary.
Joke's on me, because baruch Hashem, I was employed by September 1. But not having nevuah, I spent May, June, and July worrying and working, sending my resume out to at least a million companies (okay, I'm exaggerating), and taking whatever freelance work I could find.
Yes, I took a few weeks off here and there — in retrospect, we did have more fun than ever that summer, traveling cross country to visit grandparents, stopping off at whatever sibling and free attraction we could find. (We didn't know COVID was coming. We might have done more had that nevuah kicked in.) But it wasn't relaxing. No, it was not.
The job I ended up taking was one with a company I sent my resume to the day after I was let go. I heard about it from my friend, who heard from my sister that I was looking for a job. Her neighbor's cousin's best friend's neighbor owned a small firm. I had multiple interviews, pursuing it relentlessly because I really liked what I heard about the company. But though they knew they needed someone, they weren't ready to hire… until they were. (My grandmother is still mad. How could they not have seen my greatness right away? They should have been falling over to grab me!)
And the best part? I had to delay my start date because of a freelancing job I started right before we signed the contract. Not only that, but the same week, I received another attractive offer (also obtained through networking). After all those months of angst, I spent a week reviewing and rehashing my interviews and what I knew about each workplace before making a decision. Then I took time to relax, starting to work only after everyone was settled in school. (I'm smart like that.)
(Originally featured in Family First, Issue 728)
Oops! We could not locate your form.
>