| The Explainer |
The Great 2022 Flying Circus
| July 5, 2022
Millions of people are asking: Why has flying become a game of risk, and when will the chaos end?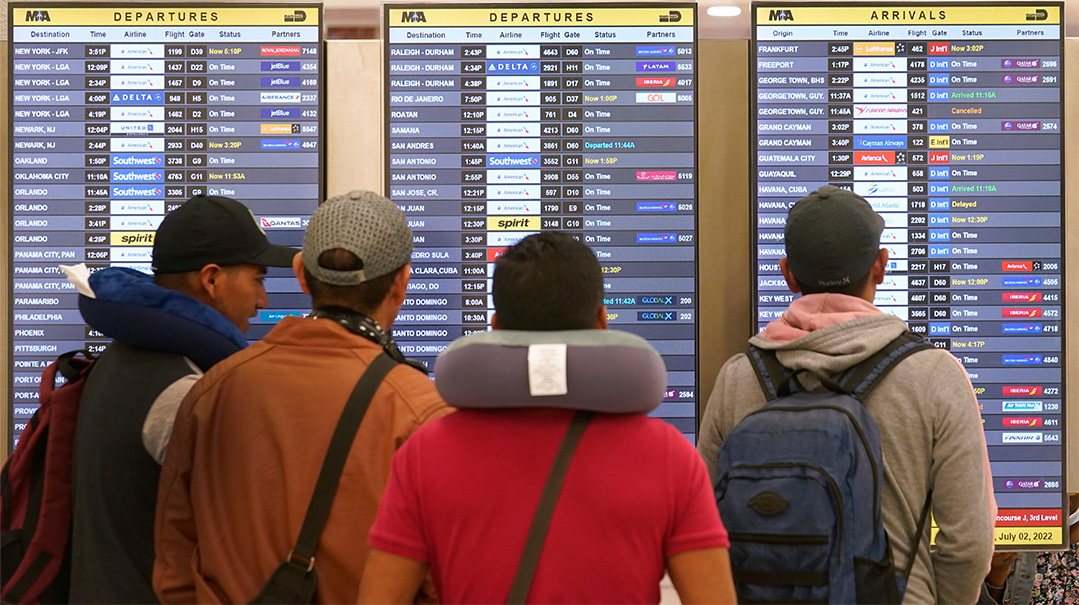 We'd been sitting on the tarmac in JFK for over an hour last week when the pilot announced: "I have to be honest with you that the baggage handlers have yet to load your luggage; we are very short-staffed, like everywhere else in the world right now."
Another hour passed before the next announcement. "We just got word from Tel Aviv. Ben-Gurion is at capacity; we can't leave Frankfurt just yet."
Around me, people started panicking. One couple called their son in Israel.
"We'll arrive just before Shabbat and won't have time to cook. Please put the chicken on for an hour, and boil 13 eggs, too."
Welcome to the horror show called air travel in 2022.
As flights are canceled, airports flounder, and baggage gets mislaid worldwide, millions of people are asking: Why has flying become a game of risk, and when will the chaos end?
1. WHY's
Layoffs The biggest culprit is Covid. The total shutdown of air travel led to airlines axing staff numbers. According to Bloomberg, 400,000 workers lost their job or were furloughed. Many of those found different jobs or retired early. In spring 2020, for example, 39,000 American Airlines employees took early retirement.
Bounceback Remember when Omicron hit six months ago, and no one thought that the summer season would be that crazy? Well, as it turns out, everyone wants to travel this summer. It means that airlines had only six months from the peak of Omicron until today to recruit and train thousands of workers.
No Show That's no easy task. People who were laid off won't rush again to work for an airline out of fear that with the next crisis, they'll lose their jobs again.
Strikes Some airports are also seeing aircrew strikes demanding improvements to working conditions after taking pay cuts during Covid. The main airport that is currently affected is Paris Charles de Gaulle, but there is labor action in several other companies that threatens to add additional strains to the travel season.
2. SHORTFALL
$2000 is what a round trip from the US to Israel during the summer could cost, nearly double the average pre-pandemic ticket price, due to the shortage of seats and high oil prices. According to Bloomberg, fares on summer routes such as London to Alicante in Spain this week are more than three times higher than the same week last year, and prices from Paris to New York have tripled since March 2019.
1000 For an idea of the scale of the problem, the above is the number of open positions at Ben-Gurion Airport alone, with baggage handler being the biggest shortfall.
98% Driving the price increases has been a massive jump in the price of jet fuel per barrel compared to a year ago, according to the IATA.
3. SOLUTIONS
So how are airlines fighting back?
30,000 flights were canceled in July alone to allow companies to handle the pressure.
Cash Second, companies are offering incentives for workers to join, including a signing bonus and a higher salary. Pilots' salaries at American, for example, are set to jump 16% in a bid to retain aircrew.
Hand-luggage With pictures of suitcase mountains and lost luggage lakes emerging out of places like London's Heathrow Airport, passengers are being urged to travel with just the wheely in their hands.
4. WHAT'S NEXT
Confusion Turning up too early at Amsterdam's Schiphol Airport — meaning four hours before a flight — isn't welcome. But less than three hours is also not good. It's a delicate balancing act.
Cancellations will continue worldwide. Air Canada, for example, is pulling 10% of flights through August.
18 months is how long Heathrow Airport's boss is predicting the chaos will continue, as pent-up demand meets reduced supply and exteremely high oil prices.
(Originally featured in Mishpacha, Issue 918)
Oops! We could not locate your form.
>