| On Site |
The Family That Plays Together
| April 16, 2019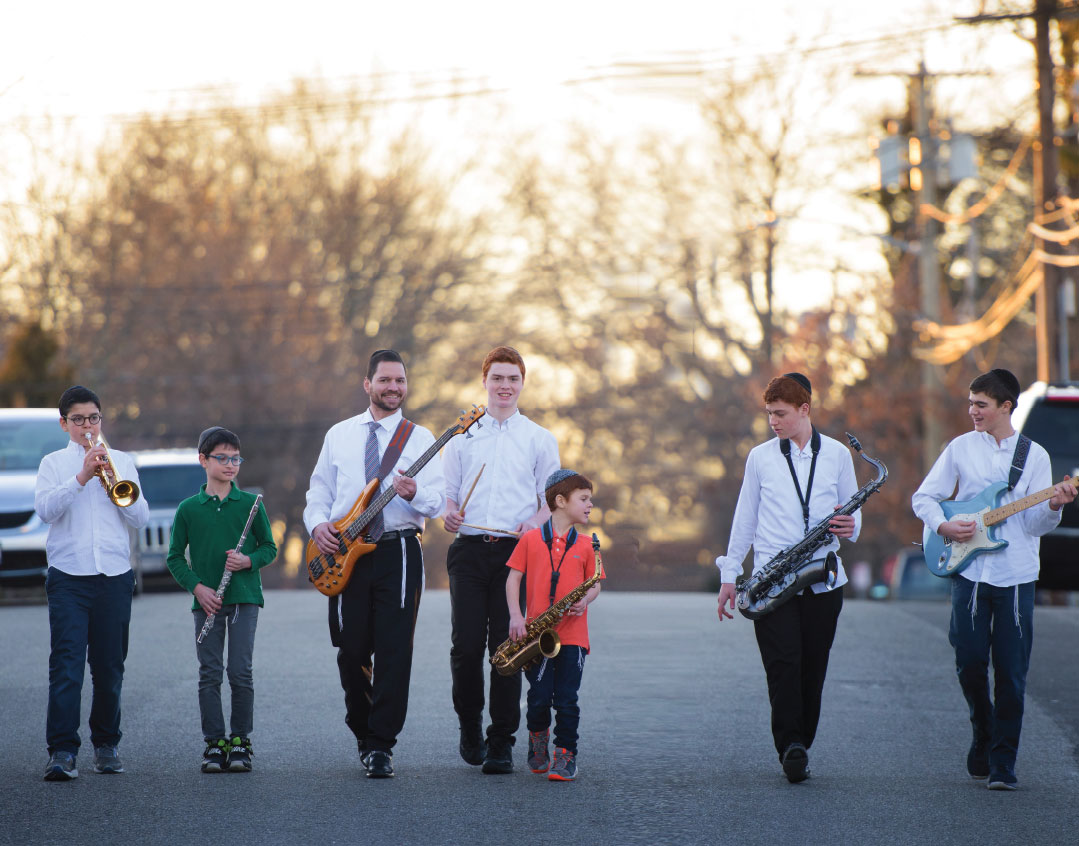 M
ost bands don't have to worry about the voice of their lead singer changing overnight or sneaking in some rehearsal time in between studying for exams. But most bands aren't a family endeavor where many of the musicians have not yet had their bar mitzvah.
"The bar mitzvah of Baruch, our second son, was the first time we played together professionally," says Rabbi Yitzie Ross, the father of the musical crew known as Rock Mishpacha. "We practiced a few times in the studio, and my sister told us we sounded great."
That was two years ago. Since then, the members of Rock Mishpacha have been bringing their special brand of musical joy to concert halls and family simchahs — while getting their schoolwork done on time. We recently visited the family's Lawrence home to see how they do it.

Liner Notes
According to Rabbi Ross, a dynamic fourth-grade rebbi at Yeshiva of South Shore, the family's musical saga has its beginnings with his own bar mitzvah. "We just had a tape recorder playing," he recalls. "Live music was an unattainable luxury. Not long afterward, I bought my first keyboard. I played at simchahs, initially for free, and my music became very popular — until I married and didn't want to go out in the evenings of my shanah rishonah."
But music would soon once again become a part of his life. When each of their children reached age four, Rabbi Ross and his wife Reisy started teaching them music. At first, they hoped it would just be a fun hobby for the kids; there was no thought of turning the youngsters into professional musicians. When it became clear the boys were making good progress — and really enjoyed playing — Rabbi Ross felt that if his children were enthusiastic about something constructive, it was definitely worth encouraging.
The Ensemble
The family's music room, located in the basement, is where all lessons and practice take place. It isn't expansive, but it's fully equipped with everything the band needs: mics, speakers, music stands, and of course the instruments. After everyone is assembled, it's also equipped with that special energy you get when kids are engaged, doing, learning — and feeling fulfilled.
The oldest Ross, Binyamin Zev, a ginger-haired, serious-looking 16-year-old, plays tenor sax. Next comes Baruch, 15, unmistakably enjoying himself on the drums. Avi, 14, is effervescent on the guitar, and 13-year-old Mordechai plays trumpet. Younger members of the Ross family are the group's main vocalists, since their voices haven't changed yet. Moshe, 11, also plays flute and piano, while Yehuda, nine, performs alto sax and piano. Rabbi Ross plays keyboard and bass for the band.
Daughter Batsheva, who is seven years old, is a budding violinist. She adds the violin's delicate notes to family-only performances now that she is slowly phasing out of public performances. She'll soon be switching her energies to learning guitar, which she feels will provide more opportunities for kumzitz singing with her friends in years to come. Other honorary members of the band are Dovid Mendel, who at age four is learning piano, and two-year-old Miriam, who still has two more years before she can start learning to play an instrument.
(Excerpted from Mishpacha, Issue 757)
>