| For the Record |
The "Brisker Rav" of Williamsburg
| November 15, 2022
When the Communists began stamping out Yiddishkeit in Russia, Rav Simcha and his family emigrated to the United States in 1924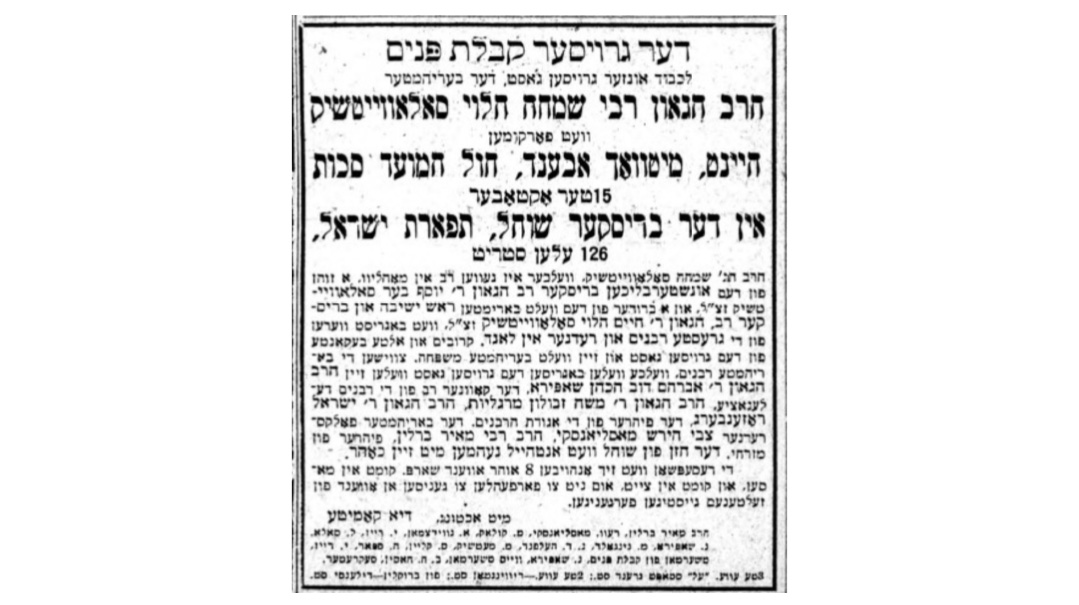 Title: The "Brisker Rav" of Williamsburg
Location: New York
Document: Der Morgen Zhurnal
Time: 1924
IN 1872, Rav Yosef Dov Soloveitchik, the Beis HaLevi, suffered the loss of his wife, Tzirel, while serving as rabbi of Slutzk. Shortly afterwards he married Esther Baila Rubinlicht from Warsaw, a widow with eight children of her own. In 1875 the Beis HaLevi resigned from the rabbinate in Slutzk and moved to Warsaw. It was there that his son Simcha was born in 1879, when the Beis HaLevi was 59 years old. At around this time the Jewish community of Brisk implored the Beis HaLevi to fill the position vacated by Rav Yehoshua Leib Diskin, who had departed to Eretz Yisrael. The Beis HaLevi would remain in Brisk until his passing in 1892, and was succeeded by his son Rav Chaim. Despite their age difference, Rav Simcha enjoyed a close relationship with his half-brother Rav Chaim, and the latter held him in high esteem.
Rav Simcha Soloveitchik married Baila Lifshitz, a daughter of a wealthy businessman from Krucha, Belarus, named Yitzchak. As it was lonely in the small village for the budding talmid chacham, he arranged for a bochur from nearby Minsk to come and study with him by the name of Reuven Grozovsky. After they had studied for a while, Rav Reuven wanted to return to the yeshivah in Slabodka, and Rav Simcha asked that he send his young friend Ahrele Sislovicher (Rav Aharon Kotler) in his stead. Rav Reuven felt that the atmosphere wouldn't be ideal for Rav Aharon, and he intended to bring him to Slabodka.
In 1911 Rav Simcha was appointed rabbi of Mogilev in Russia (today Belarus), where he served alongside Rav Shlomo Goloventzitz, a former rosh yeshivah in Minsk. Rav Simcha was the first official rabbi of Mogilev since the Malbim had served there four decades earlier. With the help of Rav Reuven Grozovsky, he established a small yeshivah in town where he delivered shiurim. Among his students was Rav Yosef Shub, later the trusted administrator of the Vaad Hayeshivos, and Reb Rafael Zalman Levine, son of "the Malach." Rav Simcha also delivered shiurim in nearby Shklov at the yeshivah of Rav Pesach Pruskin. Rav Simcha remained at the helm of the community through the ravages of World War I, the Bolshevik Revolution, and the subsequent Russian Civil War.
When the Communists began stamping out Yiddishkeit in Russia, Rav Simcha and his family emigrated to the United States in 1924. Returning to the Brisk roots of his youth, he was appointed rabbi of the Anshei Brisk Shul on the Lower East Side (later on Clymer Street in Williamsburg). He renewed his friendship with Rav Shlomo Polachek, the Meitscheter Illui, with whom he had been close with in Brisk when the latter was a student of his brother Rav Chaim. Rav Simcha was also active in the leadership of the Agudas Harabonim, getting involved in complex kashrus issues. He passed away in 1941 and is buried in Mount Judah Cemetery in close proximity to his old chavrusa Rav Reuven Grozovsky and his nephew Rav Moshe Soloveitchik, who passed away a few months prior.
Pioneering Soloveitchiks
Rav Simcha's son Rav Yosef Dov moved to Spring Valley in the 1930s to stand at the helm of Congregation Sons of Israel. His wife Rebbetzin Shoshana was a true pioneer with her founding and stewardship of the first Bais Yaakov girls school in Rockland County, where she educated generations of girls for decades.
All Day I Dream about Torah
Rav Simcha was known to be immersed in Torah thoughts at all times. When the 1932 convention of the Agudas Harabonim was held in Far Rockaway's Seagirt Hotel, Rav Simcha was in attendance, but his mind was seemingly elsewhere as he sought out colleagues to speak to in learning. Reb Zalman Levine related that during one of the sessions, Rav Simcha was spotted sharing a chiddush with a gentile New York Times reporter whom he had cornered. Later, it became clear that Rav Simcha had confused the reporter with Rav Shmuel Sar of RIETS, a clean-shaven musmach of Telz (and uncle of Rav Mordechai Gifter).
(Originally featured in Mishpacha, Issue 936)
Oops! We could not locate your form.
>