| The Current |
The Beat | October 14, 2020
Here's the thing: "whataboutery" will get us nowhere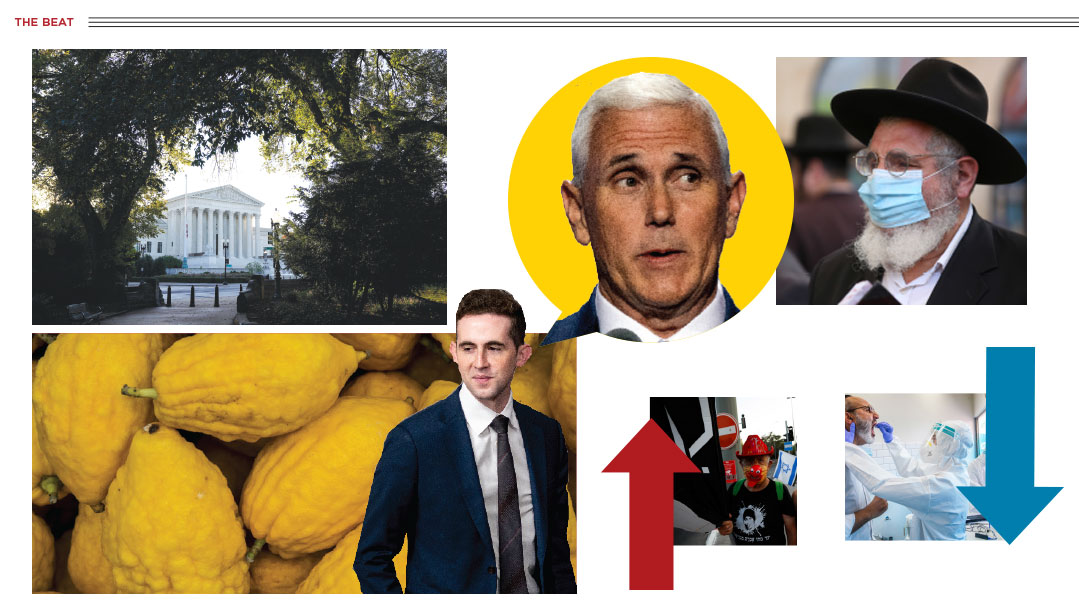 Progressive Watch
In the Left's race to demonize Trump's Supreme Court nominee Amy Coney Barrett, Jewish voices have been notably shrill, with a recent open letter by Jewish progressives accusing the judge of threatening the "health, safety, and lives of countless individuals."
But first prize goes to Ibram Kendi, a professor of history and author of How to Be an Anti-Racist. He managed to turn Barrett's own adoption of two children from Haiti into an act of possible racism: "Some White colonizers 'adopted' Black children," he tweeted. "They 'civilized' these 'savage' children in the 'superior' ways of White people while using them as props in their lifelong pictures of denial. And whether this is Barrett or not is not the point. It is a belief that too many White people have: if they have or adopt a child of color, they can't be racist."
Friends in High Places
Call it the fruits of diplomacy. First came the backstory to the Middle East deal, and now comes a behind-the-scenes of your arba minim. Avi Berkowitz holds a position known as "Special Representative for International Negotiations," which primarily entails overseeing negotiations in the Middle East, such as the recent normalization talks between Israel, the UAE, and Bahrain.
Last July, however, Berkowitz found himself involved in talks of a completely different nature, after he was asked to take care of the supply of esrogim to the United States ahead of Succos. An official in the White House tells Mishpacha that in July, Satmar askan Rabbi Moshe Duvid Niederman, based in New York, turned to Berkowitz to explain that there was a problem this year with the esrog supply. Ordinarily some 75,000 to 100,000 esrogim are imported from Italy, but due to COVID travel restrictions, mashgichim couldn't fly to Italy to check them. Without adequate hashgachah, the esrogim could not be shipped.
Berkowitz entered the picture and secured the Italian government's consent to let in the necessary mashgichim, allowing the shipment of esrogim to proceed in time for Yom Tov.
"I feel lucky to have played a small part in enhancing the holiday for Jews around the country," Berkowitz told Mishpacha.

— Omri Nahmias
Sources: YouGov, Israel's Ministry of Health

What he said
"The reality is when you look at the Biden plan, it reads an awful lot like what President Trump and I and our task force have been doing every step of the way... it looks a little bit like plagiarism." —Vice President Mike Pence debating Kamala Harris
What he meant
Like everything about Joe Biden, there's a lot of ancient history, and this is a reference to a 1987 plagiarism scandal, in which it emerged that Biden had lifted sections out of a speech by Neil Kinnock, a British politician. It's Biden's decades in office that defanged this jab, but also gave the Harris-Pence faceoff value. At 77, Biden would be the oldest president in US history, and there is every chance that Kamala Harris would find herself behind the desk in the Oval Office.
The Soapbox
By Gedalia Guttentag
For our grandparents' sake, we need to self-police.
Eight months into coronavirus, two things are becoming clear. In the fight against the virus, the odds are stacked against our community; but however unfair, when we fail to self-police, it's our neighbors and grandparents who pay the price.
Start with the odds, and take Israel as an example. Unlike the media narrative, the first major outbreak after the Pesach lockdown was in a secular school. By and large, chareidi compliance with social distancing was back then exemplary. Yet by the time the second wave established itself in July, chareidi cases were surging. The reason's simple, as recognized by experts like Shaare Zedek Hospital head Professor Jonathan Halevi: Even with the best compliance, in large families, a small infection metastasizes and quickly turns chareidi areas red on COVID maps.
We also fight an uphill media battle. In newsrooms everywhere, stories about noncompliance in the (overtones of primitive?) "ultra-Orthodox" community are easy to tell; so stories about our rule-breaking there are plenty, but who wants to tell a story about the law-abiding majority?
And then there's the double standards. Lockdowns were necessary to save lives, but that rationale somehow disappeared when Black Lives Matter surfaced. In Israel, communal prayer was dangerous, but anti-Bibi protests were somehow safer. A large dose of our community's disillusion can de traced to that liberal hypocrisy.
All that is true, but here's the thing: "whataboutery" will get us nowhere.
It's now clear that there's no herd immunity in the frum communities, but cynicism about COVID hurts us first and foremost. Failure to keep even basic precautions like mask-wearing damages our image — but far more than that, it hurts our neighbors and grandparents. When a leading rav gets sick in Israel or New York, it wasn't the protesters who did that; it was us.
So by all means let's use the courts and political avenues to hold politicians and decision makers to account. Cuomo's shutting down religious neighborhoods in New York City based on infection rates, without taking into account low testing numbers, is wrong. Ditto the reflexive shutdown of chareidi cities in Israel. Let's fight the media bias and highlight the double standards.
But we have to be aware that our outrage loses its moral force once pictures emerge of widespread flouting of basic measures like masks or distancing.
And at the end of the day, even if we have to fight COVID with one hand behind our back, we have to remember this one thing: If we don't self-police, not only will we get the cops, we're harming our grandparents first and foremost.
Who's Up
The "Black Flags." The anti-Netanyahu protest movement, whose weekly demonstrations outside the prime minister's residence were interrupted by Israel's second lockdown, claimed over 1,000 small protests across the country after Succos ended. Even accounting for inflation, it's clear that Bibi's left-wing foes aren't giving up.
Who's Down
COVID cases in Israel. The rate of daily positive coronavirus tests peaked at 15% just before Succos, falling to about 7% immediately afterward. Israel's first attempt at reopening looked like a scene from Chelm — will the second round be better?
(Originally featured in Mishpacha, Issue 831)
Oops! We could not locate your form.
>