| Family Tempo |
Lost in the Mellah | August 15, 2018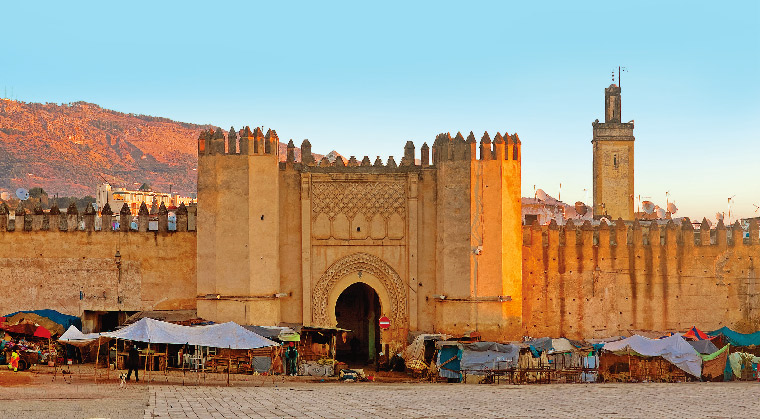 "Do you think it's safe to go to Morocco with 12 loaves of whole wheat bread and 8 bags of peanuts?" I asked my friend.
"Stop! You need to stop the sentence after 'Do you think it's safe to go to Morocco?' " she replied.
But I had made up my mind. It was the summer of 2008 and I had just finished teaching Jewish studies at the Chabad House in the southern coastal town of Marbella, Spain. A short boat ride across the strait separating Europe from Africa, but culturally a world away, Morocco beckoned. I wanted to visit the still-vibrant Jewish community in Casablanca and see the remnants of Jewish life in Fez, something I'd never get to experience once I returned home to New York.
I booked a one-week trip with a Spanish tour company. What could be unsafe about it? I baked numerous loaves of whole-wheat bread, which I'd supplement with fresh fruit and vegetables I'd find in the Moroccan markets.
It was a short boat ride to Morocco. But when we docked in Tangier, I was grateful to be with an organized tour. The port swarmed with young, swarthy-skinned men who shot us furtive glances, and seasoned porters with hefty muscles, waiting to off-load cargo.
We climbed onto our tour bus, and I soon became entranced by my surroundings — enough that I could relax. Morocco has an iconic landscape of desert, mountains, and sprawling oases, dotted with Kasbahs (fortresses) and primitive villages. More than once, our bus got stuck on a bumpy side road, as a beat-up pickup in front of us loaded up sheep and goats, urged on by dark-skinned men dressed in tribal garb.
When we finally got through the rural villages, we arrived in a city. Huge photographs of the king of Morocco peered down at me, whether inside hotels or on the street intersections. Interestingly, it seemed that unlike other dictatorships, the people in this benign kingdom greatly admired their king.
Marrakech
After our experience in Tangiers, I couldn't imagine how long it would take us to get all the way to Marrakech. Marrakech used to be reached via ancient caravan routes; now, modern roads allow for safe, speedy passage. The town's red-mud ramparts are a sight to behold, as they change color according to the time of day. Within Marrakech, the heart of the city is the marketplace of Jemaa el-Fnaa.
For 1,000 years, this has been the final port of call of the great trans-Saharan caravans, which were laden with spices and slaves, salt and gold. Today the center boasts snake charmers, souks, and fruit vendors who will squeeze you a cup of fresh fruit juice.
In Marrakech, we were given half a day off from the tour, and I eagerly asked the tour guide about Jewish life. He directed me to the Mellah. Fortified by sunbaked mud-brick walls and located near the Royal Quarter, the Mellah was a city within a city. On its winding, dusty streets the Jews had their own synagogues, fountains, and markets. I took a short taxi ride to the Mellah, but when I got there I was sorely disappointed. There was no sign of any Jewish life amid the tall, red-earth buildings.
An Arab appeared and offered to be my guide.
"I want to see where the Jewish people live," I said.
The guide led me to a simple structure with ornate doors and a hollow in the wall the shape of a mezuzah. "This is the rabbi's house," he said.
"Where is the family now?" I asked.
"They've all gone to Israel." The guide waved with his hands.
We passed through a simple façade to an interior courtyard. The walls were tiled with intricate patterns of blue and white, with beautiful inscriptions in Lashon Hakodesh. This was the Lazama shul in the Mellah. The unusual name is derived from the Arabic expression Al Azama, a reference to "those who ran away," from Spain during the Inquisition. Today, Arab families wash their laundry there.
Two Moroccan policemen guarding the shul sat at a wooden table eating lunch. They offered me a chunk of bread and milk for a coffee. I declined politely, and asked about the Jews in Marrakech. "There are only two Jews left in the Mellah," they told me. "They are old men. They have the keys to the synagogue and they come to pray and study here."
I tried the door, but it was locked. Disappointed, I turned to leave.
"Now, you come to my house, I sell spices," said the guide.
Feeling afraid, I backtracked to the synagogue and asked the Moroccan police if they could escort me out of the Mellah. "Sorry, we can't leave our post," they apologized. With no choice, I allowed the guide to lead me out of the dusty maze of the Mellah, praying all the time. Once safely outside, I realized I did not have my hotel card. I racked my brain, but for the life of me, I couldn't recall the name of my hotel.
The sun had dipped below the Mellah. Thinking fast, I flagged a taxi and asked the driver if there was a Jewish synagogue in the modern part of the city. Nonplussed, the taxi guy stared back.
"Synagogue, the Jewish synagogue," I said again, as if repetition would make him understand.
"Do you want the synagogue?" A British accent. I turned around to see a man attired in a Western suit holding open another taxi door. "Hop in, I'll show you the way." I hesitated. "My name is Andrew, I'm a Jewish businessman from England. I'll show you to the synagogue."
Years have gone by and I still recall this moment with wonder. How does a Jewish businessman just happen to pass by at the very moment when I was lost in Marrakech, a city almost devoid of Jews?
Andrew directed the taxi to the synagogue, which was locked at that time of night. Two policemen guarded the entrance. It seemed the Kingdom kept the Jewish sites well-guarded. Andrew whipped out his cell phone and called the rabbi. "Wait here, the rabbi is sending his son to pick you up," he said. I chatted with the police until the rabbi's son showed up.
Soon enough, I was eating my first hot meal in days. Despite the late hour, I was served heaping portions of food. Then we jumped back into their car and scouted the Western hotels until I recognized the one that was mine.
FEZ
The Imperial City of Fez, with its high-walled palaces, holds a powerful fascination for visitors. It was a sure stop on our tour. Fez also boasts the first Jewish Mellah in Morocco.
The Mellah's southwest corner is home to Habarim Synagogue and the Jewish cemetery, where a sea of blindingly white tombs stretches down the hill. One of the most ancient kevarim, high up against the north wall, is that of Rabbi Vidal Hasserfaty, who passed away in 1600.
On the slope below is the large, ornate tomb where the the legendary Solica lies. In 1834, this 16-year-old girl refused to convert to Islam and marry the Muslim ruler. She died al Kiddush Hashem, and her tomb has always been a place where Moroccan Jews would come to daven for personal salvation.
Jewish life was all but stamped out of this once-thriving Jewish community, but there were glimpses: a carved Magen David over a doorway, a copper menorah in a brass shop.
Enter the Medina of Fez and you feel like you're being swept back in time. Donkeys bearing sacks of spices, multicolored carpets, and propane tanks fill the alleys. In an area too narrow and primitive for cars, transport-by-mule is used by all. When you decide to leave the tangle of the Medina, donkeys might bear your luggage out or carry it back in when you decide to return.
Before we ventured into the tanneries, we were given mint leaves to hold against our noses to ward off the stench. In the tanneries, animal skins were being treated in the open air and plain view. Dark-skinned men were knee deep in the vats of colorful dyes that would be used to dye the leather and create the expensive handbags we use in the West. Drying skins hung from the surrounding roofs.
Wandering the narrow alleyways, amid riads, fondouks, and carpet bazaars, I spotted a schoolhouse where the teachers introduced me to the students. They all sat on a single bench. The teachers let me take a picture, and then they asked me to pay for the privilege. In the shops lining the Medina, child laborers worked alongside skilled craftsmen creating everything from copper pots to horseshoes.
Next to a tall building with a water clock, a small marble plaque announced a humble house as that of Maimonides, the Rambam, who lived in Fez in the 12th century. The house was empty, but I thought I detected an energy there.
My tour proceeded to the capital city, Rabat, where we gazed at another palace of the king. I wanted to leave for Casablanca, the economic hub of Morocco, as it was Thursday night and I needed to be in Casablanca for Shabbos, where I would be staying with Mrs. Raskin, the Chabad emissary who had come to Morocco back in 1960. My tour guide persuaded me to leave Friday morning, as the train ride to Casablanca was only one hour away and I'd get there with plenty of time before sundown.
Early Friday morning, I set off to the train station. A train rolled in. I checked quickly, but it was heading in a different direction. Another train stalled in the station. I started to panic. Why had I waited until Friday morning? Another train whistled, ready to depart. "Is this the train to Casablanca?" I asked the crowd waiting to board.
"Go with her, she's an American," someone said. I turned around to see a man bidding farewell to his American wife. It was the right train — and I had company.
As we pulled into Casablanca, I marveled at the shimmering, sun-drenched coastal waters. Then, with no time to waste, I headed off to the Jewish school, address in hand. When I got there, I knocked on the tall, copper door. A janitor opened. "They won't be here until the afternoon," he said.
I was famished and the school wouldn't be open for another two hours. I hailed a taxi and asked him where I could find Jewish (kosher) food. The taxi driver called his Arab cousin on the phone. "Where can I find Jewish food?" Having received directions, we were on the way.
We soon pulled up at a kosher butcher shop. The owners were an elderly couple, very warm and inviting, but there was nothing I could eat there. Again, I asked the driver for a Jewish eatery. Again, the driver called his Arab cousin. This time, we were directed to a kosher restaurant a short distance away. But the driver wanted to pray before we set off. "You wait in the car till I'm finished praying."
"No, sorry! I'll get another taxi," I told the driver. Begrudgingly, not wanting to lose the fare, he drove me to the restaurant. There, I downed a huge serving of hot fries and Diet Coke, happy to eat something normal, but worried about the approaching Shabbos. I scanned the crowd: They were mostly elderly Jews, and there was one young couple with a baby.
Feeling embarrassed but spurred on by the approaching Shabbos, I approached a knot of elderly men and asked for a ride to the Jewish school. Gabriel, a Canadian gentleman with a gray beard and cap, said he'd drive me when he finished eating.
"Why did you come to Morocco?" Gabriel asked, as he carefully maneuvered his car past rowdy crowds of Arab youngsters kicking a ball. "I'm here already a week, it's safe here," I replied.
"No, it's not!" he retorted, pointing to his cap. "You see, I can't wear a yarmulke in the street."
We passed a Jewish shop selling confections and baklava, and Gabriel got out to buy some treats for Shabbos. Inside, I met a Jewish girl, who immediately warmed to me and asked me where I would be staying for Shabbos. "I'm on my way to the school to speak to Mrs. Raskin. She'll set me up," I told her. The girl asked me for my name and she gave me her telephone number. "Please call me if you don't have a place, my family will be very happy to have you."
Back at the school, I pushed open the heavy doors and entered a courtyard, then walked inside the building. There were no children there, but the walls were plastered with smiling faces of Jewish children learning about mitzvos, making brachos, washing netilas yadayim. I felt like I had come home.
Upstairs, a group of high school girls were entering a classroom to take an exam. "Is Mrs. Raskin here?" I asked them. Hearing my American accent, the girls proudly began to show off their English. "I need a place for Shabbos," I explained.
"You're coming to my house!" said a girl excitedly, not even allowing me a response. "My father is the rabbi of this city. Mrs. Raskin sends all guests to our house. Please, just wait for us to take our exam."
The girls' math teacher arrived. "These are a great bunch of girls," I told him.
"I am a good teacher, but these are not such good girls," he replied.
The girls giggled.
"You are Jewish," I said, taking it for granted that he was one of the Tribe.
"No, I'm Muslim." said the teacher. I immediately cooled. I wondered what would make the Jewish school hire a Muslim instructor, then realized the school was probably short-staffed.
When we finally got to the home of the rabbi of Casablanca, I was greeted with warmth and excitement. There was a huge picture of the Baba Sali on the wall: "We are direct descendants of the Baba Sali," explained the rav.
Friday night, we davened in the shul, and I was uplifted by the beautiful melody they sang for Lecha Dodi. The congregants were a mix of mostly elderly Jews and a few young children.
At the seudah in the rav's house, the rav dressed in a white long robe and the table was bedecked with a huge array of salads in all textures and colors. Fish was only an afterthought.
After Kiddush, the rav spoke about life in Morocco. "All the young people are leaving. They get married and move to France or Israel. I am the only mohel, and this year, in all of Morocco there were only nine Jewish brissim. There is no future here, but we, the older generation are staying."
I could sense his sadness. A history spanning centuries was coming to an end. The rav's daughter told me that when she finished school, she planned to follow her sister, who was already in France.
In the morning, we walked to a different shul. An Arab boy stopped to pleasantly converse with the rav, but further along, the rav's daughter sparred verbally with some street boys. "Aren't you scared?" I asked her.
"The king protects the Jews," she replied.
"Did you meet a girl at the chocolate shop?" the rav's daughter asked me after Shacharis. "She was very worried about you. She's been asking all around town about you."
I was amazed at this tight-knit community and the girl's concern for the welfare of a fellow Jew.
Shabbos passed pleasantly, with delicious food cooked in authentic Moroccan tagine and tasty morsels served between the meals. On Motzaei Shabbos, the rav's wife helped me buy souvenirs at the souk before my flight home the next day.
On Sunday morning, the rav's wife packed many sandwiches and salads and told me to hide them in my bags, as they could be confiscated. I bid my Jewish hosts a sad farewell. They had been the proverbial Jewish family of galus, warmly accepting a Jew from a foreign country for the simple reason that if you were a Jew, you were part of the family.
 (Originally featured in Family First, Issue 604)
Oops! We could not locate your form.
>