| Family Tempo |
Playing a Part | June 14, 2017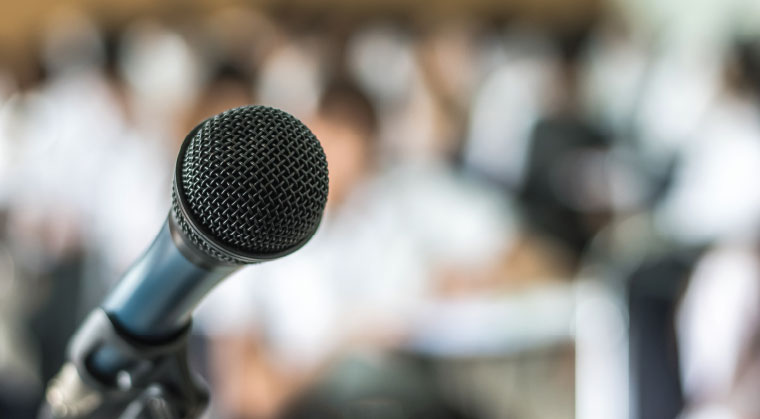 SUDDEN SILENCE Binyomin Dovid starting speaking. It may have been the first time in the whole evening that the room was quiet
A nother note from school: With praise and thanks to Hashem Yisbarach we invite you to the siyum of the eighth grade….
I wasn't sure if it was worth going. The three branches of a well-known cheder in Jerusalem were celebrating their eighth-grade graduations by making a joint siyum on two masechtos: Maseches Rosh Hashanah and Maseches Makkos.
My son Binyomin Dovid is also in eighth grade but he made no siyum and nor did anyone in his class. His class. A "special" class for special kids — Down syndrome. Cute? Lovable? Yeah well wait until they turn into teenagers. Anyway they made no siyum. Not a masechta not a perek not a sefer in Navi. They did finish a few parshiyos in Chumash but for the past few months their rebbi was so busy trying to get them all into an appropriate setting for next year that somehow a siyum didn't happen.
And now we get this note.
Really. What are the boys going to do? Sit through speeches and more speeches? Greetings from this one a devar Torah from that one. Listen to words of praise from this kid's grandfather the rosh yeshivah for their hard work in learning a whole masechta — which they didn't. Hear advice from that kid's grandfather the mashgiach about yeshivah ketanah — which none of them will be attending.
What about our boys? They'll spend this whole evening just sitting in the middle of the hall not understanding most of what is going on not having made a siyum not going to yeshivah ketanah. I was sure they would feel out of it.
I was wrong.
Here's what happened.
Tables were set up in a large hall with the graduates seated in the middle divided by class and fathers and grandfathers sitting around the periphery. Mothers and grandmothers sat on the other side of the hall with two huge screens set up with live stream so we could see the dais. There was a table — just like every other table — with 10 seats instead of 30. And our boys sat there with all the other boys. And they got the same food. And they sat through the same speeches. They clapped along with everyone else when boys from each of the branches got up to make a siyum.
And they loved it.
They loved it because they were included. They loved it because in their eyes they were just like everyone else. I had been thinking how I would feel being at a siyum when my class was the only one that had not learned the masechta. I failed to understand that they didn't care about that. They saw three or four boys get up — everyone else sat and clapped. Like they did. They wanted to be like everyone else. And they were. 
I sat next to the coordinator of the special-ed classes on the women's side. We couldn't see our boys and were wondering how they were managing with all those speeches. At one point, she called the rebbi to see how they were doing. "They're on cloud nine," he reported.
But the best was yet to come.
A few days earlier, the rebbi asked me if I thought that my son would be able to speak. Take a deep breath, Chaya, I told myself. This is going to take some doing. First, an idea. Luckily my husband, almost never without his pocket Chumash, had one immediately. Writing it up, I had to find a balance between standard devar Torah language and words that my son could pronounce and understand. We showed it to our 17-year-old son to make sure it was "Israeli-yeshivish" enough. After getting the stamp of approval, my husband painstakingly added vowels to the more difficult words.
The next step was to show Binyomin Dovid how to deliver a devar Torah. Having been at quite a few family simchahs and being a natural mimic, he has the general idea, but I wanted to show him where to pause and which words to emphasize. Then he sat down and read it through. He practiced a few times. Again, I showed him how to deliver it. One more practice session and we left it. Whatever would be, would be.
All this for a five-minute devar Torah consisting of questions and resolutions on that week's parshah, followed by thank-yous to the principal, the special-ed coordinator, the rebbi, and the specialty teachers and therapists.
I was so caught up in the practical aspects of preparing and teaching him a devar Torah, it only struck me later that it was not at all a given that they ask a representative from his class to speak. After all, we are a nation of custom, and we live in a city where things are done the way they are done, because that is how they are done — and to the best of my knowledge this has certainly never been done before in any cheder in Jerusalem.
To give some background, the main branch of Talmud Torah HaMesorah has a program of classes for boys with Down syndrome. Academics are mostly separate, but there is some academic and social integration. The older classes have reverse integration, where boys from the seventh and eighth grades learn b'chavrusa with the boys with Down syndrome in their classroom.
Binyomin Dovid has been in this school for the past three years, and it hasn't always been smooth sailing. But we learned together — the school administration and I — to understand each other, sort of. I swallowed a lot of stuff I didn't like, but also saw how much my son gained from being in an environment so similar to that of his brothers.
So here I am, nervous that he would get food on his suit before he'd be called up to speak, wondering how this was going to play out. When the MC introduced Binyomin Dovid, the entire eighth grade class from his branch started cheering. Binyomin Dovid starting speaking. It may have been the first time in the whole evening that the room was quiet.
He paused to turn the page and the applause started — the principal held up his hand to quiet the crowd. Silence. Binyomin Dovid finished the devar Torah and started with the thank-yous — as he mentioned the principal, he squeezed his hand. The principal was blinking back tears. He wasn't the only one. Binyomin Dovid finished and the hall exploded in applause — a standing ovation from the entire hall packed with teachers, students, parents, and grandparents.
Both my husband and I were inundated with brachos for the rest of the evening.
As I received handshake after handshake, brachah after brachah, I started to wonder. One day I was lying in the hospital watching the midwife blink back tears as the doctor informed me that my son had Down syndrome. In what seemed like both a moment and several lifetimes later, I am watching a hall full of people blink back tears as that son delivers a devar Torah in front of several hundred people. How did it happen?
Yes, we had an inordinate amount of siyata d'Shmaya over the years. And yes, we were the recipients of countless acts of chesed and benefited tremendously from an endless stream of professionals going way beyond the call of duty. Yes, we worked hard for years to get him to a place where this was even possible. And yes, we worked hard preparing him to give this devar Torah. But there was something else here. I had been so wrapped up in the negativity of assuming the boys would feel out of it, so wrapped up in the technical aspects of preparing him at very short notice, that I missed something very significant.
The principal of three large schools in Jerusalem was willing to take the chance of having a boy with cognitive impairment and a speech impediment stand up at his respectable affair and speak in front of hundreds of people as a representative of his school. His willingness was groundbreaking.
In the last decade or so there has been a major shift in the chareidi world's attitude about kids with special needs. Whereas before it was "they are sooo special, holy souls! Let's do chesed for them (emphasis on them)," which is nice and well-meaning and often helpful, but basically missing the mark, now we are seeing more of "yes, they are part of our world, let's move over and make room because we all have a place here."
The willingness of the principal and the reaction of the crowd was empowering in a way that little else has been. The respect that was shown that evening, the warmth, and the acceptance was palpable. There is still much work to be done, but way beyond our personal nachas, that siyum was a powerful landmark.
So, we made it — not me and my son — but all of the kids with special needs who just want to be part of what everyone else in their world is doing. All of the kids who want to be accepted for who they are in the greatest sense. All of the kids who want, not to be apart, but a part.
(Originally featured in Family First, Issue 546)
Oops! We could not locate your form.
>