| Can This Business Be Saved? |
Taking the Lead: Part 4 of 4   
| January 18, 2022
"Employees perform at the lowest standard you set. When you raise the bar, most will rise to the challenge"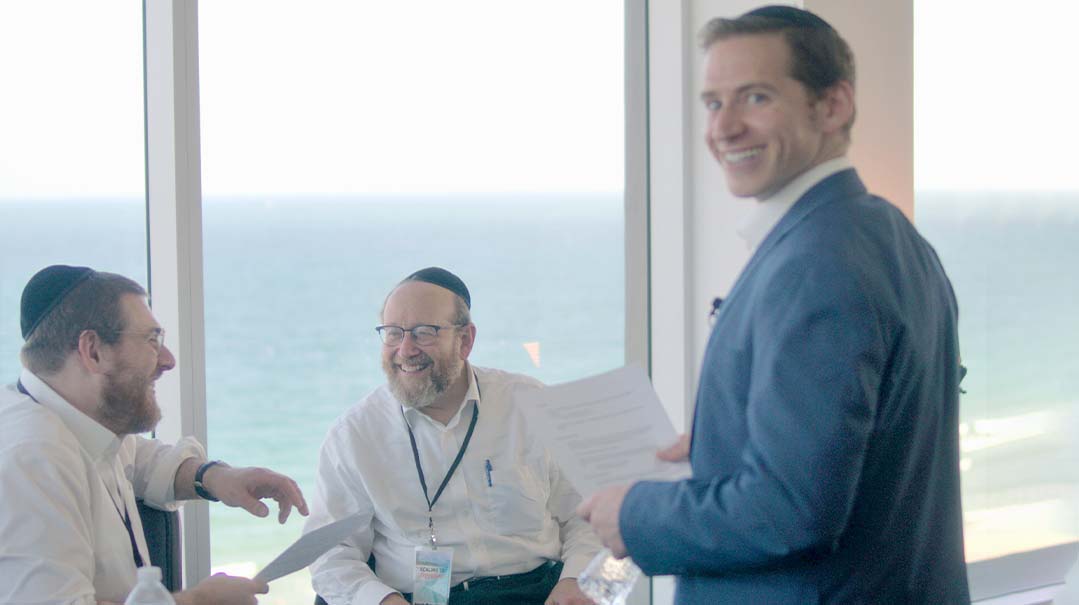 Prepared for print by Ilana Keilson
Recap: Michael delineates his partner and manager's responsibilities and renegotiates terms with his investor.
It's been four months since we first met, and Foodies, Michael's kitchenware business, is finally in a good place. The investment will be paid off in 14 months, and Michael's partner, Josh, and manager, Samantha, are on the same page as he is. Now that the upper management is finally in sync, it's time to ensure all employees are focused and productive.
"Michael, now you're going to sit with Josh and Samantha to map out every employee's obligations," I tell him.
He nods, taking notes as we speak.
"When you meet, you need to set up a system to ensure each and every staff member's accountability," I say.
I advise him that the three of them should start with a written agreement for every employee — the warehouse manager and staff, bookkeeper, graphic designer, website manager, everyone — defining roles and responsibilities.
It takes one week for Michael's ten employees to be clear on what they need to do and how to accomplish it, and it sets off a chain of improvements. Each change reveals another hole in the process, and over the next half year, we address them one by one. Trying to pull inventory together and examining refund requests reveals that the warehouse is hopelessly disorganized. Samantha gives the warehouse manager a chance to step up his game, but he doesn't, and they end up replacing him.
Once the warehouse is being managed properly, they see that customers have been ordering products that show up on the website but aren't actually in stock; the website isn't being updated properly. That of course, leads to complaints and refunds, because customers are told their shipments will arrive within two days, but products can't ship if they're not in stock. We set up a singular internal communication channel to improve workflow between employees, and with this mode of communication, it's easier for Samantha to update the person in charge of inventory information. She works with the web team to implement new tracking software, which updates in real time and alerts customers when there are only a few of an item left.
As for bookkeeping, Michael's wife has been handling it so far.
"That's got to change," I tell him. "Your wife isn't a bookkeeper. She helped out when you first started, but now your business is bigger. If you want Foodies to run professionally, you need it run by professionals."
Michael hires an outside bookkeeper (his wife doesn't mind). Once sales take off, I tell him, we'll hire someone in-house to manage it full time.
A few weeks after the overhaul is complete, everyone in Foodies, from the top down, is on board. With these improvements in place, I instruct Michael to institute a pay-for-performance bonus structure for all employees, with clearly delineated tasks, giving everyone a sense of ownership in the company's growth. I also show him how to change his pay structure so his managers and employees doing creative work — coming up with new designs, innovative solutions, or unique approaches and strategies — benefit when the company does well.
Michael is surprised at the rapid change in their morale and motivation, but I'm not.
"Employees perform at the lowest standard you set," I tell Michael. "When you raise the bar, most will rise to the challenge. Now that your employees have a sense of ownership in Foodies, they're emotionally invested in its success."
Of course, change doesn't happen overnight. Like any complex process, issues come up, and it takes time for the business to recover.
"But here's the thing," I tell Michael. "There's no failure unless you forfeit — you're either winning or learning, to paraphrase Nelson Mandela."
I explain to Michael that most businesses think that as long as you're not making money, you're failing. In reality, you fail when you give up. With this perspective, it means that even if things aren't going according to plan, as long as you learn to do something better, it's a win.
Michael now concentrates on refining his products, revamping packaging, lowering marketing costs, and opening new avenues for sales. He spends the next several months using technology to streamline operations further, adding artificial intelligence software to the website to increase sales, improve average order value, and better determine which ads are most effective. This enables Foodies to attract customers who place larger orders, wholesalers and big box stores like Target and TJ Maxx. In short, because he's no longer playing Whack-a-Mole and constantly putting out fires, Michael can focus on creating ways for Foodies to increase its profit margin.
"This is what I've always wanted to do," he reports happily. "I like managing the bigger picture, thinking of the next step, new ideas, and letting my staff implement them and handle the details."
A year after Michael and I first meet, Foodies is running like clockwork. Everyone is doing their job efficiently, and Michael's role is more hands-off, the way he likes it. The results speak for themselves: Foodies has multiplied its revenue tenfold, from $40,000 a month to $400,000 — something Michael hadn't considered in his wildest dreams.
But I'm not satisfied yet.
"Ok, Michael," I say. "Now comes the real test. Take your family on that two-week vacation you've always wanted to do — and leave your business phone and email off."
Michael balks.
"You can't be serious!" he says.
"I certainly am. Everything you did was to ensure that Foodies can run without your involvement in the nitty gritty. And you're there — it's running like a well-oiled machine."
It takes encouragement, but Michael messages me a day after Foodies reports a record month in sales.
I bought tickets to Africa!! he writes.
I enthusiastically raise my arms and shout "Yes!"— I'm that excited for him.
This was one of Michael's goals, to have a business that supports his lifestyle, not one that runs his life. One of his frustrations was that running Foodies put him under too much stress, and he didn't have what I call "time freedom," or the ability and flexibility to decide how to use his time.
"I promised myself that if Foodies turned around, we'd go on this safari trip," Michael tells me proudly. "It's something I've always wanted to do but never could."
Several weeks later, my phone dings. One tap reveals a selfie of Michael with his family on a jeep. The Serengeti, acacia trees and all, is visible in the background — and there's a herd of elephants behind his kids.
Don't worry, Isaac, we're going faster than the elephants! reads the caption.
In another picture, Michael is leaning over the table at a trendy outdoor café, smiling at his four-year-old. They look relaxed and connected, and best of all, Michael isn't worrying about his business; he knows it's operating smoothly while he's away.
I'm proud of Michael. He had a dream, he did the hard work, and it's deeply fulfilling to know I was able to help guide him through this journey.
That feeling gets even better when Michael messages me a few weeks later with a picture of a donation check, for triple the amount he originally set as his charity goal.
Thanks for helping me support my kids' school, he writes.
As if the Serengeti pictures weren't fulfilling enough!
The end
Isaac Bardos is a seasoned business coach who integrates personal development and practical business strategy in private coaching, group coaching, and high energy in-person events. Executives and business owners across North America, Europe, Asia, and Africa have sought Isaac to coach them and train their teams. He's been featured on live TV and in major magazines and publications worldwide.
(Originally featured in Mishpacha, Issue 895)
Oops! We could not locate your form.
>