| True Account |
Taking Stock | September 28, 2022
Here I was, all alone in the wilderness with a pen and paper as my sole witnesses — which was both terrifying and thrilling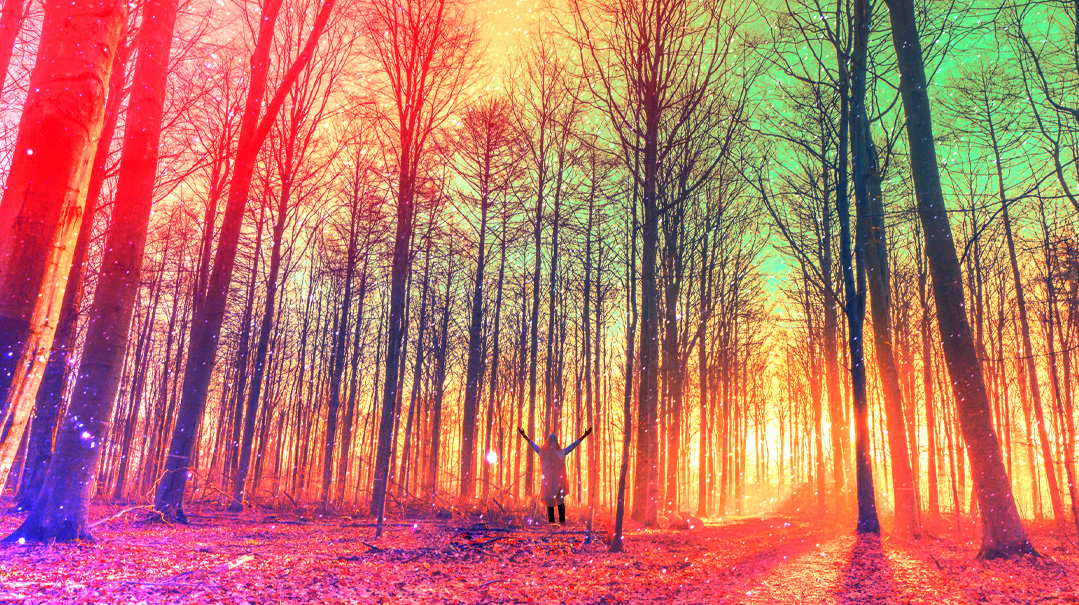 As told to Yosef Zoimen
"W
here did you get that tick?" the young doctor manning this small-town emergency room asked.
It was late Thursday night — 12:30 a.m., so actually early Friday morning — and I'd driven a while before finally finding an emergency room in the sleepy town of Clare, Michigan (population 3,127).
It had been a long day. I'd left the beach abutting Lake Superior in Michigan's Upper Peninsula at 3 p.m., intending to make the 12-hour drive home with minimal stops. This four-hour pit stop in the ER was not in the plans — is it ever? — but the bug feeding on my body was growing by the second, and I knew I couldn't wait any longer to have it removed.
I live in a small, friendly, out-of-town Jewish community. We'd moved there in 2019 after learning about its existence in a publication like this. Though my wife and I are both from bigger frum cities, in our hearts, we're out-of-towners. We wanted our kids to grow up in that environment, where every Yid is cherished and the mailman would know our kids' names.
I'm an outgoing, friendly guy. After two years in Israel at the start of our marriage, I began my career in the credit card processing industry, selling businesses on the amazing rewards our company could offer, like providing cutting edge payment technology that improves their costs while offering them top-of-the-line service with a personable hands-on approach.
I'll be honest: It was rough. Sales is all about being able to get past rejection — typically 95 out of 100 phone calls end with a "no" right away. Every rejection stung. But I stuck it out until a guy asked me to call him back at exactly 4:30 p.m. He'd sounded honest, but then he didn't pick up my call for seven straight weeks.
I got out, moving from sales to managing a kosher restaurant, making and selling kosher food on my own, and then joining a large frum-owned real estate company. Finally, I thought, I'd found my way away from the sales that had haunted me.
But then Covid hit. In the ensuing downturn, I was let go and left with almost no income. I say "almost," because I was still receiving "residuals" — commissions from the clients I had closed with back in my credit-card-processing sales days. Every time I cashed them, those checks dared me to go back into sales.
"Sign them up and keep cashing the checks," they said.
And the people around me agreed: "You're a natural. How can anyone say no to your smile?"
I wanted to say no, but I knew they were on to something. My personality doesn't lend itself to working for "the man." I've always been more of a free spirit, and working for myself sounded better than being stifled in a corporate office, as I had in my position in real estate.
But to plunge back in, I needed to get in touch with myself on a deeper level, to dig down into my kishkes and see if I had the discipline to call new people and handle the rejection that would surely come. Also, I'd need to push myself not to just stop when I had signed enough clients to pay the mortgage, but to make a career out of it.
Yes, I decided. It would be tough, but I would give it my all.
It was July, and I had the month to myself; my wife and kids were in sleepaway camp, where she'd taken a job. I decided to go back to the very same credit card processing company I'd started at four years before. I worked the phones, calling every contact I had, and pushing them for others. Somehow, rejection wasn't as scary as it had been a few years back. I passed July opening new accounts in a frenzy. I don't know if it was the summer air or the freedom of knowing this was a one-month deal, but it worked. I knocked it out of the park, becoming the agent of the month for closing the most sales in a company of hundreds of frum sales guys just like me (except they had all been there much longer).
Now I had a decision to make: move forward and make this real, or move back to the safe side.
I'm an introspective person (I always say I should have been born in the times of the Baal Shem Tov), and I knew I needed to dig deep to learn about myself before making a plan. I didn't go to Starbucks or stay late one night in shul. To do some serious hisbodedus, I decided to take a trip far, far away. I didn't get into the details with my wife, who was back home, but she understood that this was important, and she supported my going.
I drove and drove and then drove some more, landing in Houghton, Michigan, 12 hours north of home, where I'd make an action plan for the next year, a blueprint that would guide me through my life: ruchniyus goals, family goals, financial goals.
All the way, I was nervous, the butterflies in my stomach reminding me that as excited as I was to spend time with myself, my upcoming cheshbon hanefesh would not be easy. And more than that, I wondered if I'd even be able to accomplish the goals I planned to set.
How many people make kabbalos during Ne'ilah — and fail to keep them for even the week after Yom Kippur?
The trip was relaxing and slow paced; just me, my rental car, and the Borei Olam. I was in no rush, and I stopped at every scenic turnoff and lookout, doing what I needed to allow my creative juices to flow and guide the plan I'd soon craft for myself.
It was nightfall when I arrived in Houghton, having traversed dirt roads and deep puddles. (Toward the end of the drive, I'd seen signs for Isle Royale National Park, an island accessible by only seaplane or boat. No cars were allowed in that isolated spot near the Canadian border. What a great spot for next year's trip, I'd thought, already planning ahead.) For now, the hotel I drove up to was remote enough, and my Maariv at the personal kosel in my room likely the first of its kind for 300 miles in any direction.
The next morning, I was ready to work. I set out for Copper Harbor with just my hotel pen and some paper, my father's maxim "the pen doesn't lie" reverberating. "Writing something down forces the truth," my father taught me.
I found a path that pointed to the water and turned out to be a legitimate hike. The first 40 minutes were pleasant; I passed people, streams, and elevations, humming to myself in my journey to sea. Then the people stopped appearing, and it was just me, preparing for introspection experience. As I finally made it down to the beach overlooking Lake Superior, I met a park ranger who told me everyone had cleared out for the day.
Wow, I thought. Still relatively early, and everyone is gone. It's just me, the water, and my Father above.
I thought about the cheshbon hanefesh I'd made last year and smiled. It was less intense than what I was preparing now, but I had accomplished — or gotten pretty close — to most of what I'd intended to do. That realization gave me the confidence that this might actually work. I took out my pen and excitedly began to write all of my jumbled thoughts.
You know those minutes before the chazzan starts Kol Nidrei, and you're frantically taking on last-minute kabbalos in an effort to be zocheh badin? That was this. My words fell among so many categories, each one its own instrument in the symphony that had been playing in my head all the way here. I was pledging to do so much, committing to myself, to this new job, to be a better husband and father, and most importantly to grow as a Yid.
No one else in the world knew exactly where I was, which was simultaneously terrifying and exhilarating. I wasn't sent here by my rebbe or some therapist. Even my wife didn't know where I was, what I was doing. This was just me, raw and exposed, promising myself that I'd do better, be more.
To properly implement a new routine, I knew I needed to blow up my old. I wanted my plan to be all-inclusive, spanning my entire day. It wouldn't be easy. Growth is acquired through pain, and my new road map was a path to growth.
I have trouble getting to Shacharis on time. The 6:40 minyan (the latest in our town) was too much to pledge, but I committed to be on time to the later weekend minyanim. My plan was realistic; I wanted it to work. Daf yomi is something I'd proudly started this past cycle and was still keeping up.
Now, though, I committed to go deeper, to be active, learn inside, listen to the shiur with a Gemara in hand. Working in sales meant my schedule was more flexible, and I pledged a three-minute seder after davening to learn Rav Schwab on Tefillah; a small seder after dropping the kids at school; and a longer night seder with a chavrusa.
At home, I committed to a weekly date night with my wife and to work on deepening our relationship and our appreciation for each other. I undertook to spend "private time" with each of my children each week. We'd play a board game, engage in a DMC on the porch, or just take a walk and schmooze. Finally, I resolved to lessen my phone time while I was at home.
My new work goals, which were the impetus for this entire excursion, would likely be the hardest to accomplish. I committed to ten new touches every day — i.e., ten new leads, ten potential clients, ten potential rejections. Rejections are tough, but I pledged to try to slay those dragons and inspire others by building a frum sales community that would be mechazek one another.
I also promised to make ten separate follow-up calls to people I'd reached out to in the past who didn't have time for me the first time or told me I could call back. And I committed to build actual relationships with my clients. I wouldn't just sell them; I'd get in touch with their lives, learn the names of their dogs, and understand why they hate their jobs.
I also committed to knock on doors and go into businesses two afternoons each week. This may have been the scariest pledge; in-your-face rejection is a lot more traumatizing than having the phone slammed down on you.
Finally, I committed to a minimum four new accounts per month, every single month, even if it meant that at the end of that month, I'd be calling 90 companies a day to make it.
Not only that, I promised, but I'd provide customer service. Rather than passing clients to the 1-800-CustomerService agent in India, I'd own any issues and solve them myself. Credit card processing is not like selling life insurance, where you touch a client once a decade to update their policy. Here, small business owners are using your equipment or software every day, and problems crop up constantly. If their Internet is down, if QuickBooks is on the fritz, if someone denies a charge, they call. Being a text away to address their frustration is wonderful for them, but stretches me thin and makes it harder to sign new acquisitions. Still, I'd do it.
Whew! This is hard, I thought, shaking out my hand and flexing it. Time for a small break.
I whipped out my phone and sent a quick picture of the beach to my wife. Her response came fast: Where are you?
She had no idea, she knew only that I'd gone to get lost, and her faith and support spurred me forward.
I thought about our tzedakah giving, and I decided that I'd separate maaser immediately upon receiving my commission check. We'd deposit the money in a separate account; it would be something we'd take more seriously. I'd also make my Shabbos table beginner-ready, and I would step up my kiruv game.
The list went on and on as I wrote and revised and committed. It may have been two hours or five. Finally, my magnum opus was complete, my commitments for the year set. I stood up feeling euphoric as a kid getting drafted to his first league team, ready to roll up my sleeves and get started. Homeward bound!
I opted to drive along the bay, adding an hour to my trip, rather than taking the faster but less visually appealing highway. It was Thursday, I didn't have all day, but I was in a gorgeous location, how could I not take the scenic route?
That's what this trip is about, I reminded myself. Slowing down, taking it all in, and doing things deliberately.
I set out on my 12-hour journey, stopping to take in the views. But the clock was ticking, and I wanted to get home for davening, to start the first day of the rest of my life on the right foot.
Hashem had other plans. My Minchah in the weeds off the side of the road was heilig, but a nasty tick joined me for the next part of my journey. As the pain grew more intense, I realized I'd need to take care of this, stat. And that's how I found myself in a tiny Michigan town, where a doctor and his team of nurses worked for several painful hours to separate me and my new friend.
But I was okay. I had my marching orders, my GPS for the next year, and I was at peace. I would be my own mashgiach, reviewing my list of commitments and goals every month, keeping myself on task and in line. It would be an amazing year of growth as I'd accomplish what I set out to do.
I made one last commitment as I left the hospital: I'd be back next year ready to climb even higher. —
Yosef Zoimen is an attorney in private practice in Cincinnati, Ohio, and continues to be involved in the explosive growth of the city's Torah community.
(Originally featured in Mishpacha, Issue 930)
Oops! We could not locate your form.
>