| Cooks Compete |
Steak Out
| July 5, 2022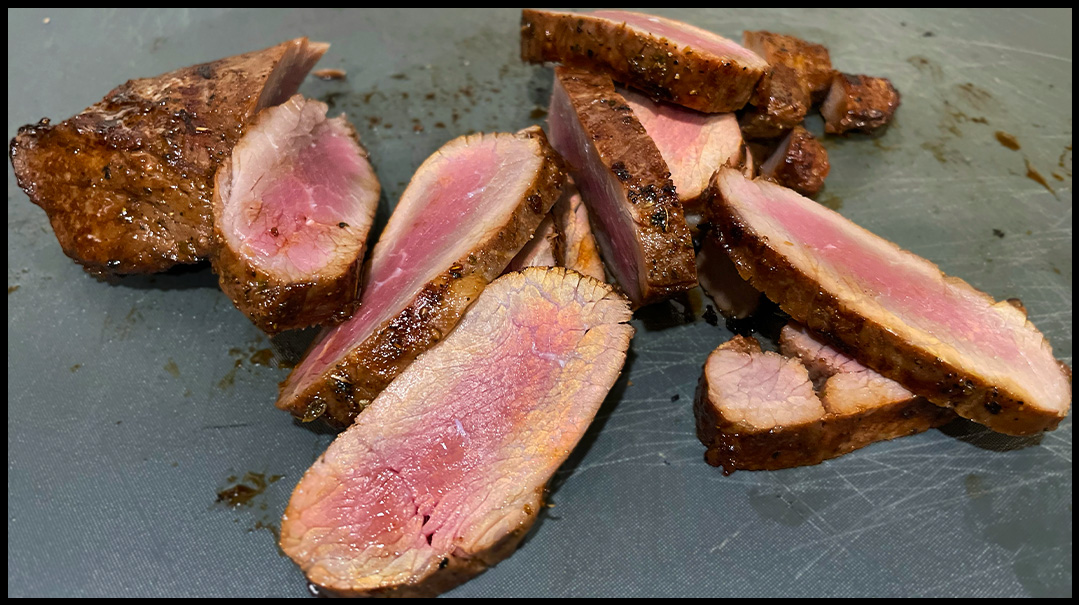 The steaks were high on this one, but we tested ten steak marinades and present you with the three winning recipes to enjoy all summer long.
Balsamic Marinade
Submitted by Rivka Bracha Glazer, Waterbury, CT
I got this recipe from Kosher.com a while ago and have been making it ever since. The meat is delicious, flavorful, and a no-fail every time!
4 Tbsp olive oil
4 Tbsp Gefen Soy Sauce
4 Tbsp Tuscanini Balsamic Vinegar
2 Tbsp Dijon mustard
6 Tbsp brown sugar
4 cloves garlic, crushed
Combine all marinade ingredients in a large ziplock bag. Rinse meat and pat dry. Place in the bag with marinade. Seal bag and toss to completely coat. Allow to marinate for at least 30 minutes, or up to overnight.
Sweet and Sour Steak Marinade
Submitted by Shira Roth, Brooklyn, NY
The sweetness and heat of this marinade work together beautifully, so you get the perfect flavor you desire from your steak! It works wonderfully in a salad and my husband loves it!
2 lemons, for squeezing
½ cup teriyaki sauce
¼ cup sweet chili sauce
1 cube frozen garlic
1 Tbsp corn starch
1 Tbsp water
Squeeze lemon juice over the meat.
Mix marinade ingredients well and marinate steaks in the mixture for 1 hour. Broil meat for 5 minutes on each side, or grill on your grill.
Beer-Infused Marinade
Submitted by Leetal Newman, Lakewood, NJ
This recipe is so versatile. The beer helps make the meat tender while the teriyaki sauce and brown sugar make for a delicious crust. Great as a stand-alone dish or to throw into a salad.
2 16-oz (450-g) beef sirloin steaks
½ cup dark beer
4 Tbsp teriyaki sauce
4 Tbsp brown sugar
1 tsp seasoned salt
1 tsp black pepper
1 tsp garlic powder
Mix marinade ingredients. Using a fork, stab meat all around. Marinate steaks overnight.
Special thanks to Chanie Wallach and friends for hosting this tasting party.
(Originally featured in Family Table, Issue 800)
Oops! We could not locate your form.
>