| Staying the Course |
Staying the Course: Chapter 6
| June 3, 2020
Against the odds, I had done it. Not only done it, but done it well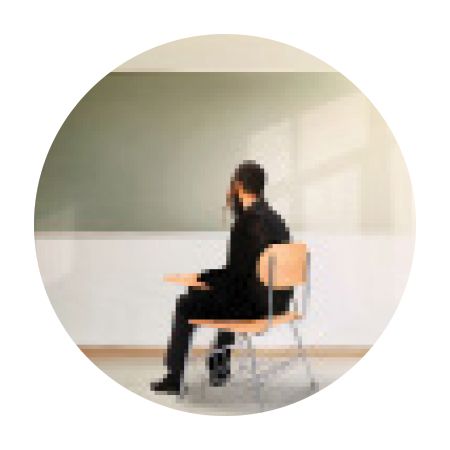 Iwas walking in Boro Park, under the tracks, when my phone rang. I didn't recognize the number on the screen. "Hello?"
"Hello, is this Yossi Myers?"
A train began thundering overhead.
"Yes, who is this?"
"Thzzzx is xgarbledig thssxxm."
"Sorry?"
"Zxxcchhkk."
I still didn't know who I was talking to, but I said, "Okay, hi, this is Yossi."
"I heard fjvv bbkl ss, I wanted to mtbbdr—" finally, the train passed —"because I like to meet the awardees personally."
I stopped walking. "WHO is this?"
It was the chairman of the political science department. I had been vaguely aware that the poli-sci program offers an award every year, the Vivian and Dr. David Luchin's Political Science Award. I had been selected from all the poli-sci students in the program, including the women's program and the Manhattan, Queens, and Brooklyn campuses. The chairman was calling to wish me mazel tov and tell me that the dean wanted to meet with me.
Standing stock-still under the tracks with my phone pressed to my ear, two and half years after I first set foot in a college classroom, my first thought was, Yeah!!!
So I was looking forward to graduation.
I arrived at the hall with my wife, my parents, and my wife's parents. The graduates wore black caps and gowns, with tassels hanging over the right side. It looked funny, but I had been prepared for that. What I wasn't expecting was for the faculty to be wearing gowns too, but they were — in different colors based on the level of their degree and with different emblems representing their institutions. Honestly, it looked like Purim.
I had another surprise. When I looked at the program, I saw my name listed as the Political Science Awardee, as I had known it would be. But I was listed for another award, too — the "Outstanding Scholar Award." I was one of 11 students to receive this award. As we mingled with the other attendees, one of my professors came forward. He was dressed in flowing purple velour and carried a cane. "You can be proud of Yossi," he told my parents.
As I sat through the American and Israeli national anthems and the valedictorians' speeches, I felt great. Against the odds, I had done it. Not only done it, but done it well. At times it had been easy and I'd even enjoyed it — classes like Israeli politics and international relations, and meeting people from all walks of life and with different experiences behind them. At other times I had almost drowned in the avalanche of reading and homework, like those convoluted Supreme Court opinions or when I had to rewrite a term paper on terrorism multiple times. But in general, it had been rewarding, fulfilling, and intellectually challenging.
As I walked up the aisle to receive my award, I passed the director of Machon L'Parnassa, where this whole thing had started. I guess she remembered me, because she caught my eye and whispered, "You made us proud."
I'm in law school now. There are many frum students here, and lots of them were accepted with just a bachelor's in Talmudic Law, based on their credits from their years in Beth Medrash Govoha (Lakewood) or other yeshivos. But I'm satisfied with the route I took. It made the learning curve in law school easier, and filled in a lot of background I didn't have, so that when I got to law school, I was able to hit the ground running.
When the graduation ceremony was over, we flipped our tassels to the left side of our caps. Maybe it felt a little silly, like a lot of my experiences with the course material. But it also felt symbolic. I had managed to overcome my abysmal math skills, nonexistent tech skills, zero exposure to language arts and culture, and general lack of background. I had met new people, learned new skills and new material, jumped through all the hoops, and proved to myself that if I worked hard, I could come out successful on the other side. I want everyone to know that it can be done, if you work hard and stay the course.
The End
(Originally featured in Mishpacha, Issue 813)
Oops! We could not locate your form.
>