| For the Record |
Son of the Ramaz
| November 2, 2021
Ramaz expressed gratitude to Hashem for giving him his son for an additional 32 years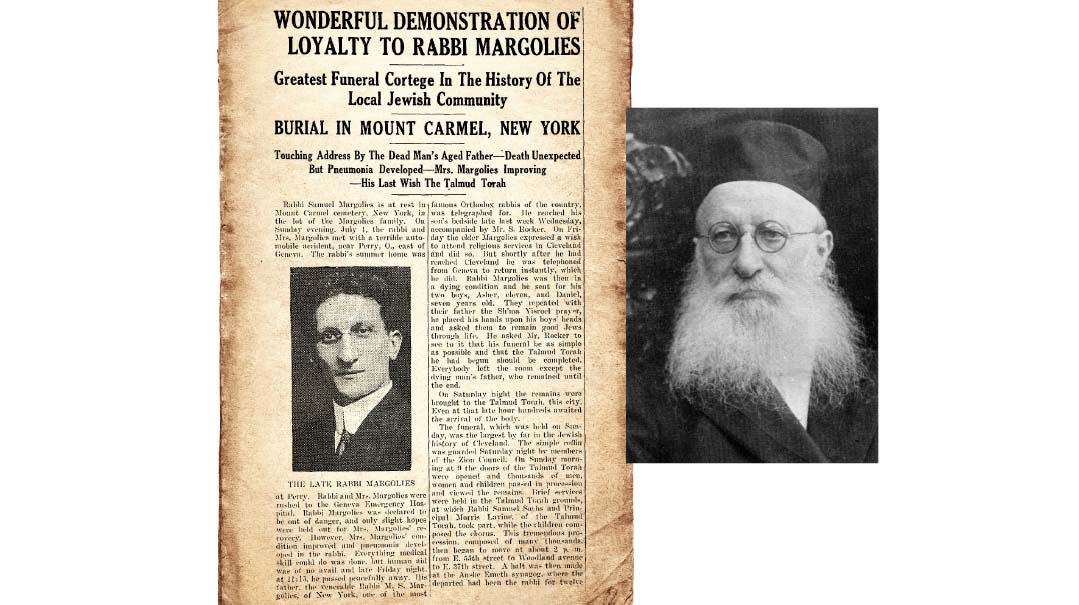 Title: Son of the Ramaz
Location: Cleveland, Ohio
Document: The Jewish Independent
Time: 1917
As over a thousand people jammed into the Anshe Emeth shul in Cleveland's Glenville neighborhood, a crowd of 25,000 mourners outside clamored to gain entry to the funeral of their beloved rabbi of 12 years, Rabbi Samuel (Shlomo Zalman) Margolies. He had perished following injuries sustained in a car accident. Promptly at 2 p.m., the coffin arrived and the deceased's father, the renowned Rabbi Moshe Zevulun Margolies (the Ramaz), rose to speak.
He spoke with emotion as a river of tears streamed down his angelic face. The younger Rabbi Margolies was born in Russia 39 years prior and had immigrated to America with his family in 1889 at the age of 11, when his father was the rabbi of Boston's Baldwin Place Synagogue. Unable to adjust to life in America, the Ramaz returned to Russia. Arriving at his previous position in Sloboda, he sensed a hostility in the atmosphere, as the barb "American rabbi" had now attached itself to him. Left without a pulpit, he reluctantly returned to the US to embark upon a storied rabbinic career spanning nearly half a century in Boston and New York.
His two young grandsons at his side, Ramaz continued his eulogy. As a boy of seven, Samuel Margolies had fallen ill with pneumonia. The doctors gave up, but his parents pleaded with the One Above for salvation and the boy recovered. Ramaz then expressed gratitude to Hashem for giving him his son for an additional 32 years, and reminded those present that although his son was taken away in the prime of life, he had accomplished as much as an average man of 70.
When Samuel Margolies was just 12 years old, he was sent from a Boston public school to Telz, where his great-grandfather, Rav Avraham Margolies, had served as av beis din. After several years as a student of Rav Eliezer Gordon, he returned to the United States and attended Harvard, while serving as an understudy to his father in the Boston rabbinate.
Following his 1904 marriage to Rena Franks, he was appointed rabbi of Cleveland's Anshe Emeth, where he was celebrated as one of America's first English-speaking, European-yeshivah-educated rabbis. He aimed to please both generations, delivering an English translation of his Yiddish Shabbos drashah each Friday night. His Talmud classes and Zionist rallies were equally well attended. He also was an editor of the local newspaper Yiddishe Velt, which he utilized to spread Torah ideals.
Ramaz ended his hesped by extolling what he believed to be his son's crowning achievement, the transformation of the community's Hebrew School of 100 children into a robust Talmud Torah with an enrollment of more than 1,000. He told the crowd that his son's last wish was that the Talmud Torah building campaign be completed. Pledges were solicited and more than $10,000 was raised, a fitting tribute to their beloved rav.
Way Past the Turnpike
While Samuel Margolies was among the first American Jews to study in a Lithuanian yeshivah, the first was likely Isaac Anixter, son of Rabbi Yehuda Eliezer Anixter of Chicago, who at 22 years old studied in Volozhin in 1879.
The Telz Are Ringing
In June 1916 Ramaz visited Cleveland as part of an effort by the Agudas Harabbonim to establish a yeshivah there. Though unsuccessful, 14 years later Rabbi Yehuda Levenberg moved his yeshivah from New Haven to Cleveland, where it remained until its closing in 1937. In 1941 Rabbi Margolies's alma mater Telz Yeshivah opened there.
Ain't Gonna Work on Sunday
Early in his rabbinic career, Rabbi Samuel Margolies confronted Dr. Moses Greis, an influential Reform rabbi in Cleveland. Greis was among those who advocated moving Shabbos to Sunday, and he eliminated Hebrew from his services. While other rabbis were wary of taking on the powerful, well-funded Greis, Rabbi Margolies faced his formidable opponent and made national headlines for his attacks on Reform Judaism, greatly encouraging others to take a stand in their respective communities.
(Originally featured in Mishpacha, Issue 884)
Oops! We could not locate your form.
>