| The Beat |
Sky Scanner  
| February 7, 2023
It

was an eventful week for the US stratosphere, which saw an unwelcome intruder, and also bade farewell to an iconic aircraft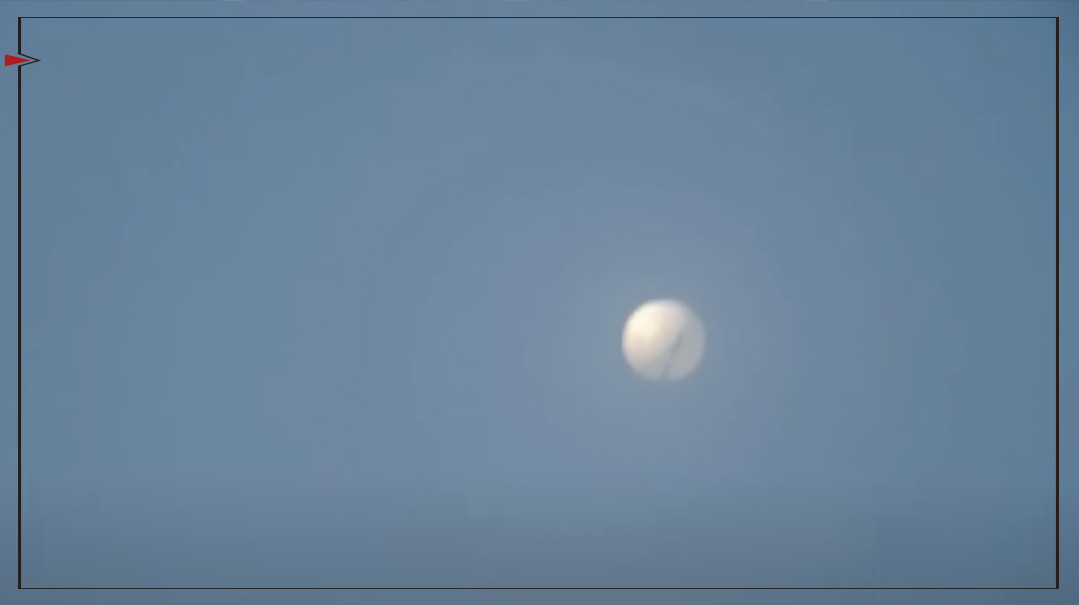 High Spy
China's surveillance tactics, recently covered in this magazine, seem to have gone low-tech. While sci-fi-grade, AI-equipped cameras spy on the Chinese populace, Beijing sent a hot-air balloon over the Pacific, and it was spotted in US airspace last week.
The US government claims it was a spy balloon whose presence clearly violates its sovereignty, while Beijing maintains its purpose was civilian and it was sent for scientific and meteorological purposes (I have a bridge to sell you). Some US airspace was temporarily closed before it was shot down on Shabbos.
The incident has further strained already-fraught US-Chinese relations; Secretary of State Antony Blinken postponed a planned trip to Beijing in response. Though it's unclear exactly what information China hoped to obtain through the balloon, Americans have been unnerved by the ease with which an alien craft was able to enter US airspace. With an increasingly belligerent Beijing seeking to portray the US as a declining power, perhaps this was its main objective?
Bye to the Boeing 747
This week was a momentous one for the aviation industry, which said goodbye to the Boeing 747. The 1,574th and final one rolled off the assembly line on Tuesday. Even if you're young enough never to have flown on a 747, chances are any long-haul flight you've flown on was aboard an aircraft following the first jumbo jet's lead.
Dubbed "the Queen of the Skies" for its revolutionary capacity, the pioneering model made long-haul air travel affordable when airlines discovered they could cram 500 seats on one plane. Since its maiden 1970 flight for Pan Am Airways, the 747 has flown a whopping 5.9 billion people, a figure equivalent to 78 percent of the current global population. However, as the environment has climbed up the agenda, the gas-guzzling behemoth, which burns a gallon of fuel every second, has been phased out in favor of more fuel-efficient jets.
Pick of the Week
Israeli start-up MetoMotion may have the answer to the global shortage of produce pickers. They've developed a driverless, AI-powered robot for picking tomatoes, which they claim slashes harvesting costs by 90 percent and production costs by 50 percent.
Two such robots are already in operation in the Netherlands, and the product will be unveiled at an upcoming conference in Israel. MetoMotion hopes to expand the robots' use for a wide range of produce. They're targeting Western Europe and North America, likely to be fruitful markets for them, as developed countries seek to keep food prices down without resorting to cheap immigrant labor.
Recent launches of AI programs have sparked some nervousness that faceless bots will eventually replace creative industries, but innovations like MetoMotion's are reminders that the next generation of technology will have advantages, too.
Out of Favor
On opposite sides of the Atlantic, lawmakers who aren't toeing their parties' lines are being exiled politically — one by the center, the other by the left.
Centrists in charge
Corbynite MP Kim Johnson discovered that the cult of St. Jeremy was truly over this week when she was forced to apologize for anti-Israel comments made in the House of Commons chamber.
Whereas under Labour's previous leadership, she would have been hailed as a voice for Palestinian justice for her branding of Netanyahu's government as "fascist" and "apartheid," the party under Keir Starmer takes a harder line against anti-Semitism. The apology she was forced to make, though clearly written for her by party whips, made it clear that, unlike his predecessor, Keir Starmer is determined to at least stamp out anti-Semitism from his parliamentary party, in whatever form it takes.
As the rump of Corbynistas among Labour MPs remains vocally unrepentant, pundits say Starmer relishes the opportunity to fight with the left and show himself as a centrist. With Labour 20-plus points ahead in the polls, Starmer has the political authority to take on his party's extremists and doesn't hesitate to use it.
Radicals on the rise
It's always awkward when a politician doesn't know when it's time to go, and California Democrats are really squirming. Diane Feinstein, the longest-serving US senator, shows no sign of going anywhere, even as the next generation of Democrats jostle to replace her, donors are going elsewhere, and Nancy Pelosi has taken the liberty of endorsing a successor (Rep. Adam Schiff).
The 89-year-old's relative centrism has fallen out of favor with leftward-shifting Californian voters, and already in 2018, the California Democratic Committee didn't endorse her reelection bid, though she won anyway. Reports of continued cognitive decline have further spurred concerns about her determination to serve out her term until 2024.
Donors are seeking younger blood; it was reported that she raised just $600 in the last fundraising period. Her approval rating among Californians recently hit an all-time low of 30 percent. Three Californian lawmakers have all but declared their intention to run when she retires, and Pelosi favorite Schiff has magnanimously declared his intention to support Feinstein should she seek reelection, a sure sign he doesn't think she will.
Age and centrism are out of fashion in the progressive bastion of California, as Feinstein is finding out the hard way.
Haley's Presidential Bid
Former South Carolina governor and UN ambassador Nikki Haley is expected to announce her 2024 presidential bid in the coming days. Despite saying in 2021 she wouldn't run against a Trump candidacy, she told a recent Fox interview that the race is "bigger than one man," hinting at Trump's age as a factor.
As UN ambassador, Haley developed a reputation as a staunch pro-Israel voice in the most hostile of international forums. Under her ambassadorship, the US left UNESCO and the UN Human Rights Council, and she regularly called out the organization's double standards.
The South Carolina primary will be a challenge for the state's former governor, who is likely to face home-state junior senator Tim Scott and Trump himself, endorsed by South Carolina's senior Senator Lindsey Graham.
Haley has experience facing down her ex-boss: She endorsed the candidate facing a Trump-backed challenger in a South Carolina primary last year, and her candidate won handily. Could she triumph over Trump himself in the ultimate contest for the nomination?
(Originally featured in Mishpacha, Issue 948)
Oops! We could not locate your form.
>