| True Account |
Shadow Men | August 5, 2020
Later — too late — we learned that ADHD comes with a higher risk of addictive behaviors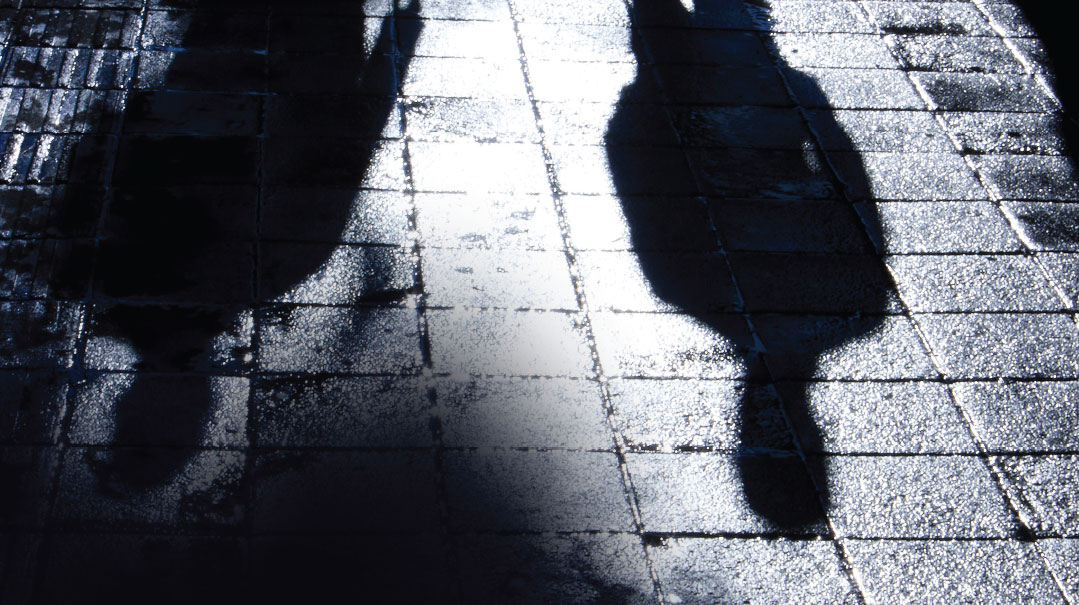 As told to S.T. Agam
It's 11.45 a.m. I feel queasy. We've been on the road since 9:30 a.m. and I haven't had breakfast.
The first time we took this trip because of Ari, he was just four weeks old. Our ninth child, he was the latest addition to a large, vibrant brood. I'd worried how he'd handle the Israeli summer heat, but his head had quickly dropped to his neck and he had slipped into baby dreamland.
With Ari snuggled in the crook of his elbow, my husband presented him to our Rebbe, who took one look at him and said: "You've brought a great neshamah down to the world…!"
Naftoli and I exchanged glances. I didn't know what the Rebbe saw, but a rush of contentment washed over me.
Now, 15 years later, my husband steps on the gas and speeds past the same road signs we've passed so many times since. I try to recapture that moment of bliss — the confidence I had in Ari's future, the love for a son who was still a blank slate. I blink back tears instead.
Ari had issues as a toddler, but nothing we couldn't handle. Slow to crawl, he made his way across our parquet only three days before he managed to stand. He drooled a lot. It was very unsightly, and I was constantly changing his dripping tees. But the doctor just recommended facial exercises and assured us it would pass.
It did, but Ari never checked into that delicious toddler stage that made me cuddle and tickle all my other children.
When Ari was five, we moved far up north. It was a spur-of-the-moment-decision; Naftoli had been offered a one-in-a-million position, perfect for someone with my husband's skill set. It was a move we never regretted, but looking back, that's when Ari began acting out. Still, we didn't hear about ADD until he was eight, and it was only when hyperactivity set in, several years later, that we were given a clear diagnosis of ADHD.
I hate saying this, but growing up, if Ari ever looked cute, I was the only one to notice. Short, thin, and pasty-faced, he was the classic comic-book nerd. In an unflinchingly cruel boys' world, he was a magnet for nasty jokes.
His early adolescence spools through my mind in a blur of distant cameos, and as I press my temple against the window, I see how he was sucked into the messy swamp he flounders in today. I feel a crick in my neck and search for a better position. Hindsight provides scant comfort.
It was days before Ari's bar mitzvah when the first tornado hit us, full force.
"The menahel wants to talk to you," said the secretary over the phone. "Can you be here tomorrow at ten?"
"Sure," I answered, not overly concerned. If there'd been any niggling signs of trouble, I must have swatted them away.
Ari's menahel didn't waffle. "Your son approached me on Sunday," he said.
"He sat right there, where you're sitting now," he said, pointing to my husband's chair and pausing for effect, "…and then he burst into tears."
My husband moved his weight on the rickety chair and folded his arms. "Well, actually, we were going to call about his report card, he did feel some of the grades were unfair…"
Rabbi Lowenstein waved dismissively.
"This has nothing to do with his report card." Balancing his chin on the tips of his fingers, he locked my husband in an unflinching gaze.
"Do you know that your son has been stealing?"
Our silence could have been rehearsed.
Naftoli cleared his throat. "Excuse me?"
Rabbi Lowenstein's gaze held steady. "Shoplifting. Pilfering. Pickpocketing. It all came out. He's had sticky fingers for years."
I blanched. "Years…?!"
Rabbi Lowenstein turned to me, not unkindly. "He's been having nightmares. Don't you hear him?"
My husband pulls into a gas station and offers to get me a soda. "No, thanks. I'll wait here."
I recline the seat and shade my eyes from the midday sun. How did he keep it from us for so long? I don't believe I'll ever trust that I know a child of mine again. And every day now brings new revelations. Ari has become such a master of guile, not even the mafia could read him. Ironically, that may have saved his life. But I'm getting ahead of myself.
We learn that a friend taught Ari how to swipe candies off the shelves of a local makolet at the tender age of eight. They've since lost touch, but the tricks he taught Ari have stuck.
Suddenly, so many question marks made sense. The time he returned from his friend Chaim with a fistful of Playmobil soldiers. "Boys trade toys," I reckoned. But when Chaim's father turned up the next afternoon, his son in tow, and rummaged through our toybox, my suspicions were raised. I rationalized that the kid must have regretted the swap but was scared to tell his father the truth.
And then there was the time Ari showed me an expensive wooden train set. "I won this at Avos U'Banim," he enthused. I raised my eyebrows. How did they find donors for such extravagant prizes? Now I now.
Later — too late — we learned that ADHD comes with a higher risk of addictive behaviors, and that stealing can be addictive too. For Ari, the thrill must have been irresistible. He got a heady high from merely managing to deceive, and he quickly discovered that dispensing candies — not to mention gadgets and toys — crowned him Big Man in Town, in a small boys' world.
For us, though, learning that this had been going on for years was a painful punch in the gut. Fortunately, the menahel had seen and heard plenty, and was far less shell-shocked than we were. Under his guidance, we tried to help Ari put things right. We assumed that if Ari had confessed of his own volition, he was ready to start over, and we could let bygones be bygones. Together, we worked on positive reinforcements. We helped Ari compile a list of his strengths and talents and drummed it into him that there were more ways to make friends than giving gifts. I even took him to a round of medical consultations to help him grow taller. But Ari continued to lag behind, much shorter than his classmates, and highlighting the issue made it loom larger than ever.
The driver's door creaks open. Naftoli is back with chilled water and a bag of chips. He dangles them at me. I shake my head. He ignites the engine and plays with the Waze on our dashboard.
"Only 40 minutes now…"
I can't do chit-chat. He tosses the stuff onto the back seat. "No worries. Sleep until we get there."
I try, but the comforting blackness evades me.
Plodding along, we missed a crucial part of the puzzle, naively thinking our home-grown parenting tactics would be enough to help Ari. But we soon learned how painfully inadequate they were.
Ari hadn't been clicking well with his seventh-grade rebbi, so when he turned 13, we moved him to a mechinah, a one-year preparatory program before high school. He fared better there, for a while. So much better that we assumed he'd continue on to their high school. But they rejected him on the grounds that he was too energetic — a polite way of saying they couldn't deal with Ari's hyperactivity. Instead, they recommended another yeshivah nearby, geared toward weaker students.
Bad move.
Ari had a bright, razor-sharp mind, unsullied by his jumpiness. Placing him in the company of slow, struggling learners only amplified his frustration. It was there that he began smoking. And once again, he hid it so well, we only found out almost a year down the line, when the habit was too entrenched to kick.
By then, we realized he had serious issues. I was clinging to our relationship by the tips of my hard-bitten nails, so while I detest cigarettes and know they're a health hazard, I decided to stick to the battles that mattered most and said zilch.
I was unaware, though, of the scale of his smoking. Ari was working his way easily through a pack a day and had reverted to stealing again, to finance the cost. He would buy whole cartons and trade them. Ari clearly craved nicotine. But who sells cigarettes to someone so clearly underage as our clueless-looking son? Well, apparently there are no lack of kindly souls willing to lend a sticky hand. A makolet owner, just streets away from our home, regularly gave him what he asked for.
One afternoon, Ari stormed into the kitchen and slammed the door shut. Tears were streaming down his face, and he seemed to be in shock. I lowered the flame under the soup I was stirring and gave him my full attention.
Between hiccups, tissues, and scrambled words, the story seeped out.
Ari and his classmate had been sent out of class for acting up. They were rambling near the building when the mashgiach found them and let them have it for playing truant. When Ari tried to defend himself, the mashgiach began kicking and punching, nearly choking him in anger.
The picture he painted sounded so extreme, we didn't know what to believe, but Ari's shock was real. And the angry red marks on his cheeks and neck told a story we could not ignore. Naftoli called the Ari's rebbi immediately, and when he refused to accept Ari's story, my husband insisted that they review the security cameras together. For Naftoli, seeing the assault, in grainy black on white, was far worse than hearing it from Ari. But now the truth was on our side, and Ari's rebbi apologized profusely.
Professionals advised us not to press charges, and while I found it a hard pill to swallow, we followed their advice and focused on finding a better environment for Ari.
The next yeshivah we found for Ari appeared Heaven-sent. It was geared specially toward teens-at-risk, with a dormitory and professionally trained staff. It boasted a gym outfitted with personal training equipment as well as a fully stocked game room. After conferring with our Rebbe and offering heartfelt tefillos, we sent Ari off to yet another fresh start.
He was there for three months — during which he was suspended three times.
Ironically, Ari learned well there. In fact, he was thriving for the first time in forever. He even won a prize for excellence. But this yeshivah had a zero-tolerance policy for the slightest infraction, and instead of calling to discuss things whenever Ari pushed limits, they sent him home without warning.
First, he was sent home for going AWOL without permission.
Then, he was suspended for smoking a can of tuna in his bedroom — an obvious safety hazard.
The third, and last time he was let go was after a friend had convinced Ari to let him try the pill he takes for his ADHD.
While part of me understands that the yeshivah shoulders a heavy responsibility towards their entire student body, another part of me grieves deeply over their unilateral decision. There is no doubt in my mind that these months were a critical turning point in Ari's decline, and I will always wonder whether a little more patience might not have motivated him to push uphill and build on his fleeting successes. Instead, his furloughs outside the yeshivah proved pivotal, sending him far beyond the pale of adolescent pranks.
Then again, I'm his mother. And I would never have imagined the dark forces that could lie waiting for thrill-seeking teenagers, just a stone's throw away from their shtender. So why should his rebbi have known better?
Ari did not take one stroll outside the yeshivah, but several.
It started when a classmate asked for his company. "You coming, Ari? There's this guy who needs our help…." We'll never know how they managed to reel Ari in so smoothly. But it only took one or two encounters for these shadow men — who are still faceless, and whose names we still don't know — to transform our 14-year old son into a drug mule. The recruiting bochur was already firmly in their net and had been trained to rope in others. When Ari objected, he was threatened. "We know your parents… your nephews and nieces…" If he rolled his eyes, they made him know they meant business. "Join us. You wouldn't want them to get hurt, would you?!" And to sweeten the deal, they offered him money. Lots of money.
But we didn't know anything about this yet.
After the third suspension, we were asked to find Ari another yeshivah. The new place we found was closer than the last and he came home every night. Slowly, his behavior started deteriorating. A silly swagger, offbeat music, attitude. Soon there was foul language and heavier smoking than ever before. What alarmed us most were the insane wads of cash Ari kept pulling out of his wallet, always with a slick explanation. But, despite our increasing concerns, we were totally in the dark until the night he went missing.
I was waiting up for Ari. Supper was waiting for him on the kitchen counter and I was glued to a riveting page-turner, so when Naftoli popped his head through the door to see how I was doing, I was startled to realize it was almost midnight. Even accounting for heavy traffic, Ari should have knocked hours ago.
That was a long night.
Frantic midnight calls revealed that Ari had left yeshivah after a spat with the Rosh Yeshiva, who thought Ari had gone home. Except that he hadn't.
I tried hard not to panic, but coming on top of the changes we'd seen in him recently, his absence was no longer a red flag, but a blaring alarm.
We called the police. I swapped my novel for a Tehillim, and together with neighbors and married siblings, Naftoli combed the streets of our town. It was almost dawn when Ari marched in, cocky and smug. That irked me, more than anything.
We notified the police that he'd returned, and they came to question him. Ari was exhausted and a tad shaken by their presence; all they could get out of him was monosyllables. So, when they left after little more than a reprimand and a warning, I was not sure whether to laugh or to cry. One thing I knew. No matter which yeshivah he would enter next, I'd be inquiring about professional help the first thing in the morning.
It was our son Shlomo who discovered the truth. When he dropped the bombshell the next day and told us what he'd found out from Ari — the shady characters, their manipulations, intimidations, and how they'd exploited Ari for drug-trafficking — bizzarely enough, I felt a sense of relief. Finally, his behavior made sense. Finally, we had an idea of what we should be looking for.
The intercity highway gives way to a traffic snarl at the entrance to the city. I straighten the back of my chair and pull down the mirrored flap. My sheitel needs straightening, and I pull a comb out of my purse.
After hearing Ari's story, we knew we had to go speak to the Rebbe. We have so many questions. But the hardest of all is whether we should send him back to yeshivah, and if yes — which? We've barely let Ari out of sight these past few weeks. There's this constant fear that the minute he steps out alone, someone will be tracking his movements, waiting to pounce.
Yesterday, Naftoli and I held a conference call with the menahel of yet another institution. Not so long ago, this place would have been far off our radar. But the menahel was frum, on-the-ball, and uber professional. As we listened to him speaking and answered his excellent questions, I followed a sunbeam that trailed through our kitchen window, fixated on the spots of light dancing on the fridge. A new start. A place far, far out in the middle of nowhere. Would it be enough to keep him out of those villains' clutches? We discussed pros and cons for hours and kept going around in circles until I said, "Why don't we ask the Rebbe?"
So, here we are.
As I climb the stairs to our Rebbe's home, last week's headlines scream through my mind. The mutilated body of a 16-year-old bochur was found in a Jerusalem forest, and Ari had all but let on that his shadow men had something to do with it.
When we pressed him to go to the police, he clammed up. Then he revealed how determined he had been to succeed in yeshivah, until one afternoon, between sedorim, he was summoned outside by a man in police uniform. The officer had taken Ari for a ride on his shiny motorbike, trying to milk him for information. Ari refused to play — he was too smart and too scared. He saw through the charade and knew the guy was no cop. It was an insider who'd been sent by the Big Boss to see if he could make the kid sing. Ari did not eat or sleep for a week after that.
Clearly these thugs are merciless, and very good at what they do. They stop at nothing. If we send Ari back to any normal yeshivah, they'll probably find him, unless we have a fool-proof system in place to prevent them from even getting close.
I'm scared. But I'm determined. I will not place him in harm's way again. This new place, however "different," seems like our only solution.
Isettle back into the front seat of our car. The sun is on its way down the horizon, but the world seems a little brighter. The Rebbe had listened to Naftoli intently, and had given his blessing to the move. Naftoli switches on some catchy music, and we start out way back home, back to another new beginning for our son.
I have no brightly wrapped, helium-balloon ending to this story. I wish I do…
But I have insights.
Like, we waited too long.
Like, we thought we could handle major-league problems with only our years of experience and common sense.
Like, we should have faced our fears and encouraged Ari to share his life with us, long before he got so enmeshed with these men.
Above all, I want other parents to know that our communities can seem like islands of peace, with all forms of depravity oh so far far from our sweet realities, far from our circles, far from our homes. And then, we wake up one morning —– or sit up all night — to find there is no such thing as normal in today's warped world.
Keep your eyes open, parents. There are shadows everywhere.
(Originally featured in Mishpacha, Issue 822)
Oops! We could not locate your form.
>