| LifeTakes |
Seasoning Secrets  
| November 15, 2022
I had many words that were inching — no, rushing — their way out of my mouth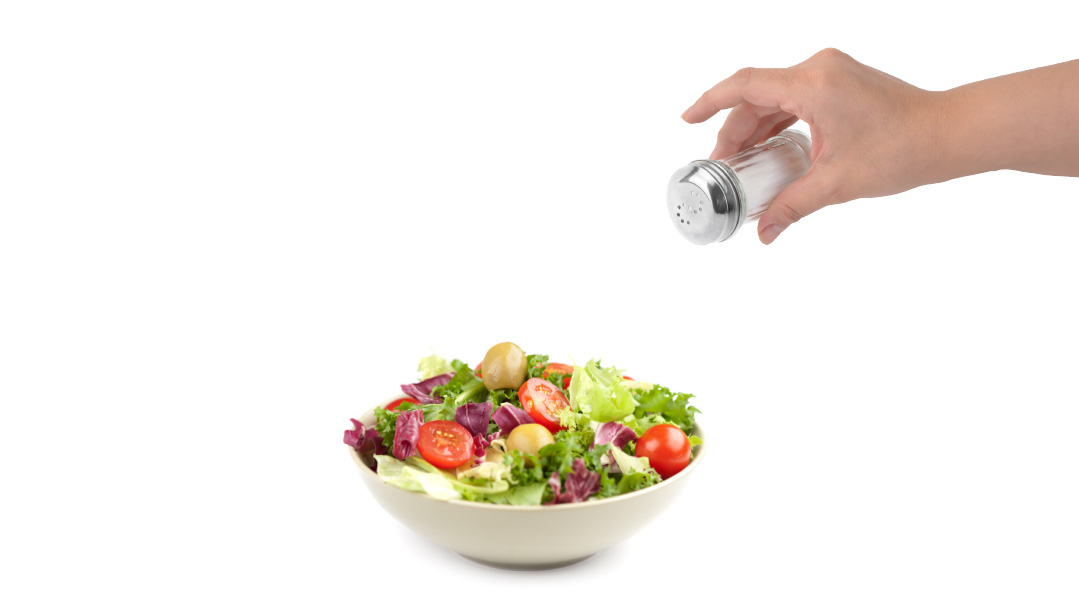 The salad was for a family get-together, and it looked wonderful. The crispy diced red peppers, purple cabbage, sliced scallions, and tiny grape tomatoes looked so delicious, so colorful — like one happy family.
Now it was ruined, and I was so upset.  All I'd asked my son to do was to season the salad. But he'd ruined it. I wondered if he'd done it on purpose.
I watched as he took the lemon juice and the pepper and poured it gently onto the salad. I watched as he took the box of salt, the special salt with the diamond-shaped little crystals. I watched as he opened the spout and tried to pour.  It wouldn't budge. I watched as he shook the box and attempted to pour. The salt was all caked up inside. And then I watched, in horror, as he shook the box with all his might, and a mountain of salt formed on top of my beautiful salad.
I had many words that were inching — no, rushing — their way out of my mouth. Words that would be heard by the others sitting in the next room. Words that would make me feel better, but would hurt him for the rest of his life.
Suddenly, I was catapulted to a scene from my childhood. Mommy and Bubby were talking while Bubby seasoned the salad. Bubby wanted to pour oil onto the salad but was distracted by Mommy's story about how cute my baby sister was. Laughing, Bubby took the bottle and started to pour it on the salad. Bubby couldn't read English, and it was too late to stop her. I could smell the bleach.
Bubby just continued talking and laughing, as Mommy and I looked on in horror. I looked at Mommy, and she put her finger on her lips. I was quiet.
Then Mommy looked at Bubby with a smile on her face. "Efshar vilsti gein a bissel in di dining room a bisselle shmuessen mit di eineklich. Host shoin genig shver ge'arbet — Maybe you want to go in the dining room and spend some time with your grandchildren, you already worked very hard."
"Di veist vus meint shver arbeten — You know what hard work means," Bubby answered, but still, she immediately left the kitchen.
"Mommy," I asked nervously, "what are we going to do about the salad?"
"We're going to clean it well, wash and rinse it about ten times, even 20 times if necessary, and then we'll add more vegetables to it," Mommy answered calmly.
"But it has bleach in it!" I screamed.
"Yes," my mother said. "Now it has bleach in it, but it won't have any by the time we're finished with it."
"But it's yuchy!" I screamed again.
Mommy didn't lose her composure. "But it won't be yuchy anymore when we're finished with it," she assured me.
I looked at her, confused. "Mommy, why do you keep on saying 'we'?" I asked.
"Because," Mommy answered, "you will be my trusty helper.  And that means nobody, but nobody, will ever know about this."
Mommy looked at me again with her big, brown trusting eyes and said, "This will be our secret."
And it was.
I looked down at my son. There was a sheepish look replacing his usual macho expression. He looked back at me.
"Shimon," I said, "we'll fix the salad."
I took a big spatula and attacked the mountain of salt, taking out all the vegetables that were holding a piece of the mountain. Together we washed the vegetables repeatedly until we destroyed every crumb of salt. Then we added more vegetables to the salad, and my son quietly seasoned it.
The next morning after sending out all the kids, I was about to relax when the phone rang. It was Shimon.
"Hello," I said.
"I'm sorry about the salad," he said, then he continued, his voice choking up. "But I really called you, well, to thank you," he finished. "Thank you for not embarrassing me in front of the whole family."
When I hung up the phone, I sent up my own thank-you.
Thank you, Mommy. It was your finger on your lips that saved the day — again.
(Originally featured in Family First, Issue 818)
Oops! We could not locate your form.
>