| School Daze |
School Daze: Teaching  
| August 16, 2022
Who would guess that the girl who was making every teacher miserable had such talent!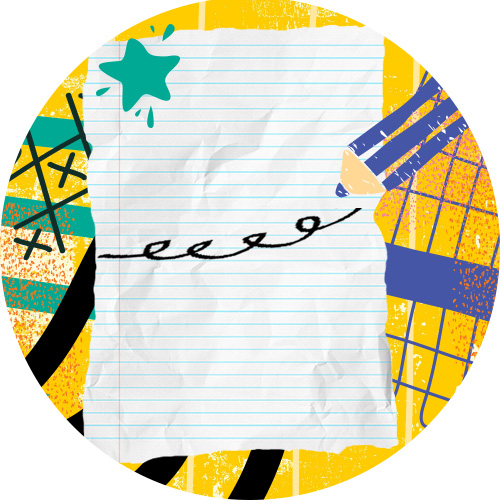 As told to Perel Stone
Monday, February 7
As I walked into class today, Tzippy was sitting on the floor next to the door, wearing earbuds, with a notebook open in front of her.
She should have stood up and come inside when she saw I'd come to class. Instead of criticizing her, I asked her what she was so busy with.
"I'm writing songs. You wanna hear?" She offered me the earbuds.
"We're starting class right now, but I'd love to listen after class."
"Really?" Tzippy looked surprised at my interest. "I'll finish after class."
She put away her earbuds and followed me into the room.
Wednesday, February 9
I was running out of the building to catch the bus home yesterday when I heard someone chasing me.
"Miss Tratner — I finished the song I was writing yesterday. Do you want to hear it?" Tzippy asked breathlessly, as she held out her earbuds.
"I really want to, Tzippy, but I can't miss my bus. Do you think you could bring it to me tomorrow morning?" I asked.
"Take it with you. This is a spare," Tzippy said thrusting the small MP3 player into my hand.
As I sat back on the bus and listened to Tzippy's song, I couldn't believe my ears. It was Tzippy's voice coming through the earbuds, but did anyone in the entire school know that she sang so beautifully? I'd been afraid that maybe the song wouldn't be so appropriate, and what would I say to Tzippy then? But the music and lyrics were beautiful.
Hadn't Tzippy said she wrote the song? I was shocked. Tzippy! Who would guess that the girl who was making every teacher miserable had such talent!
First thing I did this morning was find Tzippy and return her MP3 and earbuds.
"Tzippy! How have you been in school for three years without anyone knowing what a beautiful voice you have? Did you take voice lessons? Did I misunderstand, or did you tell me that you wrote that song?" I asked her.
"I, uh, no, I never took lessons. I wrote the words, but not the tune. I took the tune from, uh, somewhere," Tzippy said as she looked at the floor and dragged the toe of her shoe across the tiles.
Tzippy was blushing! Antagonistic Tzippy, who argued with every teacher, was blushing!
"Tzippy, you've got real talent! You have so much depth!" I said.
"I have a few other songs, if you want to hear them." Tzippy said, pulling another MP3 out of her knapsack.
She played a few more songs for me. I saw her watching my face, looking for my reaction.
I complimented her on their depth and the way she sang them.
She played me some more songs. "Tzippy, you must do something with this talent!" I gushed.
Who would believe these songs had been written by Tzippy? Tzippy, who hated every class and intimidated her classmates, wrote meaningful songs she sang beautifully. She had more to her than anyone imagined.
"Would you let me share this song with other teachers?" I asked.
"Um, some of the ones I played for you are private. But I'll make a mix of songs you can share with other teachers and bring it in a few days," Tzippy told me.
Thursday, March 10
That was about a month ago, and no one in school can believe the change in Tzippy. She stopped arguing and talking about how much she hates school. She participates and gets along with the other girls.
I'm convinced that when a student misbehaves, it's just because they don't yet realize how good they can be. My dream is for every girl to feel good about herself and know that she has so much to offer Klal Yisrael.
The End
(Originally featured in Mishpacha Jr., Issue 924)
Oops! We could not locate your form.
>