| For the Record |
Rabbi Levin's Adding Machine
| January 10, 2023
In 1897, Rabbi Yehuda Leib Levin's travels finally came to a close when he accepted the offer of the Detroit community

Title: Rabbi Levin's Adding Machine
Location: Detroit, Michigan
Document: US Patent File
Time: 1902
AS Detroit, Michigan, grew into a thriving hub of commerce and industry in the late 19th century, Jewish immigrants arriving from Russia began to settle there en masse. In 1889 a musmach of Rav Yitzchak Elchanan Spektor named Rabbi Aaron Ashinsky was hired to lead the city's three Eastern European congregations. When he departed for Montreal in 1896,  it took a search of several months to find a suitable candidate to fill the city's rabbinical vacancy.
Rabbi Yehuda Leib Levin (1863-1926) was born in Traby, in the Vilna Province of the Russian Empire. His father Rabbi Nochum Pines was a Torah scholar and wealthy landowner in the region. When Yehuda Leib was orphaned at a young age, he was adopted by his uncle and assumed the last name, Levin.
He studied for several years at the Volozhin Yeshiva and then in Kovno. The young scholar subsequently received rabbinical ordination from the Netziv, Rav Yitzchak Elchanan Spektor, Rav Shlomo Hakohen of Vilna (the Cheshek Shlomo), and Rav Itzele Blazer.
Shortly after his marriage to Esther Rhoda Levin of Trob (presumably his cousin) in 1887, he was appointed to the rabbinate of Lishkeve (Liškiava) in Lithuania. Upon the invitation of the Rav HaKollel of New York City, Rav Yaakov Yosef, he accepted a position as rabbi in Rochester, New York. Two years later he returned to Russia as rabbi in the town of Kreva. Within a year, however, Rabbi Levin returned to the United States to serve as rabbi in New Haven, Connecticut.
In 1897 his travels finally came to a close when he accepted the offer of the Detroit community, where he served faithfully for three decades until his passing.
Rabbi Levin was among the pioneering members of the Agudath Harabanim upon its founding in 1902, and was active in Mizrachi as well. He often convened a beis din with Rabbi Avraham Yaakov Gershon Lesser of Chicago, Illinois, and Rabbi Asher Zarchi of Louisville, Kentucky to adjudicate halachic issues in the Midwest.
Rabbi Levin's stature is noted in his sefer Ha'aderes Veha'emunah on Aggadah and Tanach, in an approbation written by the former rav of Slutzk, Rav Yaakov David Wilovsky, the Ridbaz:
 "Hashem should help him publish his holy sefer Ha'aderes Veha'emunah, and its teachings should spread among the Jewish People. I request that upon publication you send me several copies of the sefer to distribute among the gedolei Yisrael here in Eretz Yisrael. You should see much success in spreading Torah and Yiddishkeit in America."
In addition to his leadership skills and Torah knowledge, Rabbi Levin enjoyed mathematics, a skill he channeled toward a historic invention. During the first decade of the 20th century, at the same time the Wright Brothers debuted the airplane and Albert Einstein published the Theory of Relativity, Rabbi Levin invented an "adding machine," a precursor of the calculator (which wasn't invented until decades later).
Rabbi Levin's device added and subtracted numbers, and was novel in the respect that it could compute numbers containing a decimal point. This machine was larger than today's computers and was patented in several countries. It was seen as an impressive innovation.
Though heralded as a scientific breakthrough, it was unfortunately never mass-manufactured for the general public. A model of the "J.L. Levin Adding Machine" is exhibited in the mathematics collection of the Smithsonian Institution in Washington, D.C.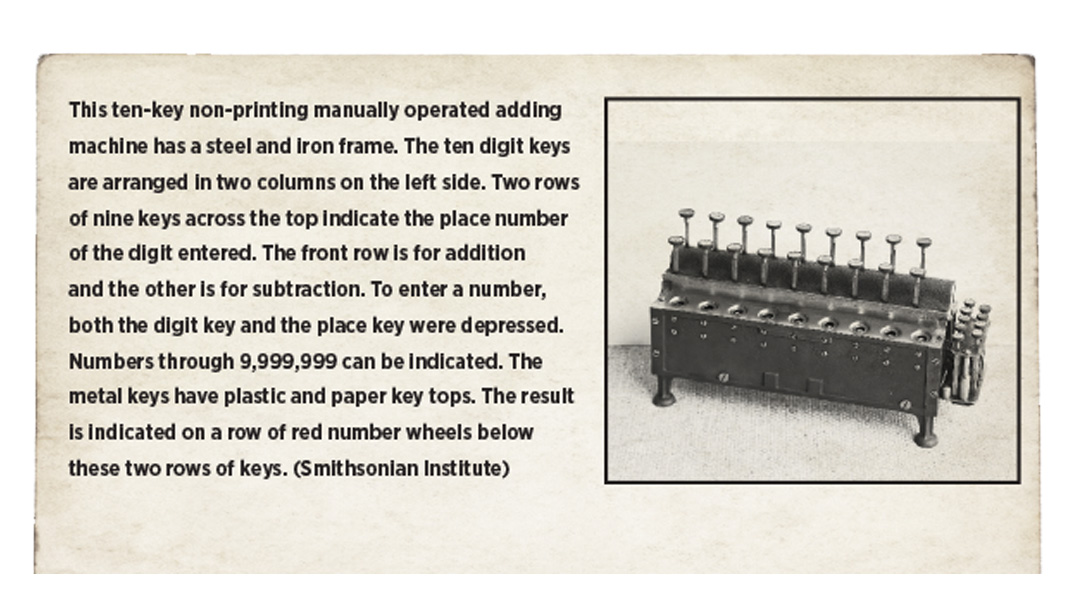 Building Beth Yehuda
Rabbi Levin's legacy was the establishment of an afternoon Talmud Torah at the Farnsworth Street Synagogue in Detroit in 1914. Following his passing in 1926, it was renamed Yeshiva Beth Yehuda in his memory. In 1944 it expanded into a full-day day school and thrives to this day with an enrollment of more than 1,400 students.
Lawyer and Leader
Rabbi Levin's son Isadore was a Harvard-educated lawyer who served in the Artillery Corps during World War I under General John J. Pershing, reaching the rank of captain. He was awarded a citation for his work as editor-in-chief of the US Army's five volume Manual of Artillery. Following the war, he was invited by Judge Felix Frankfurter to serve as a legal advisor to the American Zionist delegation at the peace conference in Versailles, where he helped draft the constitutional framework for a future government in Palestine.
This column is dedicated to our dear friend Rabbi Nissim Abrin, a Detroit native who is truly making a difference.
The authors can be contacted at fortherecord@mishpacha.com
(Originally featured in Mishpacha, Issue 944)
Oops! We could not locate your form.
>