| Special Tribute Supplement: Rav Ovadiah Yosef |
People, Passion & Pride | October 20, 2020
Rav Ovadiah always viewed Shas as a bridge between religious and secular forces in Israel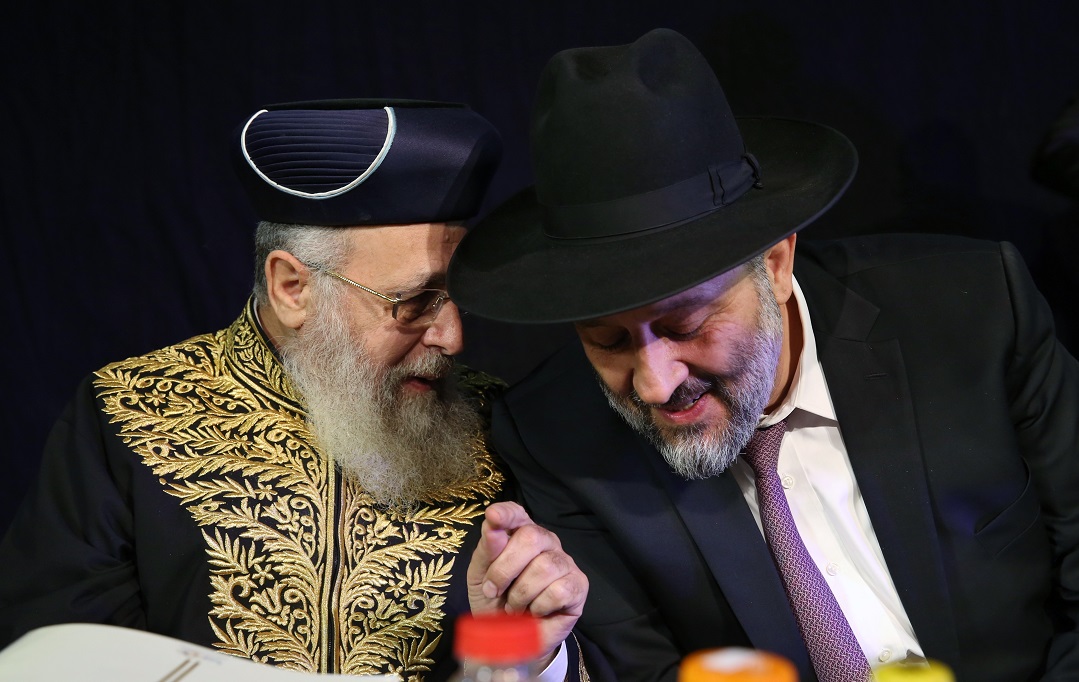 W
hile conventional wisdom often states that if you want to avoid controversies, you shouldn't argue about politics or religion, in Israel, politics and religion are not only the two most argued about subjects, but they are also inseparable.
Israel has a long history of religious parties, dating back to before the founding of the modern state. So when Rav Ovadiah Yosef, with inspiration from Rav Shach, founded Shas in 1984, he was in tune with the times. At the same time, his stated goal in forming the party was to restore pride to the masses of Sephardic Jewry, and to ensure their equality in getting a fair share of the budget for their communal, religious, and social life.
For Rav Ovadiah, that mission could only be accomplished by being a driving force in several directions at once: halachic, cultural, and political.
Shas filled the political bill, with Rav Yosef declaring, "We have enough people, enough passion, and enough pride to form our own party and fund our own institutions."
The first time Shas formed a Knesset slate in 1984, it won four seats, one of which was held by his son Rav Yaakov.
Shas peaked at 17 seats in the 1999 election, and played a major factor in coalition politics until the next election in 2003, when it slipped to 12 seats. Even at that level (Shas has held 11 seats in each of the last two Knessets) it has become a major player in Israeli politics, with the ability to break or form governments.
Rav Ovadiah became a figure more public than he ever was before, when he "merely" held rabbinical posts. His position as spiritual leader of a political party catapulted him into a position of prominence that came with a different set of struggles, including pressure from all sides.
How did Shas achieve its extraordinary success? Its strength, especially in the early days, surprised pundits and pollsters, not only for its vote-getting prowess, but also for its ability to harness support from traditional, non-chareidi Sephardim.
Grassroots support came from Sephardic parents who sent their children to the El Hama'ayan educational network that Rav Ovadiah helped found (together with his old friend from yeshivah days, Rav Ben Tzion Abba Shaul ztz"l) as a Sephardic alternative to the Ashkenazic Talmudei Torah, and of course, to public schools. The richness of Torah living was presented with warmth and passion, in the traditional Sephardic style; El Hama'ayan offered longer school days and hot lunches, important benefits for a community of working-class parents.
Rav Ovadiah always viewed Shas as a bridge between religious and secular forces in Israel. Pundits speculate that a major reason for Rav Ovadiah's decision to restore Aryeh Deri's crown to the party leadership last year, despite a decade of Eli Yishai's loyal service, was Deri's ability to get along with all walks of Knesset life. Regarding Rav Ovadiah's support for the peace process, while he viewed it with a constructive but wary eye, he was against the destruction of Jewish settlements.
Rav Ovadiah vehemently opposed the 2005 Gaza disengagement in which more than 8,000 Jews were uprooted from their homes.
Deri told Mishpacha before the most recent Israeli election: "I have not heard any statement whatsoever from Rav Yosef that would indicate he sees any chance that we would agree to give up any more land or give away any more settlements. I hope we never have to reach such a point again."
Oops! We could not locate your form.
>