| On Site |
Out of the Box | May 20, 2020
The Lakewood initiative that put Pesach in arm's reach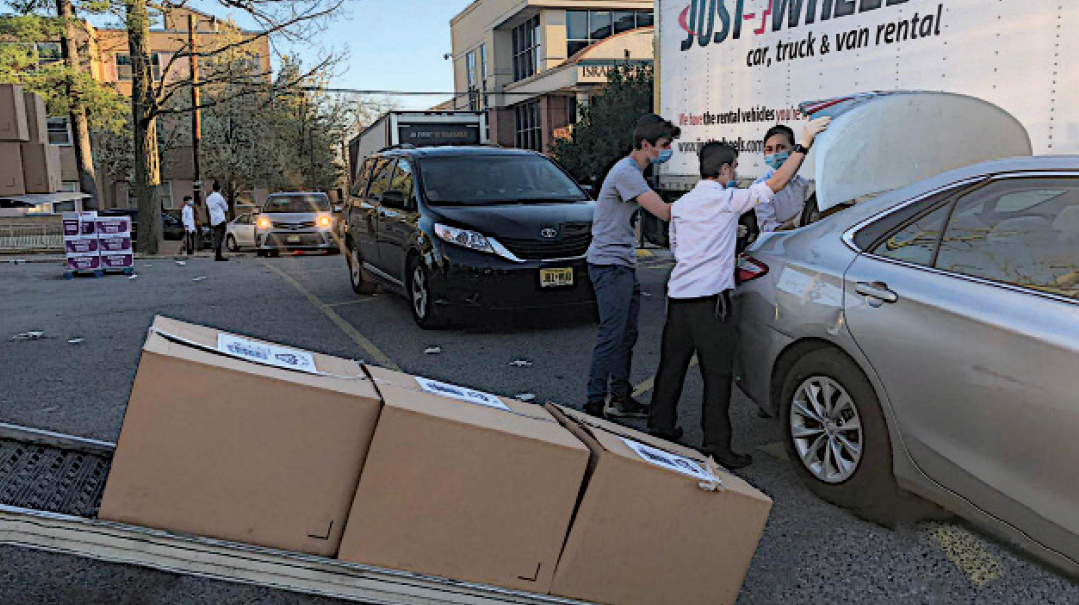 Boxed In
Around the Jewish world, this past Purim was celebrated with a tinge of anxiety. Was COVID-19 really a world crisis? And anyway, how bad could it be?
But when the usual pre-Pesach bustle was upended by spreading illness, growing Tehillim lists, and statewide lockdowns, community activists, realizing the extent of the catastrophe, knew they had to step up to the plate. Lakewood askanim recognized the need for unprecedented action on behalf of the kehillah, and Beth Medrash Govoha president and CEO Rabbi Aaron Kotler, charged with the safekeeping of 6,800 talmidim and their families, and, by extension, the huge community associated with it, knew the yeshivah had to act.
"Close to 90 percent of households in Lakewood are yeshivah talmidim or alumni, and that placed us in a central role," Rabbi Kotler shares. "After China, we saw the virus hitting Italy, and we knew that fast action would save countless lives and that this was no time for hesitation."
As heroic physicians, Hatzolah leaders and Bikur Cholim askanim organized the medical responses, Rabbi Kotler and a team of BMG's board of governors, including Eli Tabak, Eli Liberman, and Moishe Tress, rallied to develop creative solutions to a situation Lakewood had never faced before. For the community's health and physical safety — it was urgent to enable people to stay home — the first thing they created was ESS, Emergency Supper Service, literally overnight.
ESS addressed the basic food needs for those who couldn't shop or cook — people who were sick, caring for sick relatives, or in quarantine — by providing suppers below cost and delivered in a sterile manner by Chaveirim volunteers.
Yet the greater challenge was yet to come. Pesach is a time of massive travel for the Lakewood community. Young families join their extended families across the United States. Bochurim return to their home communities, and parents and grandparents join their married children in Lakewood. While the mixing and moving between cities is usually a time of family bonding, with a pandemic raging, it was a recipe for disaster. And so BMG, networking with rabbanim and leaders across the country, sent out the clear message: "Save lives, stay home."
This extraordinary decision would limit the spread of the virus. But now what?
Box of Tricks
Eli and Toby Tabak are deeply involved in the myriad of chasadim serving Lakewood and beyond. Eli is CEO of the Bluestone Group; Toby is a program supervisor at Yad Rachel, an organization that serves women suffering from postpartum depression, and she's a founder of Weecare Preemies, a support group for parents of premature infants. Toby is well acquainted with the needs of young Lakewood couples; the consequences of keeping thousands of young families in place for Pesach, and the resulting stress, were clear.
"I'd thought about a potential lockdown already before Purim and saw the writing on the wall," she says. "It was a mess."
Countless yeshivah couples live in small apartments, child care would be suspended, and many would be furloughed from their jobs. Thousands of young people who had never made Pesach before didn't own a single Pesach dish! How would they cope? Additionally, thousands of families making Pesach for the first time, all of whom would be shopping in the same dozen stores in the same few days, would create precisely the environment for virus spread that the "no travel" rule was meant to avert. What would be a cost-effective solution to prevent congregating in stores while lowering stress levels for these families?
Toby was thinking of a way to supply novice homemakers with all the basic utensils and supplies to make Pesach, and as she was in the middle of discussing her idea with a family member and wondering who might undertake such a daunting project, she got a text from the BMG team: "What are we going to do to help the thousands of young couples staying home for Pesach for the first time?"
A few emails later, the team convened to brainstorm. The goal was to assemble the basic tools necessary to make Pesach and get it to those restricted to their homes. Equally important, providing families with Pesach basics would prevent those who were mobile from swamping the local stores and defying social-distancing rules.
Toby recounts how, within 24 hours, BMG's special projects manager Mrs. Shoshana Djaker built a website and ecommerce model. Meanwhile, the local company Cedarcom had offered its warehouse for shipping and receiving, and the intrepid Shimon Wulliger, who took the lead role in coordinating logistics and sourcing, traveled New Jersey meeting suppliers.



By the Box
Everything in the "PesachBox" box was chosen with careful consideration for quality and price, while Toby's specific focus was on helping the inexperienced make a respectable and joyous Yom Tov. To that end, she added a bedikas chometz set, a ke'arah, a matzah cover, and an instructional pamphlet, complete with recipes and tips on how to make a first Pesach.
Toby Tabak spent hours on late night calls, proverbially "trying to explain the need for a metal serving spoon to a bunch of guys. Rabbi Kotler, in bed the entire time with his own bout of the virus while dealing with community rabbanim, doctors, government officials, and the media, would be on the phone with me and Eli at three in the morning discussing spatulas and measuring cups. Everything was important. We wanted a beautiful, top-quality presentation and a beautiful Yom Tov experience for the yungeleit and Lakewood families, at the lowest cost possible."
The PesachBox website went live 1:30 p.m. on Sunday, a week before Pesach. Within three hours, there were over 500 orders. By 9:30 p.m., 950 orders had come in, and orders maxed out at 2,000 by the next day.
Working nonstop, Chaveirim volunteers under the leadership of Mutty Tress were key partners in making a safe distribution happen. The website notified every 200 customers when to drive up, show their order numbers through their windshields, and pop their trunks. The boxes were loaded by Chaveirim volunteers, masked and gloved, while customers made the pick-up with no exposure. Within one week, from start to finish, 2,000 families were provided with boxes containing everything they needed to stock their Pesach kitchen and set their Seder table — all for a remarkable subsidized price of just $199 a box.
Panic-stricken young couples were grateful, and parents and in-laws who bought boxes for their kids felt less helpless. Some of the tension of Yom Tov under siege had been alleviated.
Mrs. Djaker, the ecommerce project head who gave up the usual time of her own Pesach preparations to create and run the customer service interface, tells how, when the WIX platform that hosted the Pesach Box site went live, the sudden surge in sales on its first day tripped fraud flags, triggering the platform to shut them down.
When Rabbi Kotler called for emergency reinstatement, he thought he might be speaking to a representative from some large Silicon Valley corporation. "I started explaining COVID-19 meant no Passover travel, and that thousands of young families would need special 'Passover kitchen supplies' and how desperate our community was for this service."
Turns out WIX is an Israeli company and they were well aware of Pesach. They were so intrigued by the use of their platform to help Yidden on the other side of the world that they asked Rabbi Kotler to share the PesachBox initiative with their entire company.



Box Seats
With the PesachBox project rolling, the team now pivoted to meet the needs of those who didn't have the ability to prepare food — and ensure that everyone would stay safely at home. The team priced around with local caterers, but none could provide a food box at the price point they were aiming for. With no time to spare, Rabbi Kotler called in whatever BMG staff was well enough to work, had BMG's kitchen kashered, and the meal prep began.
Reb Eli Tabak describes the magnitude of the effort: "The tables in the dining room were covered and spread apart for safety. Volunteers cooked, assembled, and packaged each box containing ten beautiful Yom Tov meals, each box serving a family of five, at a total cost of $349. We then decided to add a 'Pesach Wine Box' as well."
Dozens of BMG kitchen workers, Chaveirim volunteers, and many local bochurim put their own lives on hold and worked around the clock taking, assembling, and delivering orders. Within five days, over 100,000 individual portions were produced and delivered, with the last boxes leaving BMG's main campus on Erev Bedikas Chometz.
While it was still Erev Pesach, the team had another worry, envisioning the stores being flooded with shoppers looking for chometz after Yom Tov, and the risk that would pose in the spread of the virus. While Lakewood prepared for bedikas chometz, they worked the phones to ensure that people wouldn't flood the stores in the annual post-Pesach chometz rush. And so, over 1,200 "ChometzBox" packages, with challos, rolls, pastry, and even pizza, sold out. For those who needed the means to make shlissel challah for the following Shabbos, hundreds of "ChallahBox" boxes containing flour and yeast were distributed on Motzaei Yom Tov and Isru Chag.
Friday after Yom Tov saw a huge line of cars lining up for the ChometzBox packages, and even Lakewood's beloved police chief, Greg Meyers, pitched in to personally help load the cars. Meyers's dedication actually came as no surprise.
"Without his constant help, our community would have suffered greatly during this crisis," says Eli Tabak. "He and his officers saved countless lives with their help and devotion to us all."
Incredibly, in the coming weeks, the team would follow up with the ShabbosBox, the GroceryBox, and the ShabbosBakeryBox.



Box Scores
These boxes went to "regular people" who suddenly found themselves needy. One from a flood of emails reported how the mother had lost her job, the father had a bad case of COVID-19, and suddenly they found themselves grounded in Lakewood with four children, instead of driving to Cleveland for Yom Tov as they'd planned. For under $750, their whole Yom Tov was provided by the PesachBox of utensils, the Pesach FoodBox, the WineBox, the ChometzBox, and even the next week's ShabbosBox.
As "The Box" became a cultural meme, the concept spread and was replicated in Flatbush, Monsey, and the Five Towns. Stores and askanim perpetuated the chain of chesed, helping people stay home and stay safe. The "Boxes," in fact, became somewhat of a social phenomenon, spawning some humorous knock-offs including the "MinyanBox," the "SiyumBox," and the "HockBox."
What's the takeaway? The "Box" programs went beyond chesed, acting as a veritable anchor to provide for people's needs while keeping them home and safe. It shifted people's mindsets and brought home the message that times are dangerous and everyone has to stick to the rules. And that especially in these times, when it's so clear that we all have achrayus for each other, there is a special siyata d'Shmaya people merit when they make the decision to rise above the challenges of their own circumstances and give to the klal.
(Originally featured in Mishpacha, Issue 811)
Oops! We could not locate your form.
>