| Behind the Book |
Our Morah in Uniform 
| May 31, 2022
The hardest aspect was attempting to encapsulate someone so much larger than life in words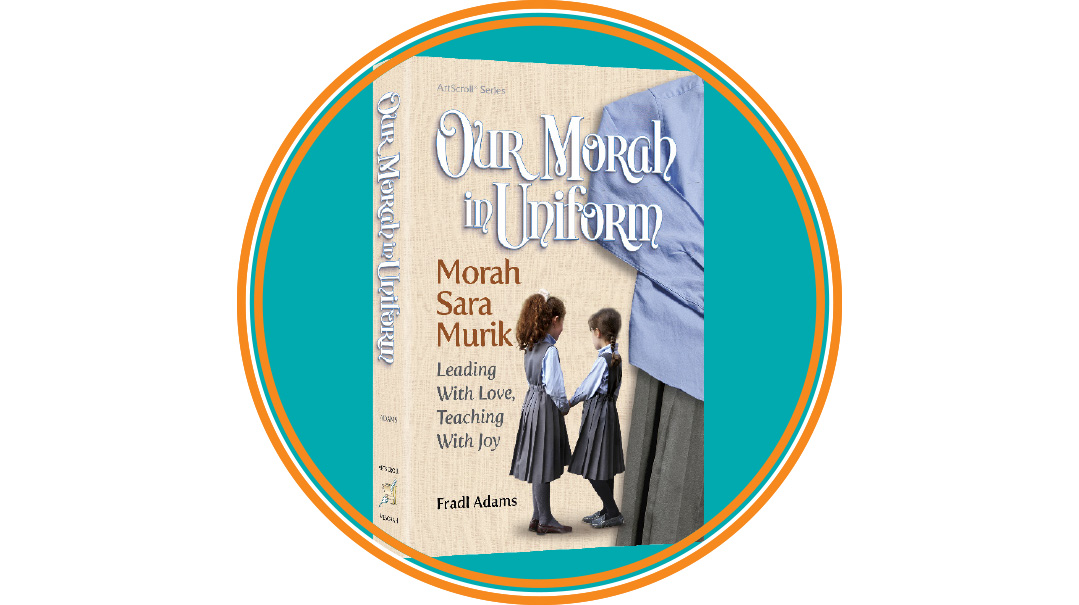 Book: Our Morah in Uniform — Morah Sara Murik: Leading with Love, Teaching with Joy
Author: Fradl Adams
Published by: ArtScroll/Mesorah
Author in two lines
A writer and life coach living in Jackson, NJ, Fradl Adams is a senior writer for the Lakewood Shopper. She's the author of Amazing Women (Menucha, 2016), Penina Farina and the Humongous Snowstorm (Menucha, 2021), Our Morah in Uniform (ArtScroll/Mesorah, 2022), and the upcoming second book in the Penina Farina series (Menucha).
Book in three lines
Morah Murik was a beloved builder of Bais Yaakov education in Chicago, then founded another school, Bnos Brocha, when she moved to Lakewood in her seventies. More than a vibrant, warm-hearted principal, she was an endlessly-giving mother, then grandmother figure to thousands — her wisdom, advice, and kindness touching numerous lives.
The hardest part to write
On a technical level, the historical chapters. I'm not detail oriented by nature. Keeping everything accurate, especially when there was contradictory information to sift through, and so few people still around who were actually there, was challenging, although of course critically important.
But the hardest aspect was attempting to encapsulate someone so much larger than life in words. Throughout the book, I struggled to find was to express who Morah Murik was. I always felt I came up short. It's simply impossible to capture a neshamah — any neshamah, but especially one as great as this — in words.
The writer I'd want as a mentor
It would definitely be a writer from within our world, probably a writer whose work I grew up on and is still writing today. I don't want to name names, but I'd choose from those who produce articles and books regularly. They seem to be always writing quality material, and I want to learn how they manage produce consistently good work without getting burned out.
What I left unwritten
Stories that showed Morah Murik's greatness but didn't reflect well on other protagonists were left out.
What I'd want to ask Morah Murik if I could
I would have liked to ask her permission to write a book about her.
A powerful line from the book that remains with me
Morah Murik's mantra, "I love Hashem, and Hashem loves me" has stuck with me since before I started the book, since my daughters brought it home from school.
What I've been repeating a lot in recent months is what she used to tell her morahs, "Don't say, ein li koach; say tein li koach." When you're exhausted and overwhelmed, take that expression of defeat and turn it into a tefillah. As a tired young mother, this resonated deeply.
Finally, whenever someone complained about her situation but tried to cheer herself up by saying, "It will be good," Morah Murik would correct her. "It's never bad. Don't say it will be good, because it already is. Es iz gut, un es vet zein besser." It is good. And it will be better.
Significance of the title
Morah Murik's claim to fame was that she wore the school uniform, just like her students. Everyone knew that about her. It wasn't just a cute shtick; there were so many layers of depth. Hers was a uniform of regality, of avodas Hashem, of tzniyus. It gave her students a sense of pride in who they were and was symbolic of her ability to be mechanech at eye level, instead of looking down. The book has an entire chapter dedicated to the story of why she started wearing the uniform and what it was about all those years.
The book currently on my night table
Making Vegetables Grow by Thalassa Cruso (Thank you, Grandma!) and the main Mishpacha Pesach issue (yes, it's a book more than a magazine, and no, I don't have much reading time in my life, baruch Hashem.) I recently finally completed A Living Legend, about Rav Yitzchak Dovid Grossman, retiring it from my night table and returning it to my bookshelf.
What I'd like readers to walk away with
That Yiddishkeit is a thing of joy. Morah Murik made sure the hallways of her schools sang with the spirit of each approaching Yom Tov — and she also emphasized that homes should sing as well. She taught that when children love Torah, mitzvos, and Hashem, they cling to them, and our job as parents and educators is to help them develop that love.
Now You Are Here
Sarah Goldstein
My other books are about birth, as I'm a very passionate and involved doula. This is something very different: the story of a sandwich generation woman (myself!) on a 25-year-journey of caring for an ailing mother with Alzheimer's disease.
I've been there for Mom through three nursing homes as her support and advocate — the voice of a woman who cannot speak. My job entails trying to make Mom as comfortable as possible, when it's very difficult to guess how to do so.
I wrote this book to support other family members of Alzheimer's sufferers and also to help other readers come closer to understanding and feeling the pain of those caring for a loved one who has dementia. As my sisters live in the US, caring for my Mom falls on me. Sometimes it gives me a boost when people remind me of the mitzvah and reward involved; at other times, the overwhelm wins.
In my view, the most important section of the book is about developing a good relationship with the home care staff, especially those who deal directly with our loved ones. They have a difficult routine and little real connection to those they bathe, dress, and feed. They need our support and encouragement. Another theme is that self-care — recharging physical, spiritual, and emotional batteries — is absolutely crucial for the caregiver.
The feedback has been amazing, although it's sad when people say, "I wish I'd had this book when my Dad was alive."
My own journey has been a long one. Sometimes I run into a nurse or staff member who knew my Mom at some point. They'll say, "Um, how is your Mom?" and think I'll respond "She was niftar last year," or whenever. So when I answer, "She's still alive," they can hardly believe it. Hashem is surely in charge, even when we can't fathom how Mom's reality is good.
Your favorite character from those you created
Leah Gebber
It's one of those long-standing fiction debates: Just how are characters formed? Are they cobbled together from people we know or parts of our inner self?
The answer, of course, is both, but I think that for a character to be real, you have to find the aspect of the character that resonates with your own inner world. Felix from Rocking Horse, for example, was a writer and philosopher. When I was embarking on my degree, I wanted to study philosophy (oh, to delve into the whys…) but I asked a sh'eilah and was directed to the study of literature (I'm grateful!).
Because we're all infinitely unknowable, even to ourselves, crafting our characters, putting them into situations, and watching how they react, often sheds light on different aspects of self.
For me, even difficult characters, like Leonora in my current serial, Within My Walls, are fascinating, because watching them, writing them, and imagining them highlights the endless complexities of what it means to be human: with our hopes and our scars, our ideals and our failings, our light and our shade, and how all of these things intertwine even as they repel each other.
The advice I wish I hadn't followed
C. Saphir
When I was fresh out of seminary and wanted to become a writer, everyone told me that it wasn't a parnassah. (This was before Mishpacha was created.) So I became a computer programmer, which was a total waste. Although the truth is that even writing and computer programming have something in common: Every piece of language has to serve a function and fit into the right place.
(Originally featured in Family First, Issue 795)
Oops! We could not locate your form.
>