| Family Tempo |
Operation: Find the Feast | April 27, 2021
       

After we were all caught up, my sisters went from panic mode to solution mode in an instant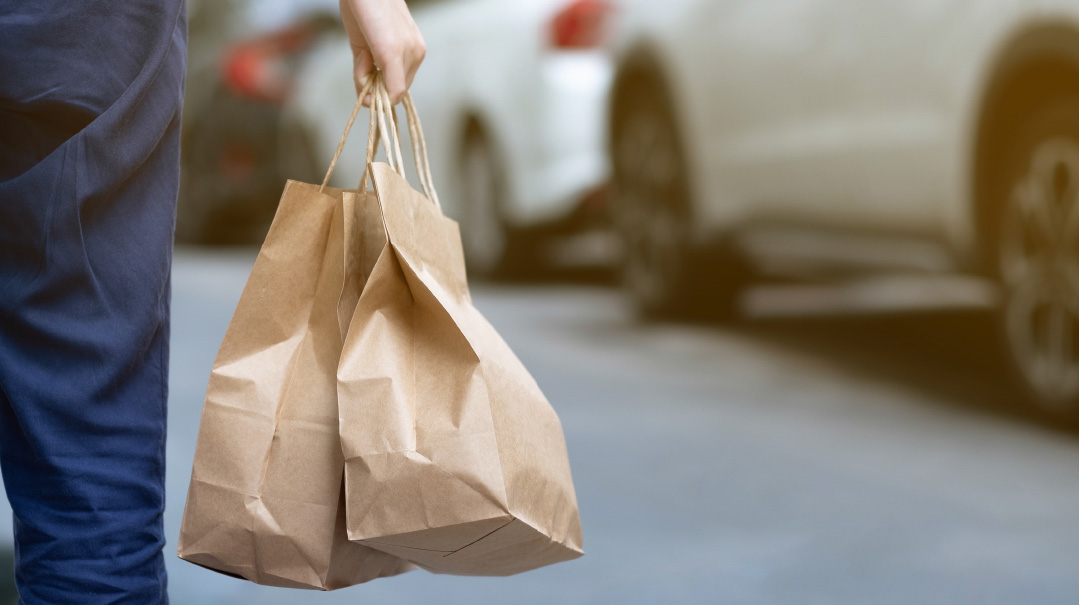 As told to Libby Silberman
"Excuse me? I think we're missing some food here." I rolled down my window and squinted at the man loading my car. "This doesn't look like enough for 20 couples, does it?"
"I don't know." He shrugged and heaved another warmer filled with pans of hot food into the trunk.
"Sir, can you hold a second?" I hopped out of the driver's seat and went around to get a look myself. My mother had sent me to pick up the food from the caterer — she was hosting a sheva brachos for one of the grandkids that night.
"Here, I'm opening this warmer. Mr. Siegelheim labels the pans, right?" I scanned the clearly labeled items. "Twenty chicken capons," I read out. "Seven liters of mushroom barley soup. Where's the rest? This looks like about half of what we ordered."
The poor fellow heaved another warmer into my car. "I don't know, mister. I don't take orders. This is what the staff prepared for you."
"Can you please call Mr. Siegelheim for me?" I asked, a note of impatience in my voice.
With another shrug, he complied, putting the phone on speaker.
"Yes, Pedro, what's going on?"
"Mr. Siegelheim, hi. It's Yitz Neufeld, actually. I'm here to pick up my mother's order."
"Okay, great. Is there a problem?"
"There's too little food here. We ordered for 20 couples."
"You mean 20 portions."
"That can't be. That's totally not enough!"
"Reb Yitz, you're telling me? I've known your mother for more than 60 years. I do all your mother's catering. I know this is a small order, but it's what she asked for. I double-checked with her! She asked for 20 portions."
"You positive?" I asked desperately.
"Positive as can be. I have her order right here in front of me."
"Well then, it is what it is. Can you give me some extra food from the kitchen?"
"We don't just have 'extra food' floating around in the kitchen. We're done for the day. Again, I'm sorry about this, but there's not much we can do."
I pressed "end," then stared ahead blankly for a moment. This was a disaster… but there was no way my mother could find out she'd messed up like this. I backed out of Siegelheim's parking lot, connected my phone to my earpiece and dialed my older, wiser sister, Raizy. When I told her what happened, she called Chaya, our baby sister, and connected her.
After we were all caught up, my sisters went from panic mode to solution mode in an instant. Mommy didn't have to know about this. They were going to join me in a hunt for food that looked closely like the food she'd ordered from Siegelheim's.
I picked up Raizy first. She emerged from her house after seven honks. "The kids are going to finish the souvenirs," she told me breathlessly. "I sent my Suri to Mommy's house to help set up. Is my sheitel on straight?"
"Sheitel questions you'll have to ask Chaya. She's the next stop."
Chaya got into the car and the two of them started shrieking and yapping before I even hit the gas. Women!
My phone rang. Raizy reached for it. "It's Mommy. Shall I answer?"
"No, don't."
But Raizy accidentally accepted the call, and I heard Mommy in my earpiece.
"Yitz? It's Mommy. Where are you already? I told the waiters to come down to the garage to get the food from your car. I was positive you'd here already."
"Yeah, Ma, I got a little delayed. I'll be there soon."
"Okay, no worries. I was just wondering. It's already 6:30, and the sheva brachos is called for eight sharp."
Our first stop was Hot Glatt. We went around to my car trunk to check out the food so we could match up the menus. Inside, we scanned the dishes on display, trying to find the closest match.
"Ooh, doesn't this orzo thingie with brown sauce look familiar?" I called. Chaya raised an eyebrow at my description, but we bought 12 portions.
We moved on to Eli's Deli. He had nothing that looked remotely similar to any of our food. Neither did SchmaltzTop. Mommy called twice, and I ignored her. Then she texted me, a pretty desperate measure for her; she rarely texted. Where are you? It's very late?
To which I replied, Sorry, had to make a stop, minor emergency.
In Spicy Flames, Raizy's phone rang. "It's Mommy!" she hissed, giving us warning looks.
"Hi, Ma, what's doing? Yes, we're in the middle of finishing up the souvenir for the sheva brachos…"
"Nu, let's get outta here," I said, as Raizy continued chatting. I realized my blunder a moment too late.
"Yes, Ma. Yitz is here," Raizy said, grimacing as she frantically ad-libbed. "He came to pick up headbands for his girls," and in a whisper added, "last week."
Chaya and I turned away to laugh into our palms.
"What? Yitz was supposed to pick up the food? Okay, I'll tell him to go right over to you."
"Yitz, Mommy said headbands aren't an emergency and you should come right now."
"Okay, tell her I'll be there in a few."
Now we went into panic mode.
We found a side dish and a salad at Kiddush Klub that matched perfectly, and an appetizer that wasn't too shabby at Heavenly Helzels.
With well over half the foods covered, Raizy begged to be dropped off at home — her kids had called her repeatedly, apparently amid some sort of enormous sibling fight. Chaya loyally stayed on, although she had plenty to do at home to get her family ready for the sheva brachos.
I saw Mommy trying me again as we drove to a grocery a little further out of the area. I silenced the ringer. A minute later she called Chaya's phone. Chaya answered and put it on speaker.
"Chaya? Where are you?"
"Don't tell her!" I whispered, but she ignored me.
"Ma? I'm with Yitz. Yes. There was a little mix-up, but it's all sorted out now."
"It's seven thirty, sheva brachos is in a half hour, the mechutanim are on the Garden State, and I'm losing my mind with anxiety. What are you guys up to? What are you not telling me? Was there an accident?"
"No, chas v'shalom!" Chaya replied. "Mommy, you're tense because you're hosting a sheva brachos soon, and the food isn't there yet. It will be there in a few minutes, literally. Please calm down."
Trust Chaya, she's an office receptionist and knows how to talk to people.
"If you say so. Chaya, please tell Yitz to come NOW!"
We found mushroom soup without barley at the grocery's takeout station, "Dinner To Go." Now the only thing we were missing were the capons. With no options left, we gave up on finding a good lookalike substitute and just added grilled cutlets from the same grocery takeout.
On the way over to Mommy's house, Chaya ripped off every identifying label from our packages. We called Raizy's teenage daughter Suri down to the garage, and then carefully divided the food, ensuring that the women would get the food from the caterer and giving the men our cobbled-together offerings.
Exhausted but victorious, I exhaled as I finally washed and sat down at the sheva brachos. No one would be the wiser. The hastily purchased food was safely over on the men's side.
But then my ten-year-old Bentzy finally remembered his manners, after years of tireless training. He came into the living room where the ladies were enjoying dessert. "Bubby, thanks for the yummy sheva brachos. Especially the grilled cutlets. You should always order grilled cutlets. Grilled chicken cutlets are the best!"
The room went silent for a nanosecond.
But Mommy didn't miss a beat. "Of course, Bentzy, zeeskeit. Only the best for my dear eineklach." She smiled at the room of frozen faces. "And next time, I think we'll buy all the food from 'Dinner to Go.' "
Mothers! They know everything!
(Originally featured in Family First, Issue  740)
Oops! We could not locate your form.
>