| Magazine Feature |
Only One Way Up
| December 16, 2020
Exclusive: NBA star Amar'e Stoudemire followed his heart and head and underwent a halachic conversion, putting himself under Hashem's wing, where he'd really been the whole time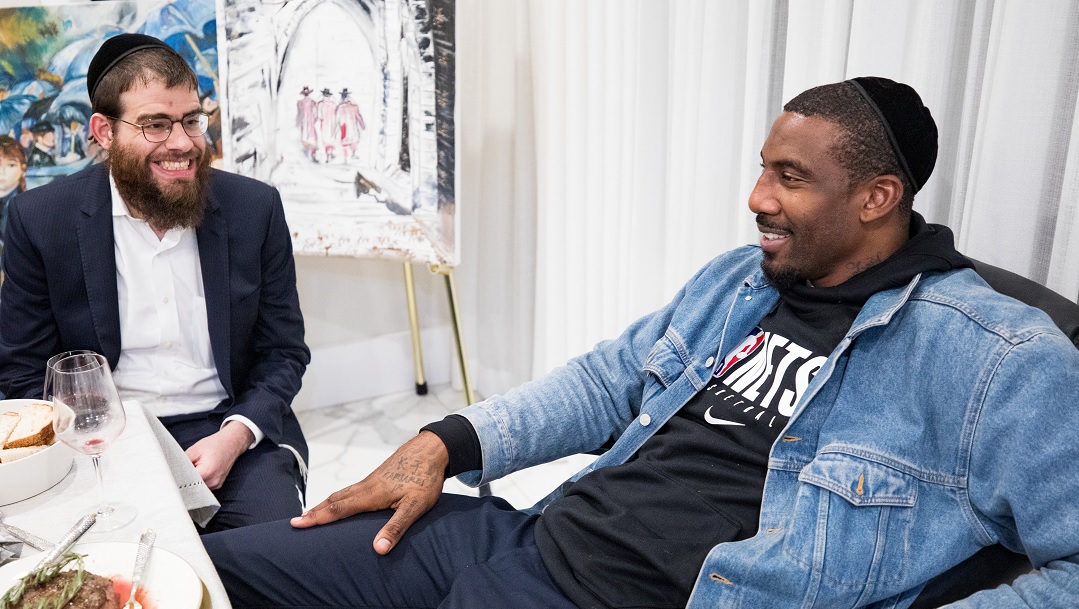 Photos: Ben Canter
First impressions are everything, and it's nearly impossible not to be taken when you first meet him. As he walks through the door, the first thing that grabs you is how much taller he is than everyone around him, but if at 6'10", it's easy to get distracted by his size, former NBA superstar Amar'e Stoudemire — Yahoshafat ben Avraham — has a much higher story to tell.
I met Yahoshafat when he came to town to pick up a painting he had commissioned from Lakewood artist Libby Klein. He told me he was captivated by it the moment he saw her rare technique on social media, and that he appreciates the unique twist Mrs. Klein is able to give her pieces, and her clients.
"Art," says Mrs. Klein, "is not merely a display of someone else's talent and handiwork. It's a part of you. Not just the artist, the buyer too. But in most art pieces, only the artist is reflected in it. What's missing is a piece of the buyer."
She fixes that.
In Libby Klein's art gallery, the buyers help out. Think, l'havdil, of how a sefer Torah is completed, with each person joining together to fill in a letter to complete the Torah. That's how she completes her paintings. A brushstroke here, a dab of paint there, and the buyers become their own artists, putting their soul into the art they will display.
Yahoshafat came to do that.
It only takes one look at the work of art that pulled him in to understand exactly what it is that drew him. You can see how his soul pulsates through what he told me would be the defining painting he plans to hang in his home.
The scene depicts a bunch of Yidden gathered together in shul for Megillah on Purim morning. But this is no run-of-the-mill shul with congregants uniform in look and style.
Here, there are people with different shades of skin. Here you can see the beauty of the harmonious medley that is Klal Yisrael, where we toss out the dividing lines of the world outside as we come together to serve Hashem. He points to a single figure at the top of the canvas.
"There's Yahoshafat," he says. "Standing in the back, so I don't block anyone."
Unique, but together. That's what the painting illustrates, and that, in a way, is his life. There aren't too many frum people who've brought the crowd at Madison Square Garden to its feet, inspiring raucous cheers while driving down the lane en route to a thunderous dunk. Not too many people in your shul were NBA All-Stars and it's unlikely that anyone in your bungalow colony works as an assistant coach in the NBA, with a legitimate shot of being inducted in the Basketball Hall of Fame.
His life — and his story — is not typical, but perhaps he summed it up best as we walked around his painting, whispering to himself the words of the pasuk, "Ki beisi beis tefillah yikarei l'kol ha'amim."
But while that might have been the first time I met him in person, it was far from my first impression. Because I had already known him for years.
Growing up in New York in the '90s meant there were plenty of exciting teams to follow. It was easy to get drawn in, much harder to pull myself out.
It's a funny thing, following sports — and a big part of why it's so distracting. Fans tend to refer to the teams they follow in the possessive, saying things like "we won" or "we need to rebound better." Following a team means identifying with it — and with the players on it as well.
When they do well, you feel accomplished. When they don't, you feel down.
Amar'e Stoudemire was an NBA superstar, who singlehandedly pulled the once-great New York Knicks team from oblivion back to relevance when he joined them. He was exciting and fresh, and took to the team — and city — when nobody else would. The city loved him — and he loved the city back.
But while I enjoyed watching him dunk with authority and make opposing players look downright silly, I never cared enough to take the time to learn more about him or his personal story.
Like "his" painting, a breathtaking mixture of soft colors that still grabs your attention and holds it, Yahoshafat is a more understated individual. You talk to him, and he doesn't seem to get excited. He speaks softly, his tone measured. It's hard to believe this is the same strong-willed, determined guy who had defenders clearing out of the way when he set his sights on the rim.
But that's him, in all the complex twists and turns that have made up his life.
Born Amar'e Carsares Stoudemire in a Florida town outside of Orlando 38 years ago, Stoudemire only first turned to basketball in his mid-teens. He saw it as an escape hatch — something he could use to rescue his family. He wasn't so familiar with the intricacies of the game, but "I knew I was good," he says, "because I was the only 14-year-old who could dunk backward."
His father had passed away when he was just 12, and his mother was finding her way in and out of prison. His older brother, Hazell, was similarly talented but couldn't figure out how to stay out of trouble, eventually dying in a car crash at the age of 35 in 2012. But Hazell looked out for Amar'e, determined to keep him from following in his footsteps. He wouldn't even let him walk down tough blocks, not wanting to expose him to that life.
"He kept me off the streets," Amar'e said at his funeral. "He was like my guardian angel."
Amare felt like he had a responsibility to change things for his family. If he could excel at this game, maybe he could make the jump to play at the professional level straight out of high school, and be able to translate a generous pay check into stability for his mother and his brothers.
It was an ambitious challenge, filled with uncertainty and without any guaranteed payoff. It would take a lot of work, and would mean learning new things and taking a chance — but it was something he could appreciate the value in sacrificing for.
And it wasn't like there were no bumps in the road. "But I always stayed focused," he explains, "because my family was going bad, and I wanted to be able to take care of them."
His mother's legal woes meant that his family moved often, and he ended up making six transfers between five high schools across two states. When academic woes cut his freshman year short, he realized that if he was going to accomplish his goal, something needed to change. He needed a new start. And so he approached his coach, Travis King, who he lived with in his mother's absence.
"Coach," he told him, "I need to get out of here. I'm starting to get into trouble. Is there anywhere I can go?"
In his sophomore year, he moved to North Carolina to join Mount Zion Academy's prestigious basketball program, but there were complications there too. The coach there convinced the kids on the team to leave Mount Zion and join him as he started his own school — but that school folded before they were able to play a game.
Despite the setbacks, Amar'e pressed forward.
He had to sit out the next year without playing because someone at Mount Zion had doctored his transcripts to try and force him not to transfer, but still, he refused to give up.
When he finally got a chance to really play in his senior year, having gone back to high school in Orlando, he shined. Everyone quickly recognized that the new winner of Florida's "Mr. Basketball" award for most outstanding high school basketball player was headed to the pros.
There are 60 picks in the NBA's annual draft each year. Each team takes turns picking from the newest crop of players. There have only been 45 players in history who have made the jump without playing in college and Amar'e would try to be one of them.
Meanwhile, his family had been introduced to spiritual concepts that down the road would eventually start him on his journey to Judaism. And it began with his mother's belief that they had descended from the Ten Tribes.
"I've been on this journey since I was 13," he tells me. "My mom started me out — she said we need to keep the laws of Moses. She didn't really know what halachah is, but we 'kept' Shabbat and all the Yamim Tovim — it's just that we did it her way. So that was mostly just doing something to represent each holiday — like not eating bread on Pesach."
On both of these fronts that would come to define his life, young Amar'e relied more on instinct than anything else. Players who played with him were amazed at just how unfamiliar he was with the actual game of basketball — and how his talent and determination to succeed compensated for that.
The same could be said for his first steps into discovering Judaism.
He realized his first dream when the Phoenix Suns chose him with the draft's ninth pick. They knew he had a lot to learn but were impressed with his raw talent. But they also expected him to be a long-term project.
I remember the excitement surrounding him and the way they said the sky was the limit to his potential.
The only question was whether he'd have the willingness to realize it.
He was pressed into action when starter Tom Gugliotta (who received $60 million to join their team) got injured. Amar'e didn't just fill in — he ended up winning the Rookie-of-the-Year award.
Gugliotta was let go at the end of the year. The Suns had found their future. And Amar'e had found his.
In what seemed like the blink of an eye, everything had changed. The kid who had just a few years earlier been heading down the wrong road was now a superstar, performing at the very highest levels of his profession. His determination to change around his life to help his family had already paid off.
And his future was being painted in more ways than he knew.
Amar'e began studying Torah as a 19-year-old in Phoenix, trying to peel more and more layers of Judaism the more he learned about it.
"I always had self-confidence. I was always one of the bigger guys, always one of the captains, and always one of the better players on my team," he says, "but one thing that took down my confidence a notch was learning Hebrew. It was challenging and very uncomfortable — it took a really long time to get the basics. In synagogue it took time as well. But along my way I've had chavrusas who have helped me forward."
Yahoshafat says he wasn't even looking to convert, even as he continued to learn more and more about Torah. Still, he felt this inexplicable force pulling him closer. "It wasn't a thing of mine," he tells me, "but I knew, as I was learning more and more each day, that I wanted to go ahead and take a step to really learn as much as I could."
The one thing he feels had the biggest impact on him, he says, "is definitely the learning."
His years in Arizona were a whirlwind of excitement, years in which he took the league by storm. His teams had winning records all but one of the eight years he was there — and have only had one since they parted ways. Some nights it seemed like he was putting the entire team on his back and just carrying them through to the finish line.
He knew what it meant to assume responsibility.
"I don't want any kids to have to grow up as fast as I did," Stoudemire told the New York Times in a 2003 interview. "But I had no choice. G-d had everything in his hands, and it worked out."
Every step of the way, Amar'e says, Hashem's hand acted in mysterious ways, forcing him into things that would end up paving the way to where he is today.
His decision to go pro instead of attending college was something he was forced into. He needed to do it, to feed his family. He calls it his "favorite mistake."
But had he gone to college and pursued a four-year degree like he would have wanted, his life might have turned out very differently. In exactly the fourth year of his playing career, recognizing the star they had, the Suns signed Amar'e to a five-year contract extension. They paid him the incredible sum of $73 million. A few weeks later, they found out that the soreness he felt in his knees required microfracture surgery. That kind of procedure had ended the careers of other superstars.
It was a punch in the gut — for him and for everyone who followed his career. I often wonder what sort of career he might have had, if it wouldn't have been cut so short by injury. Instead of a borderline Hall of Fame player, he would have been king of the all-time greats.
But it was all part of Hashem's plan for him.
If that injury had happened to him while in college, it's safe to say he would have never been drafted by a team. It was an injury that few had come back from, and no team would have taken that chance. He certainly would not have gotten the contract he signed just weeks before.
Coming back from the surgery and salvaging his career seemed impossible. For two months after the procedure, he couldn't walk or put any weight on that foot.
But challenges had never stopped him before, and he wasn't going to let this one stop him now.
As opposing coach Jerry Sloan said of him even then, "He's not afraid to stick his nose in there. He doesn't seem to be intimidated at all."
Why be intimidated if you can believe everything is a part of His plan? He'd taken gambles before — and he knew Hashem always made it work out.
He sweated out a comeback and regained his superstar form. For the time being, it seemed as though everything was right again.
But the injury wasn't done with him. It also ended up bringing him to New York — and added more brushstrokes to his life's painting.
When that multi-million dollar contract extension ended in 2010, the Suns, worried about the future, refused to extend him another contract offer. He had enjoyed his time in Phoenix and wanted to stay. But seeing that wasn't going to happen, he began to explore other options, which took him to New York.
The New York Knicks were a team starving for some superstar power. They used to be great but had fallen on hard times. They made a run for another big catch that year and — true to their then string of bad luck — failed to land him. They were desperate for a star, and they gave Stoudemire a contract the size of which nobody else would match.
I remember what that was like. When Amar'e signed with the Knicks, it changed everything. He represented hope, and that was all we could ask for at the time.
We were ecstatic. An exciting player in an exciting city — it was a match made in heaven.
After all, New York is the world's capital, and playing there meant his career could take off to an entirely different level.
When I tell him that the first year he played in New York was the most exciting for me, he says it was the same for him — it was the most exhilarating of his entire career.
There were no real expectations of him beyond a team effort, but he gave it his all, and the rest of the team took their cues from him, following his lead.
At the same time, he continued adding more colors to his personal canvas, opening a door that would later change his life.
"I wasn't really tapping into Judaism until I got to the Knicks," he tells me.
It began with a trip to Israel, but it included learning with chavrusas and fasting on Yom Kippur.
"When I traveled to Israel in 2010 it was life-altering. I knew I wanted to possibly come back and live there. It was the same summer I signed with the Knicks. No one knew about my roots or my religious practices, but it was clear to me that I would one day move back and reconnect with Torah."
He would later do exactly that, but not without another few steps. Someone reached out to him on social media, offering to learn with him. He took him up on the offer, and then some. "In between practice and games, I'd go listen to lectures in NYU."
His teammates certainly knew what he was up to when he wouldn't drink despite running all day during training camp, which fell out on Yom Kippur. "The team's staff and the other players thought I was crazy, but I didn't give it up. With time, they saw that I worked hard on my learning, and they respected it. I haven't really faced any negative reaction to the process I've been going through, and even when there was some, I wouldn't let it enter my soul and affect me." And besides, he says, "I always had my siddur."
But even in New York, he met adversity. The Knicks made a trade for another superstar to play alongside him, but the two never really clicked. "I was excited when they made the trade," he tells me. "But we never had chemistry," and then he hurt his back.
"I could hardly move," he said. "I tried to push through it and play on it, but once I felt that sharp pain, I just couldn't take it." He ended up being limited in that series, though he was hopeful for what the future held. But the future would hold something different than what we had hoped for. Little did he know that the future held something so much more incredible and beautiful for him.
The next year, he had a season marred by injury, culminating in a playoff appearance when he injured his hand and needed stiches — after punching a fire extinguisher box out of frustration after losing the first game.
And then, the knee issues came back, painting the base of the end of his NBA career.
His playing time dwindled, and he ended up being let go after five years with the team. The funny thing was that any other player who'd have ended his career the way he did would have been run out of town. But he's still beloved by Knicks fans — because they recognize that he always gave his all.
After two more years playing in a supporting role, he retired from the NBA and moved to Israel.
The visit he made in 2010 laid the groundwork for the next brushstrokes.
"This isn't about collecting a paycheck overseas, though," Amar'e wrote when he announced his move. "It's a spiritual journey, too. The Scriptures speak about Jerusalem as a holy place, and I can feel that whenever I'm in the city… the opportunity to play there, and grow as a player and person, is a blessing."
A blessing indeed. It ended up changing his life entirely.
He may have played basketball for Hapoel Jerusalem and Maccabi Tel Aviv (where he won a championship this past year), but he found something so much bigger to be a part of.
"I learned in Ohr Samayach for four years," he says. "I started learning laws of Shabbos, laws of cooking on Shabbos, laws of Yom Tov — all of that. We learned Gemara, halachah, and Chumash."
He spent a few years there, feeling his way around for a future he could feel comfortable with. He got himself Israeli citizenship, and began identifying more as a Jew. He says his own family — his ex-wife and four kids (they divorced in 2018) — always kept kosher and Jewish holidays, even before conversion was on the table. That was part of the heritage he grew up with.
But the man who had always been driven by responsibility and becoming better felt like he needed more.
He says that many other people in the black community have the same feeling of identification for Judaism that he had. Still, they wouldn't be inclined to become authentic geirim like he did. What drove him most of all was a deep desire to get even closer to Hashem and the knowledge that there is really only one way to do that.
He realized he needed to learn and to keep on learning. And the only way he could really learn would be by going all the way.
He looked for the best and most authentic, and had his geirus done by Rav Nissim Karelitz's beis din in Bnei Brak. He learned with an avreich in Rav Shlomo Kanievsky's kollel to prepare.
It might have intimidated other people, but not him. He was focused on his goal.
"By converting to Judaism, I have been able to learn Torah at a very high level. There's so much to learn, and everything is G-d-driven. By praying three times a day, for example, you're always surrounded by G-d."
He gets asked often about his name, Yahoshafat. It's not all that common. "It's what the Rabbi gave me," he says. But he does think it's appropriate to him. "When I began to learn, check, and investigate, I found out that he was a king in the Kingdom of Yehudah who taught Torah to the masses and fought zealously against idol worship. To me, that's very meaningful."
And now he is Yahoshafat ben Avraham, a brother to us like any other. And he is aware of what Abaye taught (Yoma 86a) that we all have a responsibility to make sure that "sheim Shamayim misahev al yado — the name of Hashem is beloved through our actions." But to him, that's just life.
"People still look at me in awe and say that I am making a kiddush Hashem. But this is simply just me."
As we sit down to eat, someone asks him, "So, any chance you get out and play again?"
"Nah, man," he answers. "I was MVP. I retired a champion."
That he did. And just like when he was playing ball, you can't help but continue to root for him as he sets himself to the task of filling out the rest of his life's canvas.
(Originally featured in Mishpacha, Issue 840)
Oops! We could not locate your form.
>