| 2.0 Feature |
On The Town
| July 17, 2019
There is no right way to be a woman, nor a right way to be an entrepreneur. It's up to the way you define [success] for yourself.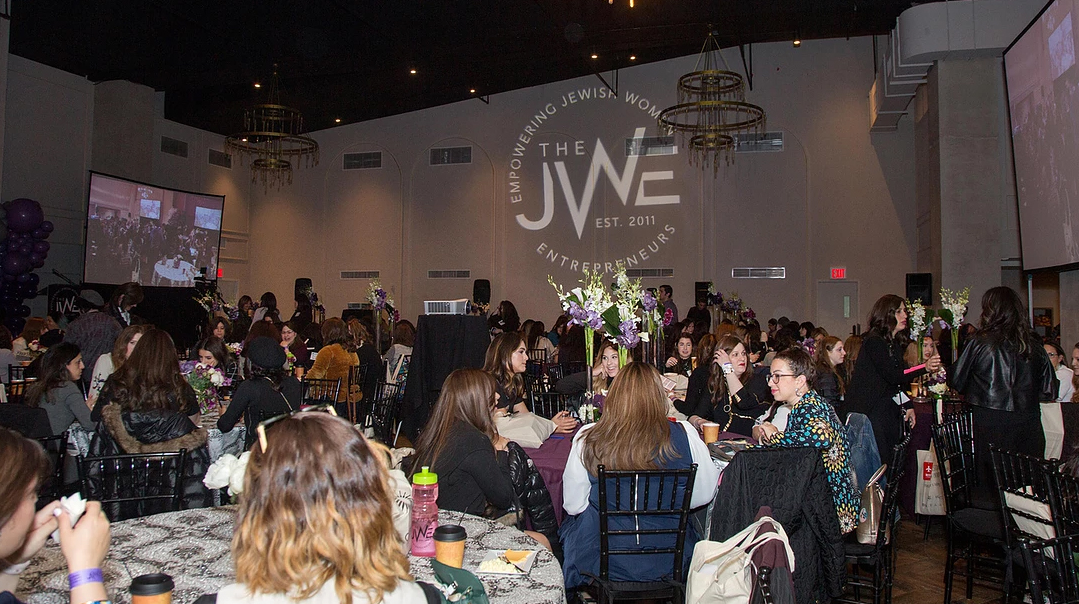 The Jewish Woman Entrepreneur Conference 2019
W
omen from across the country — and even some from around the world — gathered in Williamsburg, Brooklyn, on a Tuesday morning in mid-May at the Jewish Woman Entrepreneur (JWE) conference to network with other like-minded professionals who might just help them take their dream business to the next level. This year's theme was "Embrace the Journey." Panel topics included information on scaling your company, finding your niche, staying true to yourself while growing, and so much more.
THE JWE CONFERENCE TEAM 
Chaya Appel-Fishman, founder of the JWE and a lawyer at Miles and Stockbridge P.C., is a woman who has entrepreneurial spirit in her blood. She launched the organization during her first year of law school in 2011, while pregnant with her first son.
Entrepreneur and 2.0 writer Abbey Wolin led the planning team, working with Fishman. They created the comprehensive program over the course of eight months. This year's speakers featured those in companies doing more than $20 million of sales, those popular in the Instagram sphere, and those in their early stages, too. If you couldn't make the event, there are still a ton of ways to get involved. Appel- Fishman urges those interested to subscribe on the JWE website (thejewishwomanentrepreneur.com) for e-mail notifications on other upcoming follow-up events and to sign up for one-on-one mentorship opportunities. Check out some highlights here.
PANEL #1: START, SCALE, EXIT: WHEN & HOW 
Speakers: Bari Erber, Bari Lynn; Tamar Rosenthal, Dapple Baby; Saki Dodelson, Achieve 3000; Aviva Weiss, Fun and Function
In the first group, "Start // Scale // Exit — When & How," the panelists discussed how they started their businesses, as well as the successes and challenges they met along the way.
STAY TRUE TO YOURSELF 
"We had a meeting a few years ago on Yom Kippur that I obviously wasn't going to attend; and it cost us a lot of money.... I was upset at the time, but I said, 'This is my stance. I can't do it.' Literally the next day, their competitor picked up the same products and the purchase order was double .... You have to stay true to yourself [and think about] what is going to work for you."
– Bari Erber, Bari Lynn 
BE PERSISTENT 
"I called Diapers.com and got in touch with the appropriate buyer by continuously pressing zero until I could speak to the person who actually bought diapers... She said, 'Okay Tamar, I'll give you a shot.'"
–Tamar Rosenthal, Dapple Baby 
BE PATIENT 
"We saw sales immediately. Before we even went live, someone found the website and placed an order, and we said, 'We're sorry, we don't have any product to deliver, can you come back in a month?'.... Orders kept growing [but] it took about seven to eight years before we were cash-flow positive."
–Aviva Weiss, Fun & Function
 KEYNOTE SPEAKER: Life as a JWE: The Balance, the Struggle, the Reward
"To be a JWE is to be judged — for the way you connect to Hashem, for the way you raise your children, for the way you conduct your business — everyone will have suggestions and advice to make you feel like you can't measure up. There is no right way to be a woman, nor a right way to be an entrepreneur. It's up to the way you define [success] for yourself."
–Chagit Leviev, Leviev Group 
PANEL #2: EXPANDING YOUR BUSINESS OUTSIDE THE COMMUNITY 
Speakers: Chaya Krinsky, TOV Furniture; Talia Mashiach, Eved; Dini Klein, Prep and Rally; Marcy Tbiele, Jus by Julie
In the second panel of the day, panelists shared how they've succeeded in business in the non-Orthodox world, all while staying true to who they are as halachically observant Jews.
BE CONFIDENT 
"We had just started doing business in Saudi Arabia. A group of Saudi Arabian men walked in [to check out our products] and [asked] me, 'Are you Jewish?'... I said, 'Yes, yes, I am.' They asked, 'Well, have you ever been to Israel?' And I said, 'My dad is Israeli.' I was smiling, confident, and my shoulders were raised. By the end of that meeting, they ordered seven containers. You have to be confident and proud of who you are. The role you play as a frum woman is so special and unique in whatever space you're in."
–Chaya Krinsky, TOV Furniture 
EVERYONE STRUGGLES 
"I feel like I have so much I can share now.... When running your own business, it's easy to think, 'I'm the only one doing this, no one else has these struggles,' but everyone is going through such similar things with minor differences."
–Dini Klein, Prep and Rally
(Originally featured in 2.0, Issue 4)
Oops! We could not locate your form.
>